Writing a resume for a job as an ultrasound technician is not an easy task. You must be sure to showcase your skills and qualifications in the best way possible in order to stand out from the competition. You must also be sure to include relevant details about your education, experience, and certifications. This guide will provide step-by-step instructions for writing a resume for an ultrasound technician job, including tips on what to include and examples of resumes from professionals.
If you didn't find what you were looking for, be sure to check out our complete library of resume examples.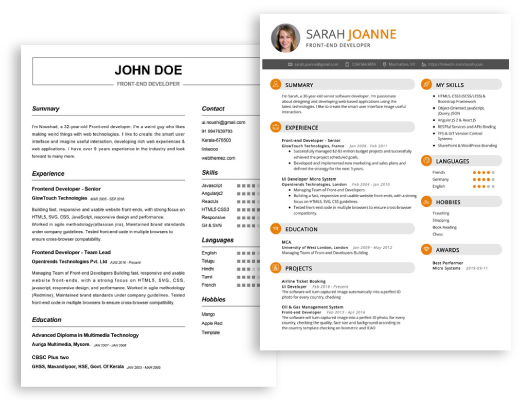 Start building your dream career today!
Create your professional resume in just 5 minutes with our easy-to-use resume builder!
Ultrasound Technician Resume Examples
John Doe
Ultrasound Technician
123 Main Street | Anytown, USA 99999 | Phone: (123) 456-7890 | Email: john.doe@email.com
I am an experienced Ultrasound Technician with 6 years of experience. I have worked in many clinics and hospitals, performing ultrasound exams and imaging services. I have an excellent eye for detail and am committed to delivering high quality results. I am highly organized and have a passion for helping others. My goal is to provide patient centered care and deliver accurate imaging services.
Core Skills:
Ultrasound Imaging
Patient Care
Data Collection
Diagnostic Imaging
Quality Assurance
Report Documentation
Professional Experience:
Ultrasound Technician
ABC Clinic, Anytown, USA
2014 – 2020
Operated ultrasound equipment to generate images of the heart, abdomen, neck, infant head and other organs
Assessed images for quality, accuracy and clarity
Conducted patient assessments and documented information
Compiled patient data and imaging results
Assisted physicians with an array of procedures
Ultrasound Technician
XYZ Hospital, Anytown, USA
2012 – 2014
Performed diagnostic scans for fetal imaging, vascular imaging and other medical scans
Processed and analyzed images for medical diagnosis
Executed quality assurance protocols
Educated patients and families on procedures
Presented findings to physicians and other medical staff
Education:
Associate's Degree in Sonography
Anytown Community College, Anytown, USA
2011 – 2012
Ultrasound Technician Resume with No Experience
Recent medical school graduate looking to utilize my knowledge and understanding of medical terminology, anatomy, and physiology as an Ultrasound Technician. I am an eager and hardworking individual with a passion to serve in the medical field.
Skills
Medical Terminology
Anatomy Knowledge
Physiology Understanding
Interpersonal Skills
Excellent Communication
Problem Solving
Attention to Detail
Time Management
Responsibilities
Ensure that all machines and equipment are in proper working order
Prepare patients for ultrasound exams
Explain procedures to patients
Position patients for correct scanning
Take images of organs, vessels and other parts of the body
Analyze and interpret ultrasound images
Assist radiologist during procedures
Document patient information
Organize and maintain patient records
Maintain ultrasound equipment and supplies
Ultrasound Technician Resume with 2 Years of Experience
An experienced Ultrasound Technician with 2 years of experience in performing ultrasounds and creating detailed images of organs and other structures for the purpose of medical diagnostics. Highly skilled in operating ultrasound machines, providing accurate patient information, and interpreting images to determine a diagnosis. Possesses excellent communication and interpersonal skills, and is committed to delivering the highest level of patient care in a compassionate and efficient manner.
Core Skills:
Ultrasound Imaging
Patient Assessment
Operating Ultrasound Machines
Interpretation of Images
Communication and Interpersonal Skills
Data Entry
Medical Terminology
Responsibilities:
Operate ultrasound machines to produce images of various organs and structures in the body
Record patient information accurately and document in the patient's medical record
Inform patients of safety protocol and ensure the accuracy of all data collected
Analyze and interpret images to determine a diagnosis
Explain the procedure and results to the patient
Ensure patient comfort throughout the procedure
Assist physicians with diagnosis and treatment
Maintain and repair ultrasound equipment as needed
Ultrasound Technician Resume with 5 Years of Experience
A skilled and efficient Ultrasound Technician with 5 years of experience providing patient care and applying imaging techniques. Expertise in imaging anatomy and physiology, and interpreting diagnostic images. Proven ability to assess patient needs and provide patient centered care. Excellent communication and problem- solving skills.
Core Skills:
Operating imaging equipment
Knowledge of anatomy and physiology
Identifying and pointing out abnormalities
Interpretation of diagnostic images
Patient centered care
Excellent communication and interpersonal skills
Adherence to healthcare regulations
Efficient time management
Responsibilities:
Perform diagnostic imaging exams such as ultrasounds and other scanning procedures
Provide patient care before, during, and after exams
Help patients feel comfortable, secure, and relaxed prior to exams
Maintain accurate patient records and images
Interpret images and diagnose medical conditions
Provide professional guidance and instructions to patients
Educate patients on safety precautions
Perform quality assurance checks on imaging equipment
Ensure compliance with all healthcare regulations and standards
Ultrasound Technician Resume with 7 Years of Experience
Highly experienced and reliable Ultrasound Technician with seven years of experience providing patient care and conducting diagnostic imaging procedures. Skilled in the use of a variety of sonographic equipment to provide high- quality medical images. Adept at ensuring patient comfort and safety, as well as maintaining accurate reports and records. Able to work well in high- pressure situations and maintain a professional and calm environment.
Core Skills
Ultrasound Imaging
Diagnostic Imaging
Patient Care
Patient Safety
Sonographic Equipment
Medical Records
Quality Assurance
Problem- Solving
Professionalism
Responsibilities
Preparing patients and explaining ultrasound procedures.
Operating ultrasound equipment to produce images of soft tissue, organs, and blood vessels.
Identifying normal and abnormal images and making accurate medical diagnoses.
Performing abdominal, vascular, and gynecological exams.
Maintaining accurate and up- to- date patient records.
Generating reports of findings to physicians for review.
Collaborating with other medical professionals to provide patient care.
Recommending images for additional review and evaluation.
Ensuring high- quality images and patient safety standards.
Ultrasound Technician Resume with 10 Years of Experience
With 10 years of experience as an Ultrasound Technician, I am adept at image acquisition, image optimization, and image interpretation. I am skilled in using standard ultrasound equipment to collect real- time images for diagnostic purposes. I possess effective interpersonal and communication skills to provide patient care, explain procedures, and obtain patient histories. I am able to assess patient needs and provide appropriate treatments.
Core Skills:
Ultrasound Imaging
Patient Care
Image Optimization
Image Interpretation
Interpersonal and Communication Skills
Health Assessment
Responsibilities:
Operate ultrasound equipment to produce high- quality images for diagnosis
Monitor patient's health during procedure and provide instructions
Document patient histories and exam results
Review and adjust settings to optimize quality of images
Maintain accuracy in patient identification
Analyze medical images to draw conclusions and diagnose patient's condition
Provide patient care and education during ultrasound procedures
Ultrasound Technician Resume with 15 Years of Experience
I am an experienced Ultrasound Technician with over 15 years of experience in the medical field. I have a strong background in ultrasound technology, specializing in cardiac, vascular, and obstetrics and gynecology examinations. I am highly organized and detail- oriented, with a proven track record of consistently providing accurate results. My communication skills are excellent and I am able to work independently and with a team. I am committed to delivering quality patient care, and strive to provide the best imaging and diagnostic services possible.
Core Skills:
Ultrasound Technology
Highly Organized
Excellent Communication
Able to Work Independently
Detail- Oriented
Quality Patient Care
Accurate Results
Vascular, Cardiac & OB/GYN Examinations
Responsibilities:
Preparing patients for the ultrasound examination
Explaining procedures to the patient and answering questions
Obtaining optimal images to assist with the diagnosis
Documenting findings and entering data into the patient's medical record
Analyzing and interpreting images to provide a diagnosis to the physician
Performing quality assurance tests on equipment
Informing physicians of any abnormalities discovered
Working with other medical personnel to provide the best care possible
In addition to this, be sure to check out our resume templates, resume formats, cover letter examples, job description, and career advice pages for more helpful tips and advice.
What should be included in a Ultrasound Technician resume?
A well-crafted resume is essential to standing out from the competition as an Ultrasound Technician. Your resume should accurately portray your relevant education, skills, and experience in the field in order to land an interview. Here are some tips on what to include on your Ultrasound Technician resume:
Contact Information: Include your full name, address, phone number, and email address in the header of your resume.
Summary: Write a concise summary that outlines your qualifications and the skills you can bring to the position.
Education: List your ultrasound technician certificate or degree, as well as any additional certifications you've obtained.
Work Experience: Include any relevant work experience you have in the medical field, as well as any ultrasound technician-specific experience.
Skills: Highlight any special skills you possess, such as experience with specific equipment.
Professional Memberships: List any relevant professional memberships you hold.
Other: If you possess any additional qualifications or skills that could be beneficial, include them in a section at the bottom of your resume.
By following these tips, you can ensure that you have a comprehensive and effective resume as an Ultrasound Technician. This will help you stand out to employers and increase your chances of landing an interview.
What is a good summary for a Ultrasound Technician resume?
An Ultrasound Technician resume should provide a concise summary of an applicant's abilities, education, and experience in the field. It should also highlight any special awards or certifications they have obtained related to the position. The summary of qualifications should explain why the applicant is the best choice for the job. For example, they could detail their experience in providing ultrasounds, their knowledge of medical terminology and ultrasound equipment, or their excellent customer service skills. In addition, the summary should also list any additional skills or specialties they possess, such as knowledge of related medical treatments or patient care. Lastly, the summary should emphasize the applicant's dedication to patient safety and quality service.
What is a good objective for a Ultrasound Technician resume?
The objective of an Ultrasound Technician resume should clearly state your career goals and aspirations in the medical imaging field. A well-crafted objective can help you stand out from the competition and give a potential employer a glimpse into the knowledge and experience that you possess. Here are some tips for creating a powerful objective statement:
Describe your experience and qualifications: Summarize your ultrasound technician experience and qualifications, including the certifications, specializations, and any other relevant education or training you have received.
Focus on the desired job: Tailor your objective to the position you are applying for. Include the job title and any relevant keywords or terminology that are used to describe the job.
Highlight your skills and achievements: Highlight unique skills and achievements that make you stand out as a qualified candidate. This may include any specialized skills or knowledge you possess, or any awards or recognition you have received.
Show enthusiasm and a positive attitude: Express your enthusiasm for the field of ultrasound technology and demonstrate a positive attitude and willingness to learn. Showcase your eagerness to grow within the profession and contribute to the team.
How do you list Ultrasound Technician skills on a resume?
When creating a resume for an Ultrasound Technician position, it's important to highlight the skills and qualifications necessary for success. The following are some of the most important skills that should be included on an Ultrasound Technician's resume:
Expertise in operating ultrasound equipment in order to perform diagnostic imaging procedures
In-depth knowledge of anatomy and physiology, as well as medical terminology
Ability to effectively interact with patients and maintain a professional demeanor
Excellent communication skills, both verbal and written
Ability to take and accurately interpret physician orders
Solid organizational and multi-tasking skills
Proficiency in the use of computer systems and software, such as PACS
Strong problem-solving and critical thinking skills
Attention to detail and accuracy in the performance of ultrasound techniques
Ability to work effectively with a team of medical professionals
What skills should I put on my resume for Ultrasound Technician?
When creating a resume for an Ultrasound Technician position, it is important to include a comprehensive list of the skills and qualifications you possess that make you the perfect candidate for the job. Here are some of the key skills employers will be looking for when reviewing resumes for Ultrasound Technician positions:
Knowledge of Ultrasound Technology: This includes a comprehensive understanding of all the different types of ultrasound technology and their uses. This includes knowledge of the equipment, techniques, instrumentation, and safety protocols related to ultrasound imaging.
Patient Care Experience: As an Ultrasound Technician, you will be interacting with patients on a regular basis. It is important to demonstrate that you have previous experience working with patients in a professional and compassionate manner.
Attention to Detail: It is essential to have a keen eye for detail when performing ultrasound scans, as accuracy is imperative in order to get the best images.
Problem-Solving Ability: Being able to quickly and effectively troubleshoot any issues that may arise during an ultrasound scan is a valuable skill.
Good Communication Skills: As an Ultrasound Technician, you must be able to effectively communicate with patients and other healthcare professionals. This includes the ability to listen and interpret instructions, as well as explain procedures to patients.
Computer Proficiency: It is essential to have a working knowledge of computers and computer systems related to ultrasound technology. This includes experience with PACS systems, as well as proficiency in Microsoft Office applications.
By including all of the above skills and qualifications on your resume, you will be well positioned to land an Ultrasound Technician position. Good luck!
Key takeaways for an Ultrasound Technician resume
As an Ultrasound Technician, your resume must demonstrate your technical experience and knowledge, your ability to use equipment effectively, and your dedication to providing quality patient care. The following are key takeaways to keep in mind when crafting your resume:
Highlight any specialized certifications you have, such as the Registered Diagnostic Medical Sonographer (RDMS) certification, or any other specialized ultrasound-related certifications.
Include any relevant work experience you've had, such as operating ultrasound machines, preparing patients for examinations, or performing ultrasound exams.
Demonstrate your proficiency in using a variety of ultrasound technology and equipment, such as 3D and 4D scanning, Doppler technology, and other emerging technologies.
Highlight any additional skills you have, such as experience with electronic medical records systems, patient education, and other relevant technical skills.
Detail any volunteer or research experience you have that may be applicable to the role of an Ultrasound Technician.
Include any relevant continuing education courses or seminars you have taken to stay up to date on current trends and technologies in the ultrasound field.
Focus on the soft skills you possess, such as your interpersonal skills, communication skills, and ability to work as part of a team.
By keeping these key takeaways in mind, you can ensure that your resume showcases your qualifications, experience, and expertise in the field of ultrasound technology.
Let us help you build
your Resume!
Make your resume more organized and attractive with our Resume Builder