As a Telemetry Technician, you are responsible for collecting and analyzing data from remote instruments and devices. A well written resume is a key to landing the job of your dreams, and this guide will help you write a resume that stands out. We will provide examples of resumes written by professionals in the field and tips on how to craft an effective resume that highlights your qualifications and experience. With the right approach and information, you will be well on your way to creating a resume that will help you get the job you want.
If you didn't find what you were looking for, be sure to check out our complete library of resume examples.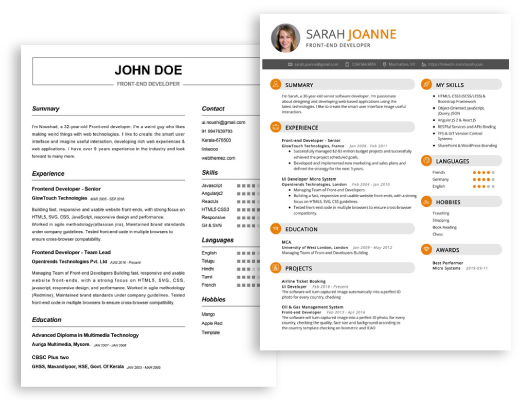 Start building your dream career today!
Create your professional resume in just 5 minutes with our easy-to-use resume builder!
Telemetry Technician Resume Examples
John Doe
Telemetry Technician
123 Main Street | Anytown, USA 99999 | Phone: (123) 456-7890 | Email: john.doe@email.com
I am an experienced Telemetry Technician with 8 years of experience. I have a passion for troubleshooting and problem solving and am able to work effectively in a fast- paced environment. I am proficient in both hardware and software applications related to telemetry systems and can easily troubleshoot system issues. I am also well- versed in network maintenance and system upgrades which I have implemented on numerous occasions. I am also a strong communicator who is comfortable working with both technical and non- technical personnel.
Core Skills:
Troubleshooting and Problem Solving
Telemetry system maintenance and repair
Network maintenance
System upgrades
Hardware and software applications
Technical and non- technical communication
Professional Experience:
Telemetry Technician, ABC Solutions – San Diego, CA
August 2012 – Present
Manage all aspects of Telemetry System operations and maintenance
Troubleshoot system issues and provide resolutions to customers
Install, configure and maintain system hardware and software applications
Assist in the design and implementation of new system upgrades
Monitor system performance and proactively identify areas for improvement
Respond to customer inquiries and requests in a timely and professional manner
Education:
San Diego State University – San Diego, CA
Bachelor of Science in Computer Science, May 2012
Telemetry Technician Resume with No Experience
Recent college graduate with a passion for technology and proficiency in coding and databases. Seeking to leverage my technical aptitude and knowledge of computer systems to excel as a Telemetry Technician.
Skills
Proficient in C and Java coding languages
Knowledge of computer system architecture
Experienced in database management
Understanding of network systems
Ability to troubleshoot technical issues
Excellent problem solving skills
Responsibilities
Develop, maintain and troubleshoot software applications and systems
Install, configure and monitor networks
Create and maintain data records
Monitor and analyze system performance
Perform maintenance and repairs on telemetry systems
Provide technical support and assistance to users
Telemetry Technician Resume with 2 Years of Experience
Dedicated and detail- oriented Telemetry Technician with 2 years of experience in the health care industry. Experienced in installing, testing, and maintaining medical equipment, utilizing advanced problem- solving skills to provide superior support to healthcare staff and patients. Possesses a comprehensive knowledge of medical terminology, and effective communication and time management skills. Committed to providing the best care possible and ensuring a safe and comfortable environment for both patients and staff.
Core Skills
Telemetry Monitoring
Medical Equipment Installation & Maintenance
Problem- solving & Troubleshooting
Customer Service
Medical Terminology
Time Management
Communication
Responsibilities
Installed and maintained medical equipment, ensuring that all necessary telemetry connections were in place.
Monitored patient vital signs, alerting the medical team of any sudden changes.
Performed system checks and troubleshooting for technical problems.
Responded to service requests quickly and ensured patient safety and comfort.
Provided technical advice and guidance, educating new staff members on the proper use of medical equipment.
Offered excellent customer service, addressing patient inquiries and complaints in a professional manner.
Telemetry Technician Resume with 5 Years of Experience
A Telemetry Technician with 5 years of experience in the medical device engineering industry. Highly knowledgeable in the development, installation and maintenance of external telemetry transmitters and their signal strength. Skilled in troubleshooting hardware and software related problems. Proven ability to read, interpret and record data related to the operation of medical devices. Experienced in working with the most advanced technologies and following safety protocols.
Core Skills:
Telemetry Transmitter Development
External Telemetry Transmitters
Hardware and Software Troubleshooting
Medical Device Engineering
Data Interpretation and Recording
Safety Protocols
Advanced Technology
Responsibilities:
Developed and installed external telemetry transmitters and monitored signal strength.
Troubleshot hardware and software related problems.
Read, interpreted and recorded data related to the operation of medical devices.
Worked with the most advanced technologies and followed safety protocols.
Maintained and repaired medical devices and equipment.
Provided technical support to customers.
Assisted in the development and implementation of telemetry systems.
Provided training and instruction to other technicians.
Telemetry Technician Resume with 7 Years of Experience
I am a Telemetry Technician with 7 years of experience in the health- care sector, providing comprehensive guidance and support to the telemetry technicians and other staff. I have an extensive background in troubleshooting and repairing telemetry systems, as well as installing, maintaining and upgrading telemetry equipment. I am proficient in the use of computers and software for recording, analyzing and reporting data. I have excellent communication and organizational skills and am a team player.
Core Skills:
Troubleshooting and repairing telemetry systems
Installing and maintaining telemetry equipment
Upgrading telemetry systems
Recording, analyzing and reporting data
Excellent communication and organizational skills
Ability to work independently or in a team
Responsibilities:
Monitoring telemetry systems to ensure they are running smoothly
Identifying any problems or malfunctions with the telemetry systems
Troubleshooting and repairing any issues identified
Installing and maintaining telemetry systems and equipment, including upgrades
Analyzing and interpreting data from telemetry systems
Reporting on any issues or changes in the telemetry systems
Keeping up to date with the latest technologies and trends in telemetry systems
Telemetry Technician Resume with 10 Years of Experience
A highly experienced Telemetry Technician with 10 years of on- the- job expertise in the installation and maintenance of telemetry systems. Proven ability to provide clients with technical support, and ensure that systems are calibrated and running as expected. Skilled in creating and managing complex systems, as well as training users and providing troubleshooting support. A dependable, customer- oriented professional with a strong work ethic and excellent communication skills.
Core Skills:
Telemetry Systems Installation and Maintenance
Technical Support
Calibration and Troubleshooting
Systems Design and Management
User Training
Excellent Communication Skills
Strong Work Ethic
Customer Oriented
Responsibilities:
Installing, troubleshooting, and maintaining complex telemetry systems
Monitoring customer usage of telemetry systems and ensuring that customers are compliant with company policies
Providing technical and customer support
Performing periodic maintenance and calibration to ensure that systems are functioning properly
Creating and managing databases, systems, and networks
Training users on telemetry systems and answering their questions
Working with the engineering team to develop new products and systems
Analyzing customer feedback and suggesting improvements to the telemetry systems
Ensuring that all systems are updated regularly and are in compliance with industry regulations and standards.
Telemetry Technician Resume with 15 Years of Experience
Motivated Telemetry Technician with 15 years of experience in the telecommunications industry. Proven ability to troubleshoot, maintain, and repair telecommunication systems and networks. Proficient in the installation and configuration of communication networks, hardware and software. Able to efficiently meet the needs of customers and solve complex problems.
Core Skills:
Telecommunication system repair
Network installation and configuration
Hardware and software troubleshooting
Interfacing of computers and peripherals
Customer service and problem solving
Team building and leadership
Data analysis and reporting
Responsibilities:
Installed and maintained telecommunication equipment, including switches, routers, multiplexers, and fiber optics.
Diagnosed, repaired and documented faults in the communication network systems.
Configured and tested various telecommunication systems.
Troubleshot complex network issues and provided timely resolution.
Provided customer service and technical support to customers.
Performed regular maintenance and updating of existing systems.
Developed and implemented new procedures and processes to improve operational performance.
Worked in teams to achieve organizational goals.
Provided training and coaching to junior technicians.
Analyzed data and prepared reports to track progress.
In addition to this, be sure to check out our resume templates, resume formats, cover letter examples, job description, and career advice pages for more helpful tips and advice.
What should be included in a Telemetry Technician resume?
A telemetry technician is responsible for monitoring and operating medical equipment. When creating a resume for this position, it is important to include certain information to demonstrate your skills and knowledge. Here are some key elements that should be included in a telemetry technician resume:
Education: Showcase your educational background as it relates to the position. Include any certificates, degrees, or other qualifications you possess that are relevant to the telemetry technician job.
Work experience: Include any job titles and roles you've held in the past that relate to telemetry. Also, list any experience you have with medical equipment, such as installing and troubleshooting issues.
Technological skills: Telemetry technicians must be knowledgeable in various types of technology. List any programming languages, software, and systems that you are proficient in.
Patient care: Highlight any experience you have providing direct patient care. This could include patient assessment, medical chart documentation, and more.
Problem-solving: Showcase any experience you have diagnosing and resolving technical issues.
By including all of the above in your resume, you can demonstrate your knowledge and capabilities to potential employers.
What is a good summary for a Telemetry Technician resume?
A telemetry technician resume should be a concise summary of your professional experience, education, and skills as they relate to the job description. It should also demonstrate your knowledge of the telemetry industry and showcase your ability to troubleshoot and maintain telemetry systems. It is important to include any certifications related to telemetry in order to demonstrate your expertise in the field. Additionally, it should emphasize any successes you may have had in the past with telemetry systems, such as successful installations or repairs. This information should be clearly and concisely outlined in your resume in order to make it stand out from the competition. With a well-crafted resume, you can make sure you have the edge over other candidates vying for the same position.
What is a good objective for a Telemetry Technician resume?
A Telemetry Technician is responsible for providing and maintaining telemetry systems for a wide range of purposes. The objective of a Telemetry Technician resume should focus on the desired skills, experience, and knowledge necessary for the position.
Demonstrate an in-depth understanding of the principles and techniques associated with telecommunications, networking, and telemetry systems
Possess the ability to troubleshoot and diagnose complex technical issues
Exhibit strong problem-solving skills and diagnostic techniques
Possess excellent communication, multitasking, and organizational skills
Ability to work independently, with minimal supervision
Have a strong knowledge of the use and application of computer systems and associated software
Be detail-oriented and able to prioritize tasks
Possess excellent customer service skills and the ability to work well with others
How do you list Telemetry Technician skills on a resume?
When listing Telemetry Technician skills on a resume, you can draw on the qualifications outlined in the job description to create an impressive list of hard and soft skills. Examples of skills that are necessary for a successful Telemetry Technician include:
Ability to interpret telemetry data
Proficiency in using computerized control systems
Familiarity with data recording protocols
Knowledge of electrical and electronic components
Strong problem-solving skills
Excellent communication skills
Attention to detail
Understanding of safety protocols
Ability to work independently and as part of a team
Ability to multitask
Knowledge of industry-related regulations
Technical writing skills
Ability to read and interpret schematics
Organizational skills
Time management skills
What skills should I put on my resume for Telemetry Technician?
A Telemetry Technician is responsible for collecting data, managing systems and ensuring they are working properly. To be an effective Telemetry Technician, there are several skills and qualities you should include on your resume.
Data Collection: As a Telemetry Technician, you will be responsible for collecting data from various sources. You should demonstrate knowledge of the data collection processes, including the use of specialized data collection and analysis tools.
Technical Skills: You will need to be knowledgeable in the use of computers and mobile devices, and be proficient in the use of software programs and applications related to the telemetry field.
Problem-Solving: Telemetry Technicians must be able to diagnose and troubleshoot technical problems. You should be able to identify the source of a problem and develop a plan for resolving it.
Communication: As a Telemetry Technician, you will need to be able to communicate effectively with both colleagues and customers. This includes the ability to communicate technical information in a clear and concise manner.
Interpersonal Skills: Telemetry Technicians must be able to interact with customers and colleagues in a professional and courteous manner. You should demonstrate excellent customer service and problem-solving skills.
Analytical Skills: You should have the ability to analyze data and draw meaningful conclusions from it. You should also have the ability to interpret complex data and make decisions based on that information.
By including these skills and qualities on your resume, you will be able to demonstrate your proficiency as a Telemetry Technician and make a strong impression.
Key takeaways for an Telemetry Technician resume
If you're a Telemetry Technician, you know that your resume needs to stand out from the competition to land the job you're after. To make sure your resume hits all the necessary marks, here are a few key takeaways to keep in mind:
Highlight Your Skills: Make sure to include an extensive list of your key technical and soft skills on your resume. Include skills such as problem-solving, troubleshooting, installation, data analysis, and more. Showcase your experience with both hardware installation and software programming.
Quantify Your Achievements: It's not enough to list off your skills, you should also include concrete examples of how you've used your skills in the past. For example, you could mention how you successfully implemented a monitoring system that improved system performance by X%.
Prove Your Experience: Employers want to know that you can actually do the job, so don't forget to include any certifications, awards, or other credentials that prove your competency.
Showcase Your Knowledge: Make sure to include any projects, research, or positions that demonstrate your knowledge of the field.
Emphasize Your Communication Skills: As a Telemetry Technician, you need to be able to communicate effectively with other technicians, supervisors, and customers. Showcase your ability to explain complex technical concepts in a clear and concise manner.
By following these key takeaways, you'll be sure to compose a resume that will impress potential employers and stand out from the competition. Good luck with your job search!
Let us help you build
your Resume!
Make your resume more organized and attractive with our Resume Builder