Writing a resume for a radiology scheduler position can be a daunting process, especially if you don't know where to start. Crafting a resume that accurately portrays your abilities and experiences is key to standing out among the competition and securing a job offer. This article will provide a comprehensive guide on how to write a resume for a radiology scheduler position, offering advice and tips, as well as highlighting resume examples. With this guide, you can feel confident that your qualifications are accurately and professionally represented on your resume.
If you didn't find what you were looking for, be sure to check out our complete library of resume examples.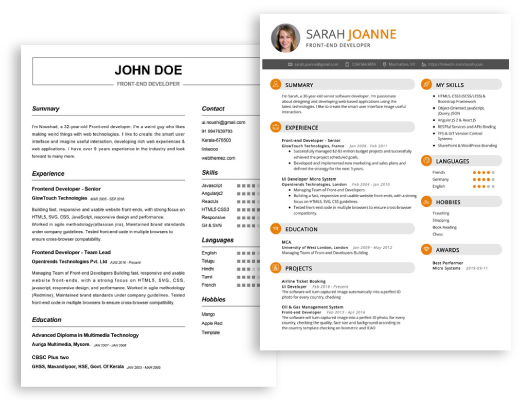 Start building your dream career today!
Create your professional resume in just 5 minutes with our easy-to-use resume builder!
Radiology Scheduler Resume Examples
John Doe
Radiology Scheduler
123 Main Street | Anytown, USA 99999 | Phone: (123) 456-7890 | Email: john.doe@email.com
Experienced Radiology Scheduler with 3 years of experience in the medical field. Possesses exceptional skills in patient scheduling, customer service, and problem resolution. Highly knowledgeable in medical terminology and modern medical office practices. Excellent communicator able to efficiently manage multiple tasks and prioritize work assignments.
Core Skills
Patient Scheduling
Medical Terminology
Customer Service
Problem Resolution
Multi- Tasking
Prioritizing
Communication
Professional Experience
Radiology Scheduler, ABC Medical Center – 2019- Present
Schedule radiology appointments for patients, using electronic scheduling software.
Answer patient inquiries regarding appointment scheduling, insurance coverage and other related questions.
Update patient information and medical records in the hospital database.
Efficiently manage multiple tasks and prioritize work assignments
Enter and update information in the radiology scheduling system.
Radiology Scheduler, XYZ Hospital – 2017- 2019
Performed clerical duties such as filing, copying, and answering phone calls.
Received and processed referrals from physicians and insurance companies.
Provided customer service to patients, answering questions and resolving issues.
Entered and updated patient information in the hospital database.
Education
Bachelor of Science in Health Administration, ABC University – 2017
Radiology Scheduler Resume with No Experience
Recent graduate with strong organizational and problem solving skills seeking a position as a Radiology Scheduler. Eager to learn and grow in a professional environment.
Skills:
Strong organizational skills
Excellent customer service skills
Familiar with medical terminology
Ability to multitask effectively
Proficient with Microsoft Office
Proficient with scheduling software
Knowledge of medical coding
Responsibilities:
Schedule patient appointments
Verify patient insurance and eligibility
Answer phone calls and provide customer service
Ensure timely completion of paperwork
Manage patient records
Process payments and invoices
Assist radiologists with administrative tasks
Radiology Scheduler Resume with 2 Years of Experience
Diligent and detail- oriented Radiology Scheduler with 2+ years of experience in the medical field. Proven ability to successfully coordinate and manage the daily scheduling of radiologists and other medical staff while providing exceptional customer service. Adept at identifying scheduling conflicts and resolving them in an efficient and effective manner. Possess strong communication and problem solving skills, as well as the ability to multitask in a fast- paced environment.
Core Skills
Scheduling
Staff Coordination
Time Management
Conflict Resolution
Customer Service
Communication
Problem Solving
Responsibilities
Assisted with the daily scheduling of radiologists for all radiology services.
Generated, updated, and maintained patient schedules for all exams and procedures.
Monitored and tracked staff hours to ensure proper utilization of resources.
Coordinated with medical and administrative staff to ensure accurate scheduling.
Investigated and resolved scheduling conflicts in a timely and effective manner.
Provided excellent customer service by addressing patient inquiries and concerns.
Supported other administrative tasks as needed, including filing, faxing, and photocopying.
Radiology Scheduler Resume with 5 Years of Experience
Highly experienced Radiology Scheduler with 5 years of experience in coordinating and scheduling radiology services for clients. Expert in working with patients and their families to ensure accurate and timely scheduling of radiology services and procedures. Highly organized, detail- oriented, and adept at problem- solving. Proficient in a wide range of medical software applications and systems.
Core Skills:
Knowledge of medical terminology
Scheduling and coordinating with patients
Superb patient service skills
Ability to multitask
Exceptional administrative and organizational skills
Customer service experience
Proficiency in medical software
Excellent communication skills
Responsibilities:
Scheduling patient appointments for radiology exams
Confirming radiology appointments and obtaining consent forms
Answering patient inquiries and providing patient education
Ensuring accurate and timely scheduling of radiology procedures
Maintaining patient records and radiologic exams
Providing administrative support to radiologists and other healthcare professionals
Managing and processing patient insurance information
Assisting in the preparation of radiology reports
Assisting with billing, coding, and collection of payments
Radiology Scheduler Resume with 7 Years of Experience
An experienced Radiology Scheduler with 7 years of progressively responsible experience in a medical setting. Proven ability to manage multiple tasks with a high degree of accuracy and ability to meet deadlines. Possess excellent customer service skills, working well with both internal and external clients. Proven ability to present a positive, friendly, and professional manner in all interactions. Possess knowledge of insurance guidelines and skilled in dealing with difficult patients.
Core Skills:
Scheduling appointments according to ACR guidelines
Working with insurance companies to ensure timely reimbursement
Excellent customer service and communication skills
Strong organizational and multi- tasking abilities
Problem solving and troubleshooting skills
Knowledge of medical coding and billing
Responsibilities:
Scheduled and confirmed patient appointments
Responsible for entering patient information into the scheduling database
Answered incoming calls and provided assistance to patient inquiries
Updated patient demographic information and insurance information
Verified insurance coverage and followed up with insurance companies regarding authorization
Provided assistance with pre- certification and other insurance related issues
Prepared patient charts, obtained medical records and entered data into the Referral Tracking system
Confirmed upcoming appointments, cancelled and rescheduled appointments as necessary
Coordinate with radiologists and other departments to ensure timely services
Assisted with collection of patient payments and other financial transactions
Provided general administrative and clerical support to the department
Radiology Scheduler Resume with 10 Years of Experience
Radiology Scheduler with 10+ years of experience in the health care field. Highly proficient in scheduling radiology exams, data entry and patient interaction. Seeking a position at a medical center with the opportunity to work with an experienced team.
A talented Radiology Scheduler with 10+ years of experience in the healthcare field, adept at scheduling radiology exams, data entry, and patient interaction. Possessing excellent communication and organizational skills, able to successfully coordinate and assign appointments while ensuring patient satisfaction. Experienced working in fast- paced environments, utilizing the latest technologies and systems.
Core Skills:
Advanced knowledge of medical terminology
Ability to work independently with minimal supervision
Proficient in patient scheduling and data entry
Excellent interpersonal, communication and organizational skills
Knowledge of HIPAA and other regulations
Responsibilities:
Answer incoming calls and provided accurate information regarding services offered and schedule appointments
Manage multiple tasks, data entry and patient records
Perform data entry duties, such as entering patient demographic information into the system
Maintain accurate and up to date patient information
Ensure patient satisfaction by responding to patient inquiries
Maintain HIPAA compliance by adhering to all security policies and procedures
Radiology Scheduler Resume with 15 Years of Experience
Accomplished Radiology Scheduler with 15 years of experience in medical procedure scheduling and medical records management. Highly skilled in coordinating multiple teams and ensuring patient satisfaction. Adept at exercising discretion and judgment in resolving administrative issues. Possess superior organizational and communication skills with a passion for delivering excellent customer service.
Core Skills:
Medical records management
Medical procedure scheduling
Effective problem solving
Attention to detail
Verbal and written communication
Superior customer service
Time management
Adaptability
Responsibilities:
Scheduled patient appointments and procedures in an efficient and effective manner.
Greeted patients in a friendly and professional manner while obtaining accurate information needed to complete patient records.
Processed patient insurance information and performed financial counseling to ensure accuracy.
Managed the daily operations of the scheduler office, including training and scheduling staff.
Developed and maintained positive relationships with patients, physicians and referral sources.
Ensured accurate and timely preparation of all paperwork and documentation, including patient pre- certifications and authorizations.
Resolved conflicts and interfaced with patients, insurance companies, and other healthcare providers.
Ensured HIPAA regulations and patient privacy guidelines were met.
In addition to this, be sure to check out our resume templates, resume formats, cover letter examples, job description, and career advice pages for more helpful tips and advice.
What should be included in a Radiology Scheduler resume?
A Radiology scheduler is a highly specialized medical administrative role that requires precision, organizational capabilities and a comprehensive understanding of the medical industry. A strong resume is essential for any candidate seeking to jumpstart a career in radiology scheduling.
To make sure your resume stands out from the competition, here are some essential components that should be included:
Work experience: Include a comprehensive overview of all past radiology scheduling positions, and be sure to include job titles, company names and the dates of your employment.
Education: List all degrees earned, any certifications acquired, and any relevant courses or specialties such as billing and coding or healthcare management.
Job-related skills: Examples of job-related skills to consider mentioning: knowledge of medical terminology, familiarity with scheduling software, understanding of medical insurance and claims procedures, excellent customer service skills and the ability to multitask efficiently.
Non-job related skills: Describe your communication skills, attention to detail, problem-solving ability and other relevant qualities that demonstrate your potential to excel in a radiology scheduling role.
An accurate and professional tone: Make sure your resume is free of errors, is well-organized and conveys the necessary information in a concise and professional manner.
By including these components in your resume, you will have a much better chance of getting your foot in the door of the radiology scheduling field. As with any job, being prepared and making sure your resume is up-to-date will go a long way in helping you secure the role you desire.
What is a good summary for a Radiology Scheduler resume?
A radiology scheduler resume should provide a summary that outlines their experience and qualifications in the field. This summary should include their past experience in the medical field, specific experience in radiology scheduling, and any additional skills they have that could be beneficial to the job. The summary should also highlight any certifications they have obtained and any specialized training they have gone through to prepare them for the position. It should also outline the ways they have gone above and beyond to ensure they are providing the best possible service to their employers and patients. This summary should give a potential employer an understanding of the applicant's qualifications and experience, as well as their commitment to the profession.
What is a good objective for a Radiology Scheduler resume?
A radiology scheduler is a vital part of a healthcare organization, handling the scheduling and coordinating of patient services. They must be organized, detail-oriented, and able to multitask. Crafting a well-written resume objective is an important step in your job search. Here is a good objective for a radiology scheduler resume:
To utilize my medical administrative experience and knowledge in a radiology scheduling role to ensure high quality patient care and satisfaction.
To obtain a position as a radiology scheduler and apply my expertise in patient scheduling, customer service, and data entry to streamline the organization's operations.
To leverage my experience in healthcare administration and scheduling to provide an efficient and accurate radiology appointment system for the organization.
To utilize my organizational skills and knowledge of medical terminology to accurately schedule patient appointments and ensure that all relevant information is documented.
To secure a position as a radiology scheduler where I can utilize my strong communication skills to effectively interact with patients and colleagues.
How do you list Radiology Scheduler skills on a resume?
Radiology Schedulers play a vital role in medical offices and hospitals. Their primary responsibility is to manage and coordinate diagnostic imaging appointments for patients. To qualify for this position, employers look for individuals with strong organizational and administrative skills. When listing your Radiology Scheduler skills on your resume, include the following:
Scheduling: Demonstrate your proficiency in organizing, managing and monitoring patient appointments.
Technical: Showcase your ability to use scheduling software and hospital information systems.
Communication: Highlight your interpersonal skills in communicating effectively with patients, healthcare providers, and other staff.
Problem-Solving: Display your capacity to identify, analyze and resolve scheduling conflicts and issues.
Compliance: Showcase your knowledge of medical scheduling regulations and guidelines.
Time Management: Emphasize your ability to handle multiple tasks in a fast-paced environment.
By emphasizing the above skills, you can demonstrate to potential employers your qualifications for a Radiology Scheduler position.
What skills should I put on my resume for Radiology Scheduler?
Whether you're just starting out as a radiology scheduler or you're a seasoned professional, it can be difficult to figure out which skills to put on your resume. It's important to showcase the skills that make you the perfect candidate for the job.
Here are some of the skills that should be included on your resume as a radiology scheduler:
Strong organizational and multitasking abilities: As a radiology scheduler, you need to be able to juggle multiple tasks and prioritize important tasks.
Time management: You need to be able to manage your time well in order to ensure that all appointments and tasks are completed in a timely manner.
Attention to detail: You need to be able to pay close attention to details in order to ensure accuracy in patient records, appointment scheduling, and more.
Knowledge of healthcare technology: You should have an understanding of healthcare technology and be able to use various programs and systems related to radiology scheduling.
Problem-solving skills: As a radiology scheduler, you need to be able to think on your feet and solve any issues that arise.
Interpersonal skills: You should be able to communicate effectively and professionally with patients, medical staff, and other stakeholders in the healthcare setting.
These are just some of the skills that you should include on your resume as a radiology scheduler. Highlighting these skills will help you stand out and show employers that you have what it takes to be a great radiology scheduler.
Key takeaways for an Radiology Scheduler resume
The field of radiology schedulers is a rapidly growing one as medical facilities continue to look for efficient ways to keep up with patient scheduling needs. If you're looking to break into this field, having a well-crafted resume is essential. Here are some key takeaways to consider when crafting your radiology scheduler resume:
Make sure to highlight your administrative skills, such as managing databases, handling paperwork, and scheduling appointments.
Emphasize your knowledge of computer systems and software programs used for scheduling and patient management.
Demonstrate your understanding of medical terminology and HIPAA regulations.
Prove that you understand patient confidentiality, as well as the importance of time management and accuracy in radiology scheduling.
Showcase your written and verbal communication skills, as you will be dealing with a wide range of people on a daily basis.
Demonstrate your problem-solving abilities and capacity for multitasking.
Provide examples of how you have helped streamline radiology scheduling processes in the past.
Describe any certifications or continuing education courses you've taken that pertain to radiology scheduling.
By including these key takeaways in your resume, you'll be able to showcase your qualifications and experience, and help you stand out in a competitive job market.
Let us help you build
your Resume!
Make your resume more organized and attractive with our Resume Builder