Having a strong resume is essential for radiologists who are looking to win an interview. As a radiologist assistant, you must be able to showcase your technical and medical skills, as well as provide details about your clinical experience. To help you craft the perfect resume for a radiologist assistant position, this guide will provide helpful tips, resume samples, and advice on how to make your resume stand out. By following the advice in this guide, you will be able to create a resume that impresses the interviewer and helps you land the job.
If you didn't find what you were looking for, be sure to check out our complete library of resume examples.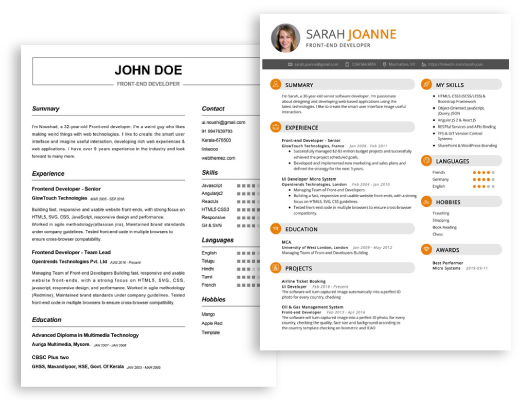 Start building your dream career today!
Create your professional resume in just 5 minutes with our easy-to-use resume builder!
Radiology Assistant Resume Examples
John Doe
Radiology Assistant
123 Main Street | Anytown, USA 99999 | Phone: (123) 456-7890 | Email: john.doe@email.com
Dedicated and organized Radiology Assistant with 9+ years of experience in medical facilities. Proven track record of accurately and efficiently preparing and assist with radiologic imaging tests. Experienced in patient care, operating and maintaining imaging and radiation equipment and maintaining patient records. Possesses excellent communication, customer service and problem- solving skills.
Core Skills:
Patient Care
Medical Terminology
Radiologic Procedures
Operating and Maintaining Imaging and Radiation Equipment
Maintaining Patient Records
Computer- Aided Design
Windows- based Software
Team Collaboration
Time Management
Professional Experience:
Radiology Assistant, St. Mary's Hospital – Milwaukee, WI
November 2017 – Present
Prepare patients for imaging tests, answer questions regarding the procedure and explain how to prepare
Operate, maintain and troubleshoot imaging and radiation equipment
Monitor radiation safety procedures
Prepare reports and patient files, maintain accurate records
Ensure compliance with laws, regulations, and standards
Radiology Assistant, County Hospital – Milwaukee, WI
March 2015 – November 2017
Assisted Radiologic Technologist in the delivery of Imaging services
Educated patients and families on various imaging procedures
Helped with the sterilization of instruments and ensure cleanliness of the department
Maintained and organized patient records
Education:
Associate of Applied Science Radiologic Technology, Milwaukee Technical College – Milwaukee, WI
2014
Radiology Assistant Resume with No Experience
Dedicated and attentive Radiology Assistant with a passion for improving patient care. Detail- oriented and organized with the ability to learn quickly and accurately. Seeking a role in a team- oriented healthcare facility.
Skills
Excellent interpersonal and communication skills
Strong understanding of patient- centered care
Ability to work effectively under pressure
Knowledge of medical terminology
Proficiency in Microsoft Office
Responsibilities
Assisting the Radiologist with patient care and procedures
Preparing patients and exam rooms
Provide support to Radiologists while performing procedures
Maintaining accurate patient records
Conducting regular equipment checks and maintenance
Ensuring all safety protocols are followed while administering radiological tests
Maintaining patient privacy in compliance with HIPAA regulations
Radiology Assistant Resume with 2 Years of Experience
A highly organized and detail- oriented Radiology Assistant with two years of experience in a medical facility. Possess excellent communication and interpersonal skills, as well as excellent knowledge in the medical field. Experienced in patient charting, data entry, and medical coding. Skilled in providing assistance to Radiologists and other medical staff.
Core Skills:
Proficient in medical coding and data entry
Strong knowledge of medical terminology
Excellent communication and interpersonal skills
Ability to follow instructions
Excellent organization and time management skills
Responsibilities:
Provided assistance to radiologists and other medical staff
Assisted in the administration of diagnostics and therapeutic radiological treatment
Assisted in the preparation of the patient for imaging
Recorded patient data into the medical record systems
Followed radiology safety department guidelines
Performed medical coding and billing
Maintained patient confidentiality
Performed various administrative tasks as requested
Radiology Assistant Resume with 5 Years of Experience
A highly motivated and knowledgeable professional with 5+ years of experience in radiography, patient care and assistance, and medical records. Possesses excellent communication, organizational, and interpersonal skills, as well as a strong work ethic and the desire to provide the best possible level of care for patients. Proven track record of success in both the clinical and academic settings.
Core Skills:
Radiography and Imaging
Patient Care and Assistance
Medical Records Management
Critical Thinking and Problem Solving
Effective Communication and Interpersonal Skills
Teamwork and Collaboration
Organizational and Time Management
Responsibilities:
Performed diagnostic radiography and imaging procedures as prescribed by a physician
Assisted radiologists in administering x- ray examinations and other diagnostic tests
Provided patient care and assistance in a professional and compassionate manner
Maintained accurate medical records, including patient data, images, and results
Performed quality assurance and safety checks on equipment to ensure optimal performance
Assisted with scheduling and coordinating patient appointments
Performed administrative duties such as filing and data entry
Provided patient education regarding radiography and imaging procedures
Radiology Assistant Resume with 7 Years of Experience
A highly experienced Radiology Assistant with 7 years of experience in conducting radiographic procedures and patient care. Adept at utilizing the latest radiologic technologies for diagnosis and treatment, providing exceptional patient care and managing patient records. Possess strong organizational and interpersonal skills and able to manage multiple tasks with ease.
Core Skills:
Ultrasound Scanning
Radiographic Procedures
Patient Care Support
Knowledge of Radiologic Technology
Inventory Management
Medical Terminology
Excellent Communication Skills
Interpersonal Skills
Organization and Time Management
Responsibilities:
Administer radiographic procedures and observe safety regulations.
Perform ultrasounds, CT scans, MRI scans, X- Rays and other radiologic procedures.
Assist the Radiologist in performing specialized radiologic tests.
Follow quality assurance and radiation safety protocols.
Provide patient education and support to ensure a high quality of care.
Assist with Radiologist reports and patient records.
Maintain supplies, equipment, and patient records.
Coordinate with other departments and radiologists.
Radiology Assistant Resume with 10 Years of Experience
Focused and diligent Radiology Assistant with 10 years of experience in a hospital setting, offering an extensive understanding of imaging procedures, equipment, and patient care. Proven ability to multitask on a range of administrative and clinical duties, ensuring top levels of patient care and safety. Excellent organizational, communication and time management skills.
Core Skills:
Radiology Equipment Utilization
Radiology Documentation
Radiology Investigations
Patient Assessment
Patient Care
Troubleshooting
Customer Service
Accurate Data Entry
Medical Terminology
Responsibilities:
Performed radiography and CT scans according to protocol and ensured patient safety.
Monitored and maintained records of patient data, including imaging results.
Assisted radiologists in imaging procedures, including IV injections.
Assisted in transporting patients to and from testing and treatment rooms.
Prepared and operated imaging equipment, such as X- ray machines.
Positioned patients and adjusted equipment for optimal imaging results.
Provided comfort and assurance to patients and family members.
Worked closely with radiologists to provide imaging exams.
Reviewed patient records, including medical history and lab results.
Performed regular maintenance and calibration of imaging equipment.
Processed and disseminated images to healthcare providers.
Radiology Assistant Resume with 15 Years of Experience
An experienced Radiology Assistant with 15 years of experience providing professional care to patients in a variety of settings. Skilled in the execution of radiological procedures, including X- ray, MRI, CT scans and mammograms. Possesses comprehensive knowledge of anatomy, positioning and radiation safety. Experienced in patient preparation, equipment operation and assessment of images. Dedicated to providing quality patient care and ensuring patient comfort during diagnostic tests and procedures.
Core Skills:
Radiology Procedures
Patient Preparation
Equipment Operation
Radiation Safety
Anatomy & Positioning
Image Assessment
Quality Patient Care
Responsibilities:
Perform diagnostic imaging tests such as X- ray, MRI, CT, and mammograms
Instruct patients on how to prepare for procedures, position themselves and remain still
Manage all aspects of the imaging process, including set- up and positioning of patient
Develop and maintain radiation safety protocols
Evaluate patient images and assess image quality
Provide radiation protection measures to patients and staff
Maintain patient records and images in compliance with HIPAA regulations
Collaborate and coordinate care with other health care professionals
In addition to this, be sure to check out our resume templates, resume formats, cover letter examples, job description, and career advice pages for more helpful tips and advice.
What should be included in a Radiology Assistant resume?
When crafting a resume for a Radiology Assistant position, it's important to highlight relevant skills and experience to ensure an effective job search.
The following tips should be considered to create an effective resume for a Radiology Assistant role:
Include a strong summary statement that showcases your knowledge of radiology, technical skills, and patient care abilities.
List all relevant certifications and licenses in the education section of your resume.
Include any specialized training or experience you have in radiologic technology.
Take the time to create a comprehensive list of your technical and soft skills.
Demonstrate your ability to work in a fast-paced clinical environment.
List any experience you have with operating medical equipment.
Highlight your knowledge of radiologic terminology and protocols.
Indicate any experience you have with performing diagnostic tests.
Point out your ability to maintain patient records.
Emphasize your problem-solving and communication skills.
Showcase your ability to work as part of a healthcare team.
What is a good summary for a Radiology Assistant resume?
A Radiology Assistant resume should provide a concise summary of a candidate's experience, skills, and educational background in the field of radiology. It should showcase the applicant's understanding of medical terminology, knowledge of diagnostic imaging equipment and techniques, as well as their ability to work well with patients, medical staff, and other healthcare professionals. In addition, a Radiology Assistant should be able to demonstrate their excellent verbal and written communication skills, as well as their ability to multitask in a fast-paced environment. To make the most of their resume, the applicant should highlight their technical expertise in a variety of radiology procedures and any experience with patient care. These qualifications and skills should be highlighted in order to help the applicant stand out from a crowded field and assure potential employers of their aptitude for the position.
What is a good objective for a Radiology Assistant resume?
A Radiology Assistant is a skilled professional who helps radiologists and other medical professionals diagnose illnesses and injuries by administering radiologic imaging. They work in hospital, clinic and private practice settings and must have a strong understanding of anatomy, physiology and medical terminology. If you are applying for a job as a Radiology Assistant, it is important to have a clear objective on your resume. Here are some tips to help you create a good objective for a Radiology Assistant resume:
Focus on the skills and qualifications that you have that make you a strong candidate for the position, such as your knowledge of anatomy, physiology and medical terminology.
Highlight your ability to work both independently and in a team environment.
Demonstrate your strong communication skills and commitment to patient safety.
Showcase your technical expertise in medical imaging equipment and processes.
Show that you can work well under pressure and remain organized in a fast-paced environment.
Include any certifications or specialized training that you have in medical imaging or healthcare.
Show that you are adaptable and can easily learn new processes and technologies.
Demonstrate your customer service skills, such as your ability to meet the needs of patients and their families.
How do you list Radiology Assistant skills on a resume?
When you are applying for a Radiology Assistant position, it is important to make sure you showcase your relevant skills and experience on your resume. Having a comprehensive list of skills can help you stand out from other applicants and demonstrate that you are the best fit for the job.
To list Radiology Assistant skills on your resume, consider the following:
Ability to operate diagnostic imaging equipment and related systems
Familiarity with radiation safety protocols and procedures
Proficiency in data entry and charting
Knowledge of anatomy and physiology
Ability to accurately interpret images and results
Excellent verbal and written communication skills
Strong customer service skills
Excellent organization and multitasking abilities
Knowledge of coding, billing and insurance procedures
Ability to work independently and in a team environment
Proficiency in patient assessment and care
By including these Radiology Assistant skills on your resume, you will show employers that you are qualified for the job and ready to hit the ground running.
What skills should I put on my resume for Radiology Assistant?
Radiology assistants play a vital role in the medical imaging industry, assisting radiologists and other medical professionals in preparing patients for radiological procedures and in analyzing images. As such, a strong resume should highlight the skills that make you stand out from the crowd. Here are some of the key skills you should include on your resume for a radiology assistant position:
Knowledge of Radiology Equipment & Procedures: Radiology assistants should possess a thorough knowledge of radiology equipment and procedures, such as X-ray, ultrasound, CT scan, and MRI procedures.
Patient Care: Radiology assistants should possess excellent patient care skills and the ability to explain procedures to patients in a clear and reassuring manner.
Time Management: Radiology assistants should be able to work efficiently and manage their time well to ensure that procedures are completed accurately and in a timely manner.
Organization: Radiology assistants should have strong organizational and administrative skills to properly manage patient data and ensure accuracy and completeness of patient reports.
Computer Proficiency: Radiology assistants should have a good understanding of computers, including a working knowledge of electronic medical records systems and other radiology software.
Attention to Detail: Radiology assistants must possess excellent attention to detail in order to properly analyze and interpret medical images and patient data.
By highlighting these and other relevant skills on your resume, you'll be well-positioned to stand out from the competition and get the job you want as a radiology assistant.
Key takeaways for an Radiology Assistant resume
The field of radiology is ever-evolving and competitive. It is important for radiology assistant job seekers to ensure that their resumes stand out from the competition and showcase their unique talents and technical experience. Here are some key takeaways for crafting a successful radiology assistant resume:
Highlight your technical skills: Include a detailed account of your technical expertise and certifications, such as CPR certification and any imaging techniques you are proficient in.
Emphasize your communication skills: Radiology assistants must be able to communicate effectively with both patients and other medical professionals. Be sure to highlight your ability to communicate clearly, your comfort speaking with patients, and any experience collaborating with other healthcare professionals.
Detail your patient care experience: If you have any previous experience working with patients, be sure to include that information on your resume. Radiology assistants must be able to provide compassionate, accurate care to patients.
Focus on your organization skills: Radiology assistants must be organized and detail-oriented. Include examples of your ability to accurately record and track patient information and any other organizational skills you possess.
Showcase your research abilities: Research is an important part of the job for any radiology assistant. Include any scientific papers you have written or other research projects you have worked on to demonstrate your knowledge and expertise in the field.
By following these tips, you can craft a stellar radiology assistant resume that will turn heads and help you stand out from the competition. With the right information and presentation, you can be sure to make a lasting impression on potential employers.
Let us help you build
your Resume!
Make your resume more organized and attractive with our Resume Builder