A pathologist is a medical doctor who performs laboratory tests to diagnose illnesses. As a pathologist, you will be responsible for analyzing tissue samples and performing other diagnostic tests to identify diseases. To land a job in this field, you will need to craft a strong resume that showcases your knowledge and experience. This guide will provide you with tips and examples to help you create a resume that will make you stand out from the competition.
If you didn't find what you were looking for, be sure to check out our complete library of resume examples.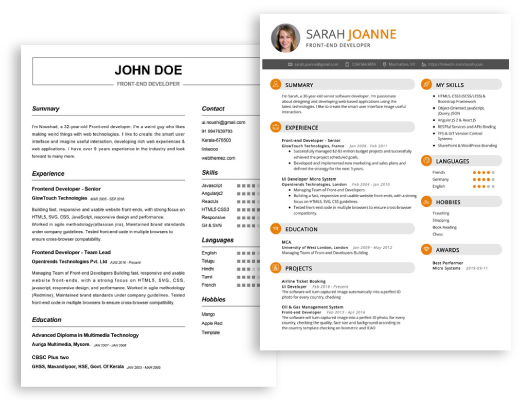 Start building your dream career today!
Create your professional resume in just 5 minutes with our easy-to-use resume builder!
Pathologist Resume Examples
John Doe
Pathologist
123 Main Street | Anytown, USA 99999 | Phone: (123) 456-7890 | Email: john.doe@email.com
Highly experienced and certified Pathologist with a wealth of knowledge in the field of medical sciences. Efficient and accurate in the completion of patient tests and diagnosis. Possess excellent interpersonal and communication skills with a great ability to empathize with patients. Proven track record of success in medical research and development.
Core Skills:
Clinical laboratory experience
Complex case analysis
Accurate data collection
Patient diagnosis
Pathology research
Laboratory technology
Medical coding
Data analysis
Report writing
Communication
Interpersonal skills
Professional Experience:
Head Pathologist, Highview Healthcare, 2017- Present
Oversee laboratory operations and deliver accurate patient diagnosis
Research and develop new methods of pathology testing
Review patient data and run tests to determine accurate diagnosis
Prepare and present patient reports and findings
Pathologist, Greenleaf Healthcare, 2014- 2017
Reviewed patient data and conducted pathology tests
Developed accurate diagnoses and recommended treatment
Assisted with complex case analysis and provided medical reports
Collaborated on research projects and prepared presentations
Education:
Doctor of Medicine, University of California, June 2010
Bachelor of Science in Medical Science, University of California, May 2004
Certified Pathologist, California Board of Pathology, December 2011
Pathologist Resume with No Experience
Recent graduate with a keen interest in Pathology and research. Well- versed in a variety of medical techniques and laboratory techniques. Highly motivated and eager to learn.
Skills:
Excellent communication and interpersonal skills
Familiarity with laboratory equipment
Ability to read and interpret medical information
Proficient in data analysis and problem- solving
Knowledge of anatomy and physiology
Computer literacy
Responsibilities:
Analyze test results to diagnose diseases
Monitor patient progress and document cases
Receive and store laboratory specimens
Perform tests and experiments to analyze results
Develop and execute treatment plans
Assist with research projects
Train and supervise junior colleagues
Pathologist Resume with 2 Years of Experience
A highly motivated and experienced Pathologist with 2 years of experience in diagnosing and treating medical conditions and diseases. Skilled in interpreting, analyzing and interpreting pathology reports, performing autopsies and ordering lab tests. Experience in collaborating with healthcare professionals to develop and implement patient care plans. Possessing excellent communication, interpersonal, and problem- solving skills.
Core Skills:
Pathology report interpretation
Laboratory testing and assessment
Patient treatments and care plans
Autopsy procedures
Interpersonal and communication skills
Problem- solving skills
Organizational and time management skills
Responsibilities:
Perform autopsies and analyze tissue samples to determine the cause of death
Diagnose diseases and medical conditions from laboratory results and observations
Order laboratory tests to confirm diagnoses and analyze medical samples
Interpret pathology reports and results to diagnose diseases and medical conditions
Develop and implement patient care plans in collaboration with healthcare professionals
Provide guidance and counseling to patients and their families on diagnoses and treatments
Research and review latest developments and trends in pathology and treatments
Prepare and present reports to medical staff and hospital administration
Maintain accurate and comprehensive records of patient treatments and progress
Ensure compliance with hospital policies and government regulations.
Pathologist Resume with 5 Years of Experience
Highly motivated and self- driven Pathologist with 5 years of experience in performing detailed diagnostics and testing of tissue samples, analyzing results and detecting different types of abnormalities. Possesses strong knowledge of various procedures, techniques and principles of pathology. Skilled in providing timely diagnosis to help physicians determine appropriate action for the best possible treatment.
Core Skills:
Comprehensive knowledge of laboratory techniques and procedures
Familiarity with principles and techniques of microscopy
Skilled in recording, interpreting and analyzing data
Proficient in performing laboratory tests to detect and diagnose diseases
Ability to explain procedures and results to patients and physicians
Excellent problem solving and analytical skills
Responsibilities:
Collect, examine and analyze tissue specimens and body fluids
Utilize specialized medical tools such as microscopes, centrifuges and scanners
Prepare and review reports on findings to provide accurate diagnosis
Record and maintain patient information using laboratory information systems
Work closely with healthcare providers to establish treatment and care plans
Monitor patient's progress and track results of tests and treatments
Perform quality assurance and control of diagnostic equipment and supplies
Maintain regulatory standards and ensure compliance with safety protocols.
Pathologist Resume with 7 Years of Experience
Highly motivated and detail- oriented pathologist with over 7 years of experience in pathology. Experienced in diagnosing diseases using microscopic and biochemical analysis. Proven track record of providing accurate and thorough diagnoses by utilizing the most up- to- date medical methods and technologies. Dedicated to providing patients with optimal healthcare services, as well as maintaining professional relationships with colleagues, physicians, and laboratory staff.
Core Skills:
Laboratory Diagnostics
Biochemistry
Microscopic Analysis
Disease Diagnosis
Pathology Procedures
Healthcare Services
Professional Relationships
Responsibilities:
Performing laboratory diagnostics and biochemical analysis of tissue samples and cell cultures
Examining slides of tissue samples under a microscope to identify abnormal or diseased cells
Documenting results of laboratory tests and diagnoses
Consulting with physicians and other healthcare professionals on the results of laboratory tests and diagnoses
Interpreting laboratory results and providing detailed reports
Providing patients with follow- up care and advice regarding their diagnosis
Educating patients and family members on pathology procedures, diagnoses, and treatment options
Maintaining accurate patient records and files
Keeping abreast of new developments in pathology and medical technology
Pathologist Resume with 10 Years of Experience
A dedicated and experienced Pathologist with 10 years of hands- on experience in the field of pathology. Possessing expertise in the investigation of diseased tissues, blood samples, and other specimens. A highly knowledgeable professional with the capacity to handle all types of pathological work. An expert multi- tasker with excellent communication and problem- solving skills.
Core Skills:
Laboratory experience with handling of pathological specimens
Ability to prepare detailed reports, analyze data, and interpret results
Familiarity with medical terminology
Knowledge of laboratory safety norms and regulations
Proficiency with pathology software programs
Strong communicative, organizational, and research skills
Responsibilities:
Performing laboratory tests to identify abnormal cells and diagnose diseases
Examining body fluids, blood samples, and other tissue specimens
Studying microscopic slides, examining slides under the microscope, and documenting results
Evaluating laboratory tests and preserving tissue specimens
Monitoring laboratory equipment and conducting routine maintenance
Providing counseling and advice to clinicians regarding diagnosis and treatment
Preparing test reports and submitting them to medical practitioners and patients
Updating records and preserving data for future reference.
Pathologist Resume with 15 Years of Experience
An experienced pathologist with fifteen years of experience in diagnosing and treating diseases through laboratory tests and studying organs and tissues. Possess expertise in laboratory procedures, laboratory management, and quality assurance. Possesses the ability to utilize a wide range of lab equipment for accurate and efficient testing. Highly skilled in medical terminology, case management, and patient care.
Core Skills:
Analytical and problem- solving abilities
Up- to- date knowledge of medical ethics
Solid understanding of biology, genetics, immunology, and other related sciences
Excellent communication and interpersonal skills
Effective organizational and documentation abilities
Ability to work well under pressure
Expertise in laboratory procedures
Proficient in laboratory management and quality assurance
Responsibilities:
Perform laboratory tests and analyze tissue samples
Collect, process, and interpret data
Diagnose diseases and determine appropriate treatments
Interpret lab results and prepare reports
Develop and execute laboratory protocols
Ensure quality assurance for lab procedures
Monitor and evaluate lab performance
Provide medical advice and consultation
Supervise and train laboratory personnel
In addition to this, be sure to check out our resume templates, resume formats, cover letter examples, job description, and career advice pages for more helpful tips and advice.
What should be included in a Pathologist resume?
A Pathologist resume should include various essential information about a candidate. A comprehensive and well-organized resume is the best way to showcase your professional accomplishments and skills. Here is a list of elements that should be included in a Pathologist resume:
Professional Summary: A concise summary of your professional background and qualifications, highlighting the most relevant experience and expertise.
Education: A list of all relevant educational qualifications, including academic degrees, certifications, and any other relevant coursework.
Work Experience: A detailed description of all your professional experience, including the roles you held, the tasks you performed, and any accomplishments or awards you achieved.
Skills: Outline all of your technical, communication, interpersonal, and analytical skills that are relevant to the role.
Awards and Achievements: Include any awards or recognition you have earned throughout your career.
Professional Memberships: List any professional organizations you are a member of.
Volunteer Work: List any volunteer work you have done and the skills you developed as a result.
Licenses and Certifications: Include any licenses or certifications you may have obtained.
Additional Information: Include any other information that may be relevant to the role, such as languages spoken or public speaking engagements.
What is a good summary for a Pathologist resume?
A good summary for a Pathologist resume should showcase the candidate's knowledge and experience in the medical field. It should also highlight their educational qualifications, professional certifications, and their ability to accurately assess diagnostic results. The summary should emphasize the candidate's strengths, such as their attention to detail, problem-solving skills, and advanced communication skills. The summary should also explain any specialties, such as cytology, histology, and molecular diagnostics, that the candidate may possess. A good summary for a Pathologist resume should also demonstrate the candidate's commitment to patient care and their passion for the medical field.
What is a good objective for a Pathologist resume?
Are you looking for a way to stand out from the other pathologists vying for your dream job? Having an objective statement on your resume can showcase your qualifications and help you stand out from the competition.
A great objective statement for a pathologist resume should emphasize your experience, skills, and education. Here are some examples of objectives you can use:
To use my background in pathology to provide accurate and timely diagnoses for patients, utilizing my diagnostic skills and knowledge of medical sciences.
Seeking a position as a Pathologist to use my experience of analyzing tissue samples and diagnosing diseases to improve patient care and outcomes.
To work as a Pathologist in a well-established medical institution and provide timely, accurate results to enhance patient care.
Seeking a position as a Pathologist to leverage my expertise in laboratory analysis and experience in operating sophisticated lab equipment to accurately detect and diagnose diseases.
To secure a position as a Pathologist and use my knowledge of pathology to provide accurate diagnoses and improve patient care.
How do you list Pathologist skills on a resume?
When applying for a job as a pathologist, it is important to showcase your relevant skills on your resume. Your resume should be tailored to the job you are applying for and should include the skills that are most relevant to the pathologist position you are applying for. Here is a list of skills that you should consider including on your pathologist resume:
Knowledge and application of medical terminology
Experience in utilizing laboratory techniques and clinical laboratory instrumentation
Ability to accurately interpret and analyze patient lab results
Familiarity with medical regulations and compliance procedures
Proficient in patient record keeping and documentation
Excellent communication and interpersonal skills
Ability to work independently with minimal supervision
Critical thinking and problem-solving skills
Proficiency in Microsoft Office and other computer applications
Research skills and the ability to stay up to date with new developments in pathology
Time management and organization skills to adhere to strict deadlines
Attention to detail and accuracy when it comes to patient data
Ability to handle stressful situations in a professional manner
By including these skills on your resume, you can show prospective employers that you have the skills and experience necessary to excel in a pathologist position.
What skills should I put on my resume for Pathologist?
When applying for a position as a Pathologist, there are certain skills that employers will look for to ensure you are an ideal candidate for the job. A resume that highlights these skills will be essential in making sure you stand out from the competition.
When constructing your resume, it's important to include the following skills to demonstrate that you have the requirements for the role:
Knowledge of modern pathology techniques: Pathology is an ever-evolving field, and employers will be looking for candidates who are up-to-date on the latest techniques and technology.
Strong analytical skills: Your analytical skills will be essential as a Pathologist, to interpret and analyze results from tests and experiments.
Attention to detail: As a Pathologist, attention to detail in your work is of the utmost importance. Employers will be looking for someone who is detail-oriented and can be trusted to provide accurate results.
Excellent communication skills: It's important to have excellent communication skills, as you will be working with colleagues, patients, and other healthcare professionals on a regular basis.
Problem-solving abilities: As a Pathologist, you will need to be creative and resourceful to solve complex problems.
By including these skills on your resume, you will be able to demonstrate to employers that you have the qualifications necessary for a successful career as a Pathologist.
Key takeaways for an Pathologist resume
A pathology resume is a critical tool for those seeking a job in pathology and related medical fields. It is important to ensure that your resume accurately reflects the skills, qualifications and experience that you possess. Below are some of the key takeaways you should consider when crafting a pathologist resume:
Highlight Your Education and Training: Pathology is a highly specialized field, and potential employers will want to see that you have a solid background in the field. Make sure to include your academic achievements and certifications, such as your medical degree, residency or fellowship.
Focus on Your Professional Experience: Your professional experience working as a pathologist should be the focus of your resume. List your experience through a chronological format, outlining the key responsibilities you had in each role.
Promote Your Technical Skills: As a pathologist, you need to demonstrate that you have the technical skills required to perform the job. Include any specialties you have such as tissue analysis and cytogenetics, as well as any specialties you have developed such as immunology or molecular biology.
Showcase Your Achievements: Don't forget to include any awards or achievements that you have earned in your professional life. This could be recognition for conducting research, developing new techniques or presenting papers at conferences.
Use the Right Format: Your resume should be easy to read and should be tailored to the job you are applying for. Use a clean, professional font and spacing to make sure potential employers can quickly and easily find the information they are looking for.
By following these key takeaways, you can help ensure that your pathology resume stands out from the competition and increases your chances of getting the job you want.
Let us help you build
your Resume!
Make your resume more organized and attractive with our Resume Builder