Whether you are an aspiring optometrist or an experienced professional, having an up-to-date resume is essential for finding success in the job market. A well-crafted resume is a key tool to capturing the attention of potential employers, while also communicating your qualifications and credentials. To help you get started, this optometrist resume writing guide provides tips and advice on how to create an effective optometrist resume. Along with resume writing tips, we've included examples of resumes so you can get a better idea of what a compelling resume looks like. With these resources in your toolkit, you'll be ready to put your best foot forward and get a leg up on the competition.
If you didn't find what you were looking for, be sure to check out our complete library of resume examples.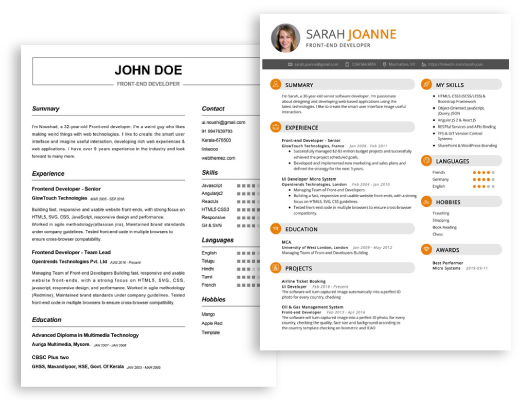 Start building your dream career today!
Create your professional resume in just 5 minutes with our easy-to-use resume builder!
Optometrist Resume Examples
John Doe
Optometrist
123 Main Street | Anytown, USA 99999 | Phone: (123) 456-7890 | Email: john.doe@email.com
Dynamic and experienced Optometrist with a track record of providing comprehensive eye care to patients of all ages. Possess a wide range of knowledge in clinical optometry, diagnosing and treating vision conditions, and knowledgeable in the usage of advanced optometric equipment. Skilled in managing and leading a team of optometric professionals.
Core Skills:
Clinical optometry and vision care
Diagnosis and treatment of vision conditions
Advanced optometric equipment
Team management
Eye exams and testing
Professional Experience:
Optometrist, Vision Health Inc. – May 2016 – Present
Assess patient's visual acuity and ocular health during patient examinations
Diagnose and treat vision conditions and diseases
Educate patients on diseases and preventive eye care
Prescribe and fit contact lenses and glasses
Schedule patient appointments and manage patient data
Optometric Technician, Vision Health Inc. – March 2013 – April 2016
Assisted optometrists with patient examinations
Performed diagnostic tests and vision screenings
Prepared patient data and updated patient records
Assisted with patient frame selection and contact lens fit
Education:
Doctor of Optometry, University of New York – May 2013
Bachelor of Science in Visual Science, University of New York – May 2011
Optometrist Resume with No Experience
Dynamic, patient- oriented optometrist professional with excellent interpersonal and communication skills. Possess a genuine passion for helping others and providing the highest quality of patient care. Seeking to apply knowledge and experience in a hospital setting.
Skills
Clincal optometry
Ophthalmic diagnostic testing
Exceptional interpersonal and communication skills
Patient- oriented and empathetic
Knowledge of ophthalmology principles
Ability to accurately interpret vision tests
Responsibilities
Conduct comprehensive eye exams
Diagnose vision and ocular health problems
Evaluate patient's vision needs and recommend treatment plans
Prescribe eyeglasses, contact lenses, and other vision corrective products
Educate patients on vision care and eye health
Manage patient records, documentation, and data entry
Provide personalized customer service
Maintain a clean, safe, and organized work environment
Optometrist Resume with 2 Years of Experience
Experienced and highly motivated Optometrist with two years of experience in providing comprehensive eye care services including vision examinations, diagnosis, and treatments. Possess excellent knowledge and skills in optometry, ophthalmic lenses, and contact lenses. Adept at effectively utilizing specialized optometric instruments and diagnostic equipment to diagnose and treat vision anomalies. Exceptional communication and interpersonal skills that help to effectively counsel and educate patients about vision care and eye health.
Core Skills:
Expertise in providing comprehensive eye care services
Excellent knowledge of contact lenses, optometry, and ophthalmic lenses
Proficient in operating specialized optometric instruments and diagnostic equipment
Excellent communication and interpersonal skills
Strong organizational, time management, and problem- solving skills
Highly organized and detail- oriented
Responsibilities:
Performed comprehensive eye examinations and evaluated patient's vision acuity
Prescribed appropriate eyeglass lenses and contact lenses to correct vision anomalies
Performed various tests to detect ocular diseases and abnormalities
Diagnosed and treated ocular diseases such as glaucoma, cataracts, and strabismus
Provided counseling and education to patients about vision care, ocular hygiene, and nutrition
Maintained accurate patient records and updated patient information in the database
Prescribed and monitored medications to patients with ocular diseases
Optometrist Resume with 5 Years of Experience
A highly experienced optometrist with 5 years of direct patient care, diagnosing, evaluating and treating diseases of the eye and visual systems. Qualified to provide comprehensive eye care, such as vision tests, contact lens fitting, and pre and post- operative care. Skilled in educating patients on eye care and health, as well as developing and implementing a treatment plan for all eye conditions.
Core Skills:
Thorough knowledge of the eye and visual system
Skilled in diagnosing and treating ocular diseases
Strong interpersonal and communication skills
Excellent problem solving and decision- making ability
Proficient in the use of various ophthalmic equipment
Ability to work independently and in a team environment
Responsibilities:
Performing comprehensive eye examinations including vision tests, analyzing patients' vision and prescribing corrective lenses
Diagnosing and treating ocular diseases and diseases of the visual system
Prescribing medications and therapeutic treatments
Educating patients on eye care and use of protective eyewear
Fitting and providing contact lenses
Providing pre and post- operative care for eye surgery patients
Counseling patients on vision and lifestyle changes necessary for optimal eye health
Optometrist Resume with 7 Years of Experience
A highly skilled optometrist with seven years of experience in providing comprehensive eye care and vision care services to patients. Possess excellent communication and interpersonal skills with the ability to provide superior patient care in a variety of settings. Experience includes assessing and diagnosing vision disorders, providing eye health and vision care assessments, and recommending treatments and glasses.
Core Skills:
Patient assessment and diagnosis
Eye care and vision care services
Knowledge of common vision disorders
Knowledge of current vision care treatments
Innovation and problem- solving
Excellent communication and interpersonal skills
Computer literacy
Responsibilities:
Performing comprehensive eye exams and diagnosing vision conditions, providing treatment and prescribing glasses or contact lenses
Educating patients and their families on vision care and vision disorders
Ordering and interpreting diagnostic tests such as vision fields and retinal images
Responding to patient inquiries regarding vision care, treatments and medications
Performing minor surgeries, such as cataract removal, laser vision correction and corneal transplants
Coordinating with other medical professionals to provide comprehensive patient care
Keeping updated on the latest developments and treatments in vision care and vision care technologies
Optometrist Resume with 10 Years of Experience
A committed and passionate optometrist with 10 years of experience in providing specialized patient care and diagnosing issues related to vision. Possessing an extensive knowledge base in ocular health and disease and excellent skills in maintaining equipment and performing ophthalmic tests. Excellent interpersonal communication skills and a proven ability to handle stressful situations and multitask with ease.
Core Skills:
Conducting comprehensive eye exams
Determining diagnoses based on tests
Analyzing patient medical history
Providing appropriate referrals to other providers
Prescribing and fitting contact lenses
Utilizing specialized testing and diagnostic equipment
Educating patients on vision care and treatments
Developing patient relationships
Maintaining a professional demeanor
Responsibilities:
Performing comprehensive eye exams for adults, children and infants.
Identifying and diagnosing common vision problems.
Prescribing, fitting and dispensing contact lenses.
Evaluating ocular health and disease.
Referring patients to specialists when needed.
Conducting vision tests and measurements.
Educating patients on hygiene and vision care.
Maintaining accurate and up- to- date patient records.
Providing counseling to patients on visual treatments and corrective options.
Maintaining and calibrating ophthalmic equipment.
Optometrist Resume with 15 Years of Experience
Highly experienced and certified Optometrist with 15 years of experience in providing excellent vision care services. Expert in the field of optometry, with proven knowledge and skills in all aspects of eye care, from eye exams and treatments, to diagnosing and managing vision problems. Experienced in providing services to patients of all ages, from infants and children, to adults and seniors. Demonstrated ability to work collaboratively in teams and a commitment to providing the highest quality of care for every patient.
Core Skills:
Comprehensive knowledge and understanding of optometry
Ability to diagnose and treat vision problems
Skilled in performing comprehensive eye exams
Experienced in fitting contact lenses and prescribing glasses
Knowledge of the latest optometric technology
Excellent communication and patient care skills
Proven record of providing superior quality of care
Responsibilities:
Performing comprehensive eye examinations on patients of all ages, from infants and children, to adults and seniors
Diagnosing, treating and managing vision problems, such as nearsightedness, farsightedness, astigmatism and presbyopia
Recommending contact lenses and glasses, based on the patient's needs and preferences
Utilizing the latest optometric technology to diagnose, treat and monitor vision issues
Educating patients on eye health and safety
Keeping accurate records of patient visits and providing detailed reports to other members of the healthcare team
Maintaining a clean and safe environment in the optometry practice
In addition to this, be sure to check out our resume templates, resume formats, cover letter examples, job description, and career advice pages for more helpful tips and advice.
What should be included in a Optometrist resume?
If you're in the process of writing or updating your resume as an optometrist, there are some important elements to consider. A well-written resume should highlight your achievements, professional experience, and education. Here are some key elements to include in an optometrist resume:
Professional Summary: This section should be a brief yet informative summary of your background and qualifications. Include key skills, experience, and accomplishments that are relevant to optometry.
Education: Detail your educational history and any licenses or certifications you may have earned.
Experience: Include any clinical or administrative experience you have gained as an optometrist. Describe the duties and responsibilities you had in each role.
Technical Skills: Be sure to detail any technical or computer-based skills that you possess that are relevant to optometry.
Awards and Achievements: If you have received any awards or honors during your optometry career, be sure to include them in your resume.
Professional Memberships: Listing any professional memberships or affiliations can show potential employers your commitment to the profession.
By including these elements in your optometrist resume, you will be able to effectively showcase your experience and qualifications to potential employers.
What is a good summary for a Optometrist resume?
A good summary for an Optometrist resume should showcase your experience, qualifications, skills, and any other relevant information that speaks to your qualifications as a qualified Optometrist. The summary should highlight any specialized training or certifications, such as any optometric schooling and certifications, in addition to any professional accomplishments or experience that you have obtained. It should also be concise, yet provide enough details to give a strong impression of your abilities and expertise. Furthermore, the summary should be tailored to the role you are applying for, highlighting any experience and qualifications that are most relevant to that particular role. When writing a summary for an Optometrist resume, keep in mind that you should focus on the areas that make you stand out from other candidates vying for the same position.
What is a good objective for a Optometrist resume?
Optometry is a specialized field of medicine that focuses on the health of the eyes and vision. Whether you are a new optometrist or have years of experience, having a well-crafted resume can help you land your next job. An objective statement can be a great way to highlight your experience and career goals in a concise and effective manner.
Here are some tips for creating a good objective statement for your optometrist resume:
Highlight your qualifications: Include an overview of your qualifications, such as any certifications or licenses you possess, your years of experience, and any specialties you may have.
Emphasize your passions: State any passions you have for the profession that can help you stand out from other applicants.
Focus on the job you're applying for: Tailor your objective statement to the particular job you're applying for. Describe what you can bring to the role and how you can help the organization achieve its goals.
Keep it brief: Objectives should be no more than a few sentences in length. Convey your message quickly and clearly.
By crafting a succinct and targeted objective statement, you can make your optometrist resume stand out and get the attention of recruiters. With the right objective, you can show employers that you have the skills and experience to make an immediate impact in their organization.
How do you list Optometrist skills on a resume?
When listing Optometrist skills on your resume, it's important to highlight the skills and qualifications required for the job. This will help employers determine if you are a good fit for the position. Here are some key skills to include on your resume:
Expertise in vision assessment and diagnosis: Optometrists must possess knowledge and skills to accurately diagnose a wide range of vision problems.
Prescription of corrective eyewear, lenses and contact lenses: Optometrists must have the ability to determine the most appropriate kind of corrective eyewear for a patient's needs.
Knowledge of ocular diseases and treatments: Optometrists must be familiar with the latest treatments and medications for the management of eye diseases and disorders.
Excellent communication and interpersonal skills: Optometrists must be able to effectively communicate with patients, customers and colleagues.
Attention to detail: Optometrists must be able to accurately and efficiently identify vision problems and make informed decisions.
Ability to use diagnostic equipment: Optometrists must be proficient in the use of various diagnostic equipment such as retinoscopy, slit-lamp, and pupilometer.
Knowledge of relevant laws and regulations: Optometrists are expected to be familiar with the legal and regulatory requirements of the profession.
What skills should I put on my resume for Optometrist?
When applying for an optometrist position, it is important to highlight the skills that you possess that are applicable to the job. Your resume should accurately and comprehensively demonstrate your relevant abilities and experience. The following are some key skills to consider including in your resume when applying for an optometrist position:
Knowledge of Eye Conditions: It is essential that optometrists have an extensive understanding of the wide variety of eye conditions, treatments and related diseases.
Comprehensive Vision Tests: Optometrists should be well-versed in administering and interpreting a variety of vision tests.
Prescription Writing: Optometrists should be knowledgeable in the process of writing prescriptions for contact lenses, eyeglasses, and other vision correction products.
Patient Care: A successful optometrist should have strong interpersonal skills in order to build rapport and trust with patients.
Communication: Optometrists are expected to be able to effectively explain and discuss medical information with patients.
Problem-Solving: Optometrists should possess sound problem-solving skills and be able to recognize and diagnose medical issues.
Computer Skills: Optometrists should be comfortable using electronic medical records (EMR) and other computer applications in their work.
Attention to Detail: Optometrists must be able to accurately analyze and interpret complex medical data, so attention to detail is essential.
Professionalism: Optometrists should demonstrate professionalism in all aspects of their work, from patient care to prescribing medications.
Key takeaways for an Optometrist resume
When creating a resume for an Optometrist position, there are several key takeaways to keep in mind. Most optometrists need to be proficient in medical recordkeeping and patient care, as well as possessing good communication and problem-solving skills. Keeping these things in mind, here are some of the key takeaways for an Optometrist resume:
Demonstrate your knowledge of optometry: Make sure to include any relevant coursework or certifications you have obtained, such as those from the American Board of Optometry or the American Academy of Optometry. These qualifications help employers to know that you have the necessary education and credentials to do the job.
Highlight your clinical skills: Be sure to list any clinical skills or experience you have, such as performing eye exams, diagnosing vision problems, or giving advice on eye care treatments.
Show off your communication skills: Being an Optometrist requires strong interpersonal and communication skills, so make sure to highlight any past experiences you have had working with patients or colleagues.
Show your commitment to patient care: Employers want to hire Optometrists who are committed to providing excellent patient care. Show them that you have a passion for the field by highlighting any past volunteer work or community involvement you have had.
By following these key takeaways, you can ensure that your resume stands out and effectively shows your qualifications as an Optometrist. With the right information and focus, you can make sure that your resume is a powerful tool in getting you the job you want.
Let us help you build
your Resume!
Make your resume more organized and attractive with our Resume Builder