Are you an Optometric Technician looking for a job? Your resume is an essential part of your job search. It provides a snapshot of your work experience, education, and skills. A well-crafted resume can help you stand out from the competition and get your foot in the door. Writing an effective resume can be tricky, especially within the health care field. To help you get started, this guide will provide you with a step-by-step guide to writing a resume for Optometric Technician positions. It will also include resume examples and advice on how to make the most of your resume.
If you didn't find what you were looking for, be sure to check out our complete library of resume examples.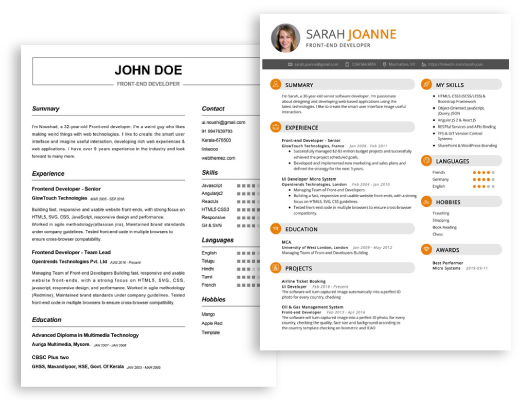 Start building your dream career today!
Create your professional resume in just 5 minutes with our easy-to-use resume builder!
Optometric Technician Resume Examples
John Doe
Optometric Technician
123 Main Street | Anytown, USA 99999 | Phone: (123) 456-7890 | Email: john.doe@email.com
Highly motivated and detail- oriented Optometric Technician with 6+ years of experience providing outstanding administrative and clinical support in a busy optometry office. Possess a strong attention to detail, excellent problem- solving skills and superb communication and patient service abilities. Demonstrated ability to handle multiple tasks, prioritize, and ensure accuracy of data. A collaborative team member with the ability to quickly adapt to changing environments.
Core Skills:
Electronic Health Records (EHR)
Optometric Technician Certification
Patient Scheduling
Insurance Verification
Medical Coding
Ophthalmic Testing
Clinical Support
Patient Education
Inventory Management
Professional Experience:
Optometric Technician, Eye Care Solutions | March 2019 – Present
Maintain an organized and up- to- date patient chart system for all medical records
Perform pretesting procedures, including vision tests and lensometry
Perform patient check- in and check- out functions
Facilitate efficient exam flow and patient flow
Verify patient insurance information and prepare documents for patients to sign
Assist with orders for contacts, frames and lenses
Maintain inventory, order supplies and keep a neat and orderly work area
Optometric Technician, Eye Care Associates | March 2017 – February 2019
Performed pretesting duties, including dispensing tests, recording patient history and vision
Assisted in the selection of eyeglasses and contact lenses
Performed daily administrative duties, including scheduling appointments, confirming patient insurance and maintaining accurate patient records
Provided patient education on proper contact lens and eyeglass care
Conducted patient check- in and check- out procedures
Ensured patient confidentiality, HIPAA compliance and accuracy of data
Education:
Associate Degree in Ophthalmic
Optometric Technician Resume with No Experience
Recent college graduate with a passion for helping others and a desire to expand my knowledge in the field of optometry. I am eager to learn and grow, and am confident I can apply my problem solving and communication skills to the role of Optometric Technician.
Skills
Strong verbal and written communication skills
Ability to work independently or in teams
Highly organized and detail- oriented
Proficient in Microsoft Office Suite
Knowledge of optometric terminology and procedures
Responsibilities
Assist in pretesting and vision screenings
Perform equipment maintenance and calibration
Stock and organize inventory of optometric supplies
Greet, check- in, and assist with patient check- out
Administer diagnostic tests including ophthalmoscope, lensometer, etc.
Schedule and confirm appointments
Educate patients on proper lens care, contact lens orders, etc.
Optometric Technician Resume with 2 Years of Experience
Highly organized and motivated Optometric Technician with over 2 years of experience providing exceptional patient care and customer service. Experienced in working with all types of optical equipment, diagnosing and managing various eye- related issues, and accurately recording patient information. Demonstrated ability to work effectively under minimal supervision.
Core Skills:
Diagnosis and treatment of eye diseases and disorders
Knowledge of optical instruments and equipment
Excellent customer service and communication skills
Detail- oriented and highly organized
Knowledge of HIPAA and other medical laws
Ability to manage multiple tasks efficiently
Responsibilities:
Prepared and maintained patient records and charts, including medical histories
Communicated with patients and their families to provide instructions and answer questions
Assisted optometrist in diagnosing and treating various eye diseases and disorders
Performed tests, such as visual acuity tests, eye muscle tests and color vision tests
Tested and fitted eyeglass frames and lenses, as well as contact lenses
Processed prescription orders
Scheduled and performed follow- up visits with patients
Maintained inventory of eyeglass frames and contact lenses
Monitored patients' progress and communicated results with optometrist
Optometric Technician Resume with 5 Years of Experience
Motivated and dependable Optometric Technician with 5 years of experience in providing excellent optometric support services. Adept in assessing patient health records and accurately recording data. Highly proficient in using specialized instruments such as autorefractors, lensometers, and keratometers. Committed to providing safe and comfortable patient environment while offering excellent customer service.
Core Skills:
Patient assessment
Data entry
Specialized instrument operation
Safety compliance
Customer service
Visual acuity tests
Ophthalmic lens fitting
Contact lens care instructions
Multi- line phone system
Inventory management
Patient scheduling
Responsibilities:
Assessed patient health records and accurately entered data
Operated specialized instruments such as autorefractors, lensometers, and keratometers
Maintained safety compliance and provided a comfortable patient environment
Offered excellent customer service by answering questions and providing explanations
Performed visual acuity tests and ophthalmic lens fittings
Instructed patients on proper contact lens care
Managed multi- line phone system and answered incoming calls
Maintained inventory of supplies and ordered new items when needed
Scheduled patient appointments and tracked patient data.
Optometric Technician Resume with 7 Years of Experience
An experienced Optometric Technician with 7 years of experience in the optometry field. Possessing a strong knowledge of optometric instruments, medical terminology, lenses, contact lenses, and eye diseases. Skilled at adapting to changes in the optometry field, providing excellent customer service, and wearing multiple hats. A highly organized, detail- oriented, and compassionate individual who is dedicated to providing the best care and service to each patient.
Core Skills:
Optometric Instruments
Medical Terminology
Lenses
Contact Lenses
Eye Diseases
Customer Service
Organizational Skills
Attention to Detail
Leadership
Responsibilities:
Perform preliminary testing on patients including visual acuity, refraction, and other tests as directed by the optometrist
Assist optometrists in difficult procedures and special tests
Answer patient inquiries, address and educate patients on their concerns and issues
Instruct patients in the use and care of contact lenses and glasses
Ensure the accuracy of patient records and documentation
Maintain a safe, clean and organized optometry office
Order and maintain an adequate inventory of supplies and equipment
Educate patients on safety measures when using optometric instruments
Assist optometrists in fitting and adjusting glasses and contact lenses
Schedule and confirm appointments with patients
Optometric Technician Resume with 10 Years of Experience
An experienced and knowledgeable optometric technician with 10 years of experience providing quality, efficient, and professional support to optometrists and their patients. Possesses excellent interpersonal skills and a strong aptitude for problem- solving, enabling me to provide exceptional patient care in a professional manner. Possesses a professional attitude and an eagerness to learn, leading to a successful career.
Core Skills:
Knowledge of medical terminology
Excellent interpersonal and communication skills
Ability to work in a fast- paced environment
Knowledge of eye- care products and services
Ability to multi- task and prioritize tasks
Computer proficiency, including Microsoft Office Suite
Responsibilities:
Prepare patients for examinations by obtaining medical history and vital signs
Assist optometrists with diagnosis, treatments, and procedures related to eye care
Maintain accurate patient records and ensure patient confidentiality
Explain the purpose of diagnostic tests and procedures to patients
Assist with contact lens fittings, including measuring and recording the fitting
Educate patients on proper contact lens care and follow- up
Administer vision tests, including refraction and visual field tests
Maintain cleanliness and order of exam room and equipment
Optometric Technician Resume with 15 Years of Experience
Results- oriented Optometric Technician with 15 years of experience in providing exceptional precision and accuracy to all facets of vision services. Highly experienced in working with patients and medical professionals to maintain patient records, administer tests and collect data. Proven ability to perform comprehensive vision and eye health assessments, fit eyewear, and troubleshoot equipment. Adept in operating advanced vision testing instruments, maintaining clinical equipment, and assisting with patient diagnoses and treatments.
Core Skills
Patient record keeping
Comprehensive vision tests
Fitting eyewear
Diagnostic and therapeutic procedures
Knowledge of ophthalmic lenses
Adaptability and attention to detail
Spectacle and contact lens ordering
Collaboration and communication
Knowledge of vision care products
Operating vision testing instruments
Responsibilities
Conducting comprehensive vision tests and assessments
Fitting eyewear and contact lenses
Troubleshooting vision testing equipment
Recording and analyzing patient data
Assisting with patient diagnoses and treatments
Administering diagnostic and therapeutic procedures
Maintaining patient records
Assisting with spectacle and contact lens ordering
Operating advanced vision testing equipment
Maintaining inventory of vision care products and clinical supplies
In addition to this, be sure to check out our resume templates, resume formats, cover letter examples, job description, and career advice pages for more helpful tips and advice.
What should be included in a Optometric Technician resume?
Optometric Technician Resumes are an important part of any job application. They should be carefully tailored to the specific job requirements and should include a concise summary of previous experience, education, and skills. Here are some key components to include when crafting an Optometric Technician Resume:
Professional Summary: A brief introductory paragraph that outlines your qualifications and experience.
Objective: A concise statement of your career goals and what you hope to gain from the position.
Education: List any relevant degrees, certifications, or other training that you have.
Skills: Include any special skills or techniques you have acquired in the field of optometry.
Work Experience: Provide a detailed history of any previous employment in the field.
Professional Memberships: If you belong to any professional optometric organizations, list them here.
References: Provide two or three professional references that can vouch for your experience and character.
Additional Information: Include any awards, certifications, hobbies, or other details that may set you apart from other candidates.
What is a good summary for a Optometric Technician resume?
A good summary for an Optometric Technician resume should include a few key elements that demonstrate the individual's qualifications and skills. It should mention the applicant's experience working in the field, their certifications and any other related knowledge they possess. It should also include any special skills or awards they have received, as well as any other relevant experience they possess. This summary should highlight the individual's dedication and commitment to the practice of optometry and the care of patients. Additionally, this summary should demonstrate the applicant's unique knowledge and skill set as it relates to optometry, as well as their ability to provide exceptional patient care. Finally, the summary should showcase the individual's passion for the field and the enthusiasm they have for their work.
What is a good objective for a Optometric Technician resume?
A well-crafted objective statement on an Optometric Technician resume can set your resume apart from the competition. An objective statement can be used to demonstrate your commitment to the field, as well as your top relevant qualifications. Here are some tips for writing an effective objective statement:
Start by highlighting your most relevant qualifications and experience.
Demonstrate your commitment to the field of optometry and your enthusiasm for working as an optometric technician.
Show that you are a dedicated, hard-working individual who is willing to learn.
Focus on the value you can bring to the employer and how you can help them achieve their goals.
Showcase your strong customer service and communication skills.
Demonstrate your knowledge and experience with the latest optometric technology.
By utilizing these tips, you can create an effective and compelling objective statement that will grab the attention of hiring managers and increase your chances of getting an interview. Good luck!
How do you list Optometric Technician skills on a resume?
When listing Optometric Technician skills on a resume, it is important to include both soft and hard skills. Soft skills are often referred to as "people skills" and involve communication and interpersonal abilities. Hard skills involve specialized knowledge related to the job.
Optometric Technicians should list the following soft and hard skills on their resumes:
Soft Skills:
Excellent customer service
Professional communication
Organizational and time management skills
Ability to multitask
High attention to detail
Ability to work in a fast-paced environment
Hard Skills:
Knowledge of optometry terminology
Ability to use diagnostic equipment such as retinoscopes, lenses, and slit lamps
Familiarity with various types of contact lenses
Knowledge of various contact lens fitting techniques
Ability to take accurate measurements and record patient information
Knowledge of optical dispensing
Computer proficiency
Knowledge of vision insurance
Ability to process payments
Knowledge of HIPAA and OSHA regulations
What skills should I put on my resume for Optometric Technician?
Optometric Technician resumes should demonstrate a range of skills, including technical, scientific, and medical expertise, as well as customer service and administrative skills. Here are some of the skills that are most relevant to an Optometric Technician position:
Knowledge of Optometric instruments, including retinal imaging, optical coherence tomography, autorefraction and automated visual field testing.
Ability to conduct comprehensive eye examinations.
Expertise in contact lens fitting and ocular disease management.
Proficiency in visual acuity testing, refraction testing, and ophthalmoscopy.
Experience in optical dispensing, including frame selection and lens fitting.
Ability to use electronic health records and other software systems.
Excellent customer service skills and the ability to provide patient education.
Exceptional organizational and administrative skills.
Attention to detail and accuracy.
Ability to work in a fast-paced environment.
Key takeaways for an Optometric Technician resume
An Optometric Technician resume is an important document for those looking to join the optometric profession. It should demonstrate your experience, knowledge and skillset in the field. It should also highlight the qualities that make you an ideal candidate for the job. Here are some key takeaways to keep in mind when crafting your resume:
Highlight your experience and qualifications. Include any relevant work experience and qualifications that will help demonstrate your capabilities as an optometric technician. Be sure to list any certifications or licenses you possess that are related to the field.
Focus on your skillset. Showcase the skills you have as an optometric technician, such as instrumentation and ophthalmic testing. Describe how you can assist in eye exams, customer service and administrative duties.
Show your customer service skills. Optometric technicians work closely with patients, and it's important to demonstrate that you are able to work effectively with people from all backgrounds. Showcase your customer service skills on your resume by describing any customer service-related positions you have held.
Demonstrate your problem-solving skills. Optometric technicians must have the ability to diagnose and troubleshoot problems. Showcase your problem-solving skills by describing any challenges you have faced and how you overcame them.
List any relevant affiliations. Showcase any professional affiliations you may have with optometric organizations.
These are some key takeaways to keep in mind when crafting your Optometric Technician resume. Remember to highlight your experience, qualifications, and skillset in order to stand out from the competition. Good luck!
Let us help you build
your Resume!
Make your resume more organized and attractive with our Resume Builder