Having a well written resume is essential when applying for any job, but especially when applying for an Optometric Assistant position. As an Optometric Assistant, you must have the right skills and qualifications to be an effective and successful candidate. Writing a resume can be daunting, but this guide will provide you with the resources and step-by-step instructions you need to create an Optometric Assistant resume that will stand out from the rest. This post will go over how to write a resume for Optometric Assistants, what to include in each section, and provide several examples of resumes that you can use as a template. With this guide and a few helpful tips, you'll be able to create an exceptional Optometric Assistant resume.
If you didn't find what you were looking for, be sure to check out our complete library of resume examples.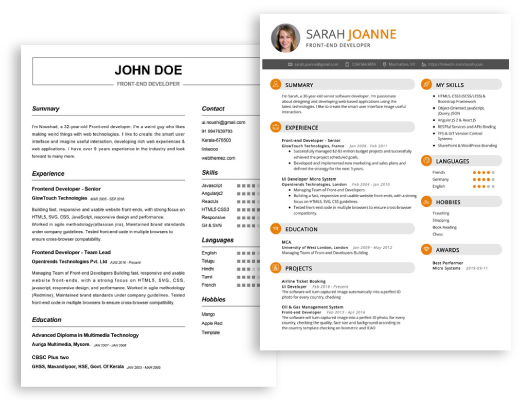 Start building your dream career today!
Create your professional resume in just 5 minutes with our easy-to-use resume builder!
Optometric Assistant Resume Examples
John Doe
Optometric Assistant
123 Main Street | Anytown, USA 99999 | Phone: (123) 456-7890 | Email: john.doe@email.com
Highly organized and efficient Optometric Assistant with over 5 years of experience in providing administrative and clinical support to optometrists in busy practices. Experienced in patient care and health evaluation, medical records management, customer service and retail sales. Detail- oriented with excellent organizational and problem solving skills, and a knack for delivering excellent customer service.
Core Skills:
Clinical Care – Medical Records Management
Customer Service – Retail Sales
Patient Care – Problem Solving
Organizational Skills – Documentation
Professional Experience:
Optometric Assistant, ABC Eye Care, Los Angeles, CA (2017 – Present)
Assist optometrists in providing patient care, including health evaluation, prescription adjustments and basic testing
Ensure accurate documentation and maintenance of patient records
Greet and check- in patients, and answer any inquiries
Assist in retail sales of optical products
Ensure that the office is maintained in a clean and orderly manner
Optometric Assistant, XYZ Eye Care, Los Angeles, CA (2013 – 2017)
Provided clinical and administrative support to optometrists
Greeted and checked- in patients, and answered inquiries
Maintained accurate and organized patient records
Assisted in retail sales of optical products
Ensured office was clean and orderly
Education:
Bachelor of Science in Optometry, University of California, Los Angeles (2009 – 2013)
Optometric Assistant Resume with No Experience
Highly organized and detail- oriented individual with an enthusiastic outlook and excellent customer service skills.
Able to learn quickly, adapt to new situations and work in a team environment.
Seeking to leverage my strong work ethic and interpersonal abilities to become a successful Optometric Assistant.
Skills
Proficient in Microsoft Office Suite and other common office programs
Strong customer service skills
Organizational, multi- tasking and problem solving abilities
Excellent communication, time management and interpersonal skills
Ability to accurately record and maintain patient data
Responsibilities
Greet and assist patients upon arrival
Verify patient information, funds, and insurance coverage
Schedule and coordinate patient appointments
Answer phones and respond to inquiries
Maintain office supplies and equipment
Collect patient information and complete paperwork
Perform basic vision tests and provide patient support
Optometric Assistant Resume with 2 Years of Experience
Dedicated and highly capable Optometric Assistant with more than 2 years of experience in assisting optometrists with patient care and administrative tasks. Possesses exceptional interpersonal and communication skills and has a passion for working with and helping people. A reliable and collaborative team player who is committed to working with optometrists to provide the best possible vision care for patients.
Core Skills:
Patient Care – Ability to provide exceptional care and comfort to patients throughout their visits
Administrative Duties – Experienced in filing patient forms, insurance paperwork, scheduling appointments, and other administrative tasks
Interpersonal and Communication Skills – Excellent ability to calmly explain diagnosis and treatment to patients
Teamwork – Proven ability to collaborate with optometrists and other medical professionals to provide the highest level of care
Responsibilities:
Assist optometrists with patient care, including completing vision tests and eye exams
Provide patient education on contact lenses, eyeglasses, and other vision care products
File patient forms and medical insurance paperwork
Schedule patient appointments and follow- up visits
Maintain accurate patient records and filing system
Prepare patients for vision tests and other procedures
Receive, count, and store vision care products and supplies
Optometric Assistant Resume with 5 Years of Experience
Hardworking and dedicated Optometric Assistant with 5+ years of experience in a healthcare setting. Adept at providing excellent customer service, multitasking, and working efficiently within a high- volume environment. Possess strong knowledge of ocular health and visual aid products. Experienced in taking accurate measurements and performing administrative tasks. Able to work independently and as part of a team.
Core Skills:
Excellent interpersonal and communication skills
Proficient in administrative duties and ocular health assessments
Ability to multitask and prioritize tasks quickly
Knowledge of contact lenses, visual aids, and optical products
Strong eye for detail and accuracy
Familiarity with HIPAA standards and regulations
Responsibilities:
Greet and check- in patients, verify insurance information, and collect and enter demographic data
Assist optometrists in patient exams and contact lens fittings
Retrieve, enter, and update patient records in the electronic health records system
Answer patient questions and provide information about products and services
Measure patient's visual acuity, refraction, and pupil reactions
Provide administrative support including scheduling appointments and handling billing inquiries
Optometric Assistant Resume with 7 Years of Experience
Experienced Optometric Assistant with 7 years of experience in the healthcare industry. Thorough knowledge of all optometric procedures, instruments, and equipment, including contact lenses. Possesses excellent customer service and communication skills, as well as the ability to maintain accurate medical records and provide administrative support. Seeking a position to utilize and enhance my optometric skills and abilities.
Core Skills:
Optometric Instrumentation
Contact Lenses
Medical Records
Patient Interaction
Administrative Support
Customer Service
Responsibilities:
Assisted optometrists in checking vision, performing eye exams, and fitting contacts.
Assessed patient ocular health and recorded findings in patient's medical records.
Received and processed patients' payments.
Performed contact lens fittings and instructed patients on the proper care and use of contact lenses.
Maintained accurate patient records and provided administrative support.
Responded to customer inquiries, both in person and by phone.
Instructed patients on the proper care of their eyes.
Performed basic eye care, such as red eye relief, and minor eye irritations.
Optometric Assistant Resume with 10 Years of Experience
A dependable and detail- oriented Optometric Assistant with 10 years of experience providing comprehensive support to optometrists. Skilled in administrative tasks, including scheduling and coordinating appointments, insurance claims processing, and patient data entry. Committed to providing excellent customer service at all times and ensuring a safe and comfortable environment for patients.
Core Skills:
Patient Records Management
Insurance Claims Processing
Appointment Scheduling
Office Administration
Patient Care
Customer Service
Responsibilities:
Greeting and checking in patients
Verifying patient information and insurance coverage
Assisting with vision tests, eye exams, and other clinical tasks
Entering patient data into electronic health records
Processing insurance claims and payments
Managing patient data, records, and appointments
Providing exceptional customer service
Maintaining a clean and organized work environment
Ensuring patient safety and comfort at all times
Optometric Assistant Resume with 15 Years of Experience
Highly organized and detail- oriented Optometric Assistant with over 15 years of experience in the optometry field. Experienced in providing patient care, assisting with routine eye exams, and assisting with laboratory operations. Skilled in handling patient records, completing paperwork and scheduling appointments. Proficient in utilizing electronic medical records and optometric equipment in order to assess and diagnose visual impairments.
Core Skills:
Excellent bedside manner
In- depth knowledge of optometric office operations
Proficient in the use of optometric equipment
Adept at handling patient records and paperwork
Skilled at scheduling appointments and follow- ups
Proficient in the use of electronic medical records
Ability to prioritize tasks and remain organized
Responsibilities:
Provide patient care under the direction of an optometrist
Assist with routine eye exams
Prepare optometric records and documentation
Manage patient appointment scheduling
Manage follow- ups with patients
Ensure patient satisfaction
Assist with laboratory operations
Troubleshoot optometric equipment
Perform administrative tasks as needed
Maintain patient confidentiality
Manage inventory of optometric supplies
In addition to this, be sure to check out our resume templates, resume formats, cover letter examples, job description, and career advice pages for more helpful tips and advice.
What should be included in a Optometric Assistant resume?
Optometric assistants play a critical role in the daily operations of an eye care practice, providing support to optometrists, patients, and other staff. A well-crafted resume is essential to landing a job as an optometric assistant. When crafting your resume, be sure to include the following key components:
Professional Summary: Craft a professional summary that outlines your key qualifications for the role of optometric assistant. Be sure to mention any specialized training or certifications that make you an ideal candidate for the position.
Relevant Skills: List the skills you possess that are applicable to the role of an optometric assistant. Include both soft and technical skills, such as customer service, computer proficiency, and knowledge of medical terminology.
Professional Experience: It is important to include both professional and volunteer experience that is related to the optometric field. For each position, be sure to list your job title, the dates of your employment, and a brief description of your duties.
Education: Include the name of your degree and the name of the institution you attended. If you possess any additional certifications, be sure to mention those as well.
Licenses and Certifications: If you are a certified optometric assistant, list your certification and the date of expiration.
By including these critical components in your resume, you can increase your chances of landing the job of your dreams as an optometric assistant.
What is a good summary for a Optometric Assistant resume?
A good summary for an Optometric Assistant resume should highlight the job seeker's qualifications and experience in the field. This can include any relevant certifications, such as a Certified Ophthalmic Assistant (COA) or Certified Optometric Technician (COT), as well as knowledge of optometric instruments and office procedures. It should also emphasize any customer service experience, as Optometric Assistants often have direct customer interactions. Finally, it's important to showcase any knowledge of relevant software and computer systems that may be used in a typical optometric office. By emphasizing these various qualities and qualifications, an Optometric Assistant resume summary will effectively capture the attention of potential employers and draw the reader in to learn more about the job seeker's credentials and experience.
What is a good objective for a Optometric Assistant resume?
A good objective for an Optometric Assistant resume should illustrate a candidate's commitment to helping patients with their vision and providing excellent customer service. The objective should also emphasize how the candidate's experience, knowledge, and skills can contribute to the success of an optometry practice.
Here are some examples of good objectives for an Optometric Assistant resume:
To leverage knowledge of optometric procedures and customer service experience to provide excellent patient care and practical assistance to an optometry practice.
Seeking an optometric assistant position to utilize my knowledge of optometric tools and techniques, along with my excellent customer service skills, to assist the health care team in providing quality vision care to patients.
To apply my knowledge of optometric devices and procedures, as well as my customer service expertise, in delivering high-quality patient care in a supportive optometry setting.
To bring passion for patient care and knowledge of optometric procedures to a respected optometry practice, while utilizing my customer service skills to ensure a high-end experience for all patients.
Aiming to utilize my knowledge of optometric tools and techniques and excellent customer service skills to help an optometry practice provide quality vision care to patients.
How do you list Optometric Assistant skills on a resume?
When creating a resume for an Optometric Assistant position, it is important to highlight a range of relevant skills and qualifications. Your resume should clearly demonstrate your ability to provide excellent care to patients, ensuring their satisfaction and needs are met. Here are some key skills to include on an Optometric Assistant resume:
Experience with optometric terminology, equipment, and procedures
Ability to accurately measure and record patient vision
Knowledge of glasses and contact lens fitting and dispensing
Excellent customer service skills
Ability to maintain patient records and manage appointments
Ability to assist with minor medical procedures and administrative tasks
Excellent communication, interpersonal, and problem-solving skills
Ability to prioritize tasks and multi-task
Familiarity with optical coding and insurance procedures
Comfortable working with computers and other technology
Knowledge of health and safety regulations.
Including these core Optometric Assistant skills on your resume will show employers that you have the expertise to be a successful Optometric Assistant. Make sure to include any specific skills and qualifications necessary for the position you are applying for. Additionally, providing examples of how you have utilized these skills in past roles will demonstrate your experience and capability.
What skills should I put on my resume for Optometric Assistant?
When applying for a position as an Optometric Assistant, you should highlight the specific skills needed to excel in the role. An ideal Optometric Assistant should have extensive experience in patient care, have the ability to accurately document medical information, and be comfortable with administrative tasks. Here is a list of essential skills to consider including on your resume when applying for an Optometric Assistant role.
Patient Care: Optometric Assistants must have extensive knowledge of patient care, including taking patient medical histories, pre-testing, and assisting the optometrist with patient care.
Documentation: It is essential that Optometric Assistants be able to accurately document medical information in patient records.
Administrative Tasks: Optometric Assistants are often responsible for administrative tasks such as scheduling appointments, filing insurance claims, and managing patient records.
Computer Skills: Optometric Assistants must be comfortable using computer software for patient records, billing, and other tasks.
Communication: Optometric Assistants must be able to effectively communicate with patients, doctors, and other staff members. This includes active listening, answering questions, and providing clear instruction.
Detail Oriented: Optometric Assistants must pay close attention to detail when taking patient information, documenting patient records, and performing other tasks.
By emphasizing these skills on your resume, you will be able to demonstrate to potential employers that you are well-suited to fulfill the responsibilities of an Optometric Assistant.
Key takeaways for an Optometric Assistant resume
When writing your resume as an optometric assistant, there are certain key takeaways you should consider to make your resume stand out. Here are five key takeaways for an optometric assistant resume:
Highlight Your Professional Experience: Start with a summary that highlights your professional experience and relevant skills as an optometric assistant, such as familiarity with ophthalmic medical devices, contact lenses, and eyeglass frames. Make sure to list any certifications you have earned and any specialization you may have.
Detail Your Responsibilities: Make sure to include a list of specific responsibilities and duties you have completed or been assigned in previous positions. For example, if you have been an optometric assistant for several years, include a list of the tasks you have completed for patients, such as taking patient histories, conducting eye exams, and assisting with contact lens fittings.
List Your Soft Skills: Optometric assistants must be able to work with patients, so it's important to include a list of soft skills related to the job. Examples of soft skills include excellent customer service, strong communication, and problem-solving abilities.
Incorporate Supporting Data: Any accomplishments you have achieved as an optometric assistant should be incorporated into your resume. For example, if you have handled a large number of patients in a short amount of time or successfully completed a challenging task, make sure to mention this in your resume.
Utilize Appropriate Formatting: Employers prefer resumes that are organized and easy to read, so be sure to use a professional layout and structure when creating your resume. This should include formatting your text and adding white space to break up blocks of text. Additionally, make sure to include a section for references and an area for contact information.
Let us help you build
your Resume!
Make your resume more organized and attractive with our Resume Builder