Are you looking for a way to stand out from the crowd when applying for a job as an Optical Dispenser? Writing a great resume is the key to success in the job search process, and this guide is here to provide you with the essential tips, examples, and resources to help you create a stellar resume. With this guide, you will be able to craft a resume that distinguishes you from the competition and impresses hiring managers. After reading this guide, you'll be well on your way to creating a resume that will get you noticed and open doors to new opportunities.
If you didn't find what you were looking for, be sure to check out our complete library of resume examples.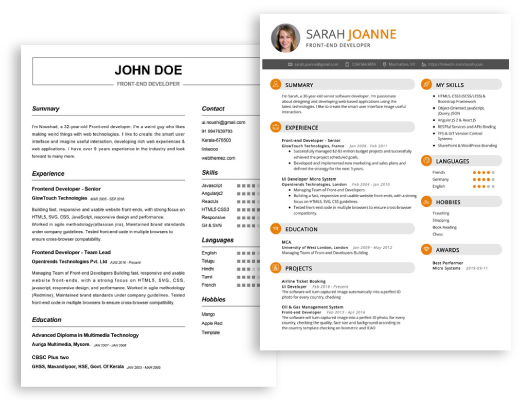 Start building your dream career today!
Create your professional resume in just 5 minutes with our easy-to-use resume builder!
Optical Dispenser Resume Examples
John Doe
Optical Dispenser
123 Main Street | Anytown, USA 99999 | Phone: (123) 456-7890 | Email: john.doe@email.com
An experienced and dynamic optical dispenser, with over 10 years of experience in the field. Possesses a high degree of customer service skills, technical aptitude and an aptitude for problem solving. Demonstrates an ability to effectively interact with customers and suggest appropriate frames and lenses that suit their individual needs. Possesses a strong attention to detail and has the ability to recognize and adjust for any potential issues that may arise.
Core Skills:
Ability to accurately measure and determine appropriate frames and lenses
Excellent customer service and communication skills
Knowledge of optical terminology
Computerized inventory management
Knowledge of optical manufacturers and lens pricing
Ability to troubleshoot any potential issues
Professional Experience:
Optical Dispenser, ABC Optical
Provided customers with exceptional customer service with every interaction
Utilized advanced knowledge of optical terminology and product offerings to recommend appropriate frames and lenses
Ensured accuracy of measurements and prescription lens calculations
Placed orders with vendors and maintained detailed records of inventory
Resolved customer inquiries in a timely and professional manner
Optical Dispenser, XYZ Optical
Assisted customers in selecting frames and lenses that suited their individual needs
Accurately measured and determined appropriate frames and lenses
Developed and maintained relationships with customers
Troubleshot any potential issues and made adjustments as needed
Ensured timely and accurate order fulfillment
Education:
Bachelor of Science in Optometry, University of California, Los Angeles
Graduated with honors
Completed courses in anatomy and physiology, optics and advanced optometry
Completed a residency program in advanced optometric techniques
Optical Dispenser Resume with No Experience
Motivated individual with a passion for customer service, seeking to build a career as an Optical Dispenser. With no prior experience in the field, I have the enthusiasm and the willingness to learn necessary skills and gain valuable experience.
Skills
Excellent communication and interpersonal skills
Detail- oriented and organized
Ability to listen and interpret customer needs
Knowledge of relevant optical dispensing procedures
Proficient with Microsoft Office
Responsibilities
Greeting customers and finding out their needs
Explaining the benefits of different types of lenses and frames
Measuring customers' facial features for accurate frame fitting
Ensuring customer satisfaction with the optical products
Performing administrative tasks such as ordering supplies, filing paperwork, and keeping records
Optical Dispenser Resume with 2 Years of Experience
Successful and experienced optical dispenser with 2 years of experience in the optical industry. Outstanding customer service skills and a strong ability to quickly adapt to new technology. Demonstrated success in meeting customer needs in a timely and accurate manner. Possesses excellent problem- solving skills, strong attention to detail, and a passion for retail standards.
Core Skills:
Ability to adjust and fit eyeglass frames
Knowledge of optical instruments and terminology
Highly skilled in providing customer service
Competent in performing minor repairs
Skilled in analyzing prescriptions
Experienced in conducting vision tests
Proficient in manual lens edging
Excellent communication and interpersonal skills
Ability to build rapport with customers
Responsibilities:
Assessing customers' needs and providing appropriate advice
Taking accurate measurements and analyzing prescriptions
Dispensing and fitting eyeglasses, contact lenses, and other optical products
Consulting customers on the correct lenses to suit their needs
Undertaking minor repairs and adjustments to optical products
Maintaining accurate records and stock levels
Keeping up to date with trends in the optical industry
Training new staff on optical product and customer service
Optical Dispenser Resume with 5 Years of Experience
Highly organized and passionate Optical Dispenser with 5 years of hands- on experience in the optical industry. Expert in assisting customers to select frames, lenses and accessories based on their needs and preferences. Skilled in taking accurate measurements, fitting and aligning lenses, and providing advice on lens care. Proven ability to create and maintain positive working relationships with customers and colleagues.
Core Skills:
Knowledge of optical industry
Customer service
Product knowledge
Detail- oriented
Sales
Store operations
Computer proficiency
Responsibilities:
Greet customers and build rapport
Assist customers to select frames, lenses and accessories
Take accurate measurements and align lenses
Explain and demonstrate lens care
Provide product information and pricing
Operate cash register and processing payments
Maintain cleanliness and organized store
Stock shelves and rotate inventory
Train and mentor new employees
Track orders and deliveries
Optical Dispenser Resume with 7 Years of Experience
With seven years of experience as an Optical Dispenser, I have developed a wide range of skills including customer service, sales and troubleshooting. I have a proven track record of providing excellent customer service and helping customers find frames and lenses to suit their needs. I also have considerable experience in troubleshooting and repairs, enabling me to quickly diagnose issues and ensure customer satisfaction. I am highly organized and efficient, and I have a good working knowledge of all current optical products.
Core Skills:
Excellent customer service
Strong sales and troubleshooting
Knowledge of current optical products
Good communication and interpersonal skills
Ability to work well under pressure
Responsibilities:
Assisted customers with selecting frames and lenses
Made adjustments and repairs to eyewear
Provided customer service to ensure customer satisfaction
Performed frame and lens dispensing
Maintained accurate records of all transactions
Trained new employees on optical dispensing
Reviewed customer orders for accuracy and completeness
Optical Dispenser Resume with 10 Years of Experience
Highly motivated and experienced Optical Dispenser with 10 years of experience in the field. Dedicated professional with excellent customer service and eye care experience. Adept at operating optical equipment and proficient in providing excellent customer service and sales. Possess strong attention to detail, excellent communication and interpersonal skills, and the ability to quickly learn and adapt to new technologies.
Core Skills:
Knowledgeable with optical lenses and lens design
Skilled in advanced contact lens fittings
Proficient in providing customer service
Experienced with patient education on their products
Skilled in optical frame selection, sales and adjustments
Experienced with optical instrument maintenance
Highly organized in filling out patient paperwork and keeping records
Responsibilities:
Measure and fit customers for glasses and contacts
Educate customers on lens options
Assist customers in frame selection
Adjust, repair and maintain optical instruments
Process payments and insurance documents
Maintain updated records on patients
Perform daily lab duties such as edging lenses and mounting frames
Maintain inventory and restock products
Provide excellent customer service and ensure satisfaction
Optical Dispenser Resume with 15 Years of Experience
A highly motivated and experienced optical dispenser with 15 years of professional experience working in busy optical stores. Have excellent customer service skills, strong technical aptitude and experience in identifying customer needs and providing customized solutions. Experienced in helping customers select frames and lenses for their eyeglasses, contact lenses, and other related products. Possess excellent knowledge of the optometry industry, regulations, codes and safety protocols.
Core Skills:
Proficiency in multitasking
Excellent customer service skills
In- depth knowledge of optometry industry regulations and protocols
Knowledgeable in frame and lens selection
Strong problem- solving skills
Ability to work independently and as part of a team
Responsibilities:
Greet customers, assess their needs and provide personalized service
Explain the features, benefits and warranties of frames and lenses
Provide accurate fitting of frames and lenses
Initiate and complete sales transactions in a timely manner
Answer customer questions and provide them quality advice
Provide cost estimates and other financial details
Educate customers on the vision care products and services
Ensure all products meet quality standards
Validate customer prescription and other documents
Maintain accurate records and update customer information
Maintain the cleanliness and orderliness of the optical store
In addition to this, be sure to check out our resume templates, resume formats, cover letter examples, job description, and career advice pages for more helpful tips and advice.
What should be included in a Optical Dispenser resume?
A Optical Dispenser resume should include important information about your work experience, skill set, and education. This guide will help you create a comprehensive resume that reflects your qualifications and abilities.
Educational information: Start with the highest level of education achieved, including the name of the institution, the date of completion, and the degree or certificate you obtained.
Work experience: Include current and past jobs that demonstrate your knowledge and skills as an Optical Dispenser. Include job titles, employers, dates of employment, and a brief description of duties and responsibilities.
Skills: List special skills related to the optical field, such as frame selection, lens fabrication, and measurements.
Licensing and certification: Be sure to include any licenses or certifications that you've obtained.
Professional memberships: List any relevant professional memberships or affiliations.
References: Include the names, contact information, and relationship of at least three references.
What is a good summary for a Optical Dispenser resume?
A good summary for an Optical Dispenser resume should focus on the applicant's knowledge and experience in eyewear sales and customer service. It should emphasize any technical skills the applicant may have, such as the ability to use optical measuring equipment, as well as their understanding of eye anatomy and disorders. The summary should also feature their ability to provide outstanding customer service and support, as well as their eagerness to stay on top of the latest eyewear trends. Finally, the summary should emphasize the applicant's ability to work effectively as part of a team in order to provide the best possible service to patients.
What is a good objective for a Optical Dispenser resume?
A resume for an Optical Dispenser should include a well-crafted objective that clearly outlines the candidate's experience and qualifications. This objective should set the stage for the rest of the resume and should include skills and qualifications that make the candidate stand out from the competition. Here are some objectives that might be suitable for an Optical Dispenser resume:
Highly experienced Optical Dispenser with more than 5 years of providing superior customer service in a retail setting.
Dedicated Optical Dispenser with a passion for helping customers find the perfect pair of eyeglasses.
Knowledgeable Optical Dispenser with an extensive background in providing excellent customer service and up-selling eyewear.
Skilled Optical Dispenser with an in-depth understanding of eye care and prescription lenses.
Experienced Optical Dispenser with a commitment to helping customers find the perfect eyeglasses for their needs and style.
How do you list Optical Dispenser skills on a resume?
Optical Dispensing is a specialized career in the medical field that requires knowledge and experience to help customers select eyeglasses and contact lenses that meet their specific needs. When listing Optical Dispenser skills on a resume, it is important to include both technical and customer service skills that demonstrate your ability to effectively serve customers.
Here are some skills that an Optical Dispenser might include on a resume:
Knowledge of optical equipment
Ability to measure eye size and shape
Understanding of lenses, frames, and contact lenses
Experience with insurance and vision plans
Ability to perform basic repairs on eyeglasses and contact lenses
Knowledge of optometry and ophthalmology terminology
Excellent customer service and communication skills
Ability to effectively explain products and services to customers
Ability to make recommendations based on customer needs
Proficiency with optical software and point of sale systems
Experience with managing inventory
What skills should I put on my resume for Optical Dispenser?
One of the most important elements of any resume is the skills section. When applying for an Optical Dispenser role, it is especially important to showcase the skills that are most relevant to the position. Here are some of the skills you might consider including on your resume:
Knowledge of Optometry: You should have an in-depth knowledge of the field of optometry and how it relates to the job of an Optical Dispenser. This may include knowledge of optical products and lenses, as well as the ability to understand and discuss vision-related topics with patients.
Customer Service: Excellent customer service skills are essential for any Optical Dispenser. You should be able to provide a high level of customer service while ensuring that customers' needs are met.
Attention to Detail: As an Optical Dispenser, accuracy is essential. You must have the ability to pay attention to detail in order to ensure that the correct eyeglass prescriptions are being filled for each customer.
Product Knowledge: An Optical Dispenser should have a thorough understanding of the products available, as well as the ability to recommend the best products for customers' needs.
Problem-Solving: An Optical Dispenser should be able to troubleshoot any issues that arise with customers' orders or vision-related problems.
Computer Proficiency: You should have experience working with various computer systems and software, such as optical design software or point-of-sale systems.
Teamwork: You should have the ability to work effectively in a team environment and be willing to learn from others.
Organization: You should be organized and have the ability to prioritize tasks in order to ensure that customers are served in a timely manner.
Key takeaways for an Optical Dispenser resume
An Optical Dispenser resume should highlight the skills and experience that make you the best candidate for the job. By emphasizing your qualifications and accomplishments, you can show employers why you are the ideal person to fill the position. Here are some key takeaways to consider when crafting your Optical Dispenser resume:
Highlight your experience: Showcase any relevant experience in the optical industry, including optical dispensing, optometry, and customer service. Note any certifications or licenses that may be applicable to the job.
Put your best foot forward: Describe the particular duties and responsibilities you have completed in the past that are relevant to the job. Also, show that you can work independently and as part of a team.
Prove your problem-solving skills: List any special projects you have completed as an Optical Dispenser that required problem-solving skills.
Demonstrate your tech savvy: Reference any technical abilities or software programs you are proficient in. This could include Computer Aided Drafting (CAD), billing systems, and patient records software.
Show off your customer service skills: Highlight any customer service training or experience. Point to any successes you've had in the past interacting with customers and improving their experience.
Showcase your communication skills: Demonstrate your ability to effectively communicate with customers, suppliers, and other staff.
By following these key takeaways, you can make sure your Optical Dispenser resume stands out from the competition.
Let us help you build
your Resume!
Make your resume more organized and attractive with our Resume Builder