Are you looking to break into the medical laboratory technician field? Writing an effective and well-structured resume is an important part of the job search process. Developing a strong resume will give you a greater chance of getting noticed by employers and boosting your chances of landing the job. This medical laboratory technician resume guide will provide you with a great starting point to writing your own resume, along with several examples to help you get started.
If you didn't find what you were looking for, be sure to check out our complete library of resume examples.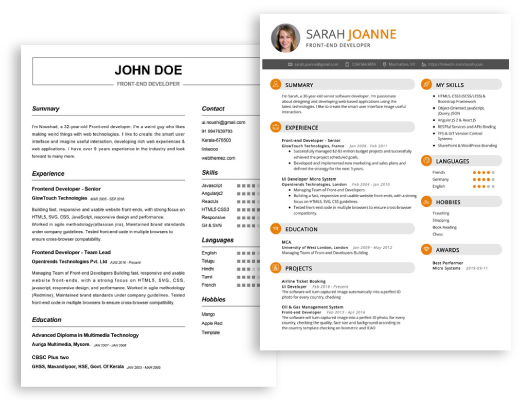 Start building your dream career today!
Create your professional resume in just 5 minutes with our easy-to-use resume builder!
Medical Laboratory Technician Resume Examples
John Doe
Medical Laboratory Technician
123 Main Street | Anytown, USA 99999 | Phone: (123) 456-7890 | Email: john.doe@email.com
I am a highly experienced Medical Laboratory Technician with over 10 years of experience in a variety of clinical standard and research laboratory settings. I have a comprehensive background in a variety of laboratory procedures, including hematology, chemistry, immunological testing, and automated laboratory instrumentation. I am a highly organized professional with strong problem- solving and multitasking skills. I am a team player and have a strong commitment to excellence in patient care with an emphasis on safety.
Core Skills:
Laboratory Quality Assurance
Hematology
Clinical Chemistry
Automated Laboratory Instrumentation
Immunological Testing
Specimen Processing
Patient Care
Problem- Solving
Multitasking
Professional Experience:
Medical Laboratory Technician, ABC Laboratory, 2010- Present
Performed laboratory testing for the diagnosis, treatment and prevention of disease.
Followed all safety and regulatory guidelines when performing laboratory testing.
Processed, labeled and tracked specimens.
Monitored instrument performance, identifying and resolving any issues.
Maintained accurate records and reports.
Medical Laboratory Technician, XYZ Institute, 2005 – 2010
Performed laboratory tests and reported results.
Operated and maintained automated laboratory instrumentation.
Ensured all work was accurately documented.
Managed the laboratory stockroom and ordered necessary supplies and equipment.
Prepared specimens for analysis and maintained quality control.
Education:
Bachelor of Science in Medical Laboratory Technology – 2005
ABC University, Anytown, USA
Medical Laboratory Technician Resume with No Experience
Recent college graduate with a degree in Medical Laboratory Technology, eager to utilize and expand my knowledge of laboratory practice and medical science in a Medical Laboratory Technician role.
Skills
Thorough knowledge of laboratory safety and laboratory quality assurance procedures
Experienced with general laboratory techniques and equipment
Excellent computer skills and familiarity with medical laboratory software
Highly organized and detail- oriented
Strong problem solving and analytical skills
Excellent interpersonal and communication skills
Ability to work well independently and as part of a team
Responsibilities
Perform routine analysis in the laboratory following established SOPs
Organize and maintain laboratory equipment
Perform quality control tests to ensure accuracy of laboratory results
Maintain accurate records of laboratory tests and results
Conduct routine maintenance and troubleshooting on lab equipment
Ensure that all laboratory samples are collected, processed, and stored properly
Assist with research projects and special laboratory projects as needed
Provide technical guidance to laboratory personnel as needed
Medical Laboratory Technician Resume with 2 Years of Experience
Dedicated Medical Laboratory Technician with two years of experience in conducting tests, interpreting results, and providing quality control measures. Talented in performing medical laboratory tests and accurate data entry in a fast- paced environment. Knowledgeable in performing laboratory duties and safety protocols. Highly organized, efficient and detail- oriented with excellent problem- solving, communication and interpersonal skills.
Core Skills:
Laboratory Testing
Data Entry
Quality Control
Technical Troubleshooting
Patient Care
Safety Protocols
Sample Preparation
Equipment Maintenance
Responsibilities:
Performed routine laboratory tests and analyses to provide accurate results for patient diagnosis and treatment.
Carried out laboratory procedures and performed tests in accordance with established protocols.
Actively handled and monitored quality control procedures to ensure accuracy and validity of test results.
Maintained and operated laboratory equipment including centrifuges, microscopes, pipettes, and automated analyzers.
Inspected and cleaned laboratory equipment and glassware to ensure cleanliness and safety.
Carried out accurate data entry into laboratory information systems.
Provided exceptional patient care by maintaining patient confidentiality and adhering to HIPAA regulations.
Performed sample preparation and collection according to laboratory procedures.
Resolved technical or performance issues with laboratory equipment.
Medical Laboratory Technician Resume with 5 Years of Experience
Organized and detail- oriented Medical Laboratory Technician with 5 years of experience in conducting a variety of laboratory tests and analyses to detect, diagnose, and treat diseases. Excellent knowledge in laboratory equipment operation, specimen collection and analysis, and laboratory safety protocols. Highly skilled in using computerized systems to store, process, and manage data. Dedicated to providing accurate and reliable patient care results.
Core Skills:
Laboratory testing and analysis
Specimen collection and handling
Data entry and record keeping
Laboratory equipment operation
Quality control and assurance
Laboratory safety protocols
Strong communication skills
Problem- solving abilities
Responsibilities:
Collect, process, and analyze specimens to diagnose and treat diseases
Record data accurately, including patient demographics, test results, and other pertinent information
Operate and maintain laboratory equipment to ensure proper functioning
Perform quality control and assurance procedures to ensure reliable test results
Observe and adhere to strict laboratory safety protocols
Communicate test results to physicians and other healthcare professionals
Monitor and order laboratory supplies and materials
Provide assistance and guidance to other laboratory personnel
Medical Laboratory Technician Resume with 7 Years of Experience
A highly experienced Medical Laboratory Technician with 7 years of experience in performing laboratory tests, analyses and experiments for a wide range of medical purposes. Proven ability to perform complex tests accurately and efficiently in a clinical environment. A team- oriented, multi- tasking professional with excellent communication and attention to detail skills. Possesses strong time management, problem- solving and organization capabilities.
Core Skills:
Clinical laboratory techniques
Quality control and safety protocols
Interpersonal and communication skills
Documentation and record keeping
Problem solving and critical thinking
Microbiology and blood banking
Sample collection and specimen processing
Typing and computer skills
Responsibilities:
Performed various laboratory tests, analyses, and experiments to detect abnormalities, diagnose diseases and monitor treatments
Collected, labeled and processed patient samples
Documented and recorded results of lab tests
Analyzed results to identify abnormal findings
Monitored laboratory quality control standards
Conducted quality control and safety protocols
Performed preventative maintenance to maintain laboratory equipment
Maintained detailed laboratory records and reports
Assisted with ordering laboratory supplies and restocking shelves
Provided instruction and guidance to laboratory staff and medical students
Medical Laboratory Technician Resume with 10 Years of Experience
Dynamic, experienced Medical Laboratory Technician with 10+ years of experience. Expertise in laboratory medical technology testing, medical specimen collection, and analysis. Possesses a wide range of expertise, such as patient assessment and communication, problem solving, data collection and analysis, and quality assurance. Organized and highly motivated with a demonstrated ability to work effectively in a fast- paced environment. A dependable and reliable team player capable of multi- tasking, working under pressure, meeting deadlines, and ensuring accuracy.
Core Skills:
Clinical laboratory testing
Medical laboratory technology
Specimen collection and processing
Microbiology
Quality assurance and control
Problem solving
Data collection and analysis
Communication and interpersonal skills
Patient assessment
Computer proficiency
Responsibilities:
Performing a variety of laboratory tests, including urinalysis, hematology, microbiology, serology, and other biological or chemical tests.
Collecting blood, urine and other specimens for laboratory testing.
Processing specimens and performing quality assurance procedures.
Recording and analyzing test results and preparing reports.
Monitoring and monitoring equipment and chemicals used in testing.
Maintaining patient records and filing reports.
Ensuring the accuracy and integrity of laboratory data and patient records.
Assisting with research projects and clinical trials.
Training and instructing medical laboratory technicians as needed.
Performing clerical duties when needed.
Medical Laboratory Technician Resume with 15 Years of Experience
Experienced Medical Laboratory Technician with 15 years of experience in the healthcare industry. Skilled in performing complex laboratory procedures, sample collection and testing, and analysis of medical information. Achieve a high level of accuracy and precision in collecting, processing, and testing biological specimens. Possesses a comprehensive understanding of laboratory safety protocols. Excellent communication skills and the ability to collaborate with medical staff to provide timely and accurate results.
Core Skills:
Blood Collection
Lab Specimen Processing
Clinical Laboratory Testing
Microbiology
Hematology
Toxicology
Instrument Maintenance
Quality Assurance
Medical Terminology
Laboratory Safety
Data Analysis
Responsibilities:
Perform routine laboratory tests and analysis with precision and accuracy
Collect laboratory specimens according to established guidelines
Follow laboratory safety protocols and ensure proper disposal of hazardous materials
Perform basic troubleshooting and maintenance on laboratory equipment
Adhere to quality assurance and control procedures
Prepare solutions and reagents for laboratory tests
Document test results in medical records
Collaborate with medical professionals to interpret and explain test results
Ensure compliance with regulatory standards
In addition to this, be sure to check out our resume templates, resume formats, cover letter examples, job description, and career advice pages for more helpful tips and advice.
What should be included in a Medical Laboratory Technician resume?
When creating a resume for a Medical Laboratory Technician, it's important to include all of your relevant experience and qualifications. Here are some of the key areas to focus on when crafting your resume:
Education: List any relevant coursework you've completed, including laboratory technician programs, medical terminology courses, and any other relevant certifications.
Experience: Include any experience you have as a medical laboratory technician, including the type of tests performed, equipment operated, and any other relevant details.
Technical Skills: List any technical skills you have related to working in a lab, such as familiarity with laboratory systems, equipment, and procedures.
Quality Assurance: Mention any experience you have with quality assurance procedures, including sample collection and testing, record keeping, and accuracy of results.
Problem-Solving: Highlight any experience you have with troubleshooting and resolving issues related to laboratory equipment or processes.
Communication Skills: Demonstrate your effective communication skills, both written and verbal, when dealing with patients, doctors, and other personnel.
With all of this information, you should be able to craft an impressive resume that showcases your experience and skills as a Medical Laboratory Technician. Good luck!
What is a good summary for a Medical Laboratory Technician resume?
A Medical Laboratory Technician resume should provide a summary of the candidate's qualifications, credentials, experience and skills in the field of laboratory medicine. The summary should include the technician's educational background and any relevant certifications, such as licensure. It should also highlight any specializations or research experience that the candidate may have, as well as any relevant lab or clinical experience. Additionally, the summary should note any other lab-related qualifications or skills, such as familiarity with equipment or lab protocols. Finally, the summary should also include any certifications or specializations in other areas, such as safety or quality control, as these could be beneficial for the technician's duties.
What is a good objective for a Medical Laboratory Technician resume?
A Medical Laboratory Technician (MLT) resume should present an applicant's skills and qualifications in a clear and concise manner. It's important to include a strong objective that can capture the reader's attention and make them want to learn more about you.
Here are some tips for writing a good objective for an MLT resume:
Highlight your professional abilities: After introducing yourself, describe the professional abilities that you can bring to the role. Talk about your technical expertise, knowledge of quality assurance protocols, and ability to analyze and interpret data.
Mention relevant certifications: List any certifications or qualifications you have for performing medical laboratory tests. This will demonstrate your commitment to the field and your readiness to work in a clinical setting.
Demonstrate your organizational skills: An MLT should be a highly organized and detail-oriented individual. Talk about your ability to handle multiple tasks and prioritize the most important ones.
Showcase your eagerness to learn: Employers value those who are eager to learn and grow in their professions. Be sure to mention that you are open to new opportunities and that you are committed to professional development.
By following these tips, you can create an effective and impactful objective statement that will help you stand out among other applicants. Good luck with your job search!
How do you list Medical Laboratory Technician skills on a resume?
Medical Laboratory Technicians (MLTs) are responsible for collecting and processing specimens, performing laboratory testing, recording test results, and maintaining equipment. When applying for an MLT job, it is important to showcase the skills and knowledge you have acquired through your training and experience.
To help you list your MLT skills on your resume, consider the following tips:
Start with a strong, MLT-specific summary statement that outlines your experience and expertise.
Include a section dedicated to MLT skills in your resume, and list all relevant skills such as specimen processing, laboratory testing, equipment maintenance, and record keeping.
Tailor your resume to the job requirements by highlighting the skills that the employer is looking for.
Use action-oriented words and phrases to describe your skills, such as "perform," "analyze," and "assess."
Showcase your ability to work in a team setting by mentioning the collaborative skills you have developed.
Include any certifications or licenses you have obtained that are related to MLT.
By highlighting the MLT skills you possess, you will be able to demonstrate your expertise and make a great impression on potential employers.
What skills should I put on my resume for Medical Laboratory Technician?
Creating a resume can be intimidating, especially when you are not sure which skills should be listed. When you are applying for a medical laboratory technician position, some of the most important skills to highlight on your resume include:
Proficiency in Laboratory Testing: Because medical laboratory technicians run tests on specimens to diagnose and treat diseases, it is important to emphasize your experience with medical laboratory testing. Be sure to highlight any laboratory certifications or clinical laboratory training that you have completed.
Knowledge of Medical Procedures: Medical laboratory technicians must understand medical terminology and the procedures and processes of medical laboratories. Emphasize any experience working with medical equipment, as well as any knowledge of medical terminology, regulations, and safety standards.
Accuracy and Attention to Detail: Medical laboratory technicians must be very precise and detail-oriented when running tests and recording results. Being able to accurately and efficiently follow laboratory protocols and procedures is key to succeeding in this role.
Analytical Thinking and Problem-Solving: Working in the laboratory often requires that you approach tasks with a creative and analytical mindset. Describe your ability to think critically and troubleshoot any issues that arise during the testing process.
Computer Proficiency: Many medical laboratories rely on computer systems for data entry and analysis. Mention any experience that you have with medical software programs, such as electronic health records or laboratory information systems.
Highlighting these skills on your resume can help you stand out as a qualified medical laboratory technician candidate.
Key takeaways for an Medical Laboratory Technician resume
A medical laboratory technician resume is a critical part of the job search process, as it contains vital information related to your background, experience and education. The key takeaways for an effective medical laboratory technician resume should include a concise summary of your skills, educational qualifications and relevant work experience. Additionally, you should include any professional affiliations or certifications you have obtained.
When crafting your medical laboratory technician resume, it's important to consider the job description and what qualifications the position requires. Your resume should highlight the qualifications you possess that match the job requirements and make you stand out as an ideal candidate. For example, if the job requires the ability to analyze laboratory data, the resume should emphasize the laboratory techniques and analytical skills you have developed.
In addition to your qualifications, you should also include any medical laboratory technician certifications you have obtained. This shows potential employers that you have the necessary credentials for the job. You should also include any related education such as a degree in a medical field, or any specializations you have obtained.
Finally, make sure to include any relevant experience that you have obtained, such as laboratory internships or volunteer positions. Showcasing your experience and qualifications will help you stand out in the job market.
By following these key takeaways when crafting a medical laboratory technician resume, you will be able to effectively demonstrate your qualifications and make a great first impression with potential employers.
Let us help you build
your Resume!
Make your resume more organized and attractive with our Resume Builder