As a hospitalist, your resume is a critical component to landing that dream job. It needs to be thorough, up to date, and tailored to each job you're applying for. Writing a hospitalist resume doesn't have to be a daunting task. With this guide, you'll learn how to write a great hospitalist resume that makes a lasting impression on potential employers. We'll discuss what to include in each section, sample resume templates you can use, and how to make your experiences stand out in a competitive job market. By the end of this guide, you'll be on your way to writing an amazing hospitalist resume.
If you didn't find what you were looking for, be sure to check out our complete library of resume examples.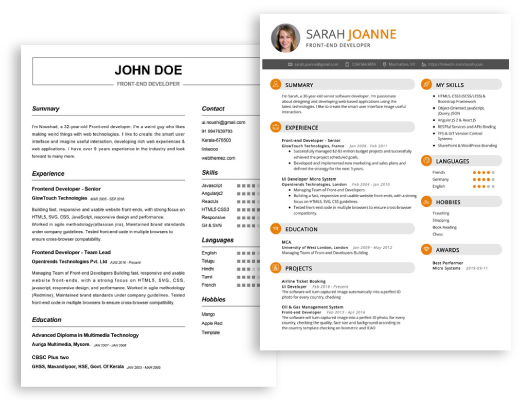 Start building your dream career today!
Create your professional resume in just 5 minutes with our easy-to-use resume builder!
Hospitalist Resume Examples
John Doe
Hospitalist
123 Main Street | Anytown, USA 99999 | Phone: (123) 456-7890 | Email: john.doe@email.com
I am a hospitalist with 7+ years of experience in the healthcare field. I am passionate about delivering high quality care and developing meaningful relationships with patients. I have a strong background in the interpretation of lab values and patient assessments, and I excel at communication, collaboration and problem- solving. With my skills and abilities, I believe I can be a valuable asset to any medical institution.
Core Skills:
Patient assessments and diagnosis
Interpretation of lab values
Communication and collaboration
Problem- solving
Excellent bedside manner
Knowledgeable in medical terminology
Professional Experience:
Hospitalist, Virginia Mason Medical Center, Seattle, WA
Provided hospital- based medical care to patients with a variety of conditions
Evaluated lab values and patient assessments
Collaborated with medical staff to develop treatment plans
Monitored and documented patient progress
Reviewed patient medical history
Assisted with patient discharge
Hospitalist, South Seattle Hospital, Seattle, WA
Provided inpatient care to adult and geriatric patients
Performed physical examinations and laboratory tests
Conducted patient interviews and wrote detailed medical reports
Prescribed medications and developed treatment plans
Performed quality assurance and utilization review
Education:
Doctor of Medicine, University of Washington School of Medicine, Seattle, WA
Hospitalist Resume with No Experience
Dedicated individual dedicated to providing superior patient care in a hospital setting
Highly organized, with excellent communication and problem- solving skills
Strong commitment to teamwork and patient advocacy
Skills
Knowledge of medical terminology
Proficient in the use of electronic medical records
Excellent interpersonal and communication skills
Ability to multi- task and prioritize effectively
Strong organizational and time management skills
Ability to work collaboratively in a team setting
Responsibilities
Provide inpatient care to hospital patients
Monitor and assess patient health status
Perform physical examinations and order laboratory tests
Develop and implement patient care plans
Communicate with other health care professionals and coordinate care
Educate patients and families on the management of their condition
Document progress notes and other relevant medical records
Hospitalist Resume with 2 Years of Experience
I am an enthusiastic and dedicated Hospitalist with two years of experience working in a hospital setting. I have extensive experience in managing and treating patients with a variety of diagnoses, and am comfortable working in high pressure, fast- paced environments. I am especially adept at establishing strong communication with patients and their families in order to ensure the best possible outcomes. Working collaboratively with other members of the medical staff, I am passionate about helping patients reach their highest level of health and wellness.
Core Skills:
Ability to collaborate effectively with other medical staff
Excellent patient care and communication skills
Highly organized and able to manage multiple tasks
Flexible and able to adapt quickly to any situation
Computer proficiency in a variety of medical software programs
Responsibilities:
Provide comprehensive inpatient care for a wide variety of diagnoses
Perform initial patient assessments and ongoing monitoring
Prescribe medications and develop treatment plans
Order and interpret laboratory tests and diagnostic studies
Educate patients and their families on preventative care and self- management
Supervise and collaborate with nursing and other healthcare staff to ensure quality patient care
Hospitalist Resume with 5 Years of Experience
I am an experienced Hospitalist with 5 years of knowledge in providing high- quality and compassionate healthcare to patients in both inpatient and outpatient settings. I have a deep understanding of medical diagnosis and treatment plans, along with best practices of patient care. I have a strong record of improving patient outcomes and I am highly adept in providing preventive care and patient education. My excellent communication and interpersonal skills enable me to effectively collaborate with colleagues and build strong relationships with patients.
Core Skills:
Medical diagnosis
Treatment plans
Patient care
Patient outcomes
Preventive care
Patient education
Communication
Interpersonal skills
Collaboration
Problem solving
Time management
Responsibilities:
Performing physical examinations and diagnostic tests
Diagnosing diseases and prescribing treatments
Monitoring patient health and progress
Maintaining and updating patient records
Educating patients on health maintenance
Consulting with other healthcare professionals
Developing treatment plans
Collaborating with other departments in the hospital
Responding to medical emergencies
Administering medications
Complying with hospital protocols
Performing lab tests and interpreting results
Educating patients on medical conditions and treatments
Coordinating with insurance companies.
Hospitalist Resume with 7 Years of Experience
A professional and motivated Hospitalist with 7 years of experience in providing general medical care to hospitalized patients. Dedicated to working with a multi- disciplinary team to provide quality and patient- centric care. Adept at quickly diagnosing, treating, and managing a wide variety of inpatient illnesses. Skilled in utilizing patient medical history, physical examination, and laboratory results to develop treatment plans. Excellent communication, interpersonal, and problem- solving skills.
Core Skills:
Clinical Care
Patient Assessment
Diagnosis and Treatment
Patient Education
Team Coordination
Medication Administration
Documentation
Responsibilities:
Assessed and monitored the physical condition of hospitalized patients.
Diagnosed and treated various inpatient illnesses.
Assisted with admissions, discharges, and transfers.
Ensured accuracy and completeness of patient records.
Educated patients and family members on treatments, medications, and preventive health care.
Coordinated with other healthcare professionals to plan and provide patient care.
Administered medications and vaccinations to patients.
Reviewed and responded to patient patient requests.
Monitored vital signs and laboratory results.
Hospitalist Resume with 10 Years of Experience
An experienced and compassionate Hospitalist with 10 years of experience. Skilled in providing care to patients in both inpatient and outpatient settings and managing the complexities of patient care. Possesses excellent interpersonal and communication skills and works effectively within interdisciplinary teams. Dedicated to delivering patient- centered care in a timely and cost- efficient manner.
Core Skills:
Patient Care
Care Coordination
Inpatient/Outpatient Medicine
Bloodwork/Laboratory Analysis
EKG Management
Prescribing Medications
Emergency Response
Clinical Documentation
Care Plans
Multidisciplinary Teamwork
Responsibilities:
Provided comprehensive hospital care to patients in the inpatient setting
Assessed patient health, reviewed medical histories, and ordered laboratory tests and radiological procedures
Diagnosed patient conditions, prescribed and administered treatments, and monitored patient progress
Monitored and adjusted patient medications, as needed
Developed care plans and provided follow up care
Performed emergency medical interventions, including resuscitation
Assisted in the coordination of patient care with other medical professionals
Documented patient care services and maintained accurate medical records
Hospitalist Resume with 15 Years of Experience
A highly experienced and board certified Hospitalist with 15 years of experience in delivering quality care to patients in both inpatient and outpatient settings. Demonstrated expertise in patient assessment and diagnosis, treatment planning, medical documentation, and medical record keeping. Possess excellent communication and interpersonal skills, with the ability to build strong relationships with staff, patients, and family members.
Core Skills:
Patient Assessment and Diagnosis
Treatment Planning
Medication Administration
Medical Record Keeping
Clinical Documentation
Communication and Interpersonal Skills
Patient Education
Computer Literacy
Responsibilities:
Provided direct patient care, including assessments and diagnosis of illness
Ordered and interpreted appropriate diagnostic tests
Developed treatment and discharge plans, and monitored progress
Monitored patient vital signs and other clinical information
Administered medication and other treatments in accordance with doctor's orders
Educated patients and family members on health maintenance and disease prevention
Maintained accurate and detailed clinical documentation
Provided guidance and direction to nursing staff and other healthcare professionals
Facilitated communication between patients, family members, and healthcare team
In addition to this, be sure to check out our resume templates, resume formats, cover letter examples, job description, and career advice pages for more helpful tips and advice.
What should be included in a Hospitalist resume?
A hospitalist resume should include all relevant information that will make your skills, experiences, and qualifications stand out. Below are some suggestions of what to include:
Professional Summary: A brief summary of your professional accomplishments and why you are a great fit for the role.
Education: All college degrees, certifications, and relevant courses that you have completed.
Experience: Any relevant experience you have in a hospital setting, including direct patient care, patient management, and administrative responsibilities.
Skills/Knowledge: Any specialized skills or knowledge applicable to a hospital setting such as EMR/EHR, ICD-10 coding, and other medical coding systems.
Awards/Recognitions: Any awards or recognition you have received related to your medical practice or patient care.
Professional Memberships: Membership in any relevant professional organizations such as the American College of Physicians or the American Academy of Family Physicians.
References: Contact information for professional references who can speak to your experience and skills.
What is a good summary for a Hospitalist resume?
A hospitalist resume should be a concise summary of the candidate's professional experience. It should highlight their skills, knowledge and expertise in the field of medicine as it relates to hospital care. It should include relevant work experience and educational background, as well as any additional certifications or competencies that would be beneficial in a hospital setting. The resume should also include any publications or research experience and any volunteer or community service activities. Finally, the resume should be tailored to the specific needs of the hospital and position that the candidate is applying for. By presenting a comprehensive summary of the candidate's qualifications, a hospitalist resume can help to demonstrate the candidate's capabilities and increase their chances of being considered for the position.
What is a good objective for a Hospitalist resume?
A Hospitalist is a doctor or medical professional who specializes in the care of hospitalized patients. A Hospitalist resume should be tailored to demonstrate the unique skills and experience necessary for success in this field. In order to stand out from the competition, your resume must include a well-crafted and professional objective statement.
Here are some good objectives for a Hospitalist resume:
To use my expertise in diagnostic medicine, patient care and health management to provide quality inpatient care at a premier hospital.
To leverage my knowledge and experience in hospital medicine to become a valuable and trusted member of a dynamic medical team.
To utilize my advanced training in patient management and medical care to improve hospital operations and patient satisfaction.
To bring my extensive experience in acute care and critical care medicine to a busy hospital setting in order to ensure the highest level of patient care and safety.
To use my strong background in acute care and hospital medicine to provide comprehensive and compassionate patient care.
To employ my medical knowledge and understanding of hospital protocols to ensure the best possible outcomes for patients.
How do you list Hospitalist skills on a resume?
When creating a resume for a Hospitalist position, it is important to include a section that outlines the relevant skills and qualifications you possess. Doing so will help demonstrate to potential employers that you have what it takes to be successful in the role.
When listing Hospitalist skills on your resume, you should focus on those that are most applicable to the role. This could include:
Knowledge of hospital operations, procedures, and protocols: A Hospitalist should have a comprehensive understanding of the practices and regulations that drive hospital operations.
Strong communication and interpersonal skills: Hospitalists must be able to effectively communicate with patients and other healthcare professionals, as well as coordinate care with other healthcare providers.
Ability to make decisions in a fast-paced environment: Hospitals operate 24/7 and decisions may need to be made quickly. Hospitalists must be able to make decisions in a timely manner while still ensuring quality of care.
Documentation expertise: Accurate and detailed documentation is essential for a Hospitalist. This includes recording patient notes, orders, and other relevant information.
Problem-solving and critical thinking: Hospitalists must be able to think critically and solve problems in order to effectively diagnose and treat patients.
By including a section on your resume that highlights your Hospitalist skills and qualifications, you can demonstrate to potential employers that you have the necessary skills for the job.
What skills should I put on my resume for Hospitalist?
Hospitalists are an integral part of the healthcare team and resume skills for these professionals should reflect that. If you're applying for a hospitalist role, here are some skills to consider including on your resume:
Communication: Hospitalists need strong written and verbal communication skills to effectively coordinate with other medical professionals and communicate patient conditions.
Patient Care: Showcase your ability to provide quality care to patients while in the hospital setting.
Critical Thinking: As a hospitalist, you need to be able to think quickly and evaluate different situations in order to make the right decisions.
Time Management: Manage your workflow and be able to prioritize tasks effectively in order to provide the best care for patients.
Attention to Detail: Demonstrate your ability to pay close attention to detail when diagnosing and treating patients.
Documentation: Showcase your experience with electronic medical records and other relevant documentation.
Patient Education: Highlight your experience providing patient education and counseling both in the hospital and post-discharge.
By including these skills on your resume, you can show employers that you have the desired traits and experience for a successful hospitalist role.
Key takeaways for an Hospitalist resume
If you're a physician looking to get your foot in the door of hospital medicine, you'll need a strong resume that showcases your skills and qualifications. As an hospitalist, you'll be responsible for providing comprehensive medical care to hospitalized patients, and having the right resume can put you ahead of the competition. Here are some key takeaways for crafting an effective hospitalist resume:
Focus on the basics. Start by including your contact information, educational background, and any relevant certifications or licenses.
Highlight your clinical experience. Be sure to include any clinical rotations, internships, or residencies you've completed, as well as any specialized training in hospital medicine.
Showcase your research. If you've conducted research or published papers in the field of hospital medicine, be sure to include this information.
Demonstrate leadership skills. Include any leadership roles you've had in the past, such as committee memberships or administrative positions.
Outline your management skills. If you have experience managing a team, be sure to include this in your resume.
Emphasize your interpersonal skills. As an hospitalist, you must have strong communication and interpersonal skills to effectively interact with patients and their families.
By following these key takeaways, you can create a powerful resume that will help you stand out from the competition. Good luck!
Let us help you build
your Resume!
Make your resume more organized and attractive with our Resume Builder