If you are a hospital administrator, you understand that the success of a hospital depends on your ability to stay organized, manage personnel, and maintain a high level of patient care. The resume you write is the first step to getting the job you want, and it is important to make sure it conveys your experience, skills, and accomplishments in the most effective way possible. With this blog post, we will provide you with a comprehensive guide on how to write a hospital administrator resume, with helpful tips and examples to make sure it stands out from the competition.
If you didn't find what you were looking for, be sure to check out our complete library of resume examples.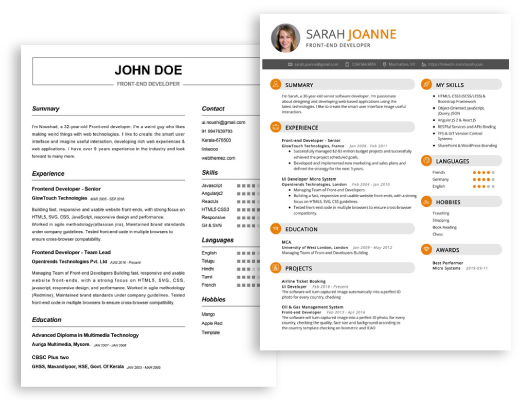 Start building your dream career today!
Create your professional resume in just 5 minutes with our easy-to-use resume builder!
Hospital Administrator Resume Examples
John Doe
Hospital Administrator
123 Main Street | Anytown, USA 99999 | Phone: (123) 456-7890 | Email: john.doe@email.com
I am an experienced and motivated hospital administrator with a proven track record of managing operations, personnel and budgets. My core skills include strong problem solving, strategic planning, and excellent communication. I have a wealth of experience in managing staff, organizing medical records, and budgeting for hospital operations. I have successfully managed multiple hospital departments and have implemented patient- centered initiatives. My educational background includes a degree in healthcare administration from an accredited university.
Core Skills:
Organizational Skills
Problem Solving
Strategic Planning
Process Improvement
Budgeting
Staff Management
Medical Records Management
Patient- centered Initiatives
Professional Experience:
Hospital Administrator, ABC Medical Center – 2017- present
Developed and implemented a budget for the hospital operations
Managed the entire hospital operations, including departments, personnel and financial operations
Created and managed weekly staff meetings to resolve any issues
Organized patient medical records and implemented a filing system
Developed and implemented patient- centered initiatives to improve patient care
Developed and implemented process improvement initiatives to streamline operations
Hospital Manager, XYZ Hospital – 2015- 2017
Developed and monitored the hospital budget
Ensured the efficient operation of the hospital departments
Supervised personnel and medical staff
Organized medical records and implemented a filing system
Conducted weekly staff meetings to resolve any issues
Education:
Bachelor of Science in Healthcare Administration, University of XYZ – 2011
Hospital Administrator Resume with No Experience
Recent college graduate with a Bachelor's Degree in Business Administration and a passion for the healthcare industry. Seeking an entry- level position as a Hospital Administrator to begin a career in the field. Highly organized, detail- oriented, and driven to succeed.
Skills
Strong communication and interpersonal skills
Excellent organizational and time management skills
Ability to develop and maintain strong professional relationships
Proficient in Microsoft Office Suite
Ability to work in a team and independently
Responsibilities
Develop and implement strategies to enhance hospital operations
Manage hospital staff, ensure compliance with regulations and hospital policies
Supervise patient records and ensure accuracy of data
Oversee budgeting and financial operations of the hospital
Monitor hospital performance using metrics and KPIs
Ensure patient and staff safety and satisfaction
Maintain positive relationships with key stakeholders, such as patients, staff, and government agencies
Hospital Administrator Resume with 2 Years of Experience
Adaptable, organized and results- driven Hospital Administrator with 2 years of experience leading high- performing hospital operations. Proven track record of success in motivating teams to meet objectives, streamlining processes and motivating staff. Experienced in developing teams, formulating strategies and creating responsible budgets. Possesses a Master's degree in Healthcare Administration from a prestigious university.
Core Skills:
Administration
Financial Management
Human Resources
Strategic Planning
Regulatory Compliance
Budgets
Team Building
Problem Solving
Communication
Patient Safety
Responsibilities:
Managed the daily operations of a large hospital, ensuring the highest standards of patient care and satisfaction.
Developed and established effective hospital- wide policies and regulatory compliance.
Oversaw and managed the budget, ensuring that all financial goals were achieved.
Implemented strategies and methods to reduce costs, improve efficiency and maximize profitability.
Established and monitored quality and patient safety standards, while managing employee relations and performance.
Negotiated contracts with key healthcare providers and vendors.
Facilitated the recruitment and onboarding of new staff, while providing ongoing training and development of current staff.
Developed and implemented marketing strategies to ensure maximum patient satisfaction.
Hospital Administrator Resume with 5 Years of Experience
A motivated and compassionate Hospital Administrator with five years of experience in healthcare administration, operations and compliance. Adept at creating and managing budgets and ensuring compliance with state and federal regulations. Possesses exceptional leadership, problem- solving and communication skills, and a record of success implementing cost- effective solutions.
Core Skills:
Budget management and forecasting
Regulatory compliance
Staff management
Conflict resolution
Strategic planning
Contract negotiation
Medical billing and coding
Project management
Data analysis
Responsibilities:
Developed budgets, established and maintained financial goals, and ensured accuracy of financial reports
Managed and directed staff, including hiring, training, scheduling, evaluating, disciplinary action and termination
Identified and resolved conflicts and disputes among staff, patients and families
Ensured compliance with state and federal regulations, and developed policies and procedures to ensure compliance
Negotiated contracts with vendors, physicians, and other stakeholders
Developed and implemented strategies for increasing revenue and decreasing costs
Developed medical billing and coding processes to ensure accuracy
Analyzed data to identify trends and opportunities for improvement
Supervised and managed projects to ensure timely completion and cost- effectiveness
Hospital Administrator Resume with 7 Years of Experience
I am an experienced Hospital Administrator with 7 years of experience in healthcare management. I have a proven track record of success in financial planning, budgeting and managing medical staff. My expertise lies in creating and implementing policies and procedures, improving patient care and safety, and ensuring compliance with government regulations. I have strong communication and interpersonal skills, and have the ability to motivate and engage staff. I am confident that I have the qualifications and experience to be an effective leader in a hospital setting.
Core Skills:
Strategic planning
Financial management
Process improvement
Policy & procedure development
Human resource management
Regulatory compliance
Medical staff management
Interpersonal communication
Responsibilities:
Developing and implementing short- and long- term strategies for the hospital's financial management
Analyzing financial data and implementing financial strategies to maximize revenue
Overseeing budgeting and forecasting activities
Creating and enforcing policies and procedures in accordance with government regulations
Managing medical staff and providing them with guidance and support
Evaluating and improving patient care and safety protocols
Ensuring compliance with all applicable laws and regulations
Overseeing human resource activities such as hiring, training and performance management
Hospital Administrator Resume with 10 Years of Experience
A highly experienced Hospital Administrator with 10 years of experience in managing health care facility operations. Proven track record of successfully managing hospital operations with an emphasis on financial management, human resource management, patient satisfaction and compliance with health care laws. Thorough knowledge of Joint Commission, Centers for Medicare and Medicaid Services and other applicable regulations. Skilled in providing strong leadership, problem- solving, team- building and communication abilities.
Core Skills:
Medical Facility Financial Management
Human Resource Management
Interpersonal Relationships
Patient Satisfaction
Regulatory Compliance
Clinical Management
Strategic Planning
Budgeting
Leadership
Responsibilities:
Develop, implement, and evaluate the hospital's strategic plan, budget, and goals
Oversee the medical facility's daily operations
Ensure compliance with all regulations and accreditation standards
Direct and coordinate the activities of all employees
Develop and implement policies and procedures for efficient and effective operations
Monitor and manage the quality of patient care
Analyze financial data and develop solutions to maximize revenues and reduce costs
Supervise and evaluate staff performance based on established policies and procedures
Ensure that all medical facility personnel comply with applicable laws and regulations
Develop and maintain positive relationships with customers, vendors, and other stakeholders
Hospital Administrator Resume with 15 Years of Experience
A highly experienced and detail- oriented Hospital Administrator with 15 years of professional experience in managing the daily operations of hospitals and other healthcare facilities. Possesses in- depth knowledge and understanding of all facets of hospital operations, including financial management, budgeting and staff development. A results- driven professional with excellent organizational, multi- tasking and communications skills to effectively handle day- to- day responsibilities.
Core Skills:
Hospital Administration
Financial Management
Budgeting
Staff Development
Organizational Skills
Multi- tasking
Communication Skills
Time Management
Responsibilities:
Managed daily operations of hospitals and other healthcare facilities.
Developed and implemented hospital policies and procedures.
Trained and supervised staff in carrying out hospital operations and practice standards.
Evaluated clinical and administrative operations for effectiveness and efficiency.
Assessed the needs of the facility and developed plans to ensure the highest quality of patient care.
Monitored the financial performance of the facility and evaluated cost- saving strategies.
Developed and maintained relationships with patients, staff and outside vendors.
Implemented new technologies and procedures to improve efficiency.
Managed budgeting and financial operations in accordance with organizational goals.
Negotiated contracts and monitored service levels with vendors.
Provided support to physicians, nurses and other healthcare professionals.
In addition to this, be sure to check out our resume templates, resume formats, cover letter examples, job description, and career advice pages for more helpful tips and advice.
What should be included in a Hospital Administrator resume?
Taking on a role as a hospital administrator is a big responsibility, so your resume must be able to demonstrate your qualifications for the position. A well-crafted resume should contain the following sections:
Educational Qualifications: List any college degrees, certifications, and any other education-related qualifications you may have.
Professional Experience: Include all professional positions you have held in the past, including any experience in the healthcare field.
Technical Skills: Include any IT, medical coding, or other technical skills you have that may be relevant for the position.
Clinical Skills: List any clinical skills you have that are relevant to the hospital, such as medical knowledge and patient care.
Leadership, Management & Communication Skills: Showcase your leadership, management, and communication abilities that you have acquired through previous experience.
Interpersonal Skills: Demonstrate any interpersonal skills that you have, such as the ability to work as part of a team and to interact with patients, family members, and co-workers.
Other Qualifications: Include any additional qualifications or certifications you may have that are related to the position.
Including these sections in your hospital administrator resume will make it easier for employers to understand why you are the best candidate for the job.
What is a good summary for a Hospital Administrator resume?
A Hospital Administrator resume should be a succinct and professional summary of a professional's background, experience, and qualifications in healthcare administrative roles. It should include information about the applicant's educational qualifications, including any pertinent certifications, as well as their previous professional experience, including any skills and achievements that are applicable to the position. Additionally, the resume should include any applicable software and hardware systems they are familiar with and any other relevant information that could help set them apart from other applicants. By presenting a concise and detailed summary of the applicant's background and qualifications, a Hospital Administrator resume can help increase their chance of securing the position.
What is a good objective for a Hospital Administrator resume?
A hospital administrator resume should be tailored to the specific career path and job description they are applying for. While there is no single good objective that applies to all resumes, there are some general guidelines to follow.
Establish a clear and concise objective statement that properly sums up the candidate's qualifications and experience.
Demonstrate leadership abilities and the capacity to work independently with minimal supervision.
Highlight the ability to work collaboratively with other departments, staff members, and external stakeholders.
Exhibit excellent communication and interpersonal skills to build relationships and effectively motivate staff.
Showcase a commitment to quality and patient-centered care.
Demonstrate expertise in budgeting, finance, and resource management.
Demonstrate a record of success in meeting organizational goals and objectives.
Showcase the ability to develop policies, procedures, and protocols.
Prove the ability to manage human resources effectively.
Display the capacity to think strategically to develop innovative solutions.
Showcase the capacity to drive organizational change through data-driven decisions.
Including these objective statements in a hospital administrator resume will demonstrate to potential employers the qualifications and experience the candidate has to offer. By showcasing the skills and abilities necessary to succeed in the role, the candidate will be well-positioned to secure the job.
How do you list Hospital Administrator skills on a resume?
A hospital administrator must possess many skills to handle the complex and diverse job of running a hospital. When you are listing hospital administrator skills on your resume, it is essential to include both the hard and soft skills that are necessary for the job. Here are some of the key skills to consider including:
Financial Skills: The hospital administrator must be able to manage budgets, develop financial strategies, and monitor profitability.
Communication Skills: Effective communication is essential for directing staff, collaborating with other departments, and working with patients and their families.
Leadership Skills: A hospital administrator must be able to lead a team of medical professionals, providing clear direction and setting a good example.
Strategic Thinking: Strategic thinking allows the hospital administrator to plan for the future, identify problems, and develop innovative solutions.
Problem-Solving Skills: Hospitals are complex environments with constantly changing needs. Hospital administrators must be able to handle difficult situations and come up with creative solutions.
Interpersonal Skills: Hospital administrators must be able to build relationships with both staff and patients.
Negotiation Skills: Negotiating with healthcare providers, insurers, and other third parties is often part of the job.
Time Management Skills: A hospital administrator must be able to manage their time efficiently to ensure the hospital is running smoothly.
By including these skills on your resume, you can demonstrate that you have the experience and qualifications necessary to be a successful hospital administrator.
What skills should I put on my resume for Hospital Administrator?
When applying for a position as a Hospital Administrator, it's important to highlight the skills that make you the best candidate for the job. A Hospital Administrator is responsible for managing and overseeing a wide range of operations including financial management, patient care, and personnel management. To successfully manage a hospital, an Administrator must possess certain skills. Here are some of the top skills that should be included on your resume:
Financial Management: A Hospital Administrator must be able to manage the financial operations of a hospital, including budgeting, forecasting, and analyzing financial statements.
Patient Care: An Administrator must be knowledgeable about the healthcare industry and patient care regulations, procedures, and standards. They must also be able to ensure that patient care standards are consistently met.
Personnel Management: An Administrator must be able to manage personnel, including interviewing and hiring staff, training and developing employees, and providing feedback and guidance.
Strategic Planning: An Administrator must be able to develop and implement strategies to ensure the efficient and effective operation of the hospital. This includes setting goals, evaluating performance, and making necessary changes.
Problem-Solving: An Administrator must be able to effectively identify and resolve issues that may arise within the hospital.
Leadership: An Administrator must be able to lead, motivate, and inspire others to reach the highest levels of performance.
By including these skills on your resume, you will demonstrate to employers that you have the skills and experience necessary to be a successful Hospital Administrator.
Key takeaways for an Hospital Administrator resume
When crafting a resume for a hospital administrator position, it is important to highlight the most important skills, education and experience. As a hospital administrator, you will be responsible for overseeing departments, developing policies, as well as budgeting and staffing. It is essential to be able to demonstrate a comprehensive understanding of the administrative needs of a health care organization. Here are some key takeaways to consider when creating a resume for a hospital administrator:
Highlight experience: Make sure to emphasize any health care experience you have, whether it is directly related to the position or not. Include details such as the size of the organization, the number of staff you managed, and any successes you achieved.
Emphasize core competencies: Core competencies for a hospital administrator may include strategic planning, budgeting, and problem solving. Be sure to emphasize these skills, as well as any others that are pertinent to the position.
Highlight education: Make sure to include your educational background, including any relevant degrees or certifications. Make sure to emphasize any courses related to health care management or administration.
Stress organizational skills: Hospital administrators need to be able to manage multiple departments and staff members, as well as handle multiple tasks at once. Be sure to emphasize your organizational skills, as well as your ability to prioritize tasks.
Demonstrate leadership: As a hospital administrator, you will need to be able to lead and motivate the staff. Showcase any leadership experience you have, such as involvement in professional organizations or chairing committees.
By highlighting the most important skills, education and experience, you will be able to create a resume that will help you stand out from other candidates. With the right information, you can create a resume that will help you land the job you want.
Let us help you build
your Resume!
Make your resume more organized and attractive with our Resume Builder