Writing a quality resume to land a gynecologist position is essential in the highly competitive medical field. Your resume should accurately reflect your skills and experience so that it stands out to potential employers. An effective resume should highlight your education, certifications, and any relevant professional experience. The following guide is designed to provide a comprehensive overview of how to effectively write a resume for a gynecologist, including tips and examples to help you create a winning resume.
If you didn't find what you were looking for, be sure to check out our complete library of resume examples.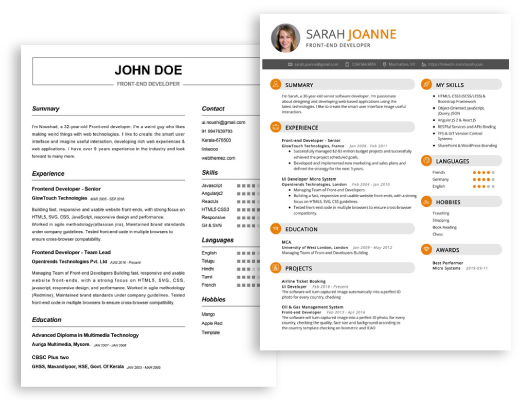 Start building your dream career today!
Create your professional resume in just 5 minutes with our easy-to-use resume builder!
Gynecologist Resume Examples
John Doe
Gynecologist
123 Main Street | Anytown, USA 99999 | Phone: (123) 456-7890 | Email: john.doe@email.com
I am a highly qualified gynecologist with 8 years of experience in the healthcare sector. I have a proven record of providing quality patient care, utilizing up- to- date methods and procedures that enable me to stay abreast of the latest treatments and technologies. I am passionate about helping people and I am dedicated to ensuring that my patients receive the best possible care. My excellent interpersonal and communication skills enable me to develop strong relationships with my patients and their families.
Core Skills:
Diagnosing and treating gynecological conditions
Knowledge of reproductive anatomy, physiology, and endocrinology
Supervising medical staff
Administering medical tests
Drawing up patient medical histories
Prescribing medications
Performing examinations and procedures
Professional Experience:
Gynecologist, ABC Gynecology, London, UK (2014- present)
Diagnosing and treating gynecological conditions
Developing treatment plans for patients
Training medical staff and providing guidance
Performing ultrasounds and blood tests
Assisting in delivering babies
Resident Physician, DEF Hospital, London, UK (2010- 2014)
Diagnosed and treated gynecological conditions
Performed gynecological procedures
Assisted in surgeries
Educated patients on gynecological health
Researched new treatments and technologies
Education:
Doctor of Medicine, University of Edinburgh, Edinburgh, UK (2010)
Bachelor of Science in Biology, University of Oxford, Oxford, UK (2006)
Gynecologist Resume with No Experience
Recent medical school graduate with a passion for providing quality care to women of all ages. Highly motivated, organized and detail- oriented with excellent communication and patient- care skills.
Skills:
Proficient in medical terminology
Knowledge of gynecological procedures
Ability to maintain professional relationships with patients
Excellent communication skills
Strong organizational and time- management skills
Analytical thinker and problem solver
Responsibilities:
Conduct physical examinations and provide preventive care to women of all ages
Identify and diagnose common gynecological problems
Perform preventative screenings such as Pap smears and mammograms
Prescribe medications and recommend lifestyle changes
Monitor and document patient progress
Provide patient education and support
Provide emotional support to patients and families
Establish strong relationships with patients and staff
Gynecologist Resume with 2 Years of Experience
I am a highly organized and hardworking Gynecologist with two years of experience in providing healthcare services. I have a deep understanding of the medical field and display excellent patient care and communication skills. I am passionate about providing women with the best quality of care and am skilled in conducting examinations, writing prescriptions, and ordering diagnostic tests. My strong organizational and problem- solving skills enable me to work well under pressure and provide efficient and accurate treatments.
Core Skills:
Strong knowledge of gynecological conditions
Excellent bedside manner and communication skills
Ability to explain complex medical information clearly
Deep understanding of medical terminology
Well- versed in diagnostic tests and treatments
Excellent organizational and problem- solving skills
Ability to work efficiently and accurately
Responsibilities:
Providing general gynecological care to patients with various conditions
Conducting physical examinations and ordering diagnostic tests
Assisting in surgeries and performing minor procedures
Diagnosing and treating gynecological diseases, infections, and conditions
Providing patient education and counseling
Monitoring patient progress and responding to questions and concerns
Assisting with medical research and clinical trials
Writing prescriptions and referring patients to specialists as needed
Maintaining accurate patient records and filing reports
Staying up- to- date on the latest advancements in gynecology
Ensuring patient safety and compliance with healthcare regulations.
Gynecologist Resume with 5 Years of Experience
Experienced gynecologist with five years of experience providing care for women at multiple health care facilities. Specialized in diagnosis, treatment and management of gynecologic and reproductive health disorders. Proven ability to develop rapport with patients and their families, and to provide comprehensive care to improve health and well- being.
Core Skills:
Knowledge of female reproductive anatomy, physiology and pathology
Interpreting diagnostic tests and treatments
Excellent interpersonal and communication skills
Ability to provide counseling and education
Ability to work independently as well as part of a healthcare team
Responsibilities:
Performing gynecologic examinations
Examining, collecting and recording patients' medical history
Diagnosing and treating gynecologic disorders
Ordering and interpreting laboratory and other diagnostic tests
Prescribing and administering medications, therapies and treatments
Monitoring and evaluating patient progress
Providing patient education and counseling
Gynecologist Resume with 7 Years of Experience
Dynamic gynecologist with 7 years of experience in providing women's health services and delivering quality care to patients in a timely and professional manner. Adept in providing preventive health services, performing physical examinations, diagnosing gynecological conditions, and determining effective treatments. Experienced in identifying and responding to gynecological emergencies and providing patient education.
Core Skills:
Knowledge of gynecological diseases, treatments and procedures
Ability to effectively handle stressful situations
Excellent communication and interpersonal skills
Strong diagnostic and problem- solving skills
Proficient in the use of electronic medical records (EMR)
Responsibilities:
Performing physical examinations and diagnosing gynecological conditions
Ordering and interpreting laboratory, genetic and radiologic tests
Prescribing medications and treatments
Developing care plans and providing patient education
Providing counseling and support to patients and families
Conducting research and participating in clinical trials
Assisting in surgical procedures and other medical interventions
Monitoring patient progress and managing follow- up care
Gynecologist Resume with 10 Years of Experience
Highly experienced and motivated gynecologist with over 10 years of experience providing primary care, gynecological health services, and obstetrical care to patients. Skilled in conducting and interpreting gynecological examinations and providing education on reproductive health and wellness. Experienced in diagnosing and treating medical and surgical issues related to the female reproductive system. Possesses excellent problem- solving, organizational and communication skills.
Core Skills:
Conducting gynecological examinations
Diagnosing and treating medical and surgical issues related to the female reproductive system
Recording patient history and progress
Providing education on reproductive health and wellness
Performing surgical procedures
Managing medical records
Counseling, diagnosing, and treating women
Prescribing medications, fertility treatments, and hormone replacement therapies
Collaborating with multidisciplinary teams
Responsibilities:
Provided primary care and gynecological health services to patients
Performed gynecological examinations, ultrasounds, and biopsies to diagnose and treat medical and surgical issues related to the female reproductive system
Recorded patient history and progress to accurately provide treatments
Provided patient education on reproductive health, contraception, sexually transmitted diseases, and menopause
Performed surgeries including cesarean sections, hysterectomies, and colposcopies
Managed medical records, reviewed lab results, and prescribed medications
Counseled and treated women for a variety of medical and psychological issues
Prescribed fertility treatments, hormone replacement therapies and lifestyle modifications
Collaborated with multidisciplinary teams to effectively manage patient care
Gynecologist Resume with 15 Years of Experience
Highly experienced Gynecologist with 15 years of dedication to providing exemplary care to patients. Experienced in providing gynecological care and consultation, including physical examinations, routine screenings, contraceptive counseling and gynecological surgeries. Focused on patient education and ensuring the privacy and safety of patients. Possesses strong communication and problem- solving skills and is committed to providing the highest quality of care.
Core Skills:
Knowledge of current gynecological best practices
Excellent interpersonal and communication skills
Proficient in performing physical examinations
Skilled in various gynecological surgeries
Strong empathy and understanding towards patients
Ability to conduct patient education sessions
Sound knowledge of contraceptive counseling
Responsibilities:
Provide comprehensive gynecological care and consultation
Examine patients and provide diagnoses and treatments
Perform physical examinations and routine screenings
Prescribe medications and therapies
Inform patients of treatment options and potential risks
Conduct patient education sessions
Offer contraceptive counseling and advice
Conduct research and study current best practices
Perform gynecological surgeries as necessary
Maintain patient records and ensure patient privacy and safety
In addition to this, be sure to check out our resume templates, resume formats, cover letter examples, job description, and career advice pages for more helpful tips and advice.
What should be included in a Gynecologist resume?
A Gynecologist resume should be comprehensive and highlight the skills and experience that make the applicant suitable for this role. Here are some important items to include:
Professional summary: A brief overview of the applicant's qualifications and experience.
Education: Medical degree and other relevant qualifications.
Licenses and Certifications: All relevant licenses and certifications must be included.
Work Experience: A list of past gynecologist roles, including job title and location, as well as dates of service.
Skills: Specialized medical knowledge and any other relevant skills for the role.
Languages: Any foreign languages known.
Professional Memberships: Any relevant professional membership.
Additional Skills: Any extra skills that may be relevant.
Achievements: Any awards or recognitions the applicant has received.
What is a good summary for a Gynecologist resume?
A gynecologist resume should be a concise snapshot of your skills, experience and education in the field of gynecology and women's health. It should highlight any awards, certifications and/or specializations that you have achieved as a gynecologist. Additionally, the resume should include any research you have conducted or publications you have authored. It is also a good idea to include any relevant clinical experience you have had in the field, such as a residency or fellowship. Finally, a good gynecologist resume should include any professional memberships or organizations you belong to that further demonstrate your commitment to advancing the field.
What is a good objective for a Gynecologist resume?
A Gynecologist is a medical doctor who specializes in the health of the female reproductive system. It is essential for gynecologists to have a resume that clearly outlines their qualifications, experience, and education for potential employers. Here are some suggested objectives to include on a Gynecologist resume:
To obtain a position as a gynecologist utilizing my in-depth knowledge of female reproductive system and my experience in performing gynecological exams and procedures.
To work in a challenging and dynamic medical practice, providing expert gynecological diagnosis and treatment to all patients.
To provide excellent patient care and ensure a safe and comfortable environment for all patients from initial consultation through follow-up care.
To utilize my experience in analyzing lab results, diagnosing illnesses and preparing treatment plans to provide the best care possible.
To provide leadership and act as a mentor to junior gynecologists, offering guidance and support in their professional development.
How do you list Gynecologist skills on a resume?
A gynecologist is a doctor who specializes in women's reproductive health, so it is important to have specific skills listed on your resume when applying for a job in this field. It is important to emphasize your knowledge and understanding of female anatomy and physiology, as well as your experience treating female patients. To showcase your Gynecologist skills on a resume, include the following:
Experience performing gynecological exams, Pap smears, ultrasounds, and other diagnostic tests
Ability to diagnose and treat diseases and conditions related to female reproductive health, including STDs and fertility issues
Knowledge of contraception, family planning, and menopause
Proficiency in administering vaccines and providing preventive health care
Excellent communication and interpersonal skills to build a rapport with patients
Strong organizational and problem-solving skills
Knowledge of relevant laws and regulations
Familiarity with medical software and technology
What skills should I put on my resume for Gynecologist?
When preparing your résumé to become a Gynecologist, it is important to highlight the skills that relate to this position. Being a Gynecologist requires a great deal of knowledge, experience, and technical skill. It is also important to possess excellent communication and interpersonal skills, as well as strong problem-solving abilities. Here are some key skills to consider including on your résumé:
Knowledge of reproductive anatomy, physiology, and diseases: As a Gynecologist, you must be well-versed in the anatomy, physiology, and diseases of the female reproductive system. You should be able to accurately diagnose and treat conditions, as well as counsel patients on their health.
Clinical experience: Gynecologists must have extensive clinical experience in order to effectively treat patients. This experience can include working in a hospital, private practice, or other clinical setting.
Strong communication skills: As a Gynecologist, you will be interacting with patients on a daily basis, which requires strong communication skills. You should be able to clearly explain medical information to patients in an understandable way and be able to effectively listen to and address patient concerns.
Technical skills: Gynecologists must possess a great deal of technical skills in order to perform examinations and procedures. This includes the ability to use medical equipment, such as ultrasound machines, and being able to interpret results.
Problem solving: Gynecologists must be able to think critically and make decisions quickly in order to effectively diagnose and treat patients. They should also be able to handle difficult situations and provide solutions to challenging medical problems.
By emphasizing these skills on your résumé, you will be well-positioned to become a successful Gynecologist. With the right combination of knowledge, experience, and skills, you will be able to provide the best care for your patients.
Key takeaways for an Gynecologist resume
When writing a gynecologist resume, there are several key takeaways that should be kept in mind. Firstly, it is important to highlight your clinical background, training, and certification. A prospective employer wants to know that you are qualified and have the necessary experience to fulfill the role. Furthermore, it is important to showcase any awards or honors you have received, as well as any additional certifications or qualifications.
In addition to your clinical background, it is also important to include any research or teaching experience you may have. This is especially important for those in academic settings, as it demonstrates your passion for the field and knowledge of current trends and topics in gynecology. If you've published any papers or articles related to the field, be sure to list them here.
When writing the experience section of your resume, it is important to describe your job duties and responsibilities in detail. For example, if you are a practicing gynecologist, you should list the types of procedures you are responsible for and the patients you have seen. If applicable, you can include any specializations or areas of expertise as well.
Finally, it is important to keep your resume up-to-date. Employers may want to know about any recent accomplishments or advancements you've made in the field. Additionally, you should also update your contact information, as well as any professional affiliations or memberships. By doing so, you demonstrate your commitment to the field and show that you are an active participant in the gynecology community.
Let us help you build
your Resume!
Make your resume more organized and attractive with our Resume Builder