A dosimetrist is an important member of a health care team and is responsible for measuring radiation doses for patients receiving radiation therapy. It's important to ensure that your resume stands out in order to get an interview for a dosimetrist position. To make your resume stand out from the competition, you need to make sure it is well written, up-to-date and contains all the vital information. To help you create an impressive dosimetrist resume, this guide will provide you with tips, tricks and examples to make your resume shine.
If you didn't find what you were looking for, be sure to check out our complete library of resume examples.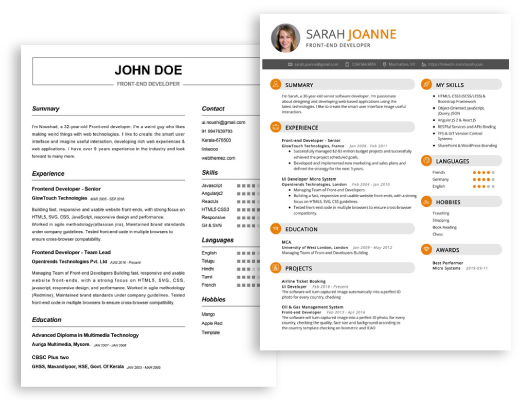 Start building your dream career today!
Create your professional resume in just 5 minutes with our easy-to-use resume builder!
Dosimetrist Resume Examples
John Doe
Dosimetrist
123 Main Street | Anytown, USA 99999 | Phone: (123) 456-7890 | Email: john.doe@email.com
Dosimetrist with 8 years of experience in radiation oncology. Proven ability to work with a variety of tools and technologies to plan, design, and deliver quality radiation dose distribution. Experienced in using sophisticated computer systems and software to optimize treatment plans. Knowledgeable in the principles of radiation dose distribution and patient safety. Skilled in developing and monitoring radiation treatment plans and ensuring regulatory compliance.
Core Skills:
Radiation Oncology
Computer Systems and Software
Radiation Dosage Distribution
Treatment Planning
Patient Safety
Regulatory Compliance
Data Analysis
Interpersonal Communication
Problem Solving
Professional Experience:
Dosimetrist, ABC Oncology, 2017- present
Coordinate and develop radiation treatment plans for oncology patients
Utilize computer systems and software to create radiation treatment plans
Monitor and evaluate radiation dose distribution
Ensure compliance with regulatory standards
Provide patient education and support
Perform data analysis and charting
Dosimetrist, XYZ Oncology, 2012- 2017
Planned and designed radiation treatment plans
Monitored and evaluated radiation dose distribution
Worked with physicians and nurses to ensure best outcomes
Advised on safety protocols and regulatory compliance
Provided patient education and support
Education:
Bachelor of Science in Radiation Science, ABC University, 2012
Dosimetrist Resume with No Experience
Motivated and organized Dosimetrist with a strong aptitude for learning and understanding the nuances of radiation dosimetry. Looking for a chance to develop the knowledge and skills learned in college in a professional setting.
Skills:
Excellent problem- solving and critical thinking abilities
In- depth understanding of radiation dosimetry principles and practices
Proficient in the use of medical imaging software
Excellent communication skills, both oral and written
Highly organized and detail- oriented
Responsibilities:
Assist Radiation Oncologists in planning and assessing radiation treatments
Verify accuracy of radiation dose delivery using medical imaging software
Monitor and review patient radiation dose records
Provide support and training to other staff members on radiation safety and dosimetry
Develop and maintain radiation dose records in accordance with guidelines and protocols
Dosimetrist Resume with 2 Years of Experience
Dedicated and organized Dosimetrist with two years of experience in the healthcare field. Achieved a specialization in radiation oncology and became familiar in radiation treatment planning systems. Possess considerable skill in evaluating and interpreting radiation information and data. Patient- focused and compassionate with an excellent attention to detail.
Core Skills:
Radiation treatment planning
Radiation oncology
Radiation physics
Radiation dosimetry
Record management
Interpersonal communication
Diagnostic imaging
Problem- solving
Responsibilities:
Assisted in calculations for radiation treatment planning and delivery systems
Verified accuracy of radiation treatment by running quality assurance tests
Produced and documented calculations for patient specific treatments
Evaluated patient data and medical records
Educated patients and families on radiation treatment and safety
Coordinated with radiologists and oncology staff to ensure patient safety
Ensured radiation safety regulations and standards are met
Dosimetrist Resume with 5 Years of Experience
Dosimetrist with 5+ years of experience applying radiation therapy to treat cancer and other diseases. Skilled in treatment planning, dosimetry calculations, and patient support. Personable and effective communicator who excels in a team- oriented environment.
Core Skills:
CPR certification
Proficiency in radiation therapy
Knowledge of medical terminology
Strong written and verbal communication
In- depth understanding of patient needs
Excellent problem- solving abilities
Responsibilities:
Developed treatment plans based on type and stage of cancer, patient's vital signs, and other medical history
Performed dosimetry calculations to determine radiation dosage and targeted area
Reviewed patient's medical history and discussed treatment plans with radiation oncologist
Ensured proper use of radiation therapy equipment and monitored patient during treatments
Provided emotional and psychological support to patients and families
Documented all treatments in accordance with hospital policies and procedures
Dosimetrist Resume with 7 Years of Experience
A highly organized and detail- oriented Dosimetrist with 7 years of experience in radiation therapy treatments. Possesses a strong knowledge of radiation therapy techniques, radiation safety and regulations, as well as the ability to assess treatment plans for accuracy and efficacy. Adept at developing and maintaining a great rapport with both radiation oncologists and patients to ensure accuracy and safety during treatments.
Core Skills:
Radiation therapy treatments
Radiation safety and regulations
Treatment plan assessment
Radiation oncology
Patient rapport
Accuracy and safety
Charting and documentation
Data analysis
Computer proficiency
Responsibilities:
Developing and implementing radiation treatment plans in accordance with medical prescriptions.
Monitoring and documenting patient progress and responses to therapeutic treatments.
Administering radiation treatments and adjusting as needed.
Maintaining accurate patient records and ensuring compliance with safety regulations.
Collaborating with other healthcare professionals to provide the best care possible.
Educating and counseling patients on radiation safety and the importance of the radiation therapy treatment process.
Determining the dose of radiation to be applied based on patient's individual needs and treatment goals.
Analyzing data from scans and tests to ensure accuracy and reliability of radiation therapy treatments.
Dosimetrist Resume with 10 Years of Experience
Highly experienced and reliable Dosimetrist with 10 years of quality professional experience in radiation oncology. Skilled in developing treatment plans that ensure optimal radiation dose distributions to target lesions and minimize exposure to critical structures. Proven ability to effectively collaborate with physicians, radiation therapists, and other healthcare professionals to ensure accurate and timely treatment.
Core Skills:
Radiation Oncology
Treatment Planning
Quality Control
Radiation Safety
Patient Education
Team Collaboration
Accuracy and Precision
Responsibilities:
Develop accurate and comprehensive radiation treatment plans for oncology patients.
Compute and analyze radiation dose distributions using Monte Carlo calculation algorithms.
Monitor and control radiation exposure to patients and staff.
Provide patient education about radiation therapy and its risks.
Regularly review patient records and treatment plans for accuracy.
Collaborate with radiation therapists and oncologists to discuss and optimize treatment plans.
Manage and store patient records and radiation dosimetry reports.
Dosimetrist Resume with 15 Years of Experience
Dosimetrist with 15 years of expertise in the radiation oncology field. Exceptional knowledge of radiation therapy treatment planning, radiation safety and quality assurance. Skilled in working with both external and brachytherapy treatment plans. Proficient in the use of computerized treatment planning systems.
Core Skills:
Radiation treatment planning
External beam radiation therapy
Brachytherapy treatment planning
Radiation safety and quality assurance
Computerized treatment planning systems
Patient records maintenance
Radiation oncology treatments
Responsibilities:
Perform radiation treatment planning and provide dosimetry calculations
Create treatment plans using sophisticated software, taking into account patient anatomy, dose volume constraints and radiation safety
Maintain accurate patient records and ensure all necessary paperwork is completed before treatments are provided
Conduct quality assurance reviews in order to ensure accuracy of radiation treatment plans
Collaborate with other medical teams to discuss treatment plans and record progress
Educate patients and family members regarding radiation oncology treatments
In addition to this, be sure to check out our resume templates, resume formats, cover letter examples, job description, and career advice pages for more helpful tips and advice.
What should be included in a Dosimetrist resume?
A Dosimetrist is a medical professional who works with radiation oncologists to ensure patients receive radiation treatments safely and in accordance with the doctor's prescribed dosage. For those looking to become a Dosimetrist, having a strong resume is essential to success. Here is a list of what should be included in a Dosimetrist resume:
Education: Include any degrees or certifications that have been obtained specifically related to Dosimetry.
Work Experience: Describe any previous clinical experience related to the field of Dosimetry. This should include any relevant positions held, such as Radiation Oncology Technologist or Radiation Therapy Physics Technician.
Skills and Abilities: List any skills or abilities that make you stand out as a Dosimetrist, such as proficiency in computer software programs related to radiation oncology, or knowledge of radiation safety protocols.
Professional Membership: Mention any professional organizations related to Dosimetry that you are a member of, such as the American Association of Medical Dosimetrists.
Community Involvement: Describe any volunteer or community work you have done related to Dosimetry.
References: Include at least two professional references that can speak to your skills and experience in the field.
By including all of these elements in your Dosimetrist resume, you can demonstrate to potential employers that you are the right person for the job.
What is a good summary for a Dosimetrist resume?
A dosimetrist is a healthcare professional who works in radiation therapy, using radiation to treat various types of cancer and other diseases. A dosimetrist resume should include a summary that outlines the applicant's qualifications and experience in radiation therapy, including the type of experience they have, the types of treatments they are certified or trained to administer, and any specialized knowledge or skills they possess. Additionally, the summary should highlight the applicant's strong interpersonal and organizational skills, and any certifications or licenses they may hold. Finally, the summary should express the applicant's dedication to providing quality care to patients and their commitment to continuing their education in the field.
What is a good objective for a Dosimetrist resume?
A Dosimetrist is a healthcare professional who specializes in the analysis and prescription of radiation doses for cancer treatments. Developing an effective resume can be a challenge, but the following tips can make the process easier.
Writing an Objective
When writing an objective for a Dosimetrist resume, focus on the professional level of expertise that you have. Include any experience or skills that you have that sets you apart from other candidates. Your objective should be concise, yet clear and impactful. Here are some examples of well-crafted objectives for a Dosimetrist resume:
Experienced Dosimetrist seeking to leverage results-driven expertise to provide quality radiation dose prescriptions in a patient-centered healthcare setting.
Passionate Dosimetrist looking to contribute 10 years of radiation dose prescription experience and in-depth knowledge of cancer treatments to a healthcare organization.
Dedicated Dosimetrist with a commitment to advancing the field of radiation oncology through the delivery of accurate, tailored radiation dose prescriptions.
Driven Dosimetrist eager to apply experience in radiation dose prescription analysis and cancer treatment to an organization dedicated to delivering quality patient care.
How do you list Dosimetrist skills on a resume?
When applying for a Dosimetrist role, it is important to highlight your experience and skills that are specific to the role. In addition to highlighting your education and qualifications, you should also include a section on your resume that focuses on your Dosimetrist skills. This section should be placed near the top of your resume and should include the following:
Knowledge and understanding of the principles of radiation protection
Ability to interpret medical imaging
Experience in designing and delivering radiation treatments
Familiarity with radiation treatment equipment
Proficiency with dosimetry software and systems
Excellent communication and organizational skills
Ability to provide patient education
Experience with radiation safety and quality assurance
Familiarity with radiation safety regulations and protocols
Ability to assess and adjust radiation treatments
Knowledge of dosimetry calculations and record keeping
Ability to work independently and collaboratively
By highlighting and emphasizing your Dosimetrist skills, you can make sure your resume stands out and make a positive impression on potential employers.
What skills should I put on my resume for Dosimetrist?
Having a successful Dosimetrist resume is essential when it comes to finding a great job in the field. The skills section of your resume is one of the most important parts, as it highlights your abilities and qualifications in a concise way. When crafting your Dosimetrist resume, include the following skills for the best possible representation of your candidacy.
Radiation Therapy Planning: As a Dosimetrist, you must have a comprehensive understanding of radiation oncology and have expertise in using various radiation therapy planning systems.
Quality Assurance: You must be experienced in making sure the radiation treatment planning and delivery systems are functioning properly and meeting quality standards.
Radiological Physics: You must have a good grasp of radiological physics, including the principles of radiation dosimetry, radiation biology and radiation safety.
Technical Skills: You should be knowledgeable in diagnostic imaging, computer systems, and radiation therapy equipment.
Communication Skills: As a Dosimetrist, you must be able to effectively communicate with other medical professionals, such as physicians, nurses, and radiation therapists.
Interpersonal Skills: You should have excellent interpersonal skills to be successful in the role.
By including these skills on your resume, you will be able to demonstrate to prospective employers that you have the knowledge and experience necessary to be a successful Dosimetrist.
Key takeaways for an Dosimetrist resume
As a Dosimetrist, you know that your resume is essential to your success in the job market. Knowing what to include and how to stand out from the competition can be a challenge. Here are some key takeaways to consider when creating a Dosimetrist resume.
Highlight Your Education: Make sure to include your educational background and any specialized training you've completed. Dosimetrist positions typically require some type of certification or degree in the field. Listing any relevant certifications or degrees will make your resume stand out from the competition.
Showcase Your Professional Experience: Your professional experience is essential to a Dosimetrist resume. List any roles you have held that are related to the position. Include details about your responsibilities and any successes you have achieved in those roles.
Demonstrate Your Skills: Dosimetrists rely heavily on their technical skills and knowledge to do their jobs. Make sure to list any relevant skills and technical knowledge that you have mastered. This will help you stand out from the competition and make you a more attractive candidate for the position.
Describe Your Soft Skills: Dosimetrists also need to possess strong interpersonal skills and be comfortable working with patients. Make sure to list any soft skills you have, such as communication and problem-solving, to demonstrate your ability to provide excellent patient care.
By following these key takeaways, you can create an effective Dosimetrist resume that will help you stand out from the competition. Make sure to highlight your education, professional experience, technical skills, and soft skills to make the most of your resume.
Let us help you build
your Resume!
Make your resume more organized and attractive with our Resume Builder