Writing a great resume for a career as a CT scan technologist can be a challenge. Knowing how to highlight your skills and qualifications to best showcase your abilities to potential employers is essential for standing out from other candidates. This guide provides all the information and examples you need to create a strong and effective CT scan technologist resume that will help you land your desired job. From best practices for formatting to relevant key words and phrases, you will be able to create a professional resume that gets you noticed.
If you didn't find what you were looking for, be sure to check out our complete library of resume examples.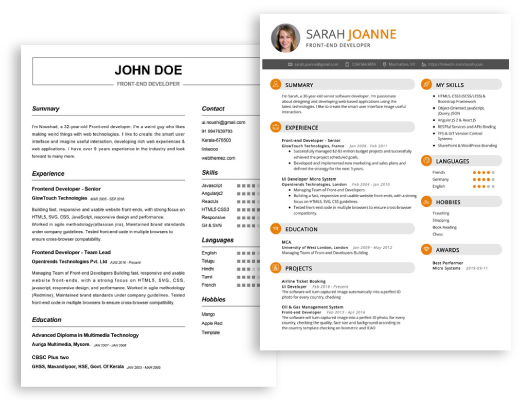 Start building your dream career today!
Create your professional resume in just 5 minutes with our easy-to-use resume builder!
Ct Scan Technologist Resume Examples
John Doe
Ct Scan Technologist
123 Main Street | Anytown, USA 99999 | Phone: (123) 456-7890 | Email: john.doe@email.com
Experienced CT Scan Technologist with 8+ years of experience in performing imaging technology examinations to diagnose and treat patient ailments. Possess a comprehensive knowledge of radiography and radiological equipment, safety protocols, and patient care. Skilled in providing quality images to radiologists for accurate diagnostic reports.
Core Skills:
Radiology Imaging Technology
Patient Care
Radiological Equipment
Computerized Equipment
Safety Protocols
Medical Terminology
Patient Positioning
Diagnostic Tests
Quality Assurance
Professional Experience:
CT Scan Technologist, ABC Radiology
June 2011 – Present
Gather patient information and perform radiographic studies to diagnose and treat diseases and injuries.
Set up, adjust and operate radiological equipment and computerized systems to produce detectable images.
Monitor, adjust and maintain radiation safety standards and equipment.
Analyze and produce images to meet the requirements necessary for medical diagnosis.
Instruct and prepare patients for radiologic examinations.
Organize and maintain patient records, including medical images and reports.
Education:
Associate of Applied Science in Radiologic Technology, XYZ University, 2011
Ct Scan Technologist Resume with No Experience
Recent graduate looking to pursue a career in Ct Scan Technologist. Dedicated to applying excellent customer service and communication skills to healthcare environment. Seeking an entry- level position to develop a strong foundation in radiology.
Skills
Strong interpersonal communication
Able to work independently and in a team environment
Proficient in Microsoft Office Suite
Knowledge of medical terminology and anatomy
Organizational and problem solving skills
Responsibilities
Operating and troubleshooting Ct Scan machines
Providing patient education and assistance with any questions
Preparing patient for the scan and ensuring safety protocols are followed
Monitoring equipment and ensuring it is properly maintained
Adjusting equipment settings for each patient
Storing and organizing patient scans and images
Ct Scan Technologist Resume with 2 Years of Experience
Driven and personable Ct Scan Technologist with 2 years of experience in providing quality patient care in the medical field. Skilled in operating imaging equipment for medical diagnostic purposes and possesses knowledge of anatomy, pathology, and positioning of patients for optimal imaging. Proven ability to maintain patient safety and comfort while conducting Ct Scans.
Core Skills:
Patient Care
Ct Scan Operation
Imager Equipment Operation
Medical Diagnosis
Anatomy Knowledge
Pathology Knowledge
Radiation Safety
Imaging Protocols
Technical Writing
Problem Solving
Responsibilities:
Conducted Ct Scans per physician instructions while maintaining patient comfort and safety.
Obtained detailed patient history and identified patient allergies prior to imaging.
Applied radiation safety measures to protect patients, self, and staff.
Used knowledge of anatomy, pathology, and imaging protocols to position patients for optimal imaging.
Examined images for accuracy and quality.
Prepared report of imaging findings.
Utilized PACS (Picture Archiving and Communication System) for digital image storage.
Followed established procedures for proper handling of hazardous materials and waste.
Ct Scan Technologist Resume with 5 Years of Experience
A highly experienced and professional CT Scan Technologist with five years of experience in operating computer tomography scanners, CT systems, and other related equipment. Possesses a wide range of technical expertise with a keen eye for detail. Skilled in providing quality patient care, following safety protocols, and delivering an exceptional level of customer service. Demonstrates an understanding of patient needs, while assisting the radiologist with accuracy and precision.
Core Skills:
CT Scan Operational Expertise
Medical Radiation Safety Protocols
Medical Terminology and Anatomy
Quality Patient Care
Customer Service Orientation
Documentation Compliance
Safety Regulations
Professionalism
Responsibilities:
Prepare CT Scan equipment and patient rooms for examinations
Position patients correctly on the CT Scanner table
Operate computer tomography scanners in accordance with department protocol
Follow all safety regulations and protocols when performing examinations
Ensure accuracy of patient records and documentation
Maintain a clean and safe work environment
Communicate effectively with radiologist, medical staff and patients
Assist with the development of departmental policies and procedures
Maintain appropriate inventory of supplies and equipment
Monitor patient status throughout the examination
Ct Scan Technologist Resume with 7 Years of Experience
Skilled Ct Scan Technologist with seven years of experience in performing CT scans for medical purposes. Adept at managing complex and detailed patient records, preparing patients for CT scans, and recording and maintaining CT scan results. Highly knowledgeable of radiation safety protocols and comfortable working in a fast- paced medical environment.
Core Skills:
Patient Assessment & Preparation
Knowledge of Radiation Safety Protocols
CT Scan Operation & Quality Control
Advanced Imaging & Technician Protocols
Documentation & Records Management
Complex Problem Solving
Time Management & Multi- Tasking
Communication & Interpersonal Skills
Responsibilities:
Utilized advanced computer software to operate CT scan machinery and produce images
Ensured quality of images by adjusting CT scan parameters, controlling radiation doses, and performing quality control tests
Prepared patients for CT scans by properly positioning them on scan table, testing for allergies, and explaining the procedure
Managed detailed patient records and updated patient information in hospital database
Reported CT scan results to physicians and recorded in patient's medical file
Followed radiation safety protocols, such as wearing proper radiation protection devices and disposing radioactive materials properly
Assisted colleagues in obtaining difficult CT scans and performed quality control tests on machines when necessary
Maintained and disinfected CT scan room and all related equipment according to established protocols
Ct Scan Technologist Resume with 10 Years of Experience
I am a highly experienced CT Scan Technologist with over 10 years of experience in working with state- of- the- art technology and providing reliable patient care in busy healthcare settings. I am highly knowledgeable in cross- sectional anatomy and medical radiography protocols, and have a comprehensive understanding of current standards and regulations related to CT imaging. I am patient focused, compassionate and take great pride in providing a safe and comfortable imaging experience for each patient.
Core Skills:
Expertise in the latest CT imaging technology and techniques
Advanced knowledge of cross- sectional anatomy and medical radiography protocols
Ability to work independently and efficiently in a busy healthcare setting
Excellent attention to detail and accuracy in patient care
Strong communication, interpersonal, and problem- solving skills
Responsibilities:
Ensuring the proper functioning of all CT equipment, including imaging protocols, image quality, imaging techniques, and patient safety procedures
Performing quality control testing and other maintenance activities as required
Instructing patients regarding the CT scan procedure and positioning them accordingly
Analyzing patient medical records to select the appropriate imaging protocol
Operating the CT scanner to acquire and process images
Communicating information to the radiologist and other healthcare professionals as necessary
Maintaining accurate and detailed records of patients' medical information and imaging results
Ct Scan Technologist Resume with 15 Years of Experience
Experienced Ct Scan Technologist with 15 years of experience in medical imaging and radiology. Expert in performing CT scans of patients using sophisticated equipment and analysing the images. Possesses strong understanding of anatomy, physiology and pathology. Highly organized, able to multi- task and work in pressure environments. Proven ability to maintain patient's confidentiality and deliver quality services.
Core Skills:
Patient Care
Medical Terminology
Anatomy & Pathology
Radiology
Multi- tasking
Privacy & Confidentiality
Computer Literacy
Responsibilities:
Performed CT scans of patients with attention to detail
Ensured operation of CT scanners, troubleshooted problems and reported any malfunctions
Provided detailed instructions to patients for the procedures
Maintained patient files, tracked patient data and entered into electronic databases
Ensured compliance with all safety protocols
Operated medical equipment in accordance with manufacturer's instructions
Provided timely feedback to doctors and other medical personnel
Identified and reported any suspicious images to radiologists
Keep up to date with advances in CT techniques and procedures
In addition to this, be sure to check out our resume templates, resume formats, cover letter examples, job description, and career advice pages for more helpful tips and advice.
What should be included in a Ct Scan Technologist resume?
When writing a resume for a CT scan technologist position, it is important to include key information about your qualifications, specialties and experience. A clear and concise CT scan technologist resume should demonstrate your technical and clinical ability, as well as your understanding of the healthcare field. Your resume should also showcase your interpersonal skills and customer service background.
Here are some tips for what to include in a CT scan technologist resume:
Education – include any relevant educational background, such as a degree in radiologic technology.
Technical Skills – mention any specialized skills, such as knowledge of operating room protocols, computer systems, or imaging equipment.
Clinical Experience – document any previous experience in the medical field, such as working as a radiologic technologist or in a hospital setting.
Certifications – list any additional certifications, such as the American Registry of Radiologic Technologists (ARRT).
Interpersonal Skills – showcase your ability to work with a diverse group of patients and staff members.
Professional Development – list any additional training or seminars you have attended in the past.
Professional Licenses – include any current professional licenses you may have.
By including all of this information in your CT scan technologist resume, you can create an impressive and comprehensive document that will demonstrate your ability to work in the field.
What is a good summary for a Ct Scan Technologist resume?
A certified Ct Scan Technologist resume should highlight the individual's experience, qualifications and expertise in the field. It should also outline the individual's familiarity and compliance with the relevant rules and regulations, as well as any certifications or continuing education they may have. The summary should showcase the person's abilities and accomplishments, and emphasize their technical skills, attention to detail and knowledge of patient care. The summary should also express the individual's strong commitment to providing quality care and a successful track record of meeting the needs of patients.
What is a good objective for a Ct Scan Technologist resume?
A CT scan technologist resume should have an objective that is clear and concise. It should focus on the applicant's qualifications and experience, while emphasizing the value he or she will bring to the practice or organization. The following are some examples of good objectives for a CT scan technologist resume:
To utilize my experience as a CT scan technologist to provide the highest quality of patient care in a busy medical setting
To work with a team of experienced healthcare professionals in order to provide top-notch patient care
To use my extensive knowledge of medical imaging technology to produce accurate and timely results for patients
To use my excellent organizational skills to ensure efficient production of CT scans
To help provide a safe and comfortable environment for patients undergoing CT scans
To use my strong interpersonal skills to promote positive relationships with patients, staff and other healthcare professionals
How do you list Ct Scan Technologist skills on a resume?
When applying for a job as a CT Scan Technologist, having the right skills listed on your resume is key to setting yourself apart from other candidates and increasing your chances of success. The following is a guide to what to list in terms of your skills when submitting a resume for a CT Scan Technologist position.
Working knowledge of CT scanning equipment and processes: Be sure to include any experience you have working with CT scanners, as well as any related certifications and qualifications you have.
Ability to read and interpret images: A CT Scan Technologist needs to be able to interpret the images they produce, so make sure you list any knowledge or experience you have in this area.
Excellent communication and interpersonal skills: CT Scan Technologists must be able to explain things to patients, so listing any relevant experience in terms of communication and interpersonal skills is a must.
Detail-oriented: CT scans involve a great deal of detail, be sure to emphasize your ability to pay close attention to details and to provide accuracy in your work.
Ability to operate and troubleshoot imaging software: Being able to identify and fix issues with imaging software is important for this role, so make sure to include any experience you have.
Ability to follow safety protocols: CT Scan Technologists have to be able to work in a safe manner, and it is important to list any experience or qualifications in this area that you have.
By ensuring that your resume contains the necessary Ct Scan Technologist skills, you can make sure you are setting yourself up for success when it comes to applying for the job.
What skills should I put on my resume for Ct Scan Technologist?
A resume for a CT Scan Technologist should include any skills that demonstrate a candidate's qualifications and knowledge in operating medical imaging equipment, such as a CT scanner. Here are some skills to consider including on your resume:
Knowledge of Scanning Protocols: CT scan technologists should be familiar with standard CT scanning protocols, including how to properly prepare patients and operate the machine.
Patient Care: CT Scan Technologists must provide compassionate care to patients before and during scans. This includes answering questions, preparing the patient for the scan, and ensuring they feel safe and comfortable.
Computer proficiency: CT scan technologists must be able to operate the machine, review images, and enter patient information into a digital system.
Attention to Detail: Precision is very important when performing scans and operating the machine, as CT scan technologists must follow strict protocols and understand how to properly perform the scan.
Ability to Work Quickly: CT scan technologists must be able to work quickly and efficiently to review images and create reports.
By showcasing these skills on your resume, you can demonstrate that you have the qualifications and experience to be a successful CT scan technologist.
Key takeaways for an Ct Scan Technologist resume
When applying for a job as a CT Scan Technologist, it is important to have a resume that stands out and effectively communicates your qualifications. In order to make your resume shine, here are some key takeaways to keep in mind:
Highlight Your Education: CT Scan Technologists require specialized knowledge and skills, so make sure to emphasize your education and training in your resume. Include any certifications you possess, as well as any additional courses you've taken related to CT scanning technology.
Emphasize Your Professional Experience: CT Scan Technologists need to have hands-on experience. Make sure to list any relevant professional experience you have, such as years of experience working with CT scanners, or any other related positions.
Demonstrate Your Technical Skills: CT Scan Technologists need to have a working knowledge of different computer programs and systems, so make sure to include any programs you are proficient in and any related technical skills you possess.
Stress Your Attention to Detail: CT Scan Technologists need to be able to pay close attention to detail, so make sure to emphasize this in your resume. Include any duties you have performed that required precision or accuracy, such as troubleshooting or calibration.
Show Off Your Communication Skills: As a CT Scan Technologist, you will need to have great communication skills in order to effectively work with patients and colleagues. Make sure to highlight any positions you have held that demonstrate your ability to communicate, both verbally and in writing.
By following these key takeaways, you can create an effective CT Scan Technologist resume that will help you stand out from the competition. With the right resume, you can start your new career!
Let us help you build
your Resume!
Make your resume more organized and attractive with our Resume Builder