Whether you are a seasoned clinical specialist or new to the profession, having a well-written resume is key to getting hired. Writing an effective resume requires a balance of showcasing your experience and skills in a professional manner while making it stand out from the competition. This guide will provide some tips for writing a standout clinical specialist resume with examples to get you started. By applying the tips and advice discussed, you will be well on your way to landing your dream job.
If you didn't find what you were looking for, be sure to check out our complete library of resume examples.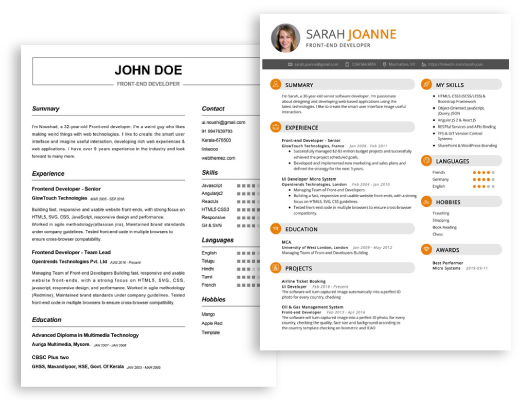 Start building your dream career today!
Create your professional resume in just 5 minutes with our easy-to-use resume builder!
Clinical Specialist Resume Examples
John Doe
Clinical Specialist
123 Main Street | Anytown, USA 99999 | Phone: (123) 456-7890 | Email: john.doe@email.com
I am a highly experienced Clinical Specialist with extensive expertise in both clinical and operational management. I am passionate about the provision of quality healthcare to all patients, as well as the efficient and effective running of a healthcare organisation. My core competencies include extensive knowledge of the principles and procedures of clinical practice, effective clinical supervision, excellent communication and interpersonal skills, and a strong commitment to evidence- based practice. I am confident in my ability to develop and implement best practices, resolve challenging issues and drive continuous improvement.
Core Skills:
Clinical practice knowledge
Clinical supervision
Operational management
Excellent communication and interpersonal skills
Evidence- based practice
Developing best practices
Problem solving
Continuous improvement
Professional Experience:
Clinical Specialist, ABC Hospital, 2020- present
Developed and implemented best practices for clinical practice in the hospital
Supervised and provided guidance to nurses, midwives and other healthcare professionals
Provided expert advice to senior management on clinical matters
Assisted with the management of patient records
Developed and implemented policies and procedures for the efficient running of the hospital
Clinical Supervisor, XYZ Clinic, 2018- 2020
Supervised and provided guidance to nurses, midwives and other healthcare professionals
Mentored and supported junior clinical staff
Developed and implemented policies and procedures for the efficient running of the clinic
Developed and implemented quality assurance processes to ensure the highest quality of clinical care
Monitored and evaluated patient outcomes
Education:
Doctor of Nursing Practice, ABC University, 2016- 2018
Bachelor of Nursing, XYZ University, 2013- 2016
Clinical Specialist Resume with No Experience
Recent college graduate with a Bachelor's degree in Health Science, looking for an entry- level Clinical Specialist role. Highly motivated and eager to learn, with a passion for helping others and providing the best care possible.
SKILLS
Knowledge of the human anatomy and medical terminology
Excellent written and verbal communication skills
Outstanding organizational and multitasking abilities
Proficient in Microsoft Office and medical software programs
Strong attention to detail and problem- solving skills
Ability to work independently and in a team- oriented environment
Responsibilities
Assist in providing patient care by aiding the medical team in various clinical procedures
Maintain accurate and up- to- date patient records and document the progress of treatments
Monitor and track prescriptions, laboratory results, and other patient information
Explain procedures, treatments, and medications to patients and their families
Create and maintain positive relationships with patients, their families, and medical professionals
Follow clinical guidelines and protocols to ensure patient safety and satisfaction
Clinical Specialist Resume with 2 Years of Experience
Highly organized and detail- oriented Clinical Specialist with more than 2 years of experience in the industry. Possessing extensive knowledge and experience in assessing patient health, developing and executing treatment plans, performing laboratory and diagnostic tests, and collecting and analyzing data. Skilled in providing patient education, monitoring medical equipment, and phone triage. Known for providing patient- centered care and delivering high- quality results.
Core Skills:
Laboratory and diagnostic testing
Patient assessment and education
Patient charting and documentation
Clinical research
Medication administration
Medical device monitoring
Phone triage
Treatment plan development
Responsibilities:
Assessed patient health and performed laboratory and diagnostic tests
Collected and recorded data, such as patient histories, vital signs and test results
Developed and implemented treatment plans, administered medications, and monitored medical equipment
Educated patients on their diagnosis, treatments and medications
Maintained patient charts and documentation, while adhering to HIPAA regulations
Carried out clinical research and data analysis
Conducted phone triage and provided health advice to patients and family members
Collaborated with healthcare professionals to determine optimal care for patients
Developed patient education materials and provided instruction on medication use and disease management
Clinical Specialist Resume with 5 Years of Experience
Highly qualified and experienced Clinical Specialist with 5+ years of experience in providing expert advice on health care matters. Proven ability to troubleshoot and resolve complex medical cases with a focus on patient safety. Skilled in providing post- treatment follow- up and patient education. Strong knowledge of medical and nursing procedures.
Core Skills:
Excellent interpersonal and communication abilities
Strong problem- solving skills
Proficiency in medical and nursing procedures
Highly organized and detail- oriented
Compassionate and patient- focused
Ability to build strong relationships with physicians and other healthcare professionals
Responsibilities:
Providing expert advice on health care matters to patients and healthcare professionals
Assessing and providing follow- up care to patients in accordance with physician guidelines
Monitoring patient progress and providing patient education
Assisting with research and data collection related to patient outcomes
Coordinating with physicians, nurses and other healthcare professionals to ensure the best treatment and care
Identifying areas of improvement in the healthcare system and providing recommendations
Assisting physicians in developing clinical protocols and policies
Documenting patient care activities in medical records and databases
Clinical Specialist Resume with 7 Years of Experience
Clinical specialist with 7 years of experience in the medical field. Expertise in patient care, patient education, and clinical problem solving. Skilled in building relationships with patients and colleagues, as well as leading teams and project management. Proven success in developing strategies that have resulted in improved patient outcomes.
Core Skills:
Patient Care
Patient Education
Clinical Problem Solving
Relationship Building
Team and Project Leadership
Strategy Development
Responsibilities:
Evaluate patient health and wellbeing and provide medical treatments and preventive care.
Educate patients on medical treatments, nutrition, and lifestyle modifications.
Diagnose and treat illnesses and injuries to ensure optimal patient outcomes.
Collaborate with colleagues to develop strategies and plans for patient care.
Manage projects and teams to ensure delivery of quality healthcare services.
Participate in research projects to identify new treatments and initiatives.
Develop and implement clinical protocols and procedures.
Monitor patient progress and adjust treatments accordingly.
Train and mentor new staff and students.
Participate in professional development activities to stay up to date on advances in the field.
Clinical Specialist Resume with 10 Years of Experience
Clinical specialist with over 10 years of experience in the medical field. Skilled in developing and implementing clinical processes, organizing and leading activities to improve patient outcomes, and maintaining up to date and accurate clinical records. Proficient in auditing and analyzing clinical data, creating reports, and providing clinical resources and support. Driven to ensure safe and effective patient care while working collaboratively with healthcare teams.
Core Skills:
Clinical Process Development
Quality Assurance/Improvement
Data Analysis/Reporting
Patient Education
Problem Solving
Regulatory Compliance
Team Leadership
Responsibilities:
Develop and implement clinical processes which meet regulatory requirements and comply with departmental standards.
Monitor and evaluate clinical processes and activities for effectiveness and quality assurance.
Conduct audits of clinical data and records to identify trends or areas of improvement.
Create and deliver reports on clinical and quality data to executive teams.
Lead staff meetings, training sessions, and other clinical activities to promote team collaboration and patient safety.
Provide education to patients and families on clinical services, processes, and protocols.
Troubleshoot issues in clinical processes and procedures to ensure accurate and timely patient care.
Ensure regulatory compliance by monitoring changes in regulations and policies.
Clinical Specialist Resume with 15 Years of Experience
Clinical Specialist with 15 years of experience in healthcare settings, including acute care, long- term care, and home- health environments. Proven ability to evaluate and assess patient needs, develop and implement treatment plans, provide instruction to patients and staff, and successfully collaborate with colleagues to achieve patient care objectives. Adept at utilizing evidence- based practice and current clinical guidelines to ensure best practice and optimal patient outcomes.
Core Skills:
Patient Care and Assessment
Treatment Planning and Implementation
Patient/Staff Instruction
Evidence- Based Practice
Clinical Guidelines
Interdisciplinary Collaboration
Documentation and Reporting
Medical Terminology
Computer Proficiency
Responsibilities:
Evaluate patient needs and provide support and direction to meet those needs.
Develop and implement patient care plans, utilizing current clinical guidelines and evidence- based practice.
Monitor patient progress and recommend treatment approaches accordingly.
Provide instruction and education to patients and staff on disease management and clinical protocols.
Collaborate with interdisciplinary teams to coordinate patient care and ensure optimal outcomes.
Maintain accurate and comprehensive medical records and reports.
Participate in patient care conferences, interdisciplinary meetings, and case management activities.
Utilize medical terminology and computer proficiency to create and modify clinical documents.
In addition to this, be sure to check out our resume templates, resume formats, cover letter examples, job description, and career advice pages for more helpful tips and advice.
What should be included in a Clinical Specialist resume?
A clinical specialist is an expert in the medical field who assists in improving the quality of patient care, often through developing and implementing new programs and techniques. They may also help to develop new research initiatives. To be successful in this field, it's essential to have an impressive resume that accurately showcases your skills and experience. Here is what should be included in a clinical specialist resume:
Professional Summary: A short but powerful explanation of your experience, qualifications and key skills.
Education: Include any relevant degrees, certifications, and licenses.
Work Experience: A comprehensive list of your professional experience, highlighting any special projects, achievements, or awards.
Special Skills: Any special skills or knowledge you possess, such as understanding of medical terminology, coding, or other specialized areas.
Professional Certifications: Include any additional certifications, such as CPR or first aid, you may have obtained.
Professional Affiliations: List any professional organizations or associations you are a member of.
Awards and Recognition: Include any awards or recognition you've received in your professional career.
References: Include a list of professional references who can speak to your experience and qualifications.
What is a good summary for a Clinical Specialist resume?
A Clinical Specialist resume should have a clear and concise summary that outlines the candidate's experience, qualifications, and accomplishments in the field of clinical practice. It should begin by highlighting the candidate's core competencies and medical specialty, such as in-depth knowledge of clinical procedures, laboratory and diagnostic services, and patient care protocols. It should also list any certifications or specialized training the candidate has received. The summary should also emphasize the candidate's ability to effectively communicate with patients, staff, and other health care professionals, and any experience in teaching, research, or administration. Finally, the summary should mention any awards or accolades the candidate has received for their work in the field of clinical practice.
What is a good objective for a Clinical Specialist resume?
A Clinical Specialist resume should be tailored to the specific job for which you are applying. Your objective should clearly outline your qualifications and experience that match the job requirements and provide insight into the value you can bring to the role. Here are some best practices to consider when writing an objective for a Clinical Specialist resume:
Highlight your relevant experience and education, such as any clinical certifications or advanced degrees that can demonstrate your expertise in the field
Focus on the specialized skillset you have for the position, such as diagnostic and therapeutic skills, as well as any other unique qualifications you have that may set you apart from other applicants
Emphasize your ability to work with multidisciplinary teams and collaborate on complex clinical cases
Showcase your commitment to patient care and any successes you have had in that regard
Mention any awards or achievements you have earned and any other professional recognition you have received
Demonstrate your familiarity with the latest medical technologies and your ability to stay up to date with industry trends
By following these tips, you can create an effective objective statement that will grab the attention of potential employers and help you stand out from the competition.
How do you list Clinical Specialist skills on a resume?
Clinical Specialist skills are essential for both medical and healthcare fields. These skills should be included on a resume in order to show a potential employer that you have the necessary skills to excel in a clinical specialist role. Here are some examples of clinical specialist skills that can be listed on a resume:
Knowledge of medical terminology: Being able to understand medical terminology is an essential skill for any clinical specialist. Demonstrate your knowledge of medical terminology by including it in your resume and providing examples of any medical terminology courses you may have taken.
Patient care: As a clinical specialist, you will be responsible for providing direct patient care. On your resume, explain how you have provided care to patients in previous roles and any specific training you have received in the area of patient care.
Problem-solving: Clinical specialists need to be able to identify, diagnose and resolve complex medical problems. Describe your problem-solving skills on your resume, and provide examples of previous problem-solving situations.
Communication skills: Clinical specialists must be able to communicate effectively with patients, family members, other healthcare professionals and staff. Explain the communication skills you possess and any training you have received in this area.
Leadership: Clinical specialists often work in a leadership role, so it is important to include any leadership experience you have. Explain any experience you have leading teams and managing projects.
By including these skills on your resume, you can show potential employers that you have the necessary skills to excel in a clinical specialist role.
What skills should I put on my resume for Clinical Specialist?
When applying for a position as a Clinical Specialist, it is important to showcase your related skills and qualifications on your resume to make a strong impression on the hiring manager. Here are some skills that you should consider including on your resume for this role:
Clinical Experience: As a Clinical Specialist, employers will expect you to have extensive experience in the clinical field. Make sure to highlight any clinical experience you have, such as any courses you have taken, any internships you have participated in, or any relevant volunteer work you have done.
Technical Knowledge: This position requires you to have a strong understanding of medical technology and healthcare applications. Make sure to list any certifications you have related to technology, such as IT certifications or EMR certifications.
Organizational Skills: Clinical Specialists must have strong organizational and multitasking skills to juggle multiple responsibilities in a fast-paced work environment. Showcase any relevant experience you have managing multiple tasks or projects at once.
Communication Skills: As a Clinical Specialist, you will need to be able to effectively communicate with a wide range of people, from patients and their families to medical staff and other healthcare professionals. Make sure to emphasize any experience you have communicating with others, such as in customer service or public speaking roles.
Problem-Solving Skills: As a Clinical Specialist, employers will expect you to be able to identify problems and develop solutions quickly and efficiently. Include any experience you have working with data, developing strategies, or troubleshooting issues.
By emphasizing these skills and qualifications, you can make sure that you make a strong impression on the hiring manager and get the job you want. Good luck!
Key takeaways for an Clinical Specialist resume
If you are seeking a job as a Clinical Specialist, crafting a well-written resume is essential for making the best impression with potential employers. There are several key takeaways to keep in mind when composing your Clinical Specialist resume.
First, highlight any relevant certifications or licenses you hold in the medical field. Certifications demonstrate your commitment to staying current in the field and can make you stand out from other applicants.
Next, be sure to include any relevant work experience, such as your current or past clinical positions. Include details such as the type of organization you worked for, your job title, and the duties you performed.
It is also important to include any specialized skills or expertise you possess. For example, if you have experience using a specific type of medical equipment, be sure to mention that.
Also, make sure to include a list of any specialized training or courses you completed related to your field. This can include workshops, seminars, or webinars.
Finally, don't forget to list any awards or recognition you have received in the medical field. This could include any awards or acknowledgements from professional organizations or colleagues.
By following these key takeaways, you can create a resume that effectively showcases your qualifications to potential employers and can help you stand out from other applicants.
Let us help you build
your Resume!
Make your resume more organized and attractive with our Resume Builder