Are you looking to break into the clinical research field? A great way to do that is to make sure your resume stands out against the competition. To be the successful candidate for a clinical researcher position, it helps to have a comprehensive resume that outlines your skills and experience in the field. This guide will give you some tips and examples to help you write a resume that showcases your abilities and helps you stand out.
If you didn't find what you were looking for, be sure to check out our complete library of resume examples.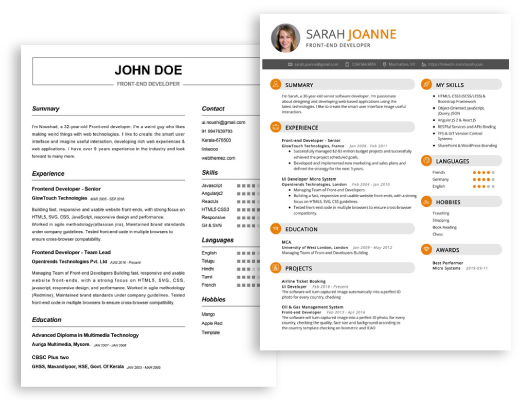 Start building your dream career today!
Create your professional resume in just 5 minutes with our easy-to-use resume builder!
Clinical Researcher Resume Examples
John Doe
Clinical Researcher
123 Main Street | Anytown, USA 99999 | Phone: (123) 456-7890 | Email: john.doe@email.com
Highly experienced clinical researcher with extensive knowledge in clinical research and development, clinical trials and data analysis. Possessing superior organizational skills and the ability to lead and motivate teams. Experienced in multiple therapeutic areas including oncology, cardiovascular, diabetes and infectious diseases. Skilled in the analysis of complex data sets, data interpretation and report writing.
Core Skills:
Extensive knowledge in clinical research and development
Clinical trials data collection and analysis
Data interpretation and report writing
Experience in multiple therapeutic areas
Excellent organizational and leadership skills
Ability to work effectively in a team environment
Strong communicational, analytical and problem- solving skills
Professional Experience:
Clinical Research Associate, XYZ Pharmaceuticals, 2018- present
Planned, organized and managed clinical trials
Collected and analyzed clinical data for accuracy and consistency
Developed and maintained clinical trial databases
Monitored patient progress, reported adverse events and maintained regulatory documents
Wrote reports for regulatory reviewers
Communicated with clinical investigators and sponsors
Clinical Research Manager, ABC Pharmaceuticals, 2013- 2018
Developed clinical trial protocols, designed and managed clinical studies
Created and maintained databases to track patient data
Analyzed and interpreted data, wrote and presented reports
Developed and implemented SOPs and processes
Supervised and trained clinical research staff
Education:
Master of Science in Clinical Research, University of XYZ, 2011
Bachelor of Science in Biology, University of ABC, 2008
Clinical Researcher Resume with No Experience
A recent graduate with a Bachelor's degree in medicine, looking to make use of my knowledge and research skills in a clinical research role. Skilled in conducting data analysis, developing research methods and protocols, and designing clinical trials. Highly organized and detail- oriented with a passion for discovering new treatments and advancing healthcare.
Skills
Data analysis
Research methods and protocols
Clinical trial design
Communication
Problem- solving
Time management
Critical thinking
Responsibilities
Collect and analyze data from clinical trials
Develop research protocols and methods
Design clinical trials and evaluate their effectiveness
Write and review reports detailing research findings
Monitor research participants and their responses to treatments
Consult with physicians and other healthcare professionals to ensure safe and effective protocols
Record and maintain detailed reports of research process and results
Clinical Researcher Resume with 2 Years of Experience
Results- oriented Clinical Researcher with 2 years of experience in conducting clinical trials, testing, and data analysis. Skilled in designing, developing and conducting clinical trials, collecting and analyzing data, and creating detailed reports. Proven track record of developing new protocols, designing effective trials, and ensuring data integrity. Expertise in current Good Clinical Practice (GCP) guidelines, FDA regulations, and ICH guidelines. Seeking to leverage expertise and experience to take on a new challenging role at a leading healthcare organization.
Core Skills:
Clinical Trial Design & Development
Data Collection & Analysis
Protocol Design & Implementation
Good Clinical Practice (GCP) Guidelines
FDA Regulations & ICH Guidelines
Detailed Reporting
Organizational & Time Management
Database Management & Maintenance
Responsibilities:
Developed and implemented clinical trials for various medical institutions.
Collected and analyzed data from clinical trials and developed detailed reports.
Worked with a team of medical professionals to design, implement and evaluate protocols.
Ensured compliance with GCP guidelines, FDA regulations and ICH guidelines.
Maintained and updated clinical trial databases and records.
Managed and organized data into structured analysis.
Collaborated with medical professionals to develop optimal trial strategies.
Monitored and tracked clinical trial results.
Clinical Researcher Resume with 5 Years of Experience
I am a 5- year experienced Clinical Researcher with a strong background in the development, implementation, monitoring and analysis of clinical research studies. Throughout my career, I have worked with a variety of study designs and have extensive experience in the ethical and regulatory aspects of clinical research. My expertise includes working on clinical trial protocols, creating study databases and developing statistical analysis plans. I am highly organized and detail- oriented, with a proven track record of success in managing clinical studies.
Core Skills:
Clinical research study design and development
Data management and data collection
Statistical analysis
Regulatory compliance
Project management
Study monitoring
Documentation and report writing
Responsibilities:
Developing and implementing clinical research protocols
Creating and managing study databases
Developing data collection forms and ensuring accuracy of data
Developing and executing statistical analysis plans
Ensuring compliance with all applicable regulations
Developing study budgets and timelines
Managing clinical research studies
Monitoring study progress and ensuring quality control
Writing reports and presenting study results
Providing guidance and training to research staff
Communicating effectively with sponsors, research sites and other stakeholders
Clinical Researcher Resume with 7 Years of Experience
Dynamic and results- oriented clinical researcher boasting seven years of experience in designing and implementing clinical studies and trials in both hospital and laboratory environments. Adept at using clinical trials for research, managing laboratory operations and conducting scientific research. Skilled in assessing, analyzing and interpreting data, formulating conclusions and making recommendations for further research. Possesses excellent problem solving and communication skills, allowing for effective collaborations with colleagues and stakeholders.
Core Skills:
Research and development
Clinical trials and studies
Laboratory operations
Data analysis and interpretation
Problem solving
Communication
Responsibilities:
Developed and implemented clinical studies, trials and research projects
Conducted laboratory operations, including sample processing and testing
Analyzed and interpreted study data, drawing conclusions and making recommendations for further research
Collaborated with colleagues and stakeholders to resolve issues and discuss research findings
Maintained safety and accuracy standards in laboratory operations
Assisted with data collection, entry, and management
Clinical Researcher Resume with 10 Years of Experience
Clinical Researcher with 10 years of dedicated experience in managing clinical trials, (from pre- trial inception to post- trial completion) and providing support to clinical teams. Adept at identifying and implementing process improvement initiatives that optimize resources, reduce costs, and maintain trial integrity. Proven track record of increasing efficiency and accelerating timelines for clinical trial completion.
Core Skills:
Experienced Clinical Researcher
Patient Safety Advocate
Informed Consent Negotiator
Regulatory Compliance Expert
Clinical Data Analysis
Risk Management
Organizational Leadership
Responsibilities:
Organize and plan clinical trials by establishing objectives, timelines, and milestones
Manage patient recruitment, informed consent, and source data verification
Collect, monitor, and analyze clinical data, and ensure accuracy of information
Ensure that all clinical trial activities are conducted in compliance with applicable regulations
Develop and review protocols, informed consent documents, and case report forms
Conduct quality assurance checks on all clinical trial documents
Monitor patient safety by reporting any adverse events to the Institutional Review Board
Provide direction and support to clinical teams and other stakeholders
Clinical Researcher Resume with 15 Years of Experience
Highly experienced and motivated clinical researcher with 15 years of experience in clinical research and data analysis. Expertise in the design, development, and implementation of clinical trials, including the collection and analysis of data in support of regulatory submissions. Proven ability to maintain accuracy and integrity of trial data, and to work collaboratively with multiple stakeholders. Skilled in effective communication and stakeholder management, as well as in developing creative solutions to challenging problems.
Core Skills:
Clinical trial design and analysis
Data collection and analysis
Regulatory submission preparation and support
Effective communication
Stakeholder management
Creative problem solving
Responsibilities:
Design, develop and implement clinical trials
Collect, analyze and interpret data to support regulatory submissions
Maintain accuracy and integrity of trial data
Develop and implement effective communication strategies
Manage stakeholders and facilitate collaboration
Develop creative solutions for challenging problems
Identify opportunities for improvement and process optimization
In addition to this, be sure to check out our resume templates, resume formats, cover letter examples, job description, and career advice pages for more helpful tips and advice.
What should be included in a Clinical Researcher resume?
Are you a Clinical Researcher looking for a job? If so, it's important that your resume stands out from the competition. Recruiters will be looking at your resume to get a glimpse of who you are and what you're capable of doing.
To create a successful Clinical Researcher resume, here are some essential items that should be included:
Work Experience: You should provide a summary of your work experience that is relevant to the clinical research field. Highlight any research projects or studies you've worked on, and let recruiters know of any publications you've authored.
Education: Mention any degrees or certifications related to clinical research, such as a Master's in Biomedical Sciences or a Certified Clinical Research Professional (CCRP) qualification.
Clinical Research Skills: Include any skills that are directly related to clinical research, such as knowledge of medical terminology, protocol development and data analysis.
Clinical Research Technologies: Mention any software or technologies you are familiar with, such as Microsoft Excel, SPSS and REDCap.
Soft Skills: Include any soft skills that would be beneficial in a clinical research environment, such as communication, problem-solving and organization.
By including all of the above items in your resume, you'll be able to showcase yourself as a qualified and competent Clinical Researcher. Good luck!
What is a good summary for a Clinical Researcher resume?
A good summary for a Clinical Researcher resume should highlight the applicant's experience, skills and qualifications. It should also demonstrate a clear understanding of clinical research and the ability to contribute to a team environment.
The summary should include the applicant's experience in conducting clinical trials, collecting data, analyzing findings and preparing reports. The summary should also mention skills such as problem solving, data analysis and critical thinking. In addition, the summary should showcase the applicant's knowledge of relevant regulations and guidelines, as well as any medical, scientific or technical knowledge the applicant has such as software and laboratory skills.
The summary should be concise and to the point, highlighting the applicant's qualifications and accomplishments in the field of clinical research. It should be tailored to the position, demonstrating an understanding of the requirements and how the applicant can meet them. A good summary will emphasize the applicant's commitment to quality research and their ability to work collaboratively and effectively with other team members.
What is a good objective for a Clinical Researcher resume?
The role of a Clinical Researcher is to conduct laboratory and clinical research studies to develop new treatments and therapies for a variety of diseases and disorders. As such, it is important for Clinical Researchers to possess a well-defined objective on their resume to outline their professional goals and highlight their qualifications. A good objective for a Clinical Researcher resume should include the following:
Demonstrate a commitment to the field of clinical research, including knowledge of current research methodology, technology and trends
Possess strong research skills and the ability to design, develop, and analyze clinical trials and studies
Utilize excellent analytical, scientific, and problem-solving abilities
Possess excellent written and verbal communication skills
Display strong organizational skills and the ability to work independently
Ability to manage multiple projects and tasks simultaneously
Operate in accordance with ethical guidelines and regulations
How do you list Clinical Researcher skills on a resume?
When listing Clinical Researcher skills on a resume, the key is to effectively communicate the relevant qualifications you have that meet the requirements for the position. Clinical Researchers are responsible for undertaking research projects related to medical treatments, products, and services. In order to capture the attention of a potential employer, it is important that you showcase your relevant experience and qualifications.
Here are some of the key skills and qualifications that should be included when listing Clinical Researcher skills on a resume:
Knowledge of medical terminology, clinical research protocols, and FDA regulations
Experience with data collection, analysis, and reporting
Ability to read and interpret medical literature
Strong problem-solving and organizational skills
Proficiency in spreadsheet and statistical software
Excellent communication and interpersonal skills
Detail-oriented and able to multitask
Self-motivated and able to work independently
Ability to work in a team environment
Including these key skills and qualifications on a resume will help you to stand out from the crowd and be seen as an ideal candidate for a Clinical Researcher position. Make sure to include any relevant experience and qualifications that you have to give you the best chance of success.
What skills should I put on my resume for Clinical Researcher?
When it comes to highlighting your qualifications on your resume as a Clinical Researcher, there are certain skills that employers will be looking for. Your resume should showcase the knowledge and experience that you have in the field, as well as other skills that can make you a well-rounded and desirable candidate. The following are some of the key skills you should consider including on your resume for a Clinical Researcher position:
Scientific Research: As a Clinical Researcher, you will be responsible for conducting scientific research and analyzing data. You should showcase your scientific research skills on your resume by mentioning your experience in conducting research, collecting and analyzing data, and interpreting results.
Problem Solving: A Clinical Researcher must have strong problem-solving skills in order to identify and address issues that arise during the research process. You should highlight your problem-solving abilities on your resume by mentioning any challenges you have faced in the past and how you overcame them.
Interpersonal Communication: Clinical Researchers must be able to effectively communicate with other researchers and medical professionals in order to stay up-to-date on the latest developments in the field. You should mention your ability to communicate effectively and work collaboratively with others on your resume.
Technical Skills: Clinical Researchers must be proficient in using software and technology related to their field. You should list any relevant technical skills you possess, such as experience with data analysis software, statistical analysis programs, and other relevant technologies.
Time Management: Clinical Researchers often have tight deadlines and must be able to manage their time efficiently in order to complete their research projects on schedule. You should highlight your ability to manage your time effectively on your resume in order to show potential employers that you are capable of meeting tight deadlines.
Key takeaways for an Clinical Researcher resume
As a clinical researcher, your resume is an important tool when seeking employment. You must be able to convey your skills, experience, and qualifications to potential employers to stand out from other candidates and secure an interview. Here are some key takeaways for crafting the perfect clinical researcher resume:
Highlight any relevant qualifications and certifications. Clinical researchers must understand the complexities of clinical research and have the skills to successfully design and manage clinical trials. Include any certifications or qualifications you may have to demonstrate your experience.
Demonstrate your understanding of clinical research processes. On your resume, include any specific clinical research processes that you've worked with, such as risk assessment and protocol development.
Showcase your analytical and organizational skills. Clinical research requires a great deal of analytical and organizational skills. Highlight the methods you use to streamline processes and improve efficiency.
Demonstrate your knowledge of data analysis software. Many clinical research projects involve data analysis software, such as SAS or R. Include any experience you have with data analysis software to showcase your technical skills.
Explain your experience with patient recruitment. A successful clinical trial requires an efficient method of patient recruitment and retention. Describe any proven methods you have for recruiting and retaining research participants.
By utilizing these tips, you can create a standout resume for a clinical research position that will help you stand out from other applicants and secure an interview.
Let us help you build
your Resume!
Make your resume more organized and attractive with our Resume Builder