Having a resume that stands out in the competitive field of clinical microbiology can be a challenge. To make your resume stand out, it should capture the core values of a successful clinical microbiologist. It also needs to highlight your abilities to think critically, conduct laboratory experiments, and interpret results. With this guide, you will learn the best tips and tricks to get your resume noticed. We will also provide you with helpful clinical microbiologist resume examples that showcase the necessary skills and experience. Writing a resume that will help you stand out and get you the job you want is easier than ever with this guide.
If you didn't find what you were looking for, be sure to check out our complete library of resume examples.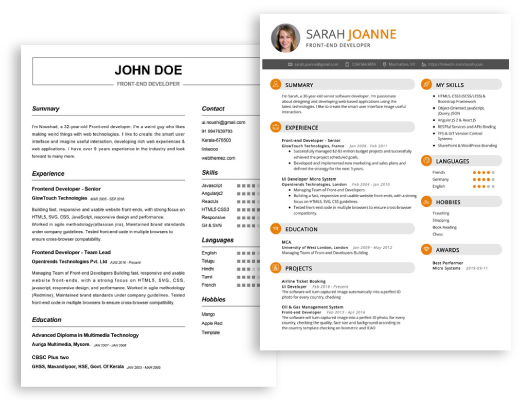 Start building your dream career today!
Create your professional resume in just 5 minutes with our easy-to-use resume builder!
Clinical Microbiologist Resume Examples
John Doe
Clinical Microbiologist
123 Main Street | Anytown, USA 99999 | Phone: (123) 456-7890 | Email: john.doe@email.com
Dynamic and knowledgeable Clinical Microbiologist with 8+ years of professional experience in the research and analysis of infectious microbial organisms. Proficient in laboratory skills, procedures and protocols associated with bacteriology, mycology and parasitology. Skilled in data collection, interpretation, and reporting. Possess excellent communication, organizational, and multitasking abilities.
Core Skills:
Laboratory Skills
Microscopy
Process and Procedure Knowledge
Data Interpretation and Reporting
Organizational and Multitasking
Communication and Interpersonal
Professional Experience:
Clinical Microbiologist, ABC Health Center, Kansas City, KS (2020 – Present)
Carry out general medical laboratory duties, including the examination of body fluid samples for the purpose of diagnosis and the detection of infectious diseases
Perform various techniques for the cultivation, isolation, identification and maintenance of cultures
Prepare and analyze clinical samples, such as urine, blood, tissue and other body fluids
Utilize various laboratory techniques and instruments as high- performance liquid chromatography, liquid and gas chromatography, mass spectrometry and ELISA
Conduct tests and research to analyze the presence and identity of microorganisms
Analyze and interpret the results of clinical tests
Education:
Doctor of Philosophy in Microbiology, University of Kansas, 2018
Master Degree in Medical Microbiology, University of Kansas, 2016
Bachelor Degree in Microbiology, University of Kansas, 2014
Clinical Microbiologist Resume with No Experience
Recent graduate with a B.S. degree in Microbiology and Biochemistry skilled in laboratory procedures, research, and data analysis. Seeking a clinical microbiology position to develop expertise in clinical diagnostics and research.
Skills
Proficiency in Aseptic techniques
Knowledge of laboratory procedures
Familiarity with laboratory safety protocols
Ability to work independently and in a team environment
Excellent organizational and problem- solving skills
Proficiency in Microsoft Office applications
Good communication skills
Responsibilities
Perform laboratory tests and experiments to identify and isolate microorganisms in clinical samples
Evaluate cultures, analyze results, and prepare reports
Utilize a variety of laboratory techniques, equipment, and instruments
Maintain laboratory equipment and supplies
Manage laboratory inventory and supplies
Observe safety procedures in the laboratory
Maintain accurate records of experiments and results
Clinical Microbiologist Resume with 2 Years of Experience
Highly experienced Clinical Microbiologist with two years of experience in a laboratory setting. Skilled in performing PCR, ELISA, and other immunoassay techniques on clinical samples. Possess excellent knowledge of clinical microbiology techniques and principles and specialize in the identification, treatment and prevention of infections. Possess an in- depth understanding of the scientific principles and regulations relevant to the medical field.
Core Skills
Proficient in PCR, ELISA and other immunoassay techniques
Excellent knowledge of clinical microbiology techniques and principles
Highly skilled in the identification, treatment and prevention of infections
In- depth understanding of the scientific principles and regulations relevant to the medical field
Responsibilities
Performed experiments and prepared samples for clinical pathogen diagnosis
Conducted microbiological tests to identify organisms causing infection
Analyzed results of clinical tests and reported to the relevant personnel
Provided support and guidance to laboratory staff
Maintained safe and sterile working environment within the laboratory
Prepared specimen for further testing, such as culture and sensitivity
Assisted in the ordering and inventory of laboratory supplies
Ensured quality control of laboratory equipment and instrumentation
Clinical Microbiologist Resume with 5 Years of Experience
Seasoned Clinical Microbiologist with 5 years of experience in laboratory testing and analysis. Skilled in the detection, identification, and characterization of microorganisms. Track record in the development, validation, and implementation of protocols, as well as performing and supervising laboratory tests. Adept at troubleshooting processes and equipment, as well as performing standard and complex molecular tests.
Core Skills:
Extensive knowledge of clinical microbiology principles, practices, and procedures
Proficient in laboratory safety guidelines, quality control and assurance processes
Familiarity with laboratory procedures, equipment, and instrumentation
Strong data analysis and interpretation skills
Excellent organizational, problem- solving, and communication skills
Ability to work independently and as part of a team
Responsibilities:
Performed laboratory tests to identify and characterize microorganisms, such as bacteria, viruses, and fungi
Developed, validated, and implemented new protocols for laboratory testing
Performed standard and complex molecular tests such as Polymerase Chain Reaction (PCR)
Evaluated the results of laboratory tests and analyzed data to identify trends or patterns
Maintained lab equipment and instruments and performed routine maintenance
Performed quality control checks in accordance with laboratory safety guidelines
Supervised laboratory staff and ensured the accuracy of their results
Collaborated with other departments to ensure the timely delivery of laboratory results
Clinical Microbiologist Resume with 7 Years of Experience
An accomplished, detail- oriented professional, with seven years of experience in the field of microbiology, I am adept in managing and directing clinical laboratory operations. I have a deep understanding of laboratory safety and quality control procedures, as well as experience in the interpretation of microbiological data. I am experienced in the utilization of cutting- edge technology to analyze complex problems and come up with creative solutions. In addition to my experience in the clinical laboratory, I have expertise in the areas of epidemiology and infectious disease control, laboratory manual and automated methods, and clinical laboratory information systems.
Core Skills:
Expert in the principles and practices of clinical microbiology
Extensive knowledge of laboratory safety procedures and quality control
Competent in manual and automated laboratory methods
Excellent problem solving, analytical, and organizational skills
Proficient in the use and interpretation of microbiological data
Familiarity with clinical laboratory information systems
Responsibilities:
Confer with physicians to interpret and discuss test results and diagnosis
Ensure that laboratory procedures are followed according to protocols
Analyze and interpret laboratory data and results
Monitor laboratory operations and evaluate results
Develop and implement laboratory test methods, techniques, and procedures
Maintain records of laboratory results and operations
Monitor laboratory safety procedures and take corrective action if necessary
Clinical Microbiologist Resume with 10 Years of Experience
A highly experienced Clinical Microbiologist with 10 years of experience in the medical field. Possessing a strong knowledge of emerging technologies and techniques in the field of clinical microbiology. Highly skilled in the interpretation of test results, preparation of reports and advising physicians and laboratory staff on laboratory procedures. Adept in standard laboratory techniques, performing tests, preparing reagents and cultures, and analyzing results. Committed to providing quality patient care and a dedication to improving public health.
Core Skills:
Knowledge of Emerging Technologies
Interpretation of Test Results
Standard Laboratory Techniques
Quality Patient Care
Advising Physicians and Laboratory Staff
Preparation of Reports
Organizational and Problem- Solving Skills
Analyzing Results
Interpersonal Communication
Responsibilities:
Performing standard laboratory tests in a timely and accurate manner
Monitoring laboratory processes and equipment to ensure proper functioning
Maintaining accurate records and reports of laboratory tests
Advising laboratory staff on laboratory procedures and protocols
Utilizing standard laboratory techniques for the preparation of reagents and cultures
Developing new methods for analyzing and reporting test results
Communicating with physicians and other healthcare providers to discuss test results and diagnostic implications
Clinical Microbiologist Resume with 15 Years of Experience
Clinical Microbiologist with 15 years of experience in healthcare setting. Skilled in developing and executing laboratory methods for diagnosing infectious diseases. Demonstrated ability to utilize laboratory methods to identify microorganisms and interpret their reactions to various treatments. Proven track record of formulating accurate and timely test results.
Core Skills:
Expertise in bacteriology, virology, mycology and parasitology
Ability to develop and implement laboratory methods
Thorough knowledge of infection control principles and techniques
Skilled in maintaining quality assurance standards
Familiarity with laboratory equipment and techniques
Proficiency in laboratory data analysis and reporting
Ability to interpret test results and present them to medical staff
Responsibilities:
Collecting and processing clinical and laboratory specimens
Performing laboratory tests to identify microorganisms
Examining sample cultures and interpreting results
Developing and implementing methods for rapid identification of bacteria
Monitoring infection and adherence to safety protocols
Assisting with data collection and ensuring accuracy of records
Maintaining laboratory quality assurance and safety standards
Performing daily calibration and maintenance of equipment and reagents
Developing and validating new laboratory methods and techniques
In addition to this, be sure to check out our resume templates, resume formats, cover letter examples, job description, and career advice pages for more helpful tips and advice.
What should be included in a Clinical Microbiologist resume?
A Clinical Microbiologist resume should include a comprehensive list of qualifications and experience that relates to the position. This should include the following:
Education: A Clinical Microbiologist should have a Bachelor's degree in a relevant field, such as microbiology, biochemistry, or biology.
Experience: Any relevant experience in laboratory management or research should also be included.
Knowledge: Knowledge of laboratory procedures, laboratory instruments and techniques, and results interpretation should be included.
Skills: Relevant experience with software packages for data analysis, statistical programs, and database management should be listed. Additionally, the ability to use experimental design and problem-solving skills should be highlighted.
Specialized Training: Any specialized training and certifications should be included.
Personal Attributes: Clinical Microbiologists should be organized and detail-oriented, with excellent communication and interpersonal skills.
The resume should also include a brief summary of the candidate's qualifications and accomplishments. This can help employers quickly identify the most relevant qualifications, and assess the candidate's qualifications at a glance.
What is a good summary for a Clinical Microbiologist resume?
A good summary for a Clinical Microbiologist resume is a concise and informative statement that highlights the relevant experience and skills that the job seeker has for the position. The summary should outline the candidate's accomplishments related to clinical laboratory testing, provide an overview of their technical skills and experience, and describe any additional qualifications that would be beneficial to the employer. Additionally, the summary should demonstrate their understanding of the job's responsibilities and their enthusiasm for the position.
What is a good objective for a Clinical Microbiologist resume?
A clinical microbiologist resume should contain an objective that outlines the candidate's career goals as they relate to the role they're applying for. By having a clear and concise objective, employers can quickly understand the candidate's level of experience and the value they can bring to the organization.
A good objective for a clinical microbiologist resume should include:
Demonstrated work experience in the field of clinical microbiology
Skills and abilities in the areas of laboratory testing, sample analysis, and data collection
Ability to effectively use scientific techniques and instruments to complete tasks
Proven track record of accurate and timely results
Knowledge of safety protocols and industry regulations
Excellent written and verbal communication skills
A desire to stay current in the field through continuing education and training
A commitment to quality control and patient care
By highlighting these qualifications in an objective statement, employers will be able to quickly identify the candidate's qualifications and determine if they are a good fit for the role.
How do you list Clinical Microbiologist skills on a resume?
Including clinical microbiology skills on a resume is an important first step in gaining recognition for your abilities and accomplishments. Whether you are applying for a job within the clinical microbiology industry or simply want to highlight your expertise, there are a few ways to showcase your skills on your resume.
Knowledge: Clinical microbiologists should have a working knowledge of clinical microbiology principles, laboratory procedures, and safety protocols. It is also beneficial to have a strong understanding of qualitative and quantitative analysis methods.
Experience: Experienced clinical microbiologists can draw on their professional achievements to demonstrate their expertise. Include details about the types of organisms you have studied, the roles you have had in the laboratory, and any awards or recognitions you have received.
Education: Listing your educational background is a great way to show potential employers that you have the necessary knowledge to do the job. Include the degrees or certifications you have received that pertain to the field, as well as any specialized courses or workshops you have taken.
Problem Solving: Many of the tasks associated with clinical microbiology require skilled problem solving. Demonstrate your ability to troubleshoot and think critically by including examples of problems you have solved in the laboratory.
Interpersonal Skills: Clinical microbiology often involves working with others in the laboratory. Include the types of interpersonal skills you have that enable you to work well with others, such as communication, collaboration, and conflict resolution.
By including these skills on your resume, you will be able to demonstrate your expertise in clinical microbiology and gain recognition from potential employers.
What skills should I put on my resume for Clinical Microbiologist?
When applying for a position as a Clinical Microbiologist, it is important to highlight the skills and qualifications that will make you a successful candidate. The following skills should be included on your resume:
Strong knowledge and understanding of medical principles and scientific concepts: Clinical Microbiologists must be well-versed in the medical principles and scientific concepts associated with their field. This includes knowledge of medical terminology, microbiology, anatomy and physiology, immunology, hematology, molecular biology, and infectious diseases.
Excellent laboratory skills: Clinical Microbiologists must be able to conduct laboratory experiments and analyze results accurately. They must also have experience working with instruments and laboratory equipment, and must be able to troubleshoot any issues that may arise.
Strong written and verbal communication skills: Clinical Microbiologists must be able to effectively communicate their findings to other healthcare professionals. They must also be able to explain technical concepts to non-technical audiences.
Strong problem solving skills: Clinical Microbiologists must be able to identify and resolve issues quickly and accurately. They must have an analytical mind and be able to think critically.
Attention to detail: Clinical Microbiologists must be able to pay close attention to details and be able to identify patterns and abnormalities in data.
Ability to work alone or as part of a team: Clinical Microbiologists must be able to work independently or collaboratively with other healthcare professionals, depending on the situation. They must be able to take direction and work effectively in a team environment.
Organizational skills: Clinical Microbiologists must be able to multitask and stay organized in order to efficiently manage their workload.
By including these skills on your resume, you can demonstrate to potential employers that you are the ideal candidate for the job.
Key takeaways for an Clinical Microbiologist resume
As a Clinical Microbiologist, your resume should be focused on demonstrating your knowledge of the necessary laboratory processes and equipment, as well as your experience in interpreting and documenting laboratory results. Here are some key takeaways to consider when crafting a resume for this position:
1) Highlight your laboratory experience. Make sure to include any laboratory experience you have in your resume. This could include work in a laboratory setting, knowledge of laboratory processes and equipment, and any experience interpreting and documenting laboratory results.
2) Demonstrate your knowledge of clinical microbiology. Be sure to include any relevant coursework or degree programs in clinical microbiology that you have completed. You should also showcase any continuing education courses or other professional development initiatives that you have taken part in to stay up to date on the latest advancements in the field.
3) Shine a spotlight on your research. If you have been involved in any research projects within the field of clinical microbiology, list them on your resume. Include the title of the project, the results, and your role in the project.
4) Highlight your ability to effectively communicate. As a Clinical Microbiologist, you will be required to communicate your results to other professionals in the laboratory setting. Make sure to list any communication skills you possess that make you successful in this role, such as your ability to write technical reports or explain complex concepts to non-technical people.
By following these key takeaways, you can create a resume that will catch the eye of potential employers and showcase the skills and experience that make you a great fit for a Clinical Microbiologist role.
Let us help you build
your Resume!
Make your resume more organized and attractive with our Resume Builder