Having an effective resume is essential when you're looking to land a job as a Clinic Supervisor. Your resume needs to represent your unique set of skills and experiences in a way that is both attractive and compelling to potential employers. This guide will provide you with key tips and examples on how to craft a standout resume that can help you stand out from the rest of the competition. From outlining your relevant experience to outlining your qualifications, this guide will provide you with the information you need to make sure your resume stands out from the crowd.
If you didn't find what you were looking for, be sure to check out our complete library of resume examples.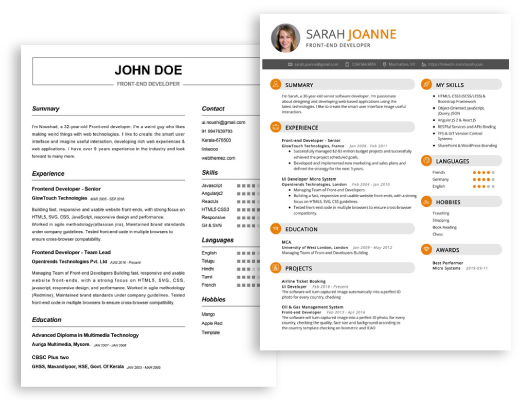 Start building your dream career today!
Create your professional resume in just 5 minutes with our easy-to-use resume builder!
Clinic Supervisor Resume Examples
John Doe
Clinic Supervisor
123 Main Street | Anytown, USA 99999 | Phone: (123) 456-7890 | Email: john.doe@email.com
A highly motivated and organized Clinic Supervisor with extensive background in healthcare and project management. Possessing strong leadership and decision- making qualities, as well as expertise in providing exceptional care to a variety of patient populations. Experienced in developing team- oriented environments and establishing operational efficiencies. Committed to adhering to the highest standards of quality while providing excellent customer service.
Core Skills:
Leadership and Management
Knowledge of Medical Practices and Procedures
Strategic Planning and Execution
Budgeting and Cost Control
Program Development and Implementation
Employee Training and Development
Clinical Documentation and Records Management
Professional Experience:
Clinic Supervisor, ABC Medical Center, 2016- present
Providing leadership and direction to a team of 10+ clinicians and support staff
Developing and implementing patient care protocols and procedures
Ensuring patient satisfaction and quality of care
Promoting a culture of safety and professionalism
Managing day- to- day operations of the clinic
Monitoring and controlling expenses and providing budgetary oversight
Creating, updating and maintaining clinical documentation
Coordinating with other departments to ensure seamless operations
Education:
Bachelor of Science in Nursing, XYZ College, 2016
Clinic Supervisor Resume with No Experience
Recent college graduate with strong interpersonal and organizational skills, ready to apply to a Clinic Supervisor role.
Possess a Bachelor's degree in Health Sciences and a passion for providing excellent patient care.
Skills
Excellent interpersonal and communication skills
Strong organizational skills
Ability to multi- task
Knowledgeable in medical procedures, terminology and patient care
Excellent problem- solving skills
Responsibilities
Ensure that all medical staff are aware of and follow all clinic policies and procedures
Provide support to medical staff and other personnel
Monitor patient care and safety
Maintain patient records and ensure accuracy
Ensure that all equipment is functioning properly and maintained in good condition
Monitor staff performance and provide feedback
Ensure that the clinic is operating in compliance with all applicable laws and regulations
Assist with scheduling and patient flow
Communicate with patients and families regarding their care
Perform other duties as assigned.
Clinic Supervisor Resume with 2 Years of Experience
Highly organized and driven Clinic Supervisor with 2 years of experience in a diverse healthcare field. Possess excellent communication, problem- solving, and management skills. Proven ability to manage staff and resources efficiently to ensure high quality patient care. Passionate about improving process efficiency and patient satisfaction.
Core Skills:
Healthcare Administration
Staff Management
Patient Advocacy
Resource Allocation
Data Analysis
Process Improvement
Compliance
Budgeting
Responsibilities:
Developed and implemented strategies to improve patient experience and staff efficiency.
Developed and monitored budgets and allocated resources accordingly.
Managed staff, including training, scheduling, and performance evaluation.
Analyzed patient feedback and implemented changes to optimize care.
Ensured compliance with HIPAA, OSHA, and other regulatory standards.
Ensured proper communication between departments and staff.
Served as a liaison between staff and upper management.
Conducted weekly meetings to review policies and procedures.
Clinic Supervisor Resume with 5 Years of Experience
A highly organized and reliable clinic supervisor with 5 years of experience in medical care and technical settings. Possesses strong leadership and communication skills, as well as an advanced understanding of medical terminologies and safety protocols. Proven experience in supervising medical staff, maintaining medical records and equipment, and providing excellent customer service. Aiming to leverage my professional experience and knowledge to successfully fill the clinic supervisor role at your healthcare facility.
Core Skills:
Administrative Duties
Patient Care
Medical Terminology
Safety Protocols
Leadership
Crisis Management
Communication
Problem Solving
Team Building
Responsibilities:
Oversee staff and patient scheduling, ensuring all medical procedures are completed on time.
Supervise medical staff, providing guidance and ensure proper patient care.
Develop safety protocols and standard operating procedures for the facility.
Maintain medical records, equipment, and supplies to ensure the smooth functioning of the clinic.
Monitor and evaluate staff performance, providing feedback and advice when needed.
Address patient concerns and complaints to ensure a positive customer service experience.
Ensure the clinic is running efficiently, addressing any issues that may arise.
Work closely with medical staff to provide proper patient care and ensure all medical procedures are completed accurately.
Clinic Supervisor Resume with 7 Years of Experience
Highly experienced and organized Clinic Supervisor with over 7 years of experience managing a variety of clinic operations and personnel. Proven record of successfully managing patient care, organizing day- to- day operations, and ensuring the clinic is compliant with all regulatory requirements. Familiar with medical terminology and billing systems and possess strong communication, leadership and problem solving skills.
Core Skills:
Medical terminology and billing systems
Leadership and problem solving
Communication and interpersonal skills
Management of patient care
Regulatory compliance
Organization and scheduling
Analytical and detail- oriented
Responsibilities:
Supervised day- to- day operations for a medical clinic
Managed a team of healthcare professionals and ensured that all duties were performed
Monitored patient care and patient outcomes to ensure quality of care was being provided
Developed and maintained regulatory standards and policies
Ensured the clinic was compliant with all legal and regulatory requirements
Organized and scheduled patient appointments and office hours
Analyzed data and trends to identify areas of improvement
Developed and implemented short and long- term goals and objectives for the clinic
Resolved patient complaints and inquiries in a professional and timely manner
Clinic Supervisor Resume with 10 Years of Experience
Experienced Clinic Supervisor with over 10 years of experience in the healthcare industry. Skilled in managing and supervising a wide variety of clinic staff and services. Expert in personnel management, patient experience, inventory control, and equipment maintenance. Possesses excellent organizational skills and an eye for detail. Committed to providing superior patient experience and ensuring an efficient and well- run clinic.
Core Skills:
Supervisory & Leadership
Patient Experience
Process & Procedure Development
Regulatory & Compliance Knowledge
Inventory Control
Equipment Maintenance
Financial Management
Scheduling & Staffing
Responsibilities:
Manage personnel and clinic operations, ensuring that all services are delivered efficiently and effectively.
Oversee the hiring and training of clinic staff, including physicians, nurses, and administrative personnel.
Direct medical staff in providing high- quality patient care according to established standards.
Develop and implement policies and procedures to ensure compliance with all applicable laws, regulations, and accreditation standards.
Monitor the financial performance of the clinic and identify strategies to improve operational efficiency and reduce costs.
Schedule clinic staff to ensure adequate coverage and responsiveness to patient needs.
Track inventory and manage ordering of medical supplies and equipment.
Ensure maintenance and proper functioning of medical equipment.
Monitor patient satisfaction and identify areas to improve the patient experience.
Provide guidance and support to staff to ensure a positive and productive work environment.
Clinic Supervisor Resume with 15 Years of Experience
Experienced Clinic Supervisor with 15 years of experience in supervising medical staff and providing exceptional patient care. Possess a thorough understanding of medical office operations, medical record management, and billing processes. Possess exceptional organizational, communication, and problem solving skills to handle all clinic operations. Highly experienced in monitoring medical staff performance, training staff, and implementing protocols.
Core Skills:
Knowledge of medical office operations
Leadership skills
Ability to manage large staffs
Supervisory ability
Medical record management
Exceptional communication
Problem solving
Billing processes
Responsibilities:
Monitor performance of medical staff and ensure compliance with policies and procedures
Train and mentor medical staff
Ensure that all staff adheres to safety and quality standards
Oversee the day- to- day operations of the clinic
Schedule and manage medical appointments
Manage billing and insurance claims
Monitor patient records and ensure accuracy
Handle patient complaints and provide resolutions
Review reports and statistics regarding clinic performance.
In addition to this, be sure to check out our resume templates, resume formats, cover letter examples, job description, and career advice pages for more helpful tips and advice.
What should be included in a Clinic Supervisor resume?
A Clinic Supervisor resume should include key information that demonstrates your qualifications and experience for the job. Here are some of the components to consider when putting together your resume:
Contact information: In the header of your resume, include your name, address, phone number, and email.
Professional summary: Provide a short (1-2 sentences) summary of your professional background and the qualifications that make you an ideal candidate for the Clinic Supervisor position.
Skills: List any relevant skills that are necessary for the Clinic Supervisor position, such as scheduling, budgeting, record keeping, and customer service.
Education: Include information about your educational background, such as any degrees, certifications, and trainings.
Employment history: List any relevant employment history, including job titles, company names, and dates of employment.
Accomplishments: Include any professional accomplishments, such as awards, recognition, or other successes.
Professional references: List three professional references with their contact information.
By including the key information above, you can create a comprehensive Clinic Supervisor resume that will make you stand out to employers and give you a better chance at getting the job.
What is a good summary for a Clinic Supervisor resume?
A Clinic Supervisor is responsible for overseeing daily operations of a medical clinic and ensuring that staff adheres to standards for patient care. An effective summary for a Clinic Supervisor resume should emphasize experience in providing leadership, managing staff, and ensuring patient satisfaction. It should also highlight qualifications related to areas such as medical coding, billing, and insurance verification as well as any healthcare administration certifications or degrees. Demonstrating the ability to build relationships with patients, staff, and other healthcare providers is also important in an effective Clinic Supervisor summary. Finally, highlighting any experience in managing budgets and ensuring compliance with safety and health regulations is beneficial.
What is a good objective for a Clinic Supervisor resume?
The objective statement on a Clinic Supervisor resume should be tailored to the specific job description and work experience associated with the position. It should communicate the candidate's value proposition and what they bring to the table. Below are some good objectives for a Clinic Supervisor resume:
To leverage my 10 years of experience in healthcare administration and management, expertise in clinic operations, and knowledge of state and federal healthcare regulations to effectively lead and manage staff at the clinic.
Utilize strong interpersonal skills and an in-depth understanding of medical terminology to ensure exceptional patient care and satisfaction.
To secure a Clinic Supervisor position where I can utilize my excellent organizational and problem-solving skills to efficiently manage the day-to-day operations of the clinic.
Seeking a Clinic Supervisor position that will enable me to use my extensive experience in leading clinical teams and managing healthcare records to ensure the highest level of patient care.
To bring my knowledge of clinical processes and healthcare systems to a Clinic Supervisor role, and to help the clinic remain compliant with all applicable regulations and guidelines.
How do you list Clinic Supervisor skills on a resume?
When creating a resume that highlights your clinic supervisor skills, it is important to include specific experiences and qualifications that will demonstrate your expertise in leading clinical teams.
Highlighting your clinical supervisor skills on your resume can help you stand out as a competitive candidate. Here are some tips on how to list your qualifications on your resume:
Include any certifications you have related to clinic supervisor skills.
Include any educational courses or workshops you've completed focusing on managing clinical teams.
List any medical office management software you are proficient in using.
Describe any management experience you have in a medical setting, such as overseeing patient services, staff scheduling and implementation of new protocols.
Discuss any healthcare management experience that is relevant to the job.
Demonstrate your problem solving skills, such as developing innovative solutions to challenging clinical problems.
Highlight any customer service experience you have that is related to managing a clinical team, such as resolving patient complaints or interacting with physicians and other healthcare professionals.
Showcase any experience you have in developing and maintaining clinical policies and procedures.
By listing your clinic supervisor skills and qualifications on your resume, you can showcase your experience and make yourself stand out as a competitive candidate.
What skills should I put on my resume for Clinic Supervisor?
When you are applying for the role of Clinic Supervisor, your resume should provide evidence of your qualifications and abilities to fill the role. To maximize your chances of landing the position, you should include skills that are specifically related to the job. Here are some key skills to consider adding to your resume for Clinic Supervisor:
Patient Care: You should demonstrate that you have a deep understanding of patient care, including knowledge of medical terminology, patient assessment and treatment plans.
Leadership: You should be able to demonstrate exceptional leadership skills, including the ability to develop and implement strategies, manage multiple projects, and handle personnel matters.
Communication: Effective communication and interpersonal skills are essential for any supervisor role. This includes the ability to communicate clearly and professionally with both colleagues and patients.
Problem Solving: Show that you have strong problem-solving skills and that you are able to think quickly on your feet in order to make decisions.
Technical: Many clinic supervisors need to understand and use various types of medical technology, such as medical record software. Demonstrate your understanding of the technical aspects of the job.
Administrative: Supervising a clinic requires strong administrative skills, such as scheduling and budgeting. Show that you have the ability to manage daily operations and keep the clinic running smoothly.
By highlighting these key skills on your resume, you can give yourself an edge in the job market and increase your chances of getting an interview for Clinic Supervisor.
Key takeaways for an Clinic Supervisor resume
As a Clinic Supervisor, you are responsible for overseeing the daily operations of a medical clinic. Your resume should highlight your medical knowledge and administrative skills, as well as any supervisory experience that you have. Here are some key takeaways to consider when building your resume:
Demonstrate your medical knowledge: List any educational accomplishments related to healthcare, such as degrees or certifications, as well as any relevant professional experience. If you have expertise in a particular area or have completed specialized training, make sure to include this information.
Highlight your administrative skills: Clinic Supervisors must be organized and able to manage complex operations. Use your resume to demonstrate your ability to manage tasks, oversee staff, and create policies.
Showcase your supervisory experience: If you have managed a medical clinic before, make sure to include this experience on your resume. Describe your role in detail, including any accomplishments or successes that you achieved.
Include any relevant qualifications: Many employers will require Clinic Supervisors to possess certain qualifications. Make sure to include any certifications that you have received, such as HIPAA or OSHA certifications.
By following these key takeaways, you can create a professional Clinic Supervisor resume that will help you stand out from the competition. Make sure to tailor your resume to the specific job that you are applying for, as every clinic will have its own unique requirements. Good luck!
Let us help you build
your Resume!
Make your resume more organized and attractive with our Resume Builder