A resume has become a necessary requirement for any job and a chiropractor resume is no exception. This guide is designed to help individuals who are looking to apply for a chiropractor position, by providing useful tips and examples to help them create a standout resume. It is essential for any potential chiropractor to have a resume that stands out and effectively conveys their experience and qualifications, as this will be the first impression the hiring manager will have of them. By following the advice in this guide, applicants can create a professional resume that will be sure to draw the attention of the hiring manager.
If you didn't find what you were looking for, be sure to check out our complete library of resume examples.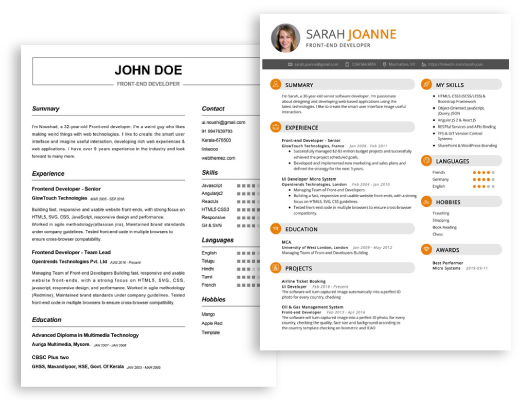 Start building your dream career today!
Create your professional resume in just 5 minutes with our easy-to-use resume builder!
Chiropractor Resume Examples
John Doe
Chiropractor
123 Main Street | Anytown, USA 99999 | Phone: (123) 456-7890 | Email: john.doe@email.com
I am a highly experienced and motivated Chiropractor with extensive knowledge in the field of healthcare. I am committed to providing comprehensive and quality care to my patients and their families. I have a strong ability to build relationships with my clients, and use my strong communication and interpersonal skills to ensure the best care for them. I am also knowledgeable in practice management, medical coding, and various other administrative tasks, as well as having a thorough understanding of spinal anatomy, physiology, and pathology.
Core Skills:
Ability to communicate effectively with patients and their families
Thorough knowledge of spinal anatomy, physiology, and pathology
In- depth understanding of chiropractic treatment and practice management
Proficient in medical coding
Skilled in patient assessment and treatment planning
Excellent problem- solving and critical thinking skills
Ability to work independently and as part of a team
Professional Experience:
Established and managed successful chiropractic practice with an emphasis on patient care and satisfaction
Utilized evidence- based practice methods to provide quality chiropractic care
Provided therapeutic care, including adjustments, soft tissue manipulation, and various therapeutic modalities
Developed treatment plans for patients and regularly updated and reported progress
Collaborated with other healthcare providers and multidisciplinary teams to provide integrated care
Conducted patient education sessions to inform patients and families about their condition, treatment options, and expected outcomes
Education:
Doctorate of Chiropractic, ABC University, 2020
Bachelor of Science in Biomedical Science, XYZ University, 2017
Certified in Medical Coding, ABC College, 2020
Chiropractor Resume with No Experience
Recent graduate with a Doctor of Chiropractic degree looking to gain experience as a chiropractor. Interested in applying the knowledge acquired during my education to help others improve their quality of life.
Skills
Extensive knowledge of spinal manipulations
Ability to conduct physical evaluations
Deep understanding of anatomy, human physiology, and kinesiology
Excellent communication, interpersonal, and problem- solving skills
Compassionate and caring attitude
Proficient in the use of diagnostic imaging
Responsibilities
Perform physical evaluations to assess patient needs and develop treatment plans
Conduct spinal manipulations and other therapeutic techniques
Advise and educate patients on exercises and lifestyle changes to improve health
Provide preventative care and educate patients on proper posture and techniques
Monitor patients' progress and adjust treatments as needed
Keep accurate records and document patient progress
Chiropractor Resume with 2 Years of Experience
Dynamic and experienced Chiropractor with two years of professional experience providing diagnosis and treatment of spine and musculoskeletal system disorders. Proven track record of successful treatments, utilizing a variety of manual and instrument- assisted techniques to restore balance, increase mobility, reduce pain, and improve overall health. Highly skilled in therapeutic exercise and physical modalities, and passionate about educating patients on the benefits of healthy lifestyle choices.
Core Skills:
Spinal and musculoskeletal diagnosis and treatment
Manual and instrument- assisted techniques
Therapeutic exercise and physical modalities
Patient education on healthy lifestyle choices
Excellent communication and interpersonal skills
Responsibilities:
Conduct new patient consultations and perform physical exams
Evaluate findings, develop treatment plans, and deliver chiropractic care
Recommend appropriate therapeutic exercises and physical modalities
Monitor progress and modify treatments, as needed
Educate patients on the benefits of healthy lifestyle choices and preventive care
Chiropractor Resume with 5 Years of Experience
I am an experienced Chiropractor with 5 years of experience in the health care industry. I specialize in helping patients with musculoskeletal disorders, identifying their symptoms and providing the right course of treatment. I am patient- focused and strive to provide the best care possible. My services include physical assessments, diagnosis, therapeutic treatments through manual adjustments, exercise programs and nutritional guidance. I am well- versed with state and national regulations and ensure compliance with all relevant regulations.
Core Skills:
Extensive knowledge of musculoskeletal anatomy, physiology and biomechanics
Proficient in spinal manipulation techniques and exercise programs
Excellent knowledge of diagnosis and therapeutic treatment plans
Strong communication and interpersonal skills
Ability to maintain patient confidentiality
Responsibilities:
Evaluate patient's medical history, physical condition and symptoms
Perform physical assessments and diagnose musculoskeletal problems
Develop treatment plans and recommend therapeutic treatments
Administer manual adjustments and prescribe exercise programs
Instruct patients on the proper use of therapeutic treatments
Compile medical records and patient progress notes
Educate patients on proper nutrition and lifestyle modifications
Monitor patient progress and modify treatment plans as needed
Ensure compliance with all relevant regulations and codes
Chiropractor Resume with 7 Years of Experience
Dedicated and experienced chiropractor with 7 years of experience providing excellent patient care and treatment. Skilled in evaluating, diagnosing, and treating musculoskeletal injuries and disorders utilizing manual techniques, exercise, and other forms of therapy. Proven ability to develop long- term relationships with patients, providing the highest quality of care and achieving outstanding patient outcomes.
Core Skills:
Extensive knowledge of anatomy, physiology and biomechanics
Proficient in manual therapy, spinal manipulation and soft tissue techniques
Ability to identify and diagnose musculoskeletal disorders
Excellent communication and interpersonal skills
Strong problem- solving skills
Ability to maintain accurate and detailed patient records
Excellent bedside manner and patient- centered approach
Responsibilities:
Evaluate, diagnose and treat patients with musculoskeletal disorders
Provide a range of manual therapy, spinal manipulation and soft tissue techniques
Educate patients on the benefits of chiropractic care and treatment
Develop and implement patient care plans
Supervise licensed chiropractic assistants
Maintain accurate and detailed patient records
Follow up with patients to monitor progress and assess results
Chiropractor Resume with 10 Years of Experience
Experienced Chiropractor with 10 years in the medical field. Skilled in diagnosing and treating musculoskeletal system disorders, providing holistic care, and educating patients in preventative health measures. Proven record of empowering patients through chiropractic care and exercise. Committed to creating a comfortable and safe environment for patients to receive the best possible treatments.
Core Skills:
Manual Adjustments
Spinal Manipulations
Health and Wellness Counseling
Natural Treatment Methods
Diagnosing Spinal Disorders
Developing Treatment Plans
Maintaining Patient Records
Patient Education
Responsibilities:
Evaluating patient medical history and physical condition to determine the best course of treatment
Performing chiropractic adjustments, physical therapy, and other treatments
Developing individualized treatment plans to meet the needs of the patient
Educating patients on how to prevent further musculoskeletal injuries
Taking diagnostic images, such as x- rays, to determine the cause of the patient's condition
Consulting with other healthcare professionals on patient care
Keeping detailed records of patient progress
Maintaining a safe and comfortable environment for patients
Chiropractor Resume with 15 Years of Experience
Chiropractor with 15 years of experience in the field of musculoskeletal health, specializing in the diagnosis, treatment, and rehabilitation of conditions affecting the bones and muscles. Experienced in providing precise chiropractic adjustments, massages, and exercises to patients of all ages. Skilled in administering diagnostic tests, such as X- rays, to diagnose and treat problems, as well as educating patients on preventative care.
A Chiropractor with 15 years of experience providing specialized care for musculoskeletal health, I am experienced in accurately diagnosing and treating patients of all ages. I excel in providing precise chiropractic adjustments, massages, and exercises to my patients, as well as administering diagnostic tests such as X- rays. I am also committed to educating my patients about preventative care.
Core Skills:
Musculoskeletal Health
Diagnosis/Treatment
Chiropractic Adjustments
Massage Therapy
Exercise Therapy
Diagnostic Tests
Preventative Care
Responsibilities:
Assess patient needs through physical examinations and patient histories
Provide precise chiropractic adjustments to correct spinal alignment issues
Administer massage therapy to reduce muscle tension and improve joint flexibility
Educate patients on proper exercise and nutrition to support musculoskeletal health
Utilize diagnostic tests, such as X- rays, to diagnose and treat musculoskeletal issues
Develop treatment plans with goals and timelines for individual patients
In addition to this, be sure to check out our resume templates, resume formats, cover letter examples, job description, and career advice pages for more helpful tips and advice.
What should be included in a Chiropractor resume?
A chiropractor resume should include information that highlights your qualifications and experience in the field. It should be tailored to the specific job you are applying for, and should showcase your skills, training, and experience. Here are some of the key points to include in your chiropractor resume:
Education: List your educational background, including any degrees or certification you have received.
Work Experience: Include a list of any experience you have working as a chiropractor, such as internships, part-time jobs, or volunteer experiences.
Skills: List any skills related to the job, such as fluency in medical terminology, technical knowledge, and familiarity with chiropractic techniques.
Professional Memberships: Include any professional memberships, such as the American Chiropractic Association or the World Federation of Chiropractic.
Licenses and Certifications: List any licenses and certifications you have received, such as a chiropractic license or Advanced Practice Registration.
Professional References: Include references from former employers, colleagues, or mentors who can speak to your skills and abilities.
Ultimately, a chiropractor resume should be tailored to the specific job you are applying for, and should highlight your specific skills and qualifications. By including the points listed above, you will have a strong resume that will help you stand out from the crowd.
What is a good summary for a Chiropractor resume?
A good summary for a chiropractor resume should highlight your professional qualifications, post-graduate certifications and specializations, as well as your ability to diagnose and treat health problems associated with the spine and musculoskeletal system. In addition, the summary should express your commitment to providing personalized care and attention to each patient, as well as emphasize your excellent communication skills when working with patients, family members, and other healthcare professionals. It should also demonstrate your ability to stay current with the latest techniques and technologies in chiropractic care and education. Finally, the summary should succinctly outline your experience and education in the field of chiropractic, including any research or publications you have contributed to the field.
What is a good objective for a Chiropractor resume?
A chiropractor resume should highlight an individual's experience and qualifications in the field of physical therapy. To be successful, a chiropractor resume should have a clear, concise, and well-crafted objective statement that captures the attention of hiring managers.
The objective statement should reflect the qualifications and experience of the individual and include the desired position and any relevant certifications. Here are some good objectives for a chiropractor resume:
To obtain a position as a Chiropractor utilizing my 5 years' experience in physical therapy to provide quality care and aid to patients
Seeking a Chiropractic position in a medical facility where I can use my experience and knowledge to provide the best possible treatment to patients
To secure a Chiropractic role where I can utilize my considerable physical therapy expertise to improve patient health and comfort
Experienced Chiropractor looking for a position where I can provide top-notch patient care while expanding my professional practice
Seeking a Chiropractic position in a hospital or clinical setting to use my physical therapy experience and education to improve patient health
Dedicated physical therapist searching for a Chiropractic position in a clinical setting where I can apply my knowledge to benefit patients
By crafting an effective objective statement, chiropractors can set themselves apart from other applicants and increase their chances of landing the job they want.
How do you list Chiropractor skills on a resume?
When it comes to listing your chiropractor skills on a resume, it's important to highlight the specific skills that are most relevant to the job you are applying for. Here are some key skills that should be included in your resume to demonstrate your qualifications as a chiropractor:
Clinical Assessment: Ability to assess and diagnose patient's musculoskeletal conditions and determine appropriate treatments
Spinal Manipulation: Proficiency in spinal manipulation techniques such as manual adjustments, mobilization, and flexion-distraction
Physical Therapies: Knowledge of various physical therapies, including therapeutic ultrasound, infrared light therapy, and low-level laser therapy
Electromyography: Experience in administering and interpreting electromyography examinations
Patient Education: Ability to effectively educate patients about different chiropractic treatments and health practices
Proper Documentation: Knowledge of proper medical recordkeeping to ensure accurate and thorough documentation of patient visits and treatments
Team Player: Ability to work well with other healthcare providers to ensure comprehensive patient care
Communication: Excellent verbal and written communication skills to effectively interact with patients and discuss treatment plans
Time Management: Ability to manage time and prioritize patient care tasks effectively
Problem-solving: Strong critical thinking and problem-solving skills to develop effective and safe treatment plans for patients
Regulatory Knowledge: Knowledge of local, state, and federal regulations related to the chiropractic profession.
What skills should I put on my resume for Chiropractor?
Chiropractors are medical professionals who specialize in the diagnosis, treatment, and prevention of neuromusculoskeletal disorders. When writing your resume, it's important to highlight the skills and qualities that make you an ideal candidate for the job.
Here are some of the essential skills to include on your resume for a chiropractor:
Expertise in diagnosing, treating, and managing neuromusculoskeletal disorders: As a chiropractor, you need to be skilled in recognizing and diagnosing neuromusculoskeletal disorders and be able to develop and implement effective treatment plans.
Knowledge of biomechanics: You must have extensive knowledge of the anatomy and physiology of the spine, as well as an understanding of biomechanics and its application to the practice of chiropractic.
Good communication and people skills: You should be able to effectively communicate with patients and their families, as well as with other medical professionals. Additionally, you should be able to effectively educate patients and their families on the diagnosis, treatment plan, and lifestyle modifications.
Manual dexterity: Chiropractors must have excellent manual dexterity in order to be able to manipulate the spine with precision and accuracy.
Physical stamina: Chiropractors must have the physical stamina to be able to stand for long periods and perform physical movements while working with patients.
Attention to detail: Chiropractors must be attentive to details in order to accurately diagnose and treat patients.
By including these essential skills and qualities on your resume, you'll be well on your way to becoming a successful chiropractor.
Key takeaways for an Chiropractor resume
Chiropractors are in high demand these days due to the prevalence of back and neck pain in the population. If you are looking to break into the field of chiropractic, you must have an impressive resume that stands out from the competition. Here are some key takeaways to consider when creating a chiropractor resume.
Highlight Your Education: Education is key when it comes to becoming a chiropractor. Make sure to list the educational background and qualifications you have, such as degrees, certificates, and licenses.
Show Your Experience: If you have past experience working in the field of chiropractic, be sure to include it in your resume. List the duties you performed, the duration of employment, and any awards or recognition you have achieved.
Demonstrate Your Technical Proficiency: As a chiropractor, you must demonstrate your proficiency in the technical aspects of chiropractic care, such as assessing and diagnosing patients and administering treatments. Include any specialized skills you have acquired in the field.
Include Your Soft Skills: Being a chiropractor is not just about technical knowledge and experience – it also requires strong communication and interpersonal skills. Mention your ability to work well with patients and provide a positive experience.
By following these key takeaways, you can create an impressive resume that will help you stand out from the competition and get you one step closer to becoming a chiropractor.
Let us help you build
your Resume!
Make your resume more organized and attractive with our Resume Builder