Writing resumes can be extremely challenging, especially if you haven't done it before. As a radio intern, you may be wondering what to include and how to present yourself in the most effective way. That's why it's important to make sure you have a well-written resume that will help you stand out among the competition. In this blog post, we will provide you with a guide on how to write the perfect radio intern resume, along with examples of different resume formats and tips to help you stand out. With this guide, you will be able to create a resume that will make you stand out from the competition and help you land that perfect radio internship.
If you didn't find what you were looking for, be sure to check out our complete library of resume examples.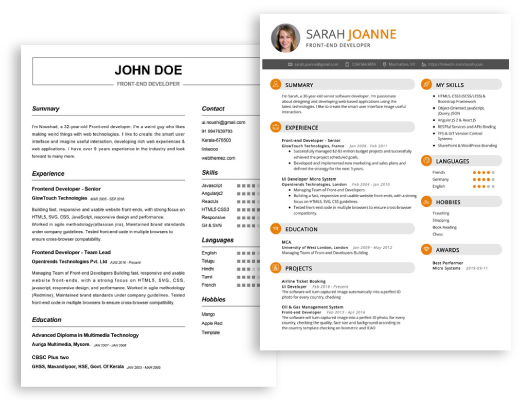 Start building your dream career today!
Create your professional resume in just 5 minutes with our easy-to-use resume builder!
Radio Intern Resume Examples
John Doe
Radio Intern
123 Main Street | Anytown, USA 99999 | Phone: (123) 456-7890 | Email: john.doe@email.com
Radio intern with two years of experience at a college radio station. Offers strong attention to detail, excellent organizational abilities, and an eagerness to take on new tasks. Adept at using the latest broadcasting technology, working in the control booth, and assisting with the execution of on- air promotions.
Core Skills:
Radio broadcasting technology
On- air promotions
Organizational abilities
Attention to detail
Creative problem solving
Professional Experience:
University Radio Station, College Town, NY
Radio Intern, 2017 – 2019
Assisted with the execution of on- air promotions by creating scripts, gathering resources, and helping with the production process
Trained and managed two interns, ensuring they were equipped to handle their duties
Edited audio, created music beds, and managed soundboard operations
Assisted with the writing and production of radio commercials
Worked in the control booth during live broadcasts, ensuring the program ran smoothly
Education:
Bachelor of Arts in Communication Arts & Sciences, College Town, NY
Graduated in 2017
Radio Intern Resume with No Experience
Recent college graduate with passion for radio broadcasting and an interest in radio internships.
Strong understanding of the radio industry, technology, and editing software.
Highly organized, detail- oriented and driven to learn new skills and technologies.
Skills
Excellent interpersonal and communication skills
Strong attention to detail and organizational skills
Proficiency in programming software such as ProTools and Adobe Audition
Knowledge of radio industry trends and standards
Ability to work independently and collaboratively
Familiarity with social media platforms
Responsibilities
Assist announcers with broadcast operations
Research and produce material for radio programs
Assist with recording, mixing, and editing of audio
Organize and maintain audio library material
Assist in the development and implementation of promotional activities
Support the organization of special events and concerts
Perform administrative tasks such as tracking inventory, scheduling meetings, and filing paperwork
Radio Intern Resume with 2 Years of Experience
Dynamic and hardworking Radio Intern with 2 years of experience in fast- paced radio environments. Skilled in a range of radio production, presenting and broadcasting. Experienced in maintaining high standards of customer service, sales and marketing. Possess a customer- oriented and detail- oriented work ethic. Dedicated to producing quality radio shows and content.
Core Skills:
Radio Production
Radio Presenting
Broadcasting
Customer Service
Sales and Marketing
Organization and Planning
Problem Solving
Leadership
Responsibilities:
Researching, writing and producing radio shows
Presenting radio shows on air
Planning and scheduling radio shows
Maintaining customer relations with radio station's customer base
Sales and marketing, including creating promotional materials
Developing ideas and concepts for radio shows
Assisting in the production and broadcasting of live radio shows
Ensuring audio- visual equipment is functioning correctly
Creating and editing audio files for radio shows
Radio Intern Resume with 5 Years of Experience
A highly motivated and creative radio intern with 5 years of experience in radio production, copywriting, and on- air broadcasting. Possesses excellent communication, organizational, and multitasking skills, enabling them to work efficiently under tight deadlines and in high pressure environments. Has a strong writing background, with proven ability to produce radio advertisements with fresh and innovative content. A passionate and dedicated individual who is committed to creating engaging content that resonates with listeners.
Core Skills:
Copywriting
Radio Production
On- Air Broadcasting
Storytelling
Advertising
Research and Reporting
Creating Engaging Content
Audience Analysis
Editing and Post- Production
Social Media
Organizational Skills
Multi- tasking
Responsibilities:
Research and develop engaging radio content for on- air broadcasts
Write scripts for radio advertisements and commercials
Create original audio content for on- air shows
Edit and post- produce audio for on- air programs and radio advertisements
Analyze and track audience responses to radio broadcasts and advertisements
Manage social media accounts to promote radio programs and on- air content
Maintain and update records of all radio broadcasts and advertisements
Provide assistance to radio show producers and hosts during on- air broadcasts
Assist in the writing and production of radio commercials and advertisements
Perform live on- air broadcasts and interviews as needed
Radio Intern Resume with 7 Years of Experience
Motivated radio intern with 7 years of experience in the broadcasting industry. Adept at operating sophisticated broadcast equipment, editing audio, and creating engaging radio content. Experienced in recording, producing, and executing creative radio shows with an emphasis on excellent customer service. Proven ability to maintain a professional environment while providing informative, educational, and entertaining content.
Core Skills:
Broadcast equipment operation
Audio editing
Recording and producing radio shows
Excellent customer service
Informative, educational, and entertaining content
Creative radio content
Responsibilities:
Operated sophisticated broadcast equipment to record radio shows
Edited audio for radio shows and commercials
Produced radio programs according to predefined criteria
Ensured quality of broadcast content and compliance with FCC regulations
Interacted with guests to facilitate effective conversations
Collaborated with other staff members to create unique radio content
Researched topics to create informative and entertaining radio shows
Maintained and updated radio equipment for optimal performance
Radio Intern Resume with 10 Years of Experience
Experienced Radio Intern with 10+ years of experience in both local and national radio capacities. Possess a strong knowledge of media production and radio engineering, as well as an acute eye for detail, accuracy and quality. Skilled in presenting and public speaking, as well as creating content for radio shows and broadcasts.
Core Skills:
Radio Engineering
Media Production
Public Speaking and Presenting
Sound Editing
Radio Show Content Creation
Audio Recording
Audio Mixing and Mastering
Broadcast Law and Protocol Knowledge
Music Licensing
Digital Audio Workstation (DAW) Software
Responsibilities:
Recorded, edited and mixed audio for radio shows and broadcasts
Produced content for radio shows and interviews
Operated sound boards and other technical equipment
Ensured adherence to broadcast laws, protocols and music licensing regulations
Created and edited audio segments for promotional use
Conducted interviews and presented in studio
Researched and analyzed topics for upcoming radio show segments
Coordinated with radio station personnel for scheduling and other related tasks
Radio Intern Resume with 15 Years of Experience
I am an experienced Radio Intern with 15 years of experience in the radio industry. I have a wide range of skills in the field of radio broadcasting, including radio show production and management, radio personality and content development, program management and development, and radio programming and operations. I am passionate about radio and media, and I am committed to delivering high quality radio content for audiences around the world.
Core Skills:
Radio Show Production and Management
Radio Personality and Content Development
Program Management and Development
Radio Programming and Operations
Project Management
Research and Analysis
Social Media Management
Scheduling and Broadcast Logistics
Responsibilities:
Developed and produced radio shows and programs, ensuring that content adhered to company's standards and audience expectations.
Developed and implemented strategies for radio programming to meet the station's goals.
Ensured that radio programs and shows met all broadcast regulations and laws.
Developed and maintained relationships with radio personnel, producers, and other industry professionals.
Managed radio broadcast logistics, including scheduling, sound levels, and other technical aspects of programming.
Analyzed and evaluated radio programs and ratings to improve the station's performance.
Developed and maintained radio station's social media presence.
Researched radio topics and developed new programming ideas.
Assisted in the recruitment and training of new radio interns.
In addition to this, be sure to check out our resume templates, resume formats, cover letter examples, job description, and career advice pages for more helpful tips and advice.
What should be included in a Radio Intern resume?
A radio intern resume should include all the necessary items for a successful job application. It should provide recruiters with an understanding of your skills, abilities, education, and experience that relate to the position. Here are some key components to include in your radio intern resume:
Objective statement: This is a summary of the type of position you are seeking and the skills you bring to the table.
Education: Include educational qualifications such as certifications, degrees, and related coursework.
Experience: Include past radio internships, volunteer positions, and other relevant experiences.
Skills: Highlight any technical skills such as radio broadcasting, media production, and website maintenance.
References: List contact information for past employers, professors, and other professionals who can speak to your qualifications for the role.
By including these components in your radio intern resume, you can help recruiters get a better understanding of your background. With the right information included, your resume can help you stand out from the competition and get the job you're seeking.
What is a good summary for a Radio Intern resume?
A radio intern resume should provide a brief overview of the applicant's background, skills, and experience. It should focus on the candidate's ability and interest in radio, as well as any qualifications that make them an ideal fit for the role. It should also highlight any relevant internships or volunteer experience, as well as any training courses the candidate has undertaken. Finally, it should include any awards and recognitions that the applicant has achieved in their radio career. This brief summary should be enough to demonstrate the candidate's commitment, drive, and enthusiasm for the radio industry.
What is a good objective for a Radio Intern resume?
A Radio Intern resume should always have a clear and concise objective statement that will make an employer take notice. A good objective should highlight both your capabilities and your enthusiasm for the radio industry. Here are some good objectives for a radio intern resume:
To leverage my exceptional interpersonal and communication skills to contribute to the success of a radio station and build a successful career in the radio industry
To gain hands-on experience in radio production and programming, while contributing to the success of a radio station
To utilize my knowledge of the radio industry to gain a better understanding of the technical aspects of radio
To use my strong organizational and research skills to create engaging radio content that resonates with audiences
To build my knowledge of radio production, programming, and promotion through hands-on experience in a radio station environment
To use my understanding of the radio industry, broadcasting principles, and media production to collaborate with teams and create engaging radio content
How do you list Radio Intern skills on a resume?
When you apply for a radio intern position, it is important to showcase your radio-related skills on your resume. Employers will look for these skills to make sure you are qualified for the job. Here are some tips on how to list your radio intern skills on a resume.
Include any radio-related experience you have. If you have done radio work before, make sure to list it on your resume. Include any internships, volunteer work, and paid jobs related to radio broadcasting.
List any relevant software skills. Employers may require using certain audio programs, so make sure to list them on your resume. Also, mention any other software that you are familiar with, such as digital audio workstations, recording programs, and podcasting software.
Show off any technical skills. Radio internships require handling equipment such as soundboards and microphones. List any technical experience you have with audio equipment, such as working with consoles, sound boards, and other audio gear.
Demonstrate your creativity. Radio broadcasting is an artistic medium, so employers may look for applicants with creative flair. List any related hobbies or interests that demonstrate your creative abilities, such as music production or web design.
By highlighting the relevant skills and qualifications that you have, you can make sure to impress employers and make your resume stand out. With the right skills, you can make yourself a more desirable candidate and increase your chances of getting hired as a radio intern.
What skills should I put on my resume for Radio Intern?
When applying for a radio internship, having the right skills on your resume is essential. Here are some of the most important skills to include on your resume when applying for a radio intern position:
Experience with Radio Technologies: Show that you have experience with radio technologies such as broadcasting software, audio editing software, streaming audio, and audio equipment.
Knowledge of Radio Regulations: Demonstrate that you are familiar with the radio industry regulations and can operate within the guidelines.
Interpersonal Skills: Radio internships involve working with both colleagues and the public, so interpersonal skills such as communication, collaboration, and problem-solving are important.
Technical Skills: You should be familiar with the technical aspects of radio, such as broadcasting and production techniques.
Creative Thinking: Radio is all about being creative, so show how you can think outside the box and apply creative solutions to challenges.
Research Skills: Interns in radio often need to research topics for programming, so make sure to include your research skills on your resume.
By highlighting your experience and skills in these areas, you can show hiring managers that you are the perfect candidate for their radio internship.
Key takeaways for an Radio Intern resume
Writing a resume to showcase your skills and experience as a radio intern is an important step toward becoming a successful radio professional. When you're ready to apply for internships, here are some key takeaways to keep in mind.
Start with a strong headline that captures your skills and qualifications. Your headline should give a brief overview of your expertise and potential as a radio intern.
Include a summary statement that outlines your experience and qualifications. This should provide a quick overview of your background and why you're a great fit for the job.
Your resume should include a list of specific qualifications and experiences. Focus on your unique skills and experience that would make you an ideal candidate for the job. List any radio-related courses, workshops, or certifications you've taken. Include any work experience you have in radio, whether it was paid or volunteer.
Don't forget to highlight any awards or accolades you've earned that are related to radio.
Make sure you showcase your technical skills. Radio professionals need to be tech-savvy, so list any software you're familiar with that could be used in a radio studio.
Finally, include a list of references with contact information. You'll want to make sure your references are radio professionals with whom you've had a positive working relationship.
By following these key takeaways, you can create a compelling resume that will help you stand out from the crowd and land the radio internship you've been dreaming of.
Let us help you build
your Resume!
Make your resume more organized and attractive with our Resume Builder