Are you an entry level mechanic looking for a new job? If you want to stand out among your competition, then you need to create an impressive resume. Writing a resume when you are an entry level mechanic can be intimidating, especially when you don't have the experience and skills needed to get your foot in the door. However, it doesn't have to be difficult. In this resume writing guide, we will cover key tips and examples to help you create a resume that will demonstrate your value to potential employers and increase your chances of landing the job.
If you didn't find what you were looking for, be sure to check out our complete library of resume examples.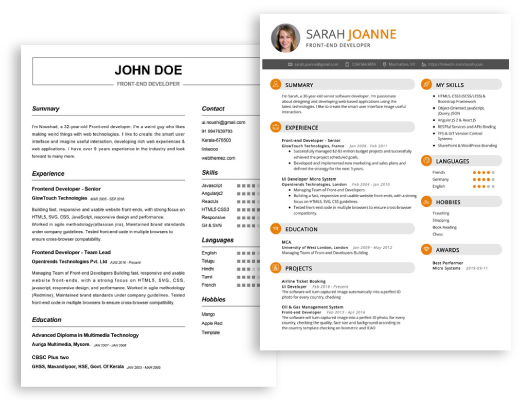 Start building your dream career today!
Create your professional resume in just 5 minutes with our easy-to-use resume builder!
Entry Level Mechanic Resume Examples
John Doe
Entry Level Mechanic
123 Main Street | Anytown, USA 99999 | Phone: (123) 456-7890 | Email: john.doe@email.com
I am an experienced Entry Level Mechanic with a passion for vehicle maintenance, repair and upgrading. Having worked for a major automotive company for over five years, I excel at troubleshooting and repair work for both cars and trucks. I have a strong knowledge of industry best practices, providing cost- effective solutions to customers with an understanding of their individual needs. My experience includes inspecting, diagnosing and repairing engines, brakes, transmissions, electrical systems, and other mechanical components.
Core Skills:
Diagnosing and troubleshooting automotive issues
Performing routine maintenance and repairing mechanical parts
Reading and interpreting technical documents
Maintaining accurate records and documenting work performed
Adhering to safety protocols and quality standards
Working with a variety of tools, including jacks, hoists, and power tools
Professional Experience:
Automotive Technician, ABC Auto Repair, 2015- 2020
Performed assessments of customer vehicles and provided detailed quotes
Diagnosed and repaired engine components, brakes, and electrical systems
Advised customers on cost- effective repair options and maintenance schedules
Maintained a clean and organized workspace to ensure safety
Education:
High School Diploma, Anytown High School, 2010- 2014
Entry Level Mechanic Resume with No Experience
Hardworking entry level mechanic with a passion for problem solving and a commitment to improving systems and processes. Experienced in the use of hand tools and diagnostic equipment to assess automotive systems and identify the necessary repairs. A fast learner who can quickly become a valuable member of any team.
Skills
Mechanical repairs
Troubleshooting and diagnostics
Automotive systems knowledge
Computer literacy
Excellent customer service
Safety awareness
Written and verbal communication
Time management
Teamwork
Responsibilities
Inspect vehicles for mechanical defects
Diagnose and repair automotive issues
Replace worn parts and components
Communicate with customers regarding vehicle issues and repairs
Maintain detailed records of repairs and services
Follow safety procedures while working on vehicles
Perform preventative maintenance on vehicles
Maintain a clean, organized work area
Entry Level Mechanic Resume with 2 Years of Experience
Highly motivated and detail- oriented Mechanic with 2 years of experience in the automotive service industry. Able to troubleshoot and diagnose a wide range of mechanical problems, from engine and transmission issues to suspension and electrical malfunctions. Skilled in using advanced diagnostic equipment and tools to accurately assess vehicle conditions and swiftly identify solutions. Committed to providing comprehensive and timely service to ensure customer satisfaction and safety.
Core Skills:
In- depth automotive mechanical knowledge
Expertise in diagnostic tools and equipment
Strong problem- solving and troubleshooting skills
Adept at reading and interpreting vehicle service manuals
Excellent interpersonal and communication skills
Strong commitment to customer satisfaction
Ability to work independently or in a team
Responsibilities:
Inspected vehicles to determine repair needs and provide estimates
Repaired and maintained vehicles according to manufacturer specifications
Performed scheduled maintenance services such as oil changes, tune- ups, and brake repairs
Troubleshot and diagnosed mechanical and electrical issues
Repaired and replaced parts such as brakes, tires, and exhaust systems
Performed minor welding repairs
Provided excellent customer service and timely updates on repair progress
Entry Level Mechanic Resume with 5 Years of Experience
I am an experienced Entry Level Mechanic with 5 years of experience in performing a range of maintenance, repair and installation services on a variety of vehicles. I am well- versed in performing preventive maintenance services, diagnosing faults and malfunctions, identifying worn and damaged parts, and performing necessary repairs and replacements. I can also identify and replace defective parts, while also providing customer service. I have strong mechanical and technical skills, as well as sound judgment and problem- solving abilities. I demonstrate excellent attention to detail and a commitment to safety.
Core Skills:
Strong mechanical and technical aptitude
Excellent problem- solving skills
Sound judgement and decision making
Attention to detail
Excellent customer service skills
Proficient in vehicle maintenance and repairs
Skilled in identifying worn and damaged parts
Responsibilities:
Perform preventive maintenance services
Diagnose faults and malfunctions and perform necessary repairs and replacements
Identify and replace defective parts
Provide excellent customer service
Maintain accurate records of vehicles serviced
Ensure compliance with safety policies and regulations
Perform inspections and routine maintenance on vehicles
Test and adjust repaired systems to manufacturer's performance specifications
Entry Level Mechanic Resume with 7 Years of Experience
I am an experienced Entry Level Mechanic with 7 years of experience in the automotive industry. I have a proven track record of successful repairs and maintenance work on a variety of cars and trucks, including a number of specialized or custom systems. I am also skilled in diagnosing and troubleshooting issues and have an extensive knowledge of repair parts and tools. I am reliable and committed to providing excellent customer service and communication.
Core Skills:
Automotive repair and maintenance
Diagnosis and troubleshooting
Parts and tools knowledge
Customer service and communication
Multi- tasking and problem- solving
Responsibilities:
Performed oil changes, brake replacements, and other preventive maintenance and repairs on a variety of cars and trucks.
Performed diagnostics and troubleshooting on cars and trucks to identify and fix problems.
Used specialized tools and equipment to replace and repair engine systems and components.
Maintained and repaired vehicle electrical systems and components, such as alternators and starters.
Inspected vehicles to identify and diagnose any mechanical, electrical, or other issues.
Consulted with customers on the cost and timeline of repairs and maintenance.
Utilized a computerized system to order parts and track orders.
Maintained a clean and organized work area.
Entry Level Mechanic Resume with 10 Years of Experience
A highly- skilled and experienced Mechanic with 10 years of experience in the industry, providing exceptional repairs and maintenance to a range of vehicles. A strong communicator and problem solver, with the ability to diagnose complex mechanical issues and develop effective solutions. Possesses a comprehensive knowledge of electrical and mechanical principles, as well as a commendable aptitude for identifying malfunctions and making necessary repairs. Demonstrates strong customer service skills, with the ability to create long- term relationships.
Core Skills:
Electrical & Mechanical Principles
Diagnose Complex Mechanical Issues
Vehicle Maintenance & Repair
Customer Service
Problem Solving
Communication
Responsibilities:
Inspect vehicles for mechanical faults, providing detailed reports on the condition of the vehicle.
Conduct routine servicing and maintenance, such as oil changes, brake repairs, tire rotations, and general checks.
Diagnose faults and make necessary repairs, using the latest diagnostic equipment and tools.
Inspect and test drive vehicles to ensure quality and safety.
Keep records of maintenance and repair work.
Provide customers with explanations of their repair and maintenance needs.
Maintain a safe and clean working environment.
Entry Level Mechanic Resume with 15 Years of Experience
A highly organized and reliable entry- level Mechanic with 15 years of experience in the automotive industry. Skilled in performing routine maintenance, as well as more extensive repairs on all types of cars, trucks, and other vehicles. Committed to safety, quality, and efficiency when repairing and maintaining vehicles. Possesses advanced knowledge of motor vehicle components, parts, and systems.
Core Skills:
Ability to diagnose and repair vehicles
Knowledge of motor vehicle components, parts, and systems
Understanding of vehicle maintenance and repair procedures
Ability to work safely and efficiently
Ability to use a range of tools and equipment
Excellent problem- solving skills
Excellent communication skills
Attention to detail
Ability to work as part of a team
Responsibilities:
Diagnose and repair vehicles
Test and inspect vehicles for necessary repairs
Repair and maintain brakes, engines, and other vehicle components
Perform preventive maintenance activities
Follow safety guidelines when working on vehicles
Provide accurate estimates for repairs and maintenance
Keep detailed records of work completed
Respond to customer inquiries and concerns
Maintain a neat and organized work area
In addition to this, be sure to check out our resume templates, resume formats, cover letter examples, job description, and career advice pages for more helpful tips and advice.
What should be included in a Entry Level Mechanic resume?
Getting an entry-level position as a mechanic can be a great way to start a career in the automotive industry. A well-crafted resume is key to getting an interview and landing the job. To help you create an effective resume, here is an overview of what should be included:
Contact Information: Start your resume with your name, address, phone number and email address.
Objective: Include a short and clear objective that outlines your career goals.
Work Experience: List all relevant work experience, such as internships and apprenticeships, as well as any part-time jobs you held. Include the name of the employer, location, dates of employment and job title for each position.
Education: Include information about your educational background, including any certifications you have earned.
Skills: Highlight any skills you have that make you stand out from other applicants. This can include anything from mechanical knowledge to troubleshooting abilities.
Areas of Expertise: List any specialties that you have, such as diesel engine repair or computer diagnostics.
Awards and Achievements: Include any awards or achievements you have earned related to your work experience or education.
References: Include at least three references that you can provide upon request.
By including all of the information listed above on your resume, you can make yourself stand out as an entry-level mechanic. An impressive resume will show employers that you are knowledgeable and capable in the field and could make all the difference in your job search.
What is a good summary for a Entry Level Mechanic resume?
An impressive Entry Level Mechanic resume should showcase a candidate's technical skills and abilities, as well as their understanding of safety procedures. It should also emphasize the mechanic's ability to maintain and repair vehicles and machinery, conduct performance tests, and work with minimal supervision. Additionally, an Entry Level Mechanic resume should include any certifications and technical expertise, such as knowledge of computer diagnostics or the ability to use specialized tools. Finally, highlighting any customer service experience can be a great way to show that a candidate is qualified to work with the public.
Creating a summary for an Entry Level Mechanic resume is a great way to set yourself apart. A summary should include the most important aspect of your experience and highlight your strongest skills. An example of a great summary for an Entry Level Mechanic resume could be as follows: "Dedicated Entry Level Mechanic with three years of experience in diagnosing and repairing automotive and industrial machinery. Possess strong knowledge of safety procedures and a commitment to customer service."
What is a good objective for a Entry Level Mechanic resume?
Finding a job as an entry level mechanic can be a challenge; your resume should clearly demonstrate your qualifications and highlight your experience in a way that catches the attention of potential employers. An effective objective for an entry level mechanic's resume should be tailored to the job you are applying for, and demonstrate how you are the best fit for that particular job.
A good objective for an entry level mechanic's resume should include:
Demonstrating your knowledge of mechanical concepts such as engines, electronics, preventive maintenance, and general automotive principles
Showing an understanding of basic tools and shop equipment
Providing evidence of your ability to work independently and as part of a larger team
Highlighting relevant experience with automotive repair and troubleshooting
Displaying excellent customer service and communication skills
Demonstrating an eagerness to learn and develop new skills
By crafting a strong and targeted entry level mechanic's resume objective, you can show potential employers that you are the ideal candidate for the job.
How do you list Entry Level Mechanic skills on a resume?
When you're applying for an entry-level mechanic position, you'll want to make sure to highlight your skills and abilities to give yourself the best chance at getting the job. To do this, you should add a section to your resume dedicated to listing your relevant skills for the mechanic role. Here are some of the skills to consider including:
Knowledge of automotive systems: Demonstrate your knowledge of engines, transmissions, suspension, brakes, and other systems that are integral to the functioning of a vehicle.
Problem-solving: Show your ability to identify problems and implement solutions.
Computer skills: Highlight your expertise in automotive software, such as specialized diagnostics programs.
Attention to detail: Show that you are able to detect even the smallest issues and take corrective action.
Communication skills: Demonstrate your ability to communicate clearly and effectively with clients.
Mechanical aptitude: Show your understanding of how different systems in a vehicle function.
Safety awareness: Show that you are keenly aware of the dangers of working on vehicles and that you take the necessary precautions to protect yourself and others.
By listing these skills on your resume, you can show employers that you have what it takes to succeed in an entry-level mechanic position.
What skills should I put on my resume for Entry Level Mechanic?
When it comes to crafting an entry-level mechanic resume, the most important thing is to highlight your previous experience, skills and qualifications that make you a great fit for the position. Although the entry-level mechanic job market is competitive, standing out from the rest of the candidates can make all the difference. Here are some key skills you should include on your mechanic resume:
Knowledge of mechanical, hydraulic, and electrical systems: An entry-level mechanic should have a strong understanding of how mechanical, hydraulic and electrical systems work.
Excellent diagnostic skills: Mechanics need to be able to accurately diagnose issues with vehicles.
Strong problem-solving skills: Mechanics should be able to troubleshoot and find solutions to difficult problems.
Good communication skills: Mechanics need to be able to communicate effectively with customers, colleagues, and supervisors.
Attention to detail: Mechanics should pay close attention to detail when inspecting and servicing vehicles.
Ability to follow instructions: Mechanics should be able to read and follow instructions from service manuals.
Safety awareness: Mechanics should always follow safe operating procedures when working with vehicles.
Including these skills on your entry level mechanic resume will demonstrate to potential employers that you have the knowledge and experience necessary to excel in the position.
Key takeaways for an Entry Level Mechanic resume
If you're an entry-level mechanic, you know how important it is to have a good resume. Your resume is the first thing a potential employer sees, so you have to make sure it stands out from the crowd and really showcases your skills and experience. Here are some key takeaways you should consider when creating an entry-level mechanic resume:
Focus on the specifics that make you a great mechanic. When crafting your resume for an entry-level mechanic job, make sure to focus on the skills and abilities that make you an ideal candidate. What sets you apart from other applicants? Are you experienced with a particular type of machinery? Do you have a knack for troubleshooting complex problems? Be sure to highlight your unique talents and qualifications.
Include any relevant certifications or training. Your education and training can be a great selling point on a resume, especially if it's in the field of mechanics. Any certifications or specialized training you have should be included, as it shows you are well-prepared to tackle any job.
Demonstrate your problem-solving skills. A mechanic is often called upon to troubleshoot and diagnose complex machinery problems. Showing that you have the ability to think critically and solve complex issues can be a major plus. Include any relevant examples of problem-solving in your resume to showcase your skills in this area.
Highlight any relevant experience. If you've had previous experience in the field of mechanics, be sure to include it on your resume. This will demonstrate to potential employers that you have a good base of knowledge and experience in the industry.
Showcase your communication skills. Mechanics often have to interact with customers, so your resume should include any examples of customer service or communication skills. You want to show that you have the ability to listen, understand, and respond to customer needs.
Let us help you build
your Resume!
Make your resume more organized and attractive with our Resume Builder