Writing a resume for a surveillance investigator job is no easy task. It requires a combination of specialized writing techniques and industry knowledge that can be difficult to master. This guide will provide you with tips, examples, and resources to help you create a resume that will get you noticed by potential employers. You will learn how to highlight your qualifications, craft an attention-grabbing summary, and format your resume in a way that will make it stand out. With this guide, you will have the necessary tools to make a successful impression and increase your chances of getting your dream job as a surveillance investigator.
If you didn't find what you were looking for, be sure to check out our complete library of resume examples.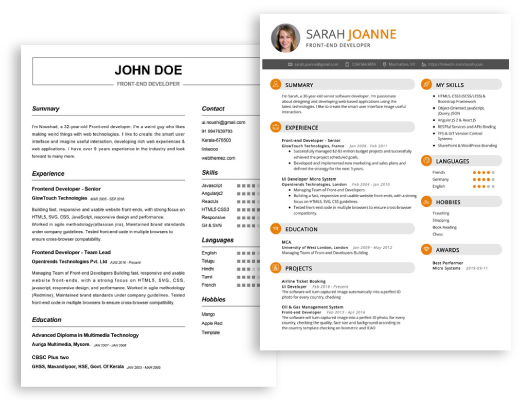 Start building your dream career today!
Create your professional resume in just 5 minutes with our easy-to-use resume builder!
Surveillance Investigator Resume Examples
John Doe
Surveillance Investigator
123 Main Street | Anytown, USA 99999 | Phone: (123) 456-7890 | Email: john.doe@email.com
I am a highly motivated and organized Surveillance Investigator with a proven track record of successful investigations and integrity. I have a comprehensive understanding of investigative techniques, surveillance operations and techniques, intelligence gathering, and report- writing. I excel at developing leads and gathering evidence, and have an aptitude for analyzing evidence and formulating conclusions. I am experienced in interviewing witnesses and conducting interrogations. I am also proficient in using various surveillance and electronic equipment.
Core Skills:
Investigation and Surveillance
Intelligence Gathering
Report Writing
Evidence Analysis
Interviewing/Interrogation
Proficient with Surveillance Equipment
Professional Experience:
Surveillance Investigator, Private Investigations, City Name, State – June 2019 to Present
Conducted in- depth investigations on a variety of cases and compiled evidence for court proceedings
Performed a variety of surveillance and intelligence gathering operations for criminal and civil cases
Developed leads, interviewed witnesses and conducted interrogations
Utilized various surveillance and electronic equipment in investigations
Investigator, Private Investigations, City Name, State – August 2017 to June 2019
Carried out investigations on a wide range of cases, including insurance fraud and corporate theft
Collected intelligence, gathered evidence and wrote detailed reports
Interviewed witnesses and conducted interrogations
Operated surveillance equipment and provided surveillance services
Education:
Bachelor of Science in Criminal Justice, University Name, City Name, State – June 2017
Surveillance Investigator Resume with No Experience
Recent graduate seeking entry- level position as a Surveillance Investigator. Possess comprehensive knowledge of surveillance techniques, data manipulation, and investigative principles from academic coursework. Proficient in use of CCTV footage, research methods, and data analysis. Ability to remain calm and attentive in high- pressure situations.
Skills
Excellent observation and documentation skills
Strong communication and interpersonal skills
Proficient in Microsoft Office Suite
Ability to work in an organized and efficient manner
Strong problem- solving skills
Ability to work independently or as part of a team
Highly organized with excellent time- management skills
Ability to remain composed and professional in high- pressure environments
Responsibilities
Conduct investigations using surveillance techniques
Analyze CCTV footage and identify suspects
Monitor people and activities in public areas
Interact with the public in a courteous and professional manner
Take detailed notes of events and conversations
Collect and analyze evidence related to the case
Assist in the preparation of reports for presentation in court
Attend training classes to stay up to date with advances in surveillance technology and investigative methods
Surveillance Investigator Resume with 2 Years of Experience
Highly motivated Surveillance Investigator with two years of experience in conducting investigations, providing security, and carrying out surveillance operations. A skilled problem- solver with excellent communication and interpersonal skills, able to assess and manage risk, build strong working relationships with clients, and ensure their safety and security. Capable of working independently or in a team and delivering a high level of service.
Core Skills:
Investigative Research
Surveillance Operations
Risk Assessment
Security Protocol
Conflict Resolution
Record Keeping
Data Analysis
Report Writing
Responsibilities:
Conducted investigations to uncover evidence related to a variety of cases.
Performed surveillance operations to monitor client safety and security.
Assessed and managed potential risks utilizing security protocols.
Researched evidence and recorded all findings in accordance with legal regulations.
Maintained detailed records of surveillance activity and evidence.
Analyzed data and prepared reports for attorneys and clients.
Provided conflict resolution and dispute resolution services.
Surveillance Investigator Resume with 5 Years of Experience
Highly trained Surveillance Investigator with 5 years of professional experience in investigations, surveillance, and security operations. Proven track record of successfully executing a variety of investigations and surveillance operations using modern techniques and systems. Experienced in gathering evidence, tracking activities, and conducting interviews. Possess excellent problem solving, interpersonal, communication and surveillance skills.
Core Skills:
Surveillance
Investigations
Security Operations
Evidence Gathering
Activity Tracking
Interviewing
Problem Solving
Interpersonal Communication
Data Analysis
Research
Report Writing
Responsibilities:
Conducted covert and overt surveillance on suspects and targets.
Gathered evidence and performed physical searches to locate suspects and targets.
Monitored areas for suspicious activities and reported any possible violations.
Conducted interviews and interrogations with suspects, witnesses and informants.
Recorded and documented surveillance activity and operations.
Analyzed data and reviewed reports.
Prepared detailed reports and presentations on findings.
Created profiles of suspects and targets.
Ensured compliance with security regulations and procedure.
Provided training and instruction to new staff.
Surveillance Investigator Resume with 7 Years of Experience
To obtain a challenging and rewarding Surveillance Investigator position with a reputable organization in order to obtain the most effective knowledge and experience in the field.
I am an experienced Surveillance Investigator with 7+ years of experience conducting surveillance operations. I possess a keen eye for detail and an excellent ability to assess, interpret and evaluate surveillance footage in order to produce accurate and outcome- oriented results. I am well- versed in the best practices and principles in the field while also having exceptional communication, organizational and interpersonal skills. I am highly motivated and passionate about conducting thorough investigations and gathering evidence to help criminal cases.
Core Skills:
Surveillance techniques and methods
Knowledge of criminal laws and procedures
Proficient in using technology and surveillance equipment
Analyzing and interpreting surveillance footage
Interpersonal and communication skills
Organizational, problem solving, and decision- making skills
Responsibilities:
Conduct surveillance operations to gather evidence for criminal cases
Analyze and interpret surveillance footage and data
Interview suspects, witnesses and victims
Create and maintain reports and records of all surveillance activities
Maintain confidentiality of information
Identify potential suspects and investigate their backgrounds
Monitor suspects in public places and record activities
Remain up- to- date with all laws and regulations in the field
Surveillance Investigator Resume with 10 Years of Experience
Seasoned Surveillance Investigator with 10 years of experience in conducting surveillance activities to uncover and investigate workers' compensation fraud. Adept at finding, collecting and analyzing evidence, conducting interviews, preparing reports and making recommendations. Proven success in securing fraudulent workers' compensation benefits, establishing legally binding evidence of fraud and providing expert witness testimony.
Core Skills:
Surveillance Techniques
Evidence Collection
Interviewing
Report Writing
Courtroom Testimony
Investigative Analysis
Data Entry
Database Management
Responsibilities:
Conducted surveillance activities to uncover and investigate workers' compensation fraud
Used cameras, video equipment and other tools to capture evidence of fraud
Collected and analyzed evidence, including video and audio recordings
Interviewed witnesses and other parties to obtain information and evidence
Summarized findings in detailed reports and made recommendations
Prepared evidence and testimony for court proceedings
Testified as an expert witness in court proceedings on workers' compensation fraud cases
Entered and managed data in computer databases for records and analysis
Surveillance Investigator Resume with 15 Years of Experience
Experienced Surveillance Investigator with 15 years of experience in conducting investigations and providing surveillance services. Skilled at obtaining, analyzing, and interpreting facts and evidence to determine investigative findings. Proven ability to assess risk, develop and execute investigative strategies, and write comprehensive reports. Well- versed in conducting surveillance activities, maintaining detailed records, and following complex and sensitive investigations to successful resolutions.
Core Skills:
Surveillance activities
Risk assessment
Evidence collection
Fact- finding
Report writing
Interviewing
Data analysis
Investigative strategies
Documentation
Negotiation
Responsibilities:
Conducted surveillance activities and investigations to monitor, detect, and apprehend suspected individuals.
Gathered facts, evidence, and other pertinent information to assess risks and develop investigative strategies.
Interviewed witnesses, suspects, and other involved parties to collect information and evidence.
Analyzed data, facts, and other evidence to draw conclusions and establish investigative findings.
Wrote comprehensive reports of investigations and surveillance activities.
Maintained detailed records and documentation of investigations and activities.
Negotiated with witnesses, suspects, and other parties to ensure compliance with established protocols.
Monitored suspects' movements and activities to ensure safety and security.
In addition to this, be sure to check out our resume templates, resume formats, cover letter examples, job description, and career advice pages for more helpful tips and advice.
What should be included in a Surveillance Investigator resume?
Your resume is one of the most important tools you have in the job search process. As a Surveillance Investigator, it is important to include both your qualifications and experience in the security and investigation field. Here are some of the key components to consider when crafting your Surveillance Investigator resume:
Professional Summary: Provide a brief overview of your qualifications and experience. Be sure to highlight specific accomplishments and any special certifications you possess.
Skills: List any relevant skills and expertise you have in the security and investigation field. This can include technical knowledge, interpersonal skills, and any specialized training.
Professional Experience: Outline the roles you have held in the security and investigation industry. Make sure to include the company's name, your role, and key responsibilities.
Education: Include any relevant degrees or certifications that are applicable to the Surveillance Investigator role.
References: If possible, provide the contact information of a few past employers or colleagues who can attest to your skills and experience.
By including these components in your resume, you can create a powerful and persuasive document that will help you stand out from other applicants. With the right resume, you can land the job of your dreams as a Surveillance Investigator.
What is a good summary for a Surveillance Investigator resume?
A Surveillance Investigator resume should provide a summary of the unique set of skills and qualifications that the individual possesses. The summary should highlight any relevant experience in surveillance, investigation, data analysis, and communication. It should also include any specialized training or certifications related to surveillance and investigation. Furthermore, the summary should include any relevant software and technology skills as well as any formal education or training related to the field. Finally, the summary should demonstrate an understanding of the ethical and legal standards associated with investigative work.
What is a good objective for a Surveillance Investigator resume?
A Surveillance Investigator resume should include a good objective to give hiring managers a quick overview of your experience and qualifications. A good objective should be tailored to the job you're applying for, emphasizing your relevant skills and abilities. Here are some objectives that you can use when drafting your resume:
Highly motivated Surveillance Investigator with 5+ years of experience in conducting investigations, gathering evidence, and preparing reports.
Seeking to apply investigative and analytical skills to a Surveillance Investigator role to protect clients and uphold the law.
Proven ability to identify and assess potential security risks and develop effective security strategies to mitigate them.
Competent in using various surveillance tools and technologies to monitor activities and collect data.
Adept at conducting covert investigations, interviewing suspects, and testifying in court.
Experienced with both physical and cyber security investigations to detect suspicious activity.
By including a good objective statement in your resume, you can help boost your chances of getting noticed by employers. Use these examples to create an objective statement that reflects your unique qualifications and experience.
How do you list Surveillance Investigator skills on a resume?
Surveillance Investigators possess a variety of skills that allow them to successfully investigate cases, gather evidence and report their findings. If you are applying for a job as a Surveillance Investigator, you should highlight your skills on your resume to give potential employers an idea of your qualifications for the job. Here is how you can list your Surveillance Investigator skills on a resume:
Surveillance Operations: Surveillance Investigators must be able to conduct surveillance operations with accuracy and discretion. This includes being able to conduct surveillance in various settings, gathering evidence, and effectively documenting findings.
Investigation Techniques: Surveillance Investigators need to be knowledgeable of various investigative techniques, such as interviewing witnesses and suspects, conducting stakeouts, and conducting research.
Report Writing: Surveillance Investigators must be able to write detailed reports of their investigations and findings. This includes being able to effectively organize and present evidence in a clear and concise manner.
Analytical Ability: Surveillance Investigators must possess strong analytical and problem-solving skills in order to assess evidence, draw conclusions, and develop strategies for further investigation.
Interpersonal Skills: Surveillance Investigators must be able to communicate effectively with witnesses and suspects, as well as with colleagues and supervisors.
Computer Proficiency: Surveillance Investigators must be proficient in using computer programs and software, such as databases and word processing applications, in order to effectively collect and organize data.
What skills should I put on my resume for Surveillance Investigator?
A Surveillance Investigator must possess a unique set of skills to conduct their duties effectively. When putting your skills on your resume, it is important to highlight your qualifications that demonstrate your ability to conduct surveillance investigations. Here are some skills to consider listing on your resume:
Interviewing: The ability to effectively interview witnesses and suspects is a key skill for any Surveillance Investigator.
Surveillance Techniques: Surveillance Investigators must be knowledgeable of the latest surveillance techniques, such as using audio and video recording devices.
Criminal Investigation: An understanding of criminal investigation procedures is key for Surveillance Investigators in order to properly investigate cases.
Attention to Detail: Surveillance Investigators must pay close attention to detail and be able to recognize and analyze clues gathered during their investigations.
Report Writing: Surveillance Investigators must be able to compile detailed reports on their investigations, as well as provide evidence in court if necessary.
Knowledge of Laws: Surveillance Investigators must understand the laws and regulations of their particular jurisdiction.
Computer Skills: Surveillance Investigators must have a working knowledge of computers and software programs in order to efficiently store and retrieve data.
By including these skills on your resume, you can demonstrate to employers that you possess the qualifications to be a successful Surveillance Investigator.
Key takeaways for an Surveillance Investigator resume
When you're ready to take the next step in your career as a surveillance investigator, it's important to craft a resume that accurately reflects your knowledge and experience. Here are some key takeaways to incorporate into your resume:
Demonstrate your ability to conduct undercover investigations: Showcase the results of your successful investigations, such as uncovering fraud or detecting suspicious activity.
Emphasize your proficiency with surveillance technology: Describe the tools that you use on a daily basis, such as cameras, GPS tracking devices, and infrared detectors.
Highlight your knowledge of surveillance laws: Demonstrate your understanding of the legal system and your ability to stay within the parameters of the law when conducting investigations.
Showcase your training and experience: You should provide details about the specialized classes that you have taken and the training that you have received in order to become an effective surveillance investigator.
Detail your investigative skills: Describe the techniques that you use to complete your assignments and the types of evidence that you look for.
Describe your knowledge of proper procedure: Ensure that your resume reflects your understanding of proper protocol for surveillance investigations, such as when to notify law enforcement or other authorities.
By incorporating these key takeaways into your resume, you can emphasize your qualifications as a surveillance investigator and demonstrate that you have the skills and experience needed to excel in this field.
Let us help you build
your Resume!
Make your resume more organized and attractive with our Resume Builder