Writing a resume for a skip tracer role requires its own set of skills and knowledge. As a skip tracer, you will be tracking down people who have become difficult to find, so you need to show that you have the skills and knowledge to be successful in this field. This guide will provide a step-by-step process for writing a skip tracer resume, as well as some helpful tips and examples to ensure your resume stands out among the competition. With the right resume, you can present yourself as the ideal candidate for the job and land your desired position as a skip tracer.
If you didn't find what you were looking for, be sure to check out our complete library of resume examples.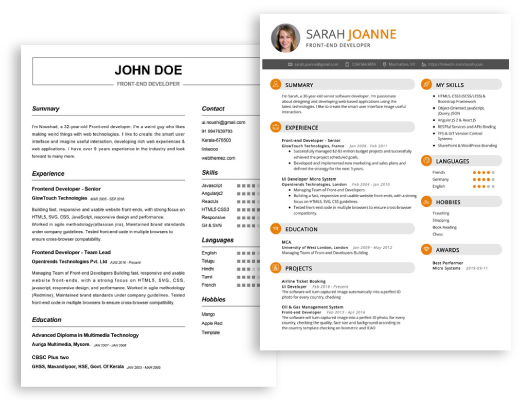 Start building your dream career today!
Create your professional resume in just 5 minutes with our easy-to-use resume builder!
Skip Tracer Resume Examples
John Doe
Skip Tracer
123 Main Street | Anytown, USA 99999 | Phone: (123) 456-7890 | Email: john.doe@email.com
A highly organized, detail- oriented and results- driven professional with over 10 years of experience in Skip Tracing and Debt Recovery. Possesses strong communication and negotiation skills, and the ability to maintain strict confidentiality. Skilled in the use of advanced skip tracing software, databases, and research techniques to locate individuals who are in hiding or have gone missing. Strong problem- solving abilities and a commitment to excellent customer service to ensure clients' satisfaction and successful debt collection.
Core Skills:
Skip Tracing
Debt Recovery
Negotiation
Communication
Database Management
Research
Problem- Solving
Microsoft Office Suite
Confidentiality
Professional Experience:
Skip Tracer
Debt Collection Agency, Los Angeles, CA
August 2015 – Present
Utilize skip- tracing techniques, including conducting interviews, cold- calling, conducting background checks, and utilizing investigative databases to locate and contact individuals who have gone missing or are in hiding.
Negotiate payment plans with individuals and their representatives.
Manage the collection of past- due accounts, ensuring all actions are taken in compliance with client and legal regulations.
Prepare detailed reports of activities and results for management and clients.
Education:
Bachelor of Science in Criminal Justice,
University of California, Los Angeles, CA
May 2013
Skip Tracer Resume with No Experience
Results- driven skip tracer with a passion for helping others. Possesses a strong work ethic and excellent time management skills. Demonstrates an ability to solve problems and keep track of multiple tasks simultaneously. Dedicated to providing superior customer service.
Skills
Proficient in skip tracing techniques, such as database searches and cold calling
Excellent communication and interpersonal skills
Highly organized and adept at multitasking
Strong understanding of laws and regulations regarding the collection of debt
Proficient in Microsoft Office Suite
Responsibilities
Conduct skip tracing to locate individuals who are in debt
Make phone calls to verify contacts and relevant information
Investigate and compile information from public records
Record data and notes in skip tracing software
Comply with laws and regulations regarding the collection of debt
Provide superior customer service to clients
Maintain a positive attitude and professional demeanor at all times
Skip Tracer Resume with 2 Years of Experience
Highly organized and detail- oriented professional offering 2 years of experience as a Skip Tracer. Adept at collecting and verifying data, analyzing information and conducting research to locate individuals. Possess a strong sense of responsibility, excellent communication skills and the ability to work independently.
Core Skills:
Liaising with clients to provide accurate and timely updates
Conducting research, background checks and criminal records
Proficient in MS Office, Internet and database research
Great written and oral communication skills
Utilizing investigative techniques to locate people
Ability to handle sensitive and confidential information
Excellent time management and organizational skills
Responsibilities:
Investigating the whereabouts of individuals missing or wanted by the court
Collecting, verifying and analyzing data from various sources
Contacting and locating individuals, utilizing databases and other investigative techniques
Working closely with law enforcement, attorneys and other professionals
Preparing detailed reports of investigation findings
Establishing and maintaining relationships with clients, providing updates and resolving issues
Working independently to locate missing or wanted individuals
Skip Tracer Resume with 5 Years of Experience
Highly driven and accomplished Skip Tracer with over 5 years of experience in locating individuals or property for the purpose of debt collection or legal proceedings. Possessing a strong knowledge of private investigation techniques, state and federal laws and regulations, and an exceptional ability to work with people from different backgrounds. Adept in gathering information from various sources, including computer databases and public records, and utilizing it to locate individuals. Skilled at negotiating with debtors and developing creative solutions for difficult cases.
Core Skills:
In- depth knowledge of investigative techniques and private investigation processes
Familiarity with state and federal laws and regulations
Adept in gathering and analyzing data from databases and public records
Excellent communication and negotiation skills
Proficient in MS Office and other computer programs
Highly organized and detail- oriented
Responsibilities:
Locate debtors or individuals using a variety of methods, such as skip tracing or asset searches
Perform searches of public records and computer databases to obtain needed information
Gather data to be used as evidence in legal proceedings
Negotiate with debtors and develop payment plans or other solutions
Ensure compliance with state and federal laws and regulations
Prepare detailed reports and maintain organized records of activities
Conduct investigations, surveillance, and background checks when necessary
Skip Tracer Resume with 7 Years of Experience
Dependable and highly organized skip tracer with 7 years of experience in locating debtors, verifying personal information and conducting surveillance operations. Possesses expertise in using skip tracing software and financial databases to locate individuals and has an unwavering commitment to maintaining discretion with sensitive information. Utilizes strong research, communication and problem- solving skills to quickly and efficiently track down debtors.
Core Skills:
Skip tracing software
Financial databases
Research
Communication
Problem- solving
Surveillance
Discretion
Data analysis
Customer service
Responsibilities:
Conducted skip tracing searches to locate debtors utilizing a variety of sources including public records, credit reports, skip tracing software, financial databases and other resources.
Verified personal information provided by debtors and clients, such as address, phone numbers, employment and financial histories.
Surveilled debtors to determine movements and whereabouts.
Entered debtor information into a database and compiled detailed reports.
Updated and maintained client files with collected information.
Analyzed and interpreted data to provide accurate recommendations and solutions.
Provided excellent customer service and addressed any inquiries or issues in a timely and efficient manner.
Skip Tracer Resume with 10 Years of Experience
Skilled skip tracer with over 10 years of experience in locating missing persons, examining databases and records, finding assets, and providing investigative services. Possesses strong problem- solving, communication, and interpersonal skills. Excellent ability to develop and maintain relationships with clients and colleagues. Highly organized and detail- oriented.
Core Skills:
Investigative Skills
Database and Records Research
Person Locating
Asset Searching
Problem- Solving
Communication
Interpersonal Skills
Organization
Detailed- Oriented
Responsibilities:
Locating missing persons using databases and records
Interviewing sources to obtain information
Organizing and preparing reports
Maintaining client relationships
Analyzing information to develop leads
Screening and evaluating resources
Conducting background checks and investigations
Preparing affidavits, court documents, and subpoenas
Negotiating with debtors to collect payments
Skip Tracer Resume with 15 Years of Experience
A highly experienced and talented Skip Tracer with fifteen years of experience in locating and collecting debt from debtors. Highly adept at using skip tracing technologies, continuously staying up to date with industry trends, and building relationships with debtors. Skilled at collecting data through research and analysis, utilizing internal and external resources, and providing information to legal professionals.
Core Skills:
Skip tracing
Data collection
Research and analysis
Using internal and external resources
Providing information to legal professionals
Industry trends
Building relationships
Debtor collection
Responsibilities:
Perform skip tracing activities to locate debtors and obtain contact information
Utilize skip trace databases and other internal and external resources to collect data
Analyze debtor's financial background to identify collection opportunities
Provide detailed reports to legal professionals in order to support debt collection
Maintain records of collection processes and update debtor profiles accordingly
Stay up to date with industry trends and regulations to ensure compliance
Negotiate payment plans with debtors and maintain professional relationships for future dealings
In addition to this, be sure to check out our resume templates, resume formats, cover letter examples, job description, and career advice pages for more helpful tips and advice.
What should be included in a Skip Tracer resume?
A skip tracer is a person responsible for tracking and locating people who have evaded responsibility for debts, taxes, or other obligations. It is an important job that requires skill, experience, and determination. To stand out from the competition when applying for a skip tracing job, your resume must include the following:
Professional summary: Provide a brief summary of your experience and qualifications in the field of skip tracing. Mention any relevant skills or certifications you possess.
Education: Include any relevant education or training you have in the field of skip tracing.
Skills: List and describe the specific skills and abilities you possess that can be utilized in the role of a skip tracer. Examples include research skills, problem-solving abilities, investigative methods, communication skills and facility with databases.
Experiences: List all of your relevant experiences as a skip tracer, including any successes or challenges you faced.
Results: Showcase any successes you have had as a skip tracer. Examples include successful locating of individuals, recovering of debt, or other positive outcomes.
Professional references: Provide contact information for any professional references who can attest to your qualifications and experience.
By making sure your resume includes all of the necessary elements, you can set yourself apart from the competition and demonstrate your aptitude for the job.
What is a good summary for a Skip Tracer resume?
A well-crafted resume summary for a skip tracer should highlight the candidate's experience in locating and serving process, as well as other relevant investigative skills. It should provide a brief but accurate overview of the candidate's skills, knowledge and experience in the skip tracing field. The summary should also reference any specialized training or certifications the candidate has earned related to skip tracing. Additionally, the summary should emphasize the candidate's success in finding people in difficult or high-stakes cases, as well as their ability to work with clients and manage a variety of cases at once. Ultimately, the summary should give potential employers a sense of the candidate's technical and interpersonal skills that make them an ideal skip tracer.
What is a good objective for a Skip Tracer resume?
A skip tracer's objective on a resume should clearly state their goals and aspirations in order to set themselves apart from the competition. The objective should also highlight the qualifications they have that can provide value to the employer. Here are some good objectives for a skip tracer resume:
To secure a skip tracer position with a reputable organization and use my investigative and communication skills to assist in locating people with outstanding debts or judgments.
To leverage my background in legal studies, skip tracing, and investigative research to aid in the recovery of debts and judgments for a leading financial institution.
To utilize my organizational and communication skills to successfully locate missing debtors and help recover debts and judgments for a lending institution.
Seeking a skip tracer position with a highly regarded organization that will allow me to use my investigative and problem-solving skills to assist in the recovery of overdue debts and judgments.
How do you list Skip Tracer skills on a resume?
A skip tracer is a type of investigator who locates debtors or people who are difficult to find. To be successful in this career, a person needs to possess certain skills. When listing skip tracer skills on a resume, it's important to showcase the most relevant and necessary abilities for the job.
Here are some skills to include on your resume:
Problem-solving: Skip tracers must be able to think critically and solve complex problems.
Research: A skip tracer must be able to research and locate information from a variety of sources, such as public records, databases, and social media.
Interviewing: Skip tracers must be able to question people in order to find information about the person they are searching for.
Computer skills: Skip tracers must be able to use computers and software used for research and tracking.
Negotiation: When locating debtors, a skip tracer must be able to negotiate payment plans.
Attention to detail: Skip tracers must have the ability to pay close attention to small details.
Analytical skills: Skip tracers must have the ability to analyze data and make decisions based on the information they have collected.
Time management: Skip tracers must be able to manage their time efficiently in order to complete tasks in a timely manner.
What skills should I put on my resume for Skip Tracer?
Skip tracers are professionals who track down people who owe money or have warrants out for their arrest. They must be able to conduct detailed research, analyze data, and interpret complex information to locate individuals. To successfully land a job as a skip tracer, it is essential to have the right skills on your resume.
Investigative Skills: As a skip tracer, you will need to be able to conduct thorough investigations in order to locate people. This requires strong investigative skills, including the ability to research, analyze data, find patterns in information, and draw conclusions.
Verbal Communication: Skip tracers must also be able to effectively communicate with people in order to obtain information. This includes the ability to listen, interpret, and quickly respond to questions and requests.
Technology: Skip tracers must be comfortable working with a variety of technology and software. This may include anything from databases and mapping programs to social media and other online research tools.
Attention to Detail: A skip tracer must also be able to pay attention to small details in order to successfully locate individuals. This means being able to remember details, recognize patterns, and follow up on leads.
Problem-Solving: Skip tracers must be able to think on their feet and come up with creative solutions when faced with a challenge. This requires the ability to think outside of the box, analyze data, and draw logical conclusions.
Organization: Skip tracers must be able to organize and analyze large amounts of data in order to locate people. This includes the ability to use spreadsheets and other software to organize and track information.
By showcasing these skills on your resume, you will be able to demonstrate that you have the necessary skills to succeed as a skip tracer.
Key takeaways for an Skip Tracer resume
When it comes to writing a resume for a Skip Tracer role, there are a few key takeaways you should focus on. The first takeaway is that your resume should demonstrate your knowledge of relevant laws and regulations. As a Skip Tracer, you need to be well-versed in laws related to data collection and privacy, so make sure you highlight any such experience you have on your resume.
In addition, your resume should showcase your investigative skills. You should emphasize any experience you have in conducting research, tracking down people, and conducting interviews. The ability to obtain and analyze information is a crucial part of the job, so make sure you include relevant skills and experiences on your resume.
Finally, you should highlight any experience you have with the necessary software and technology. Skip Tracing involves using various databases, so be sure to list any experience you have with those technologies. You should also list any software you are familiar with and any databases you have worked with.
These are just a few of the key takeaways for writing a Skip Tracer resume. Make sure you emphasize your knowledge of the relevant laws and regulations, as well as your investigative skills and experience with the necessary technologies. With these key takeaways in hand, you'll be able to create a resume that stands out from the competition and lands you the job.
Let us help you build
your Resume!
Make your resume more organized and attractive with our Resume Builder