If you are interested in a career as a Ski Patrol, it is essential to have an impeccable resume. As Ski Patrol is an incredibly competitive profession that requires an advanced skillset, your resume should accurately depict your qualifications and experience. Writing a resume can be an intimidating task, but this guide outlines the key elements necessary to make your resume stand out. With the help of resume examples, you will be able to construct a resume that will effectively highlight your skills and accomplishments.
If you didn't find what you were looking for, be sure to check out our complete library of resume examples.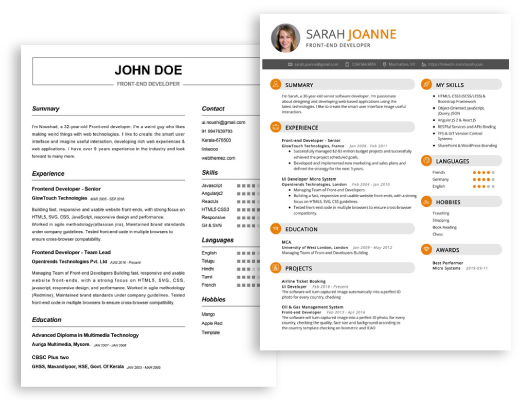 Start building your dream career today!
Create your professional resume in just 5 minutes with our easy-to-use resume builder!
Ski Patrol Resume Examples
John Doe
Ski Patrol
123 Main Street | Anytown, USA 99999 | Phone: (123) 456-7890 | Email: john.doe@email.com
I am an experienced Ski Patrol professional, with over 5 years of experience in the industry. I am highly knowledgeable and certified in a variety of related topics, and have a successful track record of responding to medical emergencies and providing support on the slopes. I am passionate about creating a safe and enjoyable skiing environment, and I am confident that I can make a positive contribution to any ski resort.
Core Skills
Advanced medical knowledge and certification, including CPR/AED and First Aid
Experience in ski patrol operations and safety procedures
Strong communication and interpersonal skills
Thorough knowledge of ski resort services and terrain
Ability to maintain professional composure in hazardous situations
Proficient in ski patrol emergency response
Excellent problem solving and decision making abilities
Professional Experience
Ski Patrol, Alpine Resorts, Inc. – 2019 – Present
Monitor ski resort activities and respond to emergency calls
Educate patrons on resort regulations and safety procedures
Organize and lead group lessons and activities
Assist with ski patrol operations and maintenance
Perform first aid and CPR when needed
Maintain a high level of alertness in hazardous conditions
Work closely with ski resort management and other ski patrol professionals
Education
B.S. in Ski Patrol and Safety, University of Montana – 2019
Ski Patrol Resume with No Experience
Recent college graduate passionate about providing safe and enjoyable skiing experiences for all levels. Comfortable working in a variety of conditions and possess the ability to think quickly and respond to emergencies. Possess excellent communication, problem solving and customer service skills.
Skills
Excellent communication
Problem solving
Customer service
Attention to detail
First aid/CPR certified
Emergency response
Responsibilities
Monitoring equipment, ensuring that equipment is in working order and being used safely
Working with other ski patrol members to ensure that all trails and lifts are safe
Providing first aid to injured skiers
Cleaning and maintaining the ski patrol station
Providing assistance to guests in a variety of ways, such as providing directions and safety information
Keeping an eye out for potential hazards on the slopes and responding to any emergency situations that may arise
Ski Patrol Resume with 2 Years of Experience
Highly experienced ski patroller with two years of service in the ski patrol industry. Possess strong technical skills in first aid, emergency management, and ski patrol operations. Dedicated to providing a safe and enjoyable experience for skiers of all ages and levels. Possess a current Ski Patrol Certification and First Aid Certification.
Core Skills:
First Aid
Emergency Management
Ski Patrol Operations
Risk Management
Equipment Maintenance
Ski Safety
Injury Prevention
Ski Rescue
Outdoor Leadership
Incident Reporting
Responsibilities:
Responded to on- mountain medical and safety emergencies
Coordinated and conducted safety inspections of the ski resort
Inspected and maintained all ski patrol equipment
Prepared and updated incident and accident reports
Monitored skiers for unsafe skiing behavior
Trained and mentored new ski patrollers on the mountain
Implemented ski patrol operations and protocols
Assisted in teaching first aid courses to ski patrollers
Managed ski patrol operations during special events
Assisted in the development and implementation of safety protocols
Conducted ski safety classes and awareness programs
Ski Patrol Resume with 5 Years of Experience
Highly motivated Ski Patrol professional with 5 years of experience in providing emergency medical assistance, creating and managing emergency evacuation plans, and making sure safe and secure environment for ski resort visitors. Possesses strong communication and customer service skills, and excellent judgement to recognize potential risks and make swift decisions in emergency situations. Committed to upholding ski resort safety standards and working in support of the team.
Core Skills:
Emergency medical assistance
Safety protocols and standards
Creating and managing emergency evacuation plans
Strong communication and customer service
Risk assessment and judgement
Teamwork and collaboration
Outdoor recreational activities
Responsibilities:
Organized, monitored, and operated ski lifts and other mountain equipment
Greeted and provided instructions to guests on proper safety protocol and use of ski equipment
Assisted in the maintenance and repair of ski equipment
Performed first aid and CPR
Assisted in avalanche control operations
Conducted avalanche and snowpack safety education seminars
Created and managed emergency evacuation plans in the event of an emergency
Monitored and assessed environmental conditions to ensure safe skiing conditions
Assisted with ski patrol rescue operations
Maintained and updated records on ski patrol operations and activities
Ski Patrol Resume with 7 Years of Experience
With 7 years of ski patrol experience, I have gained a comprehensive knowledge of mountain safety and emergency medical services. My experience includes teaching safety protocols, patrolling ski slopes, responding to on- mountain emergency situations, and providing first- aid. I am an effective communicator who is able to take charge as needed, defuse tense situations, and provide calming support to patrons in distress. I am passionate about maintaining a safe and enjoyable environment for all ski and snowboard participants.
Core Skills
Emergency Medical Technician Certification
Knowledge of Ski Patrol Protocols
Ability to Respond to Stressful Situations
Effective Communication Skills
First Aid and CPR Training
Knowledge of Ski Slope and Terrain
Patrol Ski Slopes and Trails
Responsibilities
Perform daily ski patrol duties, including patrolling ski slopes, responding to medical emergencies, and teaching safety protocols
Provide medical aid, first- aid and CPR support to skiers and snowboarders in distress
Conduct routine mountain safety checks and inspections
Assist with rescue operations and avalanche control
Educate participants on slope safety and etiquette
Communicate effectively with co- workers, resort staff, and visitors
Maintain ski patrol equipment and supplies
Ensure that skiers and snowboarders are following safety protocols
Ski Patrol Resume with 10 Years of Experience
I am a highly experienced Ski Patrol Professional with 10 years of experience in safety and risk management on the slopes. I have a passion for the sport of skiing and snowboarding and I enjoy helping others to enjoy the slopes in a safe and responsible manner. I bring a comprehensive set of skills, knowledge, and experience to the mountain and am committed to meeting the highest standards of safety and customer service.
Core Skills:
Snowpack analysis
Avalanche safety
Emergency medical response
Risk management
Instructing customers in safety protocols
Ability to use multiple types of rescue equipment
Managing customer service operations
Computer literacy
Knowledge of ski and snowboard gear
Knowledge of terrain park design
Responsibilities:
Managing the ski patrol team and ensuring safe operations on the mountain
Conducting daily ski patrol operations, such as hazard management and snowpack analysis
Administering emergency first aid and rescue operations
Enforcing safety regulations and customer service standards
Assisting with the setup and maintenance of the terrain parks
Providing instruction and guidance to customers on safety protocols and the use of ski and snowboard gear
Providing customer service and facilitating customer inquiries and complaints
Ensuring upkeep and maintenance of ski patrol equipment and gear.
Ski Patrol Resume with 15 Years of Experience
Seasoned ski patrol professional with 15 years of experience providing ski area safety and emergency services to ski resort patrons. Skilled in avalanche control, emergency medical care and ski area operations. Possesses a valid First Aid Certificate and a valid EMT- B certification. Proven team builder and problem solver with a strong focus on safety and customer service.
Core Skills:
Emergency Medical Care
Avalanche Control
Ski Area Operations
Ski Patrol Procedures
Safety Regulations
Emergency response
Rescue and Evacuation
Patrol Equipment Maintenance
First Aid Procedures
Public Relations
Responsibilities:
Assisted in avalanche control procedures and responded to emergency situations.
Administering first aid and providing assistance to injured skiers and snowboarders.
Managed ski patrol duties and resort operations.
Performed daily patrol and ski area operations.
Ensured the safety of all resort guests by educating and enforcing safety regulations.
Performed rescues, evacuations, and searches.
Maintained patrol equipment and ensured proper placement of safety equipment and signage.
Maintained a positive, professional relationship with the public.
Assisted with medical emergency response and evacuation.
Managed avalanche rescue operations.
Ensured ski area compliance with OSHA, NSP, and other safety regulations.
In addition to this, be sure to check out our resume templates, resume formats, cover letter examples, job description, and career advice pages for more helpful tips and advice.
What should be included in a Ski Patrol resume?
Ski Patrol is a demanding job that requires a combination of physical fitness, technical skill, customer service, and medical training. An effective Ski Patrol resume must demonstrate an applicant's qualifications and aptitude for the role.
Here are some tips for creating a Ski Patrol resume:
Include your physical fitness experience. Ski Patrol requires physical stamina, so be sure to list any experience that demonstrates your physical fitness, such as marathon training, races, hiking, or other outdoor activities.
Detail your medical training. Many Ski Patrol jobs require skiing and medical certifications, such as CPR and First Aid. Make sure to list all certifications and include copies of the credentials with your resume.
Highlight customer service skills. Ski Patrol requires excellent customer service, so focus on highlighting your experience with customer service, such as past jobs or volunteer work.
List your technical ski experience. Ski Patrol requires excellent skiing ability, so make sure to list any ski-related experience you have, such as ski racing, instruction, or competition.
Include any relevant job experience. If you have experience in a ski-related job, such as a ski instructor or lift operator, make sure to include it on your resume.
By following these tips, you can create an effective Ski Patrol resume that will showcase your qualifications and show employers that you are the right person for the job.
What is a good summary for a Ski Patrol resume?
A Ski Patrol resume should include a summary that highlights the applicant's relevant experience and skills. The summary should demonstrate how the applicant is qualified to work in a ski patrol setting, such as their ability to work in inclement weather, respond to injuries, and ensure the safety of guests. Additionally, the summary should emphasize any specialized training or certifications the applicant has received, such as a CPR certification or avalanche safety certification. Finally, it should include information on the applicant's experience with skiing or snowboarding, as these are important skills for ski patrol personnel. By including this information, a Ski Patrol resume will provide a comprehensive overview of an applicant's qualifications.
What is a good objective for a Ski Patrol resume?
Writing your resume for a ski patrol position can be intimidating, especially if you are not sure what you need to include to make yourself stand out. To ensure that your resume stands out, you must have a clear objective that summarizes your qualifications and experience. A good objective for a Ski Patrol resume should include relevant qualifications, such as:
Ski patrol experience
Safety training
Ability to maintain a calm and professional demeanor
Experience in snow removal and avalanche control
Ability to handle outdoor emergencies
Ability to work in both hot and cold weather
First Aid and CPR certification
By clearly outlining your qualifications, you can let potential employers know that you are the perfect candidate for the position. Additionally, a good objective for a ski patrol resume should also include any other qualifications or certifications you possess that make you stand out from other applicants. This could include a degree in mountain safety, avalanche rescue, or other relevant fields.
No matter what your qualifications are, a good objective for a ski patrol resume should be concise and to the point, and it should demonstrate your knowledge and experience. With the right objective, you can show potential employers that you are the ideal candidate for the job.
How do you list Ski Patrol skills on a resume?
Ski Patrol is a rewarding and demanding job that requires a special set of skills and qualifications. When it comes to crafting a resume, it is important to highlight your most relevant ski patrol skills. Here are some suggestions for how to list ski patrol skills on your resume:
Excellent physical condition – Ski patrol requires staying in great physical condition to be able to ski long distances and handle any emergencies that may arise.
Avalanche safety experience – Ski patrol is responsible for assessing and containing any snow avalanche risks.
Emergency medical experience – Ski patrol must be prepared to attend to any medical emergencies on the slopes.
Risk management – Ski patrol must be able to assess and mitigate any potential risks on the slopes.
Excellent communication skills – Ski patrol must be able to clearly and effectively communicate with other team members and guests on the slopes.
First aid expertise – Ski patrol must possess a great deal of knowledge of first aid and be able to apply it in potentially life-threatening situations.
Rescue experience – Ski patrol must have the necessary experience to rescue anyone in danger on the slopes.
Problem solving skills – Ski patrol must have strong problem-solving skills to be able to quickly assess and resolve any situation that arises.
By listing these ski patrol skills on your resume, you will demonstrate to any potential employers that you have the necessary qualifications to be an effective ski patrol member.
What skills should I put on my resume for Ski Patrol?
If you're looking to add Ski Patrol to your resume, there are certain skills you should highlight to show your value to potential employers. Here are some key skills that you should consider adding to your resume:
Risk Management: Ski Patrol requires an understanding of risk management to assess safety risks and implement appropriate safety measures.
First Aid Training: Ski Patrol teams need to be trained in first aid and emergency medical responses to handle any situation that may arise on the slopes.
Communication: Ski Patrol requires strong communication skills to effectively communicate with fellow patrol members, resort guests, and emergency responders.
Leadership: Ski Patrol often requires you to take a leadership role in the field, so you should be comfortable leading teams and making decisions in a fast-paced environment.
Flexibility: Ski Patrol can be a physically demanding job, so you should have a history of being able to adapt to changing conditions quickly and be able to work in a variety of terrains and climates.
Time Management: Ski Patrol requires you to act quickly and decisively in an emergency situation, so you should have a history of managing your time effectively.
These are just some of the skills you should consider highlighting on your resume for Ski Patrol. With the right skills and experience, you can be a successful Ski Patrol member and make a positive impact on the safety of resort guests.
Key takeaways for an Ski Patrol resume
When writing a resume for a ski patrol job, it is important to highlight your past experience in skiing and snow sports, as well as any certifications you may have that are specific to the ski patrol field. Additionally, safety must be emphasized as ski patrols are responsible for the safety of skiers, snowboarders, and other guests on the mountain. Finally, it is important to mention any customer service experience you may have, as ski patrols often express hospitality throughout their shifts.
When crafting your resume for a ski patrol position, here are some key takeaways to keep in mind:
Emphasize your experience in skiing and snow sports, as well as any certifications or qualifications related to the ski patrol field.
Highlight any customer service experience you may have, such as working in retail, hospitality, or customer service.
Demonstrate your knowledge of safety procedures and protocols for skiing and snowboarding.
Outline any certifications or qualifications you may have, such as avalanche safety, medical first aid, and/or ski patrol certifications.
Make sure to include your experience with various ski patrol duties such as performing first aid, providing guest assistance, and responding to any emergencies that may arise.
Include any previous experience you may have in guest relations and hospitality, as ski patrols are often responsible for providing assistance and hospitality to guests on the mountain.
By following these key points, your resume for a ski patrol position should be sure to stand out. Showcase your qualifications, experience, and safety knowledge, and you'll be sure to land the job!
Let us help you build
your Resume!
Make your resume more organized and attractive with our Resume Builder