Finding a job as a public safety officer can be a difficult and challenging task. A successful resume can make the difference between getting an interview and being overlooked. It is important to include relevant work experience and education as well as essential skills that are related to the role. It is also important to make sure the resume is well-written and formatted properly. This guide provides tips and examples on how to write a compelling resume for a public safety officer to help you stand out from the competition.
If you didn't find what you were looking for, be sure to check out our complete library of resume examples.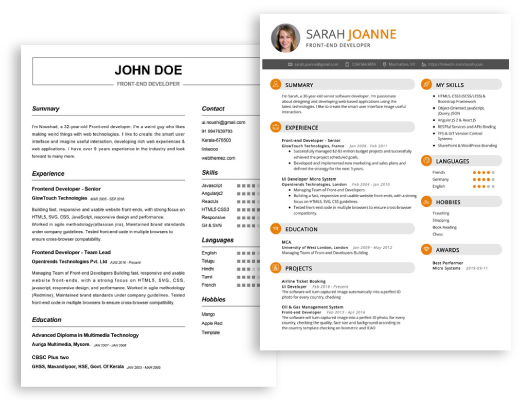 Start building your dream career today!
Create your professional resume in just 5 minutes with our easy-to-use resume builder!
Public Safety Officer Resume Examples
John Doe
Public Safety Officer
123 Main Street | Anytown, USA 99999 | Phone: (123) 456-7890 | Email: john.doe@email.com
A public safety officer with extensive experience in security and law enforcement, I specialize in providing safety and security for people, property and events. I am a highly reliable and effective officer, committed to providing the best possible service to my clients. I am adept at problem- solving and critical thinking, having been trained to handle emergency situations in both the public and private sector.
Core Skills
Emergency Response
Public Safety
Investigation & Documentation
Security & Surveillance
Interpersonal Communication
Critical Thinking & Problem- Solving
Crisis Management
Conflict Resolution
Professional Experience
Public Safety Officer, ABC Security, 2020 – Present
Responsible for providing safety and security to people, property and events
Perform regular patrols of the premises to ensure safety protocols are being followed
Conduct investigations and document incidents
Handle emergency situations with professionalism and poise
Respond to emergencies and provide assistance
Public Safety Officer, XYZ Security, 2018 – 2020
Responded to incidents and emergencies on- site
Assisted in security and surveillance operations
Ensured safety protocols were maintained
Provided assistance to victims of crime
Performed investigations and documented incidents
Education
Bachelor of Science in Law Enforcement, ABC University, 2017
Public Safety Officer Resume with No Experience
Recent college graduate with a strong passion for public safety and dedication to protecting public welfare. Seeking an entry- level public safety officer position where I can use my organizational skills and keen eye for details to excel.
Skills:
Precise attention to detail
Excellent communication skills
Strong work ethic
Ability to handle high- pressure situations
Organizational and problem- solving skills
Computer proficiency
Responsibilities:
Enforcing public safety regulations and laws
Maintaining order in public areas
Monitoring areas for suspicious activity
Investigating incidents and accidents
Assisting in crowd control
Assisting in the investigation of crimes
Responding to emergency situations
Reporting violations and suspicious behavior
Providing assistance to victims of crime
Conducting surveillance
Writing reports detailing activities and events
Public Safety Officer Resume with 2 Years of Experience
A highly motivated and diligent public safety officer with two years of experience in keeping citizens and public spaces safe and secure. Proven skills and expertise in maintaining order, conducting patrols, and responding to emergency situations. Committed to utilizing exceptional organizational, problem- solving, and communication skills to ensure a safe environment.
Core Skills:
Law Enforcement
Crime Prevention
Emergency Response
Conflict Resolution
Patrols
Report Writing
Monitoring Surveillance Systems
Responsibilities:
Securing public spaces and maintaining order in the vicinity
Responding to emergency situations and calling for additional assistance if needed
Investigating suspicious activities and handling disturbances
Writing detailed reports on incidents and submitting them to the relevant authorities
Interacting with the public in an approachable and professional manner
Monitoring surveillance systems and patrolling assigned areas
Providing assistance and support to victims of crime
Public Safety Officer Resume with 5 Years of Experience
Dynamic Public Safety Officer with 5 years of experience in protecting people and property. Expertise in risk assessment, incident management, safety enforcement, and crisis response. Proven ability to develop and maintain positive relationships with citizens, government, and local law enforcement.
Core Skills:
Risk assessment
Incident management
Safety enforcement
Crisis response
Communication
Conflict resolution
Physical fitness
Responsibilities:
Monitor and patrol assigned areas to identify suspicious or illegal activities and protect citizens from harm
Respond to emergency situations, including fires, medical emergencies, and criminal activity
Maintain order and enforce laws and regulations, including traffic control
Observe and document violations, prepare detailed reports, and provide testimony in court
Investigate accidents and complaints and provide assistance to victims
Mediate disputes and confront violators of laws and regulations
Carry out routine patrols, inspect buildings and grounds, and ensure compliance with safety regulations
Conduct searches and seizures, detain suspects, and serve warrants and other legal documents
Public Safety Officer Resume with 7 Years of Experience
Dedicated and reliable Public Safety Officer with 7 years of experience in providing security services for both public and private locations. Excellent at assessing threats, quickly and effectively resolving issues, and peacefully diffusing hostile situations. Committed to providing a safe environment for individuals and the community.
Core Skills:
Threat assessment
Investigating disturbances
Incident mediation
Report writing
Confidentiality
First aid and CPR
Emergency response
Responsibilities:
Patrolling assigned premises to detect any signs of criminal activity or other disturbances.
Investigating disturbances, responding to emergency calls, and providing first aid when necessary.
Intervening in conflicts, conducting interviews, and gathering evidence.
Interfacing with law enforcement and other emergency personnel to resolve situations.
Writing reports documenting incidents and other relevant information.
Maintaining order, protecting property, and safeguarding the safety of individuals.
Assisting with security needs in public and private settings.
Monitoring access control points, searching bags and persons, and conducting body searches.
Responding to emergencies quickly and following protocols to maintain safety.
Public Safety Officer Resume with 10 Years of Experience
Highly motivated public safety officer with 10 years of experience in providing protection and enforcement services in a retail environment. Experienced in responding to public safety threats, investigating suspicious activities, and managing crowd control. Skilled in administering first aid and CPR, writing comprehensive reports and utilizing proper communication channels. Familiar with local, state, and federal laws to ensure compliance. Actively seeking an opportunity to utilize my skills and experience to make a positive impact on the safety and security of the public.
Core Skills:
Investigate suspicious activities and respond to public safety threats
Utilize local, state, and federal laws to ensure compliance
Administer first aid and CPR
Strong written and verbal communication
Crowd control and crisis management
Comprehensive report writing
Surveillance and patrol
Responsibilities:
Patrolled assigned areas to observe for suspicious activities and enforce safety regulations
Responded to alarms and reports of criminal activity, investigated, and wrote comprehensive reports
Utilized radio dispatch system to respond to emergency situations
Monitored and directed traffic and crowds to prevent incidents
Administered first aid, CPR, and basic medical treatment in emergency situations
Collaborated with local law enforcement to provide support and assistance
Educated the public through presentations on safety awareness and crime prevention
Created and implemented safety protocols and procedures to maintain safety standards
Public Safety Officer Resume with 15 Years of Experience
Highly motivated and experienced public safety officer with a career spanning 15 years of providing quality public safety services. Possesses excellent skills in conflict resolution, communication, and problem solving. Proven ability to maintain a safe and secure environment for citizens, visitors, and staff. Committed to the highest standards of professional conduct and the highest level of respect for the dignity of all.
Core Skills:
Conflict Resolution
Communication
Problem Solving
Safety and Security
Professional Conduct
Respect for Dignity
Responsibilities:
Oversee safety and security operations in assigned areas
Respond to public safety incidents and provide support to police, fire, and EMS personnel
Monitor buildings, parking lots, garages, and other areas for potential security threats
Patrol assigned areas on foot and by vehicle, enforcing rules and regulations
Assist citizens with emergencies and provide assistance as needed
Investigate suspicious activity and enforce laws and ordinances
Prepare detailed reports of incidents and activities
Provide escorts for staff and visitors as needed
Interface with other law enforcement and public safety personnel
In addition to this, be sure to check out our resume templates, resume formats, cover letter examples, job description, and career advice pages for more helpful tips and advice.
What should be included in a Public Safety Officer resume?
A resume for a Public Safety Officer should include a variety of relevant skills and experiences to showcase your qualifications for the job. Here are some of the key elements to include in your resume:
Education: Include any relevant educational background in public safety and law enforcement, such as a degree in criminal justice or a related field.
Training and Certifications: List any specialized certifications or training that you've completed, such as first aid or CPR.
Professional Experience: Highlight any professional experience that demonstrates your ability to work in the field, such as work in security or law enforcement.
Skills: Include any special skills or competencies that make you well suited for the job, such as excellent communication and problem solving skills.
Other relevant experiences: If you have any other relevant experiences or accomplishments, such as volunteer work in a public safety role, list that here as well.
By including these elements in your resume, you will be well on your way to securing a role as a Public Safety Officer.
What is a good summary for a Public Safety Officer resume?
A good summary for a Public Safety Officer resume should be a concise, yet effective description of your qualifications, skills and experience that stresses your ability to protect public spaces and deliver exemplary service. It should include key accomplishments and highlight both your hard and soft skills as they pertain to the role. Finally, it should communicate your knowledge of public safety regulations and practices, along with your commitment to upholding the law and promoting public safety.
What is a good objective for a Public Safety Officer resume?
Writing an effective resume is an essential part of applying for a job as a Public Safety Officer. Your resume should succinctly highlight your best qualities, qualifications and experiences that make you the ideal candidate for the position. An important part of your resume is the objective statement, which should clearly convey what you are looking for in the job. Here are some tips for crafting a strong objective for a Public Safety Officer resume.
Make sure your objective is clear and concise – it should be no more than two sentences and should be tailored to the specific job you're applying for.
Focus on your experience and qualifications, emphasizing why you are the ideal candidate for the position.
Showcase your leadership skills, problem solving skills, and ability to handle difficult situations.
Highlight any special certifications or training you have that are relevant to the job.
Demonstrate that you have a passion for public safety and protecting the public.
By crafting a strong, clear objective for your Public Safety Officer resume, you will set yourself apart from the competition and ensure your resume makes it to the top of the pile.
How do you list Public Safety Officer skills on a resume?
It is important to list your Public Safety Officer skills on your resume in order to stand out and demonstrate to employers why you are the best candidate for the position. Your skills should be tailored to the specific job description, and should be easy to understand for potential employers. Here are some tips for how to list your Public Safety Officer skills on your resume:
Provide a clear, concise summary of your Public Safety Officer experience and qualifications. Include any certifications or other credentials you possess that will give you an edge over other applicants.
Highlight any specialized skills you have in areas such as crisis management, crime prevention, first aid, and emergency response.
List any relevant experience you have, such as working in a detention facility, responding to emergency situations, or providing security for public events.
Detail your communication and interpersonal skills. Public Safety Officers must be able to effectively communicate with the public and other personnel, as well as show strong judgment and problem-solving abilities.
Describe any special training or courses you have taken that relate to Public Safety Officer duties.
Mention any awards or recognition you have received for your work in this field.
By following these tips, you can create a resume that effectively showcases your Public Safety Officer skills and helps you land the job.
What skills should I put on my resume for Public Safety Officer?
One of the most important elements of creating a successful resume for a Public Safety Officer position is providing a well-rounded list of applicable skills and experience that demonstrate your qualifications. A skilled and knowledgeable safety officer should have a combination of both soft and technical skills, as well as experience in the industry. When constructing your resume, consider the following skills to effectively demonstrate your proficiencies:
Crisis Management: Public Safety Officers are responsible for responding to emergency situations, so being able to effectively manage a crisis is essential. Demonstrate that you have the ability to remain calm in tense situations, and make sound decisions quickly in order to protect the safety of others.
Investigative Skills: Show your ability to conduct investigations, gather evidence, and analyze data in order to draw conclusions.
Leadership: Public Safety Officers often serve in leadership roles, so highlight your ability to take charge and lead a team.
Interpersonal Communication: A successful safety officer must be able to communicate clearly with the public and fellow officers. Demonstrate that you have the ability to listen and speak in a professional manner.
Physical Fitness: Being in top physical condition is essential for a Public Safety Officer to be able to perform the duties of the job. Show that you have the stamina and strength to handle physical activity for long periods of time.
Computer Proficiency: In addition to physical skills, a successful safety officer should also be familiar with computer technology and the latest software used in the field.
Problem Solving: Demonstrate that you are able to identify and resolve public safety issues in an efficient and effective manner.
By highlighting these skills and abilities on your resume, you can effectively demonstrate your qualifications for the position of Public Safety Officer.
Key takeaways for an Public Safety Officer resume
When writing a resume as a Public Safety Officer (PSO), it's important to focus on showcasing your skills and accomplishments that relate to the field. In order to stand out from the competition, your resume should demonstrate your commitment to serving the community and show that you're a team player. Here are some key takeaways for creating an effective Public Safety Officer resume:
Highlight Your Leadership Skills: As a PSO, you must be able to take charge in situations and demonstrate the ability to take initiative. Show that you have strong leadership skills by highlighting relevant experiences and accomplishments.
Showcase Your Knowledge of Policies and Procedures: Public safety officers must be aware of the policies and procedures for their position, so make sure to showcase your knowledge in this area. Include any courses or certifications related to public safety that you have taken.
Demonstrate Your Ability to Work With Others: Working with other law enforcement personnel is an important part of a public safety officer's job. Make sure to emphasize any experiences you have that show your ability to work with others.
List Any Relevant Experience: If you have experience in a related field, such as firefighting or emergency medical response, make sure to include it on your resume. These skills and experiences will be valuable to potential employers.
Use Professional Language: Make sure to use professional language and avoid using slang or jargon. This will ensure that your resume is taken seriously by potential employers.
Be Detailed but Concise: When writing your resume, be sure to include details about your experience and achievements, but try to keep it concise. You don't want to overwhelm the reader with too much information.
By following these tips, you can create an effective and professional resume for your search as a Public Safety Officer. Highlighting your skills and relevant experience will help you stand out from the competition and show potential employers what you can
Let us help you build
your Resume!
Make your resume more organized and attractive with our Resume Builder