Writing a resume for a Stockroom Manager position can be a daunting task, especially if you are new to the world of resumes. Fortunately, this guide provides all the necessary information and examples to help you write the perfect Stockroom Manager resume. By following the tips and advice laid out in this guide, you can rest assured that your resume will stand out among the competition. This guide will discuss the essential qualifications, skills and experience necessary to include in a Stockroom Manager resume, as well as examples of resumes that demonstrate how to effectively highlight these qualities. By focusing on the key qualifications and experiences in your resume, you will be able to showcase your skills and experience in the best possible light.
If you didn't find what you were looking for, be sure to check out our complete library of resume examples.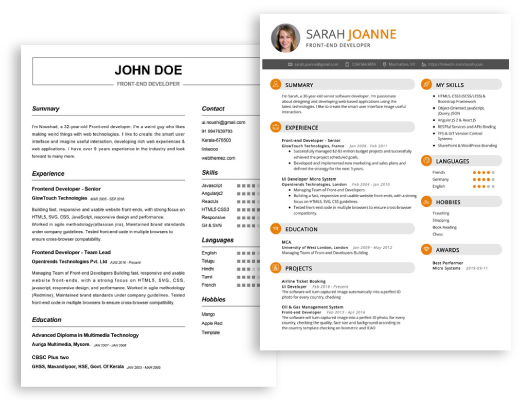 Start building your dream career today!
Create your professional resume in just 5 minutes with our easy-to-use resume builder!
Stockroom Manager Resume Examples
John Doe
Stockroom Manager
123 Main Street | Anytown, USA 99999 | Phone: (123) 456-7890 | Email: john.doe@email.com
A highly motivated and experienced Stockroom Manager with several years of experience in managing and supervising stockrooms, warehouses and other inventory- based operations. Possess a keen eye for detail and excellent problem- solving skills. Proven track record of ensuring stockroom operations are efficient and effective, leading to an overall better customer experience. Skilled in designing and developing process improvements to ensure smooth running of stockroom and warehouse operations and can expertly adapt to rapidly changing environments.
Core Skills:
Knowledge of stockroom, warehouse and inventory management
Strong problem- solving skills
Strong attention to detail
Excellent customer service and communication skills
Proficiency with inventory software
Ability to adapt to rapidly changing environments
Process improvement design
Ability to plan and manage workloads
Professional Experience:
Stockroom Manager, ABC Store, 2020- Present
Managed stockroom operations, ensuring all processes are efficient and effective.
Developed and implemented process improvements to improve stockroom operations.
Tracked stock levels and monitored inventory levels.
Responsible for recruiting, training and managing team of stockroom staff.
Liaised with other departments and stakeholders to ensure stockroom operations run smoothly and efficiently.
Stockroom Supervisor, XYZ Store, 2016- 2020
Supervised and managed stockroom operations, ensuring all processes are efficient and effective.
Developed and implemented process improvements to improve stockroom operations.
John and monitored inventory levels.
Recruited, trained and managed a team of stockroom staff.
Liaised with other departments and stakeholders to ensure stockroom operations run smoothly and efficiently.
Education:
Bachelor of Business Administration, XYZ University, 2012- 2016
Major in Business Management
Stockroom Manager Resume with No Experience
Recent college graduate with strong organizational, problem- solving and communication skills seeking to utilize my qualifications as a Stockroom Manager.
Skills
Accounting and Inventory Management
Organizational and Time Management
Computer Knowledge
Excellent Communication Skills
Problem Solving
Data Entry and Analysis
Responsibilities
Maintaining inventory records
Ensuring stockroom has adequate supplies
Receiving and verifying incoming deliveries
Performing cycle counts on a daily basis
Organizing stockroom and maintaining organization
Responding to customer inquiries and requests
Performing inventory control functions such as tagging and tracking
Conducting physical inventory audits
Processing orders and ensuring timely delivery
Managing stockroom personnel
Stockroom Manager Resume with 2 Years of Experience
A motivated and highly organized Stockroom Manager with 2 years of experience in inventory management, organizational planning, and customer service. Proficient in utilizing various software suites to manage and optimize inventory as well as managing teams and delegating work. Possess excellent problem- solving and communication skills with a strong attention to detail.
Core Skills:
Inventory Management
Organizational Planning
Customer Service
Software Suites
Team Management
Problem- Solving
Communication
Time Management
Responsibilities:
Developed and implemented inventory management systems to optimize the storage and use of goods.
Organized and maintained stockroom inventory and supplies, ensuring accuracy of all data.
Ensured all safety protocols and standards were met, and all documentation was completed.
Provided excellent customer service to ensure customer satisfaction.
Managed staff, delegated work and monitored performance.
Resolved customer complaints efficiently, and tracked customer satisfaction.
Planned and coordinated shipping, receiving and storage of merchandise.
Analyzed and resolved any supply chain related issues.
Developed and maintained strong relationships with suppliers.
Developed strategies to reduce overhead costs, improve efficiency and increase profits.
Stockroom Manager Resume with 5 Years of Experience
I am a highly organized and detail- oriented Stockroom Manager with 5 years of experience in managing inventory, supply chain operations and customer service in a retail environment. I am adept at creating, implementing, and monitoring processes and procedures to ensure that stockroom operations are efficient and cost- effective. I have outstanding communication and problem- solving skills and am adept at handling customer questions and issues in a professional and courteous manner.
Core Skills:
Inventory Management
Supply Chain Management
Customer Service
Problem Solving
Process Improvement
Time Management
Organization
Responsibilities:
Managed and maintained inventory of stockroom items in a timely and accurate manner
Ensured proper stockroom management processes and procedures were followed
Developed and implemented efficient systems for tracking and organizing inventory
Monitored and maintained accurate records of stockroom merchandise
Coordinated with other departments (sales, marketing, customer service, etc.) to ensure adequate supply of materials
Received, processed and tracked customer orders in an efficient and timely manner
Investigated customer complaints and provided solutions
Analyzed supply chain operations and identified areas for improvement
Ensured stockroom was kept in a neat and organized manner at all times
Stockroom Manager Resume with 7 Years of Experience
Dynamic and results- driven Stockroom Manager with 7 years of experience in overseeing the operations of a stockroom, material handling and inventory control. Proven track record of accurately implementing inventory control systems, stocking inventory, managing shipments and maintaining cleanliness of stockroom. Adept at ensuring that all deliveries are received, inspected and stored correctly, and the safety of stockroom employees is maintained.
Core Skills:
Inventory Control
Material Handling
Stockroom Operations
Merchandise Management
Database Administration
Safety Standards
Shipping and Receiving
Responsibilities:
Managed the operations of the stockroom, including stocking inventory, inspecting deliveries, and organizing merchandise.
Ensured compliance with safety standards and procedures.
Maintained accurate inventory records and conducted periodic stock checks.
Monitored stockroom employee performance and provided guidance and training as needed.
Ordered and received supplies and merchandise as needed.
Assisted customers with locating items and restocking merchandise.
Coordinated the movement of materials between departments.
Stockroom Manager Resume with 10 Years of Experience
Hard- working and detail- oriented Stockroom Manager with 10+ years of experience managing stockroom operations. Skilled in coaching and motivating teams, ensuring accuracy of all inventory records, and forecasting inventory needs. Adept at implementing innovative solutions to streamline processes and optimize stockroom productivity. Highly knowledgeable in the principles of inventory management and inventory control systems. Committed to maintaining the highest standards of customer service and dedicating to achieving organizational goals.
Core Skills:
Inventory Management
Stockroom Operations
Inventory Control Systems
Warehouse Management
Team Leadership
Quality Control
Problem- Solving
Time Management
Communication
Data Analysis
Responsibilities:
Create and implement stockroom procedures and policies to ensure the accuracy and safety of inventory
Manage the receipt, storage, and distribution of stockroom inventory
Monitor stockroom operations to ensure compliance with standards and regulations
Track inventory levels on a daily basis and replenish stock
Coordinate and supervise stockroom personnel and assign tasks
Monitor and adjust supply levels to meet customer needs
Utilize computer systems to track and manage inventory levels
Conduct regular audit to ensure accuracy of inventory records
Identify areas for improvement and develop strategies to optimize stockroom efficiency
Stockroom Manager Resume with 15 Years of Experience
Highly experienced Stockroom Manager with 15 years of experience managing and overseeing successful material handling operations. Demonstrates a consistent track record of successfully achieving company goals, initiatives, and objectives. Possesses a comprehensive understanding of warehouse operations, inventory management, and superb problem- solving skills. Possesses superior people management and communication skills and is committed to creating a highly effective and safe work environment.
Core Skills:
Warehouse Operations
Inventory Management
Staff Management
Quality Control
Process Improvement
Problem- Solving
Decision- Making
Safety Compliance
Resource Management
Communication
Computer Literacy
Time Management
Attention to Detail
Responsibilities:
Managed daily warehouse operations and personnel, delegating tasks and responsibilities to assigned personnel.
Developed, implemented, and monitored inventory control systems to ensure accurate stocking of materials.
Ensured that warehouse team adhered to safety standards and regulations while handling materials.
Established and enforced quality control and cost reduction guidelines.
Developed process improvement initiatives to enhance efficiency and accuracy of warehouse operations.
Created and maintained a database of inventory information and records.
Tracked and monitored materials movements, deliveries, and returns.
Prepared accurate and timely reports for management.
Analyzed inventory data and recommended changes to improve accuracy and efficiency.
Developed and maintained strong working relationships with vendors, suppliers, and partners.
Collaborated with purchasing department to ensure timely and accurate deliveries of materials.
In addition to this, be sure to check out our resume templates, resume formats, cover letter examples, job description, and career advice pages for more helpful tips and advice.
What should be included in a Stockroom Manager resume?
A Stockroom Manager oversees the inventory, distribution and storage of merchandise. They are responsible for ensuring that stock levels are maintained, that products are correctly stocked and stored, and that stockroom staff are correctly trained and managed. For these roles, employers look for candidates that have experience in managing a stockroom, as well as excellent organizational, problem-solving, and interpersonal skills. Crafting an effective Stockroom Manager resume is key to getting an employer's attention.
To ensure your resume is up to the task, consider the following tips:
Include an effective summary statement. Use this to provide a brief overview of your experience and skill set.
List your relevant experience and skills. Include any stockroom-specific tasks in which you have excelled, such as managing inventory and conducting stock-takes.
Highlight any related qualifications or certifications you have earned.
Demonstrate your problem-solving and organizational skills. Provide examples of how you have proactively identified and solved any stockroom issues.
Showcase your interpersonal skills. Include any examples of how you have effectively managed and motivated stockroom staff.
By including these elements in your Stockroom Manager resume, you can demonstrate to potential employers that you have the requisite experience and skill set to excel in such a role.
What is a good summary for a Stockroom Manager resume?
A good summary for a Stockroom Manager resume should emphasize the individual's ability to manage personnel, optimize workflow and inventory, and ensure that operations comply with safety and quality standards. The summary should also highlight their experience in supervising a stockroom, coordinating with vendors and customers, and monitoring inventory levels. Stockroom Manager resumes should include detail about any applicable licensing or certifications, as well as the applicant's knowledge of industry-standard software and inventory management systems. Above all, the summary should emphasize the individual's history of success in managing a stockroom and provide a glimpse into their leadership qualities.
What is a good objective for a Stockroom Manager resume?
A Stockroom Manager resume should have an objective that reflects a professional attitude and expectations for the position. Here are some great objectives for a Stockroom Manager resume:
To use my strong organizational and communication skills to ensure the efficient and safe operations of a stockroom
To utilize my experience in merchandising, inventory management and customer service to manage the store's stockroom
To maintain a positive and productive working environment in the stockroom
To maximize space utilization and accuracy of inventory records
To develop and implement strategies to ensure that stockroom processes are cost-effective and efficient
To monitor the security of the stockroom and ensure that all safety protocols are followed
To ensure that stockrooms are well-stocked and organized
To work with vendors and suppliers to ensure timely delivery of inventory
To oversee the timely movement of stock from the stockroom to other store areas
To lead and motivate a team of stockroom workers to reach peak performance
To ensure that stockroom staff maintain accurate records and follow all procedures
To collaborate with store management to maintain a productive and profitable stockroom.
How do you list Stockroom Manager skills on a resume?
Including your Stockroom Manager skills on your resume will help to demonstrate your qualifications and show potential employers that you have the knowledge and capabilities to be a successful Stockroom Manager. Here are some of the skills you may want to consider listing on your resume:
Manage stockroom operations, including receiving, stocking, picking, shipping and inventory control
Monitor trends in stockroom operations in order to recommend and implement process improvements
Ensure proper organization and layout of stockroom for easy access and efficient workflow
Track stock levels and place orders for new items in a timely manner
Monitor stockroom performance and develop strategies to optimize efficiency
Use bar code scanners and inventory management software to accurately track stock levels
Develop and maintain effective relationships with suppliers and vendors
Prepare reports on stock levels and inventory status
Train and supervise stockroom staff on proper procedures and safety protocols
Adhere to all safety regulations and store policies
What skills should I put on my resume for Stockroom Manager?
When applying for a Stockroom Manager position, it's important to highlight your key skills on your resume. Below is a list of skills that employers typically look for when hiring Stockroom Managers.
Knowledge of Inventory Management: Stockroom Managers are responsible for managing inventory, so it is important to emphasize any experience that you have with inventory management. This could include experience with inventory control systems, warehouse management systems, and inventory forecasting.
Ability to Multi-Task: Stockroom Managers are expected to manage multiple tasks at once, so it's important to show potential employers that you are capable of multi-tasking and staying organized.
Leadership Experience: Stockroom Managers typically lead teams of people, so it is important to demonstrate that you have experience leading and managing a team.
Attention to Detail: A Stockroom Manager needs to be detail-oriented and have an eye for accuracy. Highlight any prior positions that have required you to be detail-oriented and demonstrate your accuracy.
Strong Communication Skills: Stockroom Managers need to be able to communicate effectively with their team and customers, so it is important to show that you have strong communication skills.
These skills are essential for a Stockroom Manager, and emphasizing them on your resume can help you stand out from other applicants.
Key takeaways for an Stockroom Manager resume
A Stockroom Manager resume should demonstrate the candidate's ability to efficiently manage a stockroom, coordinate shipments and receive orders, along with other related duties. To create an effective Stockroom Manager resume, there are some key takeaways to keep in mind.
First, include a detailed job history which outlines your experience in a stockroom position. Include specific duties, such as coordinating and receiving orders, tracking inventory, and organizing stockrooms. It is also important to highlight any special skills or knowledge you possess that would be beneficial to the company in this role.
Second, emphasize the skills and qualifications you have that are related to the position. Include experience with inventory management, warehouse operations, shipping and receiving, and customer service. Mention any certifications or qualifications you may have in related fields.
Third, include any volunteer work or extracurricular activities related to stockroom management. This can demonstrate your motivation and commitment to the field and could make you stand out among other applicants.
Finally, be sure to tailor your resume to each job that you apply for. Include keywords from the job description and highlight the skills that best match the requirements of the position.
By following these key takeaways for a Stockroom Manager resume, you can create a winning resume that will get you noticed by hiring managers.
Let us help you build
your Resume!
Make your resume more organized and attractive with our Resume Builder