Writing a resume as a stockroom clerk is a great way to showcase your experience and skills to potential employers. As a stockroom clerk, you are responsible for ensuring the proper storage, organization, and inventory of a store's stock room. Crafting a well-written resume is the best way to get your foot in the door, so it's important to make sure you have the necessary information to make your resume stand out. This guide will provide stockroom clerk resume writing tips, examples, and a step-by-step guide to help you create your own resume.
If you didn't find what you were looking for, be sure to check out our complete library of resume examples.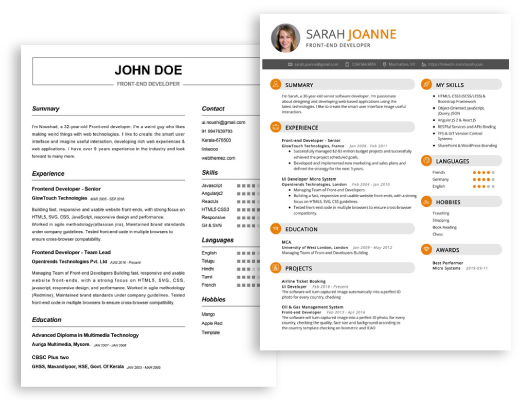 Start building your dream career today!
Create your professional resume in just 5 minutes with our easy-to-use resume builder!
Stockroom Clerk Resume Examples
John Doe
Stockroom Clerk
123 Main Street | Anytown, USA 99999 | Phone: (123) 456-7890 | Email: john.doe@email.com
I am an experienced Stockroom Clerk with 5 years of experience in the retail industry, specializing in stock management and inventory control. I have a passion for ensuring the efficiency and accuracy of the stockroom, and have a track record of successfully optimizing processes, improving stock accuracy and reducing costs. I am proficient in computer systems, including inventory management software, and have excellent organizational and problem- solving skills.
Core Skills:
Inventory Control
Stock Management
Process Optimization
Inventory Management Software
Organizational Skills
Problem- Solving Skills
Cost Reduction
Data Entry
Professional Experience:
Stockroom Clerk
XYZ Retail, Minneapolis, MN
August 2015 – Present
Responsible for managing and controlling stockroom operations, including receiving, storing and issuing of goods
Accurately record and process all stock arrivals, ensuring stock is correctly distributed
Perform regular stock checks to ensure accuracy and identify potential losses
Monitor and regularly report on the stockroom performance, including stock accuracy and cost control
Optimize stockroom operations and processes, enabling the efficient operation of the stockroom
Ensure all Health & Safety regulations are adhered to in the stockroom
Stockroom Supervisor
ABC Retail, Minneapolis, MN
August 2013 – August 2015
Supervised and managed a team of stockroom staff, ensuring all operations were completed efficiently and accurately
Developed and implemented stock control systems, improving the accuracy of stock levels and reducing stock losses
Ensured the stockroom was operating in compliance with company policies and procedures
Trained and developed staff on stock management processes and procedures
Monitored the stockroom performance and identified areas for improvement
Education:
Bachelor of Science in Business Administration
University of Minnesota, Minneapolis, MN
2014 – 2018
Stockroom Clerk Resume with No Experience
Results- driven high school graduate eager to join a successful stockroom clerk team.
Skilled in working with people in a professional environment and experienced in problem- solving.
Excellent organizational skills and attention to detail.
Skills
Ability to lift 50 lbs.
Strong interpersonal and organizational skills
Data entry and filing
Inventory tracking and management
Knowledge of stockroom processes
Proficiency in computer programs, such as Microsoft Office
Responsibilities
Receive and store incoming shipments
Organize stockroom shelves and rearrange items as necessary
Verify inventory accuracy and conduct regular stock checks
Maintain an organized and clean stockroom
Track and record stockroom purchases and sales
Communicate with vendors and suppliers to resolve any discrepancies
Assist customers with product selection and inquiries
Adhere to safety and health regulations
Carry out additional tasks as assigned
Stockroom Clerk Resume with 2 Years of Experience
Highly organized and detail- oriented Stockroom Clerk with two years of experience in inventory management and stocking. Strong commitment to safety and accuracy in the workplace. Possess excellent communication, problem- solving, and decision- making skills.
Core Skills:
Inventory Management
Stockroom Organization
Product Ordering
Safety Procedures
Communication
Decision Making
Problem Solving
Responsibilities:
Perform daily stockroom operations such as receiving, stocking, and inventory management.
Create detailed reports of stockroom movements and inventory levels.
Ensure accuracy of data entry and filing systems.
Organize the stockroom to maximize efficiency and safety.
Monitor stockroom usage and replenish stock when necessary.
Maintain the cleanliness of the stockroom and equipment.
Ensure compliance with safety protocols and procedures.
Order materials and supplies as needed.
Assist in the loading and unloading of deliveries.
Provide assistance with customer inquiries related to stocked products.
Troubleshoot any issues related to stockroom operations.
Stockroom Clerk Resume with 5 Years of Experience
Highly organized and dependable Stockroom Clerk with 5 years of experience in inventory management. Possess outstanding organization, communication, and customer service skills. Proven track record of effectively managing supply orders and performing daily inventory audits. Strong aptitude for analyzing stockroom data and identifying areas of improvement.
Core Skills:
Inventory management
Order processing
Inventory auditing
Data analysis
Organizational skills
Communication
Customer service
Responsibilities:
Maintained accurate records of stock inventory and storeroom activities.
Processed orders in a timely manner, monitored stockroom expiration dates, and kept records of all purchases.
Performed detailed daily stockroom audits and reported any discrepancies to the supervisor.
Analyzed inventory data and identified areas of improvement.
Ensured proper stock levels were maintained, shrinkage was minimized, and stockroom was kept clean and organized.
Provided excellent customer service and responded to customer inquiries in a timely manner.
Stockroom Clerk Resume with 7 Years of Experience
With 7 years of experience as a Stockroom Clerk, I have gained a comprehensive knowledge of inventory processes, procedures, and stock management systems. I have a proven ability to accurately document and track inventory, maintain inventory levels, and organize stockroom systems. My knack for problem- solving and attention to detail, combined with my excellent communication and organizational skills, have enabled me to be successful in this role.
Core Skills:
Stockroom and inventory management
Organizational and communication skills
Problem- solving and attention to detail
Data entry and computer proficiency
Safely and properly handle and store chemicals and materials
Ability to lift and carry heavy items
Responsibilities:
Organize and maintain stockroom inventory, ensuring items are properly labeled, tracked, and stored
Receive and inspect incoming shipments for accuracy and quality
Place orders for new stock and materials
Ensure stockroom is clean and maintained in a safe and orderly manner
Operate computer systems to accurately track and document inventory
Inspect stock to identify issues and take corrective action
Maintain records of stock levels, movements, and inventory transactions
Maintain accurate records of stockroom transactions and documentation
Stockroom Clerk Resume with 10 Years of Experience
Highly organized and detail- oriented Stockroom Clerk with 10 years of experience in inventory management, shipment receiving and storage. Proven ability to accurately record data, verify incoming and outgoing shipments, and manage warehouse operations. Experienced in efficiently tracking stock movements, inspecting goods for quality assurance, and providing customer service.
Core Skills:
Inventory management
Shipping/receiving
Stock tracking
Data entry
Quality assurance
Warehouse operations
Customer service
Organizational skills
Attention to detail
Responsibilities:
Received and checked incoming shipments against invoices or other documents.
Verified the accuracy of orders and entered data into the inventory system.
Organized, checked and stored items in designated areas.
Replenished inventory levels and maintained bins and shelves.
Ensured accuracy and quality of incoming and outgoing goods.
Managed stockroom operations, such as sorting, stocking, and keeping records.
Performed regular physical inventories and reconciled differences.
Provided customer service and answered inquiries about products.
Identified and reported damaged and expired items.
Stockroom Clerk Resume with 15 Years of Experience
Highly experienced stockroom clerk with over 15 years in the logistics and supply chain industry. Demonstrated expertise in inventory management, order fulfillment, and stock replenishment. A self- motivated and detail- oriented professional with a passion for ensuring customer satisfaction. Proven ability to work independently and in a team environment.
Core Skills:
Inventory Management
Order Fulfillment
Stock Replenishment
Customer Service
Organizational Skills
Time Management
Teamwork
Data Entry
Problem- Solving
Responsibilities:
Managed stockroom inventory and monitored stock levels of all products
Reviewed order requests and ensured accuracy of order fulfillment
Monitored discrepancies in inventory and adjusted records accordingly
Communicated with suppliers to re- stock shelves as needed
Provided customer service to ensure customer satisfaction
Organized and maintained the stockroom in an orderly manner
Coordinated with team members to ensure efficient and timely completion of tasks
Performed data entry duties to accurately input orders and stock levels
Resolved customer issues and complaints in a timely and efficient manner
Assisted in the training of new employees on stockroom procedures and protocols
In addition to this, be sure to check out our resume templates, resume formats, cover letter examples, job description, and career advice pages for more helpful tips and advice.
What should be included in a Stockroom Clerk resume?
A stockroom clerk is responsible for receiving, storing, and distributing materials and products within a warehouse or storeroom. To showcase your abilities and knowledge in this role, you should include the following details on your resume:
Past work experience in a warehouse or storeroom setting: List your employment history, including the duties and responsibilities you had in each position.
Knowledge of inventory systems and processes: Demonstrate your knowledge of ordering and receiving systems, as well as how to track stock levels, manage inventory, and ensure accuracy.
Detailed record-keeping skills: Highlight your ability to track and document all incoming and outgoing stock and products, as well as monitor and maintain accurate records.
Physical labor skills: Showcase your physical strength and stamina to work long hours in a warehouse setting, and lift, move, and stack items.
Problem-solving capabilities: Point out your problem-solving skills to troubleshoot stock discrepancies and handle customer complaints.
Ability to use equipment: Include your ability to use manual and automated equipment necessary for stocking and stocking operations.
Computer proficiency: List your working knowledge of computer programs and applications relevant to maintaining and updating inventory records.
By presenting the right skills, abilities, and experience on your resume, you can increase your chances of being hired as a stockroom clerk.
What is a good summary for a Stockroom Clerk resume?
A Stockroom Clerk resume should include an organized summary of a candidate's abilities and experience. The summary should focus on relevant qualifications, such as experience in inventory management, customer service, and communication. Additionally, the summary should include customer service skills, organization, and attention to detail. It is important to demonstrate the ability to efficiently manage time, handle customer inquiries, and maintain accurate records. The summary should also highlight the ability to work independently as well as collaboratively with other members of the team. This summary should be tailored to the job requirements and should demonstrate the individual's commitment to providing excellent customer service. A Stockroom Clerk resume should also demonstrate knowledge of safety and security protocols, as well as problem-solving skills.
What is a good objective for a Stockroom Clerk resume?
A stockroom clerk is someone who is responsible for tracking and managing the inventory in a store room or warehouse. Stockroom clerks might be responsible for taking inventory, ordering supplies, and tracking orders from vendors. When writing a resume for a stockroom clerk position, it's important to include an objective that will help demonstrate your skills and experience, as well as your commitment to the job.
Here are some examples of good objectives for a stockroom clerk resume:
To obtain a stockroom clerk position at ABC Company where I can use my organizational, problem-solving, and customer service skills to ensure the efficient day-to-day running of the stockroom.
Seeking a employment as a Stockroom Clerk at XYZ Company where my experience in inventory management, data entry, and customer service will be of value to the team.
A motivated and dependable Stockroom Clerk, looking for a position at DEF Company where I can utilize my excellent organizational and communication skills to ensure the smooth running of the stockroom.
Bringing comprehensive experience in inventory management, data entry, and customer service to a Stockroom Clerk position at GHI Company.
To secure a Stockroom Clerk position at JKL Company where I can contribute my organizational, problem-solving and communication skills to ensure efficient stockroom operations.
How do you list Stockroom Clerk skills on a resume?
A Stockroom Clerk is responsible for maintaining the inventory of a business or organization. In order to be successful in this position, they must have strong organizational and communication skills. On a resume, it is important to list all of the necessary skills to showcase your ability to carry out the duties of this job.
Below are some key skills to list on a Stockroom Clerk resume:
Proficient in Microsoft Office Suite
Knowledge of inventory control processes
Ability to perform data entry accurately
Ability to lift heavy items
Attention to detail
Excellent problem-solving and communication skills
Ability to work in a fast-paced environment
Ability to perform physical activities such as bending, lifting, and standing for long periods of time
Ability to work independently and as part of a team
Experience in maintaining and organizing stockroom shelves
Ability to prioritize and multitask
Knowledge of safety protocols
Knowledge of shipping and receiving procedures.
What skills should I put on my resume for Stockroom Clerk?
A stockroom clerk is an important position in any company, as it requires an individual to manage and maintain the company's inventory. If you are applying for this role, you need to make sure your resume shows off the skills you possess that make you an ideal candidate for the position. Here are some skills you should consider including on your resume:
Organizational Skills: Stockroom clerks must be highly organized in order to properly manage and maintain the inventory. Your resume should reflect that you have the ability to manage multiple tasks simultaneously and keep the stockroom running smoothly.
Attention to Detail: Stockroom clerks must be extremely detail-oriented in order to keep track of the inventory and detect any discrepancies. Make sure to emphasize your attention to detail in your resume.
Mathematical Skills: Stockroom clerks must be able to calculate and keep track of inventory levels. Show that you have the mathematical skills necessary to handle these tasks by listing them on your resume.
Computer Literacy: Computers are heavily used in stockrooms, so you need to be knowledgeable in computer systems and software. Make sure to showcase your computer skills on your resume.
Communication Skills: Stockroom clerks often communicate with other departments and personnel in order to ensure the inventory is properly managed. Make sure to emphasize your strong communication skills on your resume.
By including these skills on your resume, you can demonstrate to potential employers that you have the necessary qualifications for the stockroom clerk position. Good luck!
Key takeaways for an Stockroom Clerk resume
When it comes to creating a resume, there are certain key takeaways that a stockroom clerk should keep in mind. Here are some key takeaways to consider when drafting a resume for a stockroom clerk position:
Highlight your experience: Make sure to emphasize your past work experience as a stockroom clerk, including the tasks you've completed, the tools you've used, and the technical skills you've acquired.
Demonstrate your organization skills: Stockroom clerks are expected to have strong organizational skills, so make sure to highlight your ability to stay organized and manage multiple tasks at once.
Showcase your physical ability: Stockroom clerks are often required to lift and move heavy materials, so it's important to note any physical abilities you have that would make you an asset in the stockroom.
List relevant education: If you have any formal education related to the position, such as a degree in supply chain management, be sure to include it in your resume.
Use keywords: Many employers will use applicant tracking systems to sort through resumes, so make sure to use industry-specific keywords and phrases to ensure your resume gets noticed.
By following these key takeaways, you can create a strong resume that is sure to stand out in a pile of applicants. Highlighting your experience, organizational skills, physical abilities, education, and relevant keywords can be the difference between landing an interview and getting overlooked.
Let us help you build
your Resume!
Make your resume more organized and attractive with our Resume Builder