Writing your resume can be a daunting task, especially if you don't have the knowledge or experience to do it properly. But with the right guidance and resources, you can create a resume that will get you noticed. This Stockman Resume Writing Guide with Examples provides comprehensive advice on how to put together an eye-catching Stockman Resume that will help you stand out from the competition and get noticed by potential employers. Here you will find helpful tips on resume structure, format, design, and what to include to effectively market your skills and experience. Additionally, you will find examples of successful Stockman Resumes that will give you further insight into the best ways to showcase your strengths and qualifications. By the end of this guide, you will have the tools and knowledge necessary to put together an impressive Stockman Resume that will help you get the job you want.
If you didn't find what you were looking for, be sure to check out our complete library of resume examples.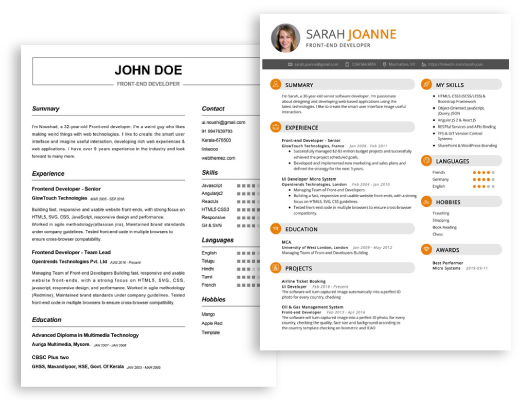 Start building your dream career today!
Create your professional resume in just 5 minutes with our easy-to-use resume builder!
Stockman Resume Examples
John Doe
Stockman
123 Main Street | Anytown, USA 99999 | Phone: (123) 456-7890 | Email: john.doe@email.com
I am an experienced and highly motivated individual with a passion for stock management and customer service. In my role as a Stockman I ensure that shelves are well- stocked and replenished in a timely manner, while providing excellent customer service. My core skills include inventory management, product ordering, and excellent communication skills. I have a track record of success in providing the highest quality of stock and customer service that exceeds expectations. I am confident that my skills and experience will be an asset to your organization.
Core Skills:
Inventory Management
Product Ordering
Strong Communication Skills
Time Management
Attention to Detail
Problem Solving
Professional Experience:
Stockman, ABC Store, August 2016 – Present
Monitor and maintain inventory levels and product ordering
Receive and stock incoming shipments
Provide excellent customer service to customers
Rotate and organize product shelves
Follow store policies and procedures
Stock Supervisor, XYZ Store, August 2013 – August 2016
Supervised a team of stock associates
Maintained accurate inventory records
Monitored stock levels and product ordering
Communicated effectively with team members
Ensured safety and compliance protocols were met
Education:
Bachelor of Science in Business Management, University of New York, May 2013
Stockman Resume with No Experience
Hardworking, motivated and reliable Stockman eager to contribute to team success through hard work, attention to detail and excellent organizational skills. Experience working in fast- paced environments with a commitment to customer satisfaction.
Skills:
Strong interpersonal and communication skills
Extensive knowledge of stocking and inventory processes
Excellent time management skills
Ability to lift and carry heavy items
Computer literate
Responsibilities:
Receive shipments of merchandise and unload into designated areas
Check incoming items against invoices and confirm accuracy
Verify stock inventory and alert manager of shortages
Transfer merchandise to and from storage areas, shelves and racks
Package, label and price items for sale
Ensure merchandise displays are organized and presentable
Maintain a neat and orderly stockroom
Operate machinery and equipment such as forklifts and stock pickers
Stockman Resume with 2 Years of Experience
An experienced stockman with over two years of experience in a fast- paced retail environment. Skilled in maintaining inventory, replenishment, stocking, and inventory control. Possesses excellent interpersonal, communication, and customer service skills. Provides accurate product knowledge and able to troubleshoot any issue that may arise. Ability to stay organized and attentive to detail to ensure a smooth and efficient operation.
Core Skills:
Inventory management
Replenishment
Stocking
Inventory control
Excellent interpersonal skills
Excellent communication skills
Customer service
Product knowledge
Troubleshooting
Organizational skills
Attention to detail
Responsibilities:
Maintained accurate inventory of stock levels and monitored stock levels
Replenished shelves and racks with new merchandise
Stocked shelves and racks with merchandise according to company guidelines
Provided accurate product knowledge to customers and employees
Troubleshooted any issues that may have arisen
Maintained organization and attention to detail in the stockroom
Ensured compliance with health and safety regulations
Assisted in auditing inventory and resolving discrepancies
Worked in a fast- paced retail environment and ensured a smooth and efficient operation.
Stockman Resume with 5 Years of Experience
I am a highly motivated and detail oriented stockman with 5+ years of experience in retail and logistics industries. I have extensive knowledge of shipping, receiving and inventory management, with the ability to quickly process large purchases and ensure accurate stock counts. My ability to handle multiple tasks and prioritize them effectively has allowed me to successfully manage retail operations, while maintaining the highest levels of customer service and satisfaction.
Core Skills:
Accurate inventory management
Expertise in shipping and receiving
Attention to detail
Strong problem- solving skills
Excellent communication skills
Ability to work in a fast paced environment
Proficient in Microsoft Office Suite
Responsibilities:
Received, inspected and verified all incoming goods to ensure accuracy of stock and quantity
Managed and maintained accurate stock levels for all items in inventory
Prepared outbound shipments and coordinated deliveries with the appropriate carriers
Ensured efficient and safe stocking of shelves, back rooms and other storage areas
Maintained a safe and clean work environment
Monitored expiration dates, quality control standards and product recall information
Processed returns and exchanges as needed
Worked closely with store management and personnel to maintain optimal stocking levels
Interfaced with suppliers to resolve supply chain issues or quality control issues
Assisted in training and onboarding new stockmen.
Stockman Resume with 7 Years of Experience
Stockman with 7 years of experience in stock management and inventory control. Possessing comprehensive knowledge of supply chain management and warehouse operations. Skilled in organizing and managing stock levels to ensure efficient product delivery and cost- effectiveness. Proven ability to predict, analyze, and react to market trends. Demonstrates excellent problem- solving, analytical and communication skills.
Core Skills:
Analytical thinking
Inventory control
Supply chain management
Data entry
Supply forecasting
Order processing
Attention to detail
Responsibilities:
Monitored and adjusted stock levels according to changing demand and market trends
Maintained accurate records of stock and conducted regular audits to track inventory
Ensured accuracy of all data entry and inventory documentation
Organized product information and pricing for fast retrieval
Worked with team members and other departments to ensure product availability
Developed strategies to minimize stock losses and improve stock management
Established and maintained relationships with suppliers and vendors
Stockman Resume with 10 Years of Experience
An experienced Stockman with over 10 years of experience in a stockroom setting. Capable of receiving, stocking, and organizing merchandise and ensuring customer satisfaction. Proven ability to accurately count, measure, and handle stock, as well as assist customers in locating items. Dedicated to customer service and product quality.
Core Skills:
Organizational Skills
Inventory Management
Safety Procedures
Problem Solving
Time Management
Customer Service
Restocking
Responsibilities:
Receive and unpack incoming shipments
Stock shelves, counters, and tables with new merchandise
Ensure that merchandise is properly labeled and priced
Check inventory levels and order new stock as needed
Move product around the store to ensure proper product layout
Assist customers in locating items
Maintain a clean and safe workspace
Operate equipment such as forklifts, pallet jacks, and hand trucks
Carry out price changes and markdowns
Organize merchandise for display purposes
Follow safety procedures when handling heavy and fragile items
Process returns and exchanges
Stockman Resume with 15 Years of Experience
With fifteen years of experience in the stockman role, I have a proven track record of successfully managing vast amounts of stock, executing efficient inventory control, and providing excellent customer service. I have a high level of accuracy and attention to detail, and I excel in a fast- paced environment. I am also highly skilled in the use of modern inventory management systems. I am looking to join a team that values quality and customer service, and can benefit from my expertise.
Core Skills:
Inventory Management
Stock Control
Customer Service
Data Analysis
IT Proficiency
Problem Solving
Accuracy and Attention to Detail
Time Management
Communication
Responsibilities:
Operating inventory management systems
Ordering and receiving stock
Counting and verifying stock shipments
Ensuring all stock is stored safely and securely
Analysing stock levels and creating reports
Identifying incorrect or damaged stock
Maintaining inventory records
Assisting customers with enquiries
Assisting in the loading and unloading of stock
Carrying out regular stock audits
Keeping work areas clean and tidy
Maintaining accurate records of stock movements
In addition to this, be sure to check out our resume templates, resume formats, cover letter examples, job description, and career advice pages for more helpful tips and advice.
What should be included in a Stockman resume?
A Stockman resume should list the skills and experience you have that make you an ideal candidate for the position. The following are some key components that should be included when crafting a Stockman resume:
Job Experience: Outline your past experience working as a Stockman. Include details about the type of jobs you've done, where you worked, and any relevant duties you performed.
Education: Mention any relevant degrees or certifications you have that pertain to the Stockman position.
Knowledge of Stock: Demonstrate your knowledge and understanding of stock-related concepts and processes.
Technical Skills: Outline any computer programs, software, or other technical skills that you possess that are relevant to the Stockman position.
Physical Skills: Stockman positions often require physical labor. Make sure to detail any physical skills you have that would be beneficial to the job.
Communication Skills: Highlight your communication skills and any relevant experience you have in dealing with customers or vendors.
Organizational Skills: Demonstrate your organizational skills and explain how you've effectively managed stock in the past.
By including all of these components, you can create an effective Stockman resume that will help you stand out from the competition.
What is a good summary for a Stockman resume?
A stockman resume is a summary of an individual's professional profile, experience, and qualifications. It typically includes a summary of any stock experience, such as managing portfolio investments, evaluating stocks and other investments, and providing guidance to clients. It should also include any accomplishments and certifications related to stock trading and investing, as well as contact information and work history. A good stockman resume should showcase the individual's skill sets and background in stock trading and investing, as well as demonstrate their understanding of the stock market and its dynamics. It should be specific, concise, and include any relevant stock-related certifications or experience.
What is a good objective for a Stockman resume?
A Stockman resume should include an objective that outlines the applicant's career goals and their suitability for the role. A good objective should be concise and demonstrate the applicant's understanding of the job responsibilities and the company's mission. Here are some examples of potential objectives for a Stockman resume:
To secure an entry-level role as a Stockman with ABC Company, bringing knowledge of inventory management and warehouse operations.
To obtain a Stockman position with an established organization, utilizing strong organizational and problem-solving skills.
To leverage my expertise in warehouse operations and inventory management to benefit XYZ Company as a Stockman.
To join XYZ Company as a Stockman and utilize my skills in inventory control to help optimize warehouse performance.
To utilize my 5 years of experience in inventory management in a Stockman role with ABC Company.
How do you list Stockman skills on a resume?
If you are in the process of creating a resume, including your stockman skills is essential to stand out to potential employers. To list your stockman skills on a resume, follow these steps:
Make a list of all your stockman skills: List all the stockman related skills you possess, such as inventory management, product knowledge, customer service, and problem solving.
Describe each skill: After listing your skills, describe each one in more detail. Explain how you have used these skills in the past, and provide any relevant examples that demonstrate your abilities.
Tailor your resume to the job: When you are applying for a specific job, emphasize the skills that are most relevant to the position. Show employers that you have the skills and experience necessary to excel in the role.
Include relevant keywords: Use industry-specific keywords in your resume to help ensure it is picked up by applicant tracking systems.
By following these steps, you can list your stockman skills on a resume to help you stand out to employers and show them that you are the perfect fit for the job.
What skills should I put on my resume for Stockman?
A Stockman is a professional who specializes in a variety of roles related to the stock market, such as trading, investing, portfolio management and financial analysis. To be successful in this role, it is important to have certain skills that demonstrate your knowledge and expertise. Here are some skills you should consider including on your resume as a Stockman:
Comprehensive Knowledge of the Stock Market: As a Stockman, you must have thorough knowledge of the stock market, including how it works, various market trends and the most important trading strategies.
Strong Analytical Skills: As a Stockman, you must be able to analyze financial data and make sound decisions based on your analysis. You must be able to assess financial and investment opportunities and spot any potential risks.
Good Communication and Negotiation Skills: You must be able to communicate clearly and effectively, both verbally and in writing. You must also be able to negotiate with potential investors to get the best deals.
Time Management: As a Stockman, you must be able to effectively manage your time and prioritize tasks. You must be able to work efficiently and stay organized while managing multiple projects.
Computer Knowledge: As a Stockman, you must be proficient in using computers and related software, as well as platforms such as Bloomberg and Reuters. You must be able to analyze data and make projections using these platforms.
By including these skills on your resume, you will demonstrate to potential employers that you have the knowledge and abilities to be a successful Stockman.
Key takeaways for an Stockman resume
Writing a resume for a Stockman position can be a daunting task. There are many key points that you must include in your resume to make sure it stands out from the competition. Here are some key takeaways to help you write the perfect Stockman resume:
Highlight your work experience: Include any relevant work experience that is related to the Stockman position. This may include any past positions, internships, or volunteer experience you have had in a warehouse setting or related industry. Be sure to list the dates of your employment, the employer name, and specific tasks you were responsible for.
Demonstrate your attention to detail: Stockman positions require excellent attention to detail. Make sure to highlight any tasks or projects that you have completed with accuracy and precision. Showcase your ability to follow instructions, maintain high standards of quality, and adhere to safety regulations.
Showcase your knowledge of stock management: Include any on-the-job training or certification in inventory management or other related topics. Showcase your ability to select, track, and store inventory in an organized fashion.
Emphasize your problem-solving skills: Stockman positions require the ability to solve problems and make decisions quickly. Highlight any problem-solving successes you've had in your past positions.
Include your contact information: Include your contact information so potential employers can reach out to you. Include your full name, address, phone number and email address.
By following these key takeaways, you can create an effective Stockman resume to help you land the position you've been hoping for. Make sure to highlight your work experience, attention to detail, stock management knowledge, problem-solving skills, and contact information. These key points will help you stand out from the competition.
Let us help you build
your Resume!
Make your resume more organized and attractive with our Resume Builder