If you're looking to get into the stocker career field, having a great resume is key to achieving a successful job application. Writing a resume can be difficult, especially if you are starting from scratch and don't have any prior stocker experience. This guide will provide you with step-by-step instructions and examples to help you create a professional stocker resume that stands out. With the right strategy and information, you'll be on your way to becoming a successful stocker.
If you didn't find what you were looking for, be sure to check out our complete library of resume examples.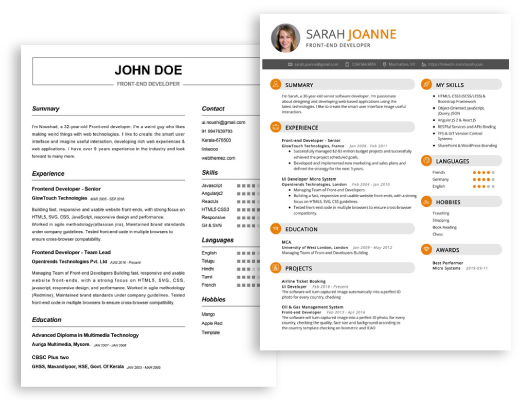 Start building your dream career today!
Create your professional resume in just 5 minutes with our easy-to-use resume builder!
Stocker Resume Examples
John Doe
Stocker
123 Main Street | Anytown, USA 99999 | Phone: (123) 456-7890 | Email: john.doe@email.com
I am an experienced Stocker with an impeccable attention to detail and excellent organizational skills. My years of experience have allowed me to become an efficient and reliable professional, capable of multitasking and successfully completing all tasks at hand. I have extensive knowledge of warehouse procedures and safety standards, and I am able to assist in the training and guidance of other personnel. I am confident that I can make a valuable contribution to any organization.
Core Skills:
Excellent organizational and multitasking abilities
Knowledge of safety and warehouse protocols
Strong communication and leadership skills
Able to lift and move heavy objects
Highly detail- oriented and accurate
Professional Experience:
Stocker, ABC Warehouse, 2017- Present
Receiving, organizing, and distributing products
Tracking inventory and ensuring accuracy of stock
Assisting with training and supervision of new employees
Labeling and cataloging items and boxes
Inspecting and restocking merchandise
Education:
High School Diploma, ABC High School, 2017
Stocker Resume with No Experience
Motivated and organized stocker with no experience but a passion for helping customers and delivering quality service.
Strong customer service skills and an eye for organization and detail.
Capable of working independently or in a team environment.
Skills
Excellent customer service skills
Organizational skills
Ability to lift heavy objects
Attention to detail
Time management
Ability to follow instructions
Responsibilities
Organize warehouse and stock shelves
Inspect shipments for accuracy
Unload and unpack incoming shipment
Stock shelves with inventory
Ensure shelves are organized and clearly labeled
Ensure warehouse is clean and free from debris
Record inventory levels and inform supervisor of any shortages
Assist customers with locating items and answering questions
Stocker Resume with 2 Years of Experience
A talented Stocker with 2 years of experience in stocking shelves, managing inventory, and providing exceptional customer service. I have a passion for helping customers find what they need and ensuring the store is always well- stocked and organized. I possess strong organizational and problem- solving skills to monitor stock levels and prioritize tasks efficiently.
Core Skills:
Inventory Control
Merchandising
Loss Prevention
Customer Service
Organization
Safety Compliance
Responsibilities:
Stocking shelves with merchandise
Rotating stock and updating inventory system
Maintaining accuracy and organization of shelves
Ensuring shelves are fully stocked and clean
Assisting customers with product selection
Assisting in loss prevention and safety compliance
Identifying potential theft and other hazards
Stocker Resume with 5 Years of Experience
A highly motivated and organized Stocker with 5 years of experience in receiving, stocking, and replenishing stock in retail stores. Possess a deep understanding of inventory control, logistics, and customer service. A self- starter with excellent communication and problem- solving skills, capable of multi- tasking and maintaining a high level of efficiency.
Core Skills:
Inventory Control
Logistics
Customer Service
Communication
Problem- solving
Multi- tasking
Organizational skills
Responsibilities:
Received, stocked, and replenished merchandise on a daily basis
Organized delivery and stocking areas to ensure efficient delivery and stocking processes
Maintained accurate inventory and tracking of all products
Identified and resolved operational issues promptly and efficiently
Provided excellent customer service by greeting and assisting customers
Followed safety procedures and best practices to minimize safety risks
Ensured efficient distribution and movement of stock from receiving and stocking to the sales floor
Maintained a clean and organized work area to ensure customer satisfaction
Resolved customer complaints in a professional and timely manner.
Stocker Resume with 7 Years of Experience
After seven years of working in the stockroom and inventory management industry, I have developed a solid foundation of skills in managing, stocking, and organizing products. I have expertise in maintaining accurate inventory counts and records, as well as great organizational skills and attention to detail. My ability to work quickly and efficiently in a fast- paced environment enables me to get the job done in a timely manner. I am confident that I can make a positive contribution to any team.
Core Skills:
Experience with inventory management and stocking
Knowledge of product pricing and placement
Ability to maintain accurate inventory records
Excellent organizational and multitasking skills
Skilled in working quickly and efficiently
Excellent customer service and communication skills
Ability to lift and move heavy items
Responsibilities:
Managed the daily activities of the stockroom
Ensured accuracy of inventory records and stock levels
Unload shipments, unpack inventory, and stock shelves
Maintain cleanliness and order in the stockroom
Resolve customer complaints related to inventory and stock
Set up pricing, discounts, promotions, and displays
Keep up with inventory levels and order more when needed
Assist with stocking shelves and restocking inventory in the store
Stocker Resume with 10 Years of Experience
Seasoned and successful Stocker with over 10 years of experience in stocking, organizing and replenishing merchandise for retail stores. Possesses a comprehensive knowledge base of the products and practices required to ensure the successful stocking and organization of merchandise. Has a proven track record for ensuring accuracy and organization in the stock room. Possesses excellent customer service and problem- solving skills to assist customers when handling inquiries.
Core Skills:
Inventory Control
Merchandising
Customer Service
Organizational Planning
Stock Room Management
Product Knowledge
Responsibilities:
Maintain and organize stock room organization
Check accuracy of incoming and outgoing inventory
Transfer merchandise to and from the stock room
Stock shelves in accordance with inventory levels and customer requests
Replenish merchandise on shelves and racks as needed
Assist customers with questions and inquiries
Perform daily inventory counts of stock levels
Provide customer service and problem- solve in regards to inquiries
Stocker Resume with 15 Years of Experience
Highly experienced Stocker with over 15 years of experience in stocking high- volume merchandise in large retail stores. Proven ability to accurately fulfill orders according to customer needs. A team player with a strong work ethic, excellent communication abilities, and strong problem solving skills.
Core Skills:
Stock Control and Inventory Management
Merchandising
Organizational Skills
Data Entry
Customer Service
Adherence to Regulations
Responsibilities:
Unload, count and store incoming merchandise in appropriate sections.
Set up and manage displays in a neat and organized manner.
Check date codes, labels, and other product information.
Receive and process customer orders quickly and accurately.
Rotate stocks regularly and restock shelves in a timely manner.
Ensure shelves and displays are neat and clean.
Assist customers with product information and price inquiries.
Follow proper safety and handling guidelines.
Maintain accurate records of inventory and stock availability.
In addition to this, be sure to check out our resume templates, resume formats, cover letter examples, job description, and career advice pages for more helpful tips and advice.
What should be included in a Stocker resume?
Experience stocking shelves, organizing and tidying up product displays, and assisting customers with finding items
Ability to operate a forklift and/or other warehouse equipment
Familiarity with safety standards and proper handling techniques
Strong communication and interpersonal skills
Ability to take direction and work independently
Willingness to work in a fast-paced environment
Physical strength and stamina to lift and move heavy items
Knowledge of basic math for counting and pricing items
Attention to detail for accurate restocking and labeling
Completion of any relevant training courses
What is a good summary for a Stocker resume?
A good summary for a Stocker resume should highlight the skills and experience that make you the best candidate for the job. This includes a good understanding of stocking and inventory control systems, the ability to work quickly and accurately in a fast-paced environment, and the capability to work with minimal supervision. It should also highlight your ability to work well with others, such as customers and team members, and to handle a variety of tasks simultaneously. A strong summary is an excellent way to capture the attention of potential employers, setting you up for an interview and the chance to demonstrate your skills and experience.
What is a good objective for a Stocker resume?
A Stocker resume should clearly highlight key qualifications that make the candidate desirable to employers. A good objective for a Stocker resume should include a combination of the following skills:
Knowledge of inventory storage systems and processes
Ability to lift and carry heavy goods
Proven record of accurate item tracking and stocking
Expertise in resolving inventory discrepancies
Ability to work as part of a team or alone
Experience in receiving goods and checking for quantity and quality
Attention to detail and keen organizational skills
Ability to work in a fast-paced environment
Commitment to safety measures
By incorporating these aspects into your Stocker resume objective, you will demonstrate to employers that you have the necessary qualifications to excel in the position.
How do you list Stocker skills on a resume?
Whether you have years of experience as a stocker or are looking to enter into the field, there are certain skills you should mention on your resume. Doing so can help you stand out from other applicants and demonstrate that you are a strong candidate.
To list your stocker skills on a resume, consider the following:
Ability to lift heavy objects: As a stocker, you may be required to lift and carry items weighing up to 50 pounds. Highlight your strength and ability to do so.
Organization: Stockers must be organized and able to track inventory accurately. Mention your ability to organize items in a logical manner and keep accurate records.
Attention to detail: Stockers need to pay close attention to details and ensure that items are placed in the correct location. Highlight your ability to do so.
Ability to work quickly and efficiently: Stockers are often tasked with a lot of work in a short amount of time. Showcase your ability to work quickly and accurately.
Technical skills: Many stockers must have experience using computer programs to track inventory and stock shelves. Mention any relevant experience you have here.
By including these skills on your resume, you can demonstrate that you are the best candidate for the job. Good luck with your job search!
What skills should I put on my resume for Stocker?
When applying for a job as a Stocker, you need to create a resume that includes the skills that are required to be successful in the role. Below are some of the key skills you should consider putting on your resume for a Stocker position:
Ability to use basic hand and power tools: As a Stocker, you may be required to use hand and power tools to move inventory around.
Ability to lift heavy objects: Stockers must be able to safely lift heavy boxes, furniture, and other items.
Knowledge of inventory organization and management: Stockers should be familiar with the organization and management of inventory, including stocking and replenishment of items.
Computer proficiency: Stockers should have basic computer proficiency to use store inventory software and other programs as needed.
Attention to detail: Stockers need to be detail-oriented in order to ensure accuracy and completeness of work.
Good communication skills: Stockers must be able to communicate effectively with customers, colleagues, and supervisors.
Time management skills: Stockers need to be able to manage their time effectively to ensure tasks are completed in a timely manner.
By including these skills on your resume, you can show employers that you have the qualifications to excel in the role of a Stocker.
Key takeaways for an Stocker resume
Stocker resumes are an important part of the job search process, so having a strong one is important. Knowing what employers are looking for in a Stocker resume is a key part of the process. Here are some key takeaways for an effective Stocker resume.
Highlight Relevant Experience: Showcase any relevant experience you have that is relevant to the role of a Stocker. This could include any previous experience in the warehouse, retail, or customer service fields. Be sure to list the specific duties and responsibilities that you had in each of your past positions.
Include Soft Skills: Employers are looking for Stockers with specific skills related to the job, but they are also looking for candidates with strong soft skills. Soft skills are important in any job, but especially in a customer service role such as a Stocker. Make sure to include any soft skills you have such as communication, problem-solving, and interpersonal skills.
Detail Your Education: Employers will want to see your educational background, so be sure to include any degrees or certifications that you have earned. Even if you do not have a college degree, listing any additional educational coursework that is related to the Stocker position can make you stand out from the competition.
Include Relevant Certifications: Stockers may need to handle items such as hazardous materials or operate heavy machinery, so be sure to list any certifications that you have that are related to those duties. This can show employers that you are prepared and qualified to do the job.
By following these key takeaways, you can ensure that your Stocker resume is complete and effective. Employers will be able to quickly determine if you are the right fit for the role and decide if you are the best candidate for the job.
Let us help you build
your Resume!
Make your resume more organized and attractive with our Resume Builder