Writing a resume for a stock worker position can be a daunting task. It is important to showcase your qualifications and experience in a concise and easy to read manner. This guide will provide tips on how to write a resume for a stock worker position, including a review of sample resumes, what information to include and how to structure the document. Additionally, this guide will provide advice on how to utilize effective language and keywords in order to make your resume stand out. With these tips and the examples provided, you can rest assured that your resume will be top-notch and ready to take your career to the next level.
If you didn't find what you were looking for, be sure to check out our complete library of resume examples.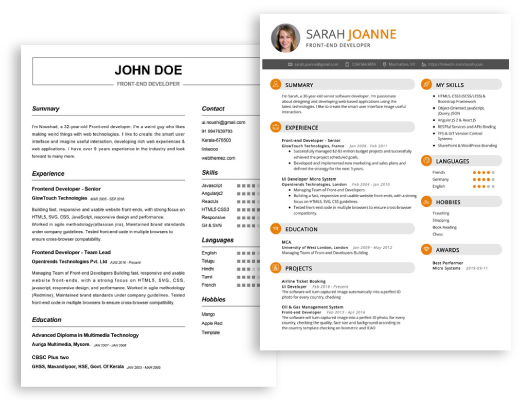 Start building your dream career today!
Create your professional resume in just 5 minutes with our easy-to-use resume builder!
Stock Worker Resume Examples
John Doe
Stock Worker
123 Main Street | Anytown, USA 99999 | Phone: (123) 456-7890 | Email: john.doe@email.com
As an experienced stock worker, I have an extensive background in stocking shelves, unloading shipments, and stocking merchandise. My experience has helped me to develop strong organizational skills and an eye for detail. My interpersonal skills allow me to work well with others, and I am also able to lift heavy items safely and efficiently. I am highly motivated and take pride in a job well done.
Core Skills:
Stock Shelving
Unload Shipments
Merchandise Stocking
Inventory Management
Manual Handling
Customer Service
Data Entry
Problem Solving
Professional Experience:
Stock Worker, ABC Store, 2019- Present
Maintained excellent customer service while stocking shelves and unloading shipments
Assisted customers with any queries they may have had
Monitored inventory and restocked shelves accordingly
Unloaded and organized merchandise according to company standards
Stock Worker, XYZ Store, 2017- 2019
Unloaded and moved merchandise from storerooms to the sales floor safely
Monitored stock levels and restocked shelves as needed
Managed customer inquiries and assisted with product selection
Ensured store displays were neat and organized
Education:
High School Diploma, XYZ High School, 2017
Stock Worker Resume with No Experience
Hardworking, reliable and efficient individual aiming to become a stock worker for a busy retail store. Possess no experience in the field but have excellent customer service, inventory management and organizational skills. Looking to use these skills to provide customers with a positive and efficient shopping experience.
Skills
Ability to multi- task and stay organized in a fast- paced environment
Strong customer service and communication skills
Knowledge of inventory management
Able to lift and carry heavy items
Able to operate pallet jacks and forklifts
Proficient in Microsoft Office Suite
Able to work independently or as part of a team
Responsibilities
Receive and unload shipments in a timely manner
Verify items received against purchase orders
Restock inventory on shelves and in display cases
Keep track of inventory using appropriate systems
Identify and report any damaged or defective items
Ensure shelves and displays are neat and organized
Assist with the execution of product promotions
Complete all related paperwork accurately and on time
Maintain a safe and clean working environment
Stock Worker Resume with 2 Years of Experience
Highly motivated Stock Worker with 2 years of experience in inventory control, stockroom organization and computerized inventory management. Proven knowledge of retail and distribution operations and warehouse management systems. Possess exceptional written and verbal communication skills, as well as proficiency in Microsoft Office applications. Demonstrated ability to work in a fast- paced environment and handle multiple tasks simultaneously.
Core Skills:
Stockroom Organization
Inventory Control
Computerized Inventory Management
Warehouse Management Systems
Microsoft Office Applications
Written & Verbal Communications
Retail & Distribution Operations
Responsibilities:
Monitored inventory levels, ensuring quantity and quality of merchandise.
Managed stockroom operations and organization.
Ensured compliance with safety and security policies and procedures.
Processed orders and shipments to customers and vendors.
Updated and maintained computerized inventory system.
Worked with all internal stakeholders to ensure efficient inventory control.
Provided accurate forecasting of stock requirements.
Communicated regularly with suppliers regarding stock replenishment.
Performed regular cycle counts to assess inventory accuracy.
Stock Worker Resume with 5 Years of Experience
An experienced and highly motivated stock worker with more than 5 years of experience in the warehousing sector. Proven track record of managing the safe, effective and efficient movement of goods and materials in a warehouse and ensuring that the orders are shipped and delivered on time. Possesses excellent communication skills, attention to detail, and the ability to coordinate and collaborate with multiple stakeholders.
Core Skills:
Time Management
Attention to Detail
Team Collaboration
Inventory Management
Logistics and Shipping
Quality Control
Safety Procedures
Responsibilities:
Count and manage inventory levels and stock movements
Receive and unload incoming goods
Load and unload outgoing orders
Handle and pack fragile items carefully
Maintain a neat and orderly warehouse environment
Make sure all orders are shipped and delivered on time
Provide accurate records of inbound and outbound stock
Monitor stock levels and replenish when necessary
Ensure quality control measures are followed
Adhere to safety regulations and procedures
Stock Worker Resume with 7 Years of Experience
A highly skilled and dedicated Stock Worker with 7 years of experience accurately and efficiently managing large volumes of inventory in a variety of retail and production settings. Proven success in stocking, organizing, and arranging products, as well as ensuring accurate costs and pricing for customers. Possesses excellent organizational and communication skills and is committed to providing exceptional customer service.
Core Skills:
Inventory and stock management
Organizational ability
Excellent communication skills
Customer service
Cost and pricing accuracy
Product stocking and arranging
Lifting and stacking of product
Responsibilities:
Maintained accurate inventory levels and conducted regular stock checks.
Assisted customers in locating and selecting merchandise
Ensured product accuracy, pricing and cost accuracy.
Organized and arranged products in store and warehouse.
Carried out weekly inventory audits.
Restocked shelves, displays and coolers with fresh merchandise.
Assisted with unloading shipments and restocking products.
Stacked and stored merchandise in designated areas.
Lifted and moved heavy products and equipment safely and efficiently.
Stock Worker Resume with 10 Years of Experience
A highly experienced and motivated Stock Worker with more than 10 years of experience in performing stocking and inventory duties in various retail stores. Experienced in organizing, counting, pricing and stocking merchandise in store shelves. Able to use equipment such as forklifts, ladders, and hand trucks to move merchandise and supplies. Has excellent ability to identify and troubleshoot issues related to stocking.
Core Skills:
Inventory Control
Equipment Maintenance
Merchandise Stocking
Product Identification
Forklift Operation
Order Fulfillment
Data Entry
Customer Service
Receiving & Shipping
Safety Practices
Responsibilities:
Receiving and unloading merchandise from deliveries
Stocking shelves and displays with merchandise
Organizing and ordering inventory
Using equipment to move merchandise and supplies
Maintaining cleanliness and tidiness of the store
Assisting customers with product selection and inquiries
Tracking and monitoring inventory levels
Preparing price tags and affixing them to merchandise
Verifying and scanning orders to ensure accuracy
Completing data entry and shipping paperwork
Adhering to health and safety regulations at all times
Stock Worker Resume with 15 Years of Experience
A highly organized and detail- oriented Stock Worker with more than 15 years of experience in the logistics and inventory fields. Possess excellent knowledge of safety procedures and regulations as well as precise data entry and tracking skills. Adept in ensuring the accuracy and efficiency of product transfers and inventory storage. A motivated and reliable team player with exceptional problem solving and customer service skills.
Core Skills:
Data Entry
Inventory Control
Product Transfer
Shipping and Receiving
Supply Management
Safety Procedures
Stock Maintenance
Quality Control
Records Management
Forklift Operation
Attention to Detail
Responsibilities:
Receive and check incoming products, raw materials and supplies for accuracy.
Inspect and monitor products for defects or shortages.
Organize and store items in appropriate locations in the warehouse.
Load and unload items from trucks, pallet jacks, and other lifting equipment.
Track inventory, order supplies, and maintain records.
Perform daily cycle counts and reconcile variances.
Ensure compliance with safety regulations and procedures.
Utilize hand and power tools, such as barcode scanners and forklifts, to complete job duties.
Monitor stock room levels and place orders with vendors as needed.
Assist in loading and unloading trucks; pack, seal and label containers.
Participate in physical inventories and report discrepancies.
Assist customers in locating and selecting items.
In addition to this, be sure to check out our resume templates, resume formats, cover letter examples, job description, and career advice pages for more helpful tips and advice.
What should be included in a Stock Worker resume?
A stock worker resume should showcase an individual's experience in logistics, inventory management, customer service, and other related fields. To stand out among a sea of other applicants, a strong stock worker resume should include the most important and relevant qualifications and experience.
When writing your resume, it is important to include the following areas:
Contact Information: Include your full name, address, phone number, and email.
Objective: A concise and clear statement of your career goals and how your qualifications can benefit the employer.
Skills Summary: A list of core competencies and relevant skills that are applicable to the stock worker position. Be sure to include any special skills that you possess, such as working with inventory management software or operating machinery.
Work History: List your prior work experience, including the company name, position title, and dates of employment. Provide a brief description of your responsibilities and accomplishments in each role.
Education: Include any formal education you have completed, such as a degree or certificate program.
Certifications: List any special certifications or licenses that are related to the stock worker position, such as hazard safety certification or a forklift operator license.
References: Provide at least two professional references with contact information.
By including the most relevant and important information in your stock worker resume, you can set yourself apart from other applicants and increase your chances of landing the job.
What is a good summary for a Stock Worker resume?
A stock worker resume should succinctly summarize an individual's experience, qualifications and job-related skills. A good summary should highlight past experience in stocking, inventory management, and customer service. It should also include any additional certifications and qualifications related to the position. Lastly, the summary should detail the stock worker's ability to manage time, prioritize tasks and ensure accuracy when handling inventory. This summary should be brief and to the point, as it is the first section employers will read.
What is a good objective for a Stock Worker resume?
A stock worker is responsible for the movement and storage of merchandise and products within a warehouse or stockroom. If you are applying for a job as a stock worker, it is important to have a well-crafted resume objective to highlight your qualifications, experience, and skills. Here are some examples of a good objective for a stock worker resume:
To use my knowledge of stocking and inventory processes to efficiently manage and organize products in a warehouse setting.
To find a position as a stock worker that allows me to use my specialized skills in organization and material handling.
To leverage my experience in shipping, receiving and stocking to effectively move and store merchandise in a timely manner.
To utilize my knowledge of warehouse processes, procedures and inventory management to work efficiently in a warehouse environment.
To obtain a position as a stock worker where I can apply my knowledge of stock control and inventory management.
How do you list Stock Worker skills on a resume?
When writing a resume for a Stock Worker role, it is important to include the skills specific to the job. Stock Workers must be able to work in a fast-paced environment, use various warehouse equipment, and effectively manage inventory. Here are some essential Stock Worker skills to include in your resume:
Ability to lift and carry up to 50lbs
Ability to work in a fast-paced environment
Proficient in using warehouse equipment such as pallet jacks and forklifts
Knowledge of warehouse safety protocols
Excellent organizational skills
Ability to accurately count and manage inventory
Strong communication and interpersonal skills
Ability to work independently and as part of a team
Attention to detail
Ability to problem solve
Proficient in using inventory management software
Knowledge of warehouse operations and processes
Flexibility to work overtime, weekends, and holidays if needed.
What skills should I put on my resume for Stock Worker?
When applying for a position as a Stock Worker, there are a number of skills that you should include on your resume to ensure your qualifications shine through. From physical abilities to customer service and problem solving, having a range of listed skills is going to demonstrate your capability for the job.
Physical Strength: As a Stock Worker, you'll need to be able to lift and move heavy objects, as well as reach and bend to transport items. Your physical strength is essential to perform the day-to-day tasks.
Inventory Management: You'll need to be able to keep accurate track of inventory, as well as organize and prioritize items that need to be restocked.
Problem Solving: As a Stock Worker, you'll need to be able to troubleshoot any challenges that you come across during the work day.
Customer Service: You may need to interact with customers from time to time, so having customer service skills is essential.
Organization: You'll need to be able to organize the items in a neat, orderly manner, so being detail oriented is important.
Attention to Detail: Stock Workers need to have an eye for detail in order to verify orders, check expiration dates, and inspect for damage.
Including these skills on your resume is going to make you a more attractive candidate for the position. Being able to prove that you have the necessary skills and experience to work as a Stock Worker is going to give you the edge when you're applying for the job.
Good luck!
Key takeaways for an Stock Worker resume
If you are looking to create a strong Stock Worker resume, then there are a few key takeaways to consider. Here are some of the most important things to include in a Stock Worker resume:
Education: You should include any relevant education experience you may have related to the Stock Worker role. This could include a degree in Supply Chain or Logistics, or a certification in Inventory Management.
Professional Experience: Include any previous roles you have held in the industry. This could include experience in warehousing, inventory management, or stock keeping.
Skills: Highlight any skills and abilities you have that are related to the Stock Worker role. This could include anything from organizing and managing stock to using inventory software.
Accomplishments: Include any awards or recognition you may have received for your Stock Worker role. This could include awards for outstanding performance or customer service.
Professional References: Include a few references from your previous employers that can attest to your Stock Worker skills and experience.
By following these key takeaways when creating your Stock Worker resume, you can ensure that you stand out from the competition and make an excellent impression.
Let us help you build
your Resume!
Make your resume more organized and attractive with our Resume Builder