Writing a resume as a Stock Clerk can be a daunting task. It's important to highlight the skills you have that will help you excel in the job. In this guide, we will cover how to write a Stock Clerk resume, what skills to include, and examples of Stock Clerk resumes. With the right knowledge and the right presentation, you can craft a Stock Clerk resume that stands out and lands you the job.
If you didn't find what you were looking for, be sure to check out our complete library of resume examples.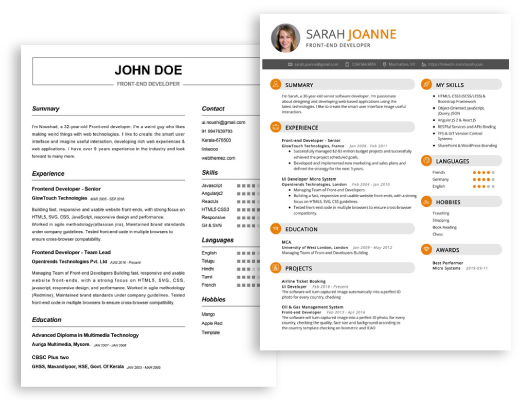 Start building your dream career today!
Create your professional resume in just 5 minutes with our easy-to-use resume builder!
Stock Clerk Resume Examples
John Doe
Stock Clerk
123 Main Street | Anytown, USA 99999 | Phone: (123) 456-7890 | Email: john.doe@email.com
I am a highly organized and efficient Stock Clerk with 4+ years of experience in inventory control and management. I have a proven track record of maintaining accurate stock levels and ensuring that the products I am responsible for are always stocked and in the correct location. My core skills include inventory management, cycle counting, stock audits, and problem- solving. I have excellent communication and organizational skills and am confident that I can be an asset to any organization.
Core Skills:
Inventory Management
Cycle Counting
Stock Audits
Problem Solving
Excellent Communication
Organizational Skills
Professional Experience:
ABC Warehouse – Stock Clerk, 2016 to Present

Monitor and maintain inventory levels by regularly checking stock levels and accurately recording stock movements.
Responsible for cycle counting stock on a regular basis.
Carry out weekly stock audits to ensure that all stock is accounted for and in the correct location.
Assist in the implementation of new systems and processes related to inventory management.
Work with management to identify potential issues and find solutions.
Education:
High School Diploma, XYZ High School, 2016
Stock Clerk Resume with No Experience
Recent college graduate with a Bachelor of Science degree in Business Administration and a strong passion for customer service.
Hands- on experience in organizing, stocking, and maintaining inventory in a fast- paced environment.
Excellent problem- solving skills with the ability to think on my feet and adapt to changing situations quickly.
Skills
Strong organizational skills and the ability to multitask and prioritize tasks effectively.
Proficient in Microsoft Office Suite, including Excel, Word and PowerPoint.
Strong team player with excellent communication and interpersonal skills.
Detail- oriented with a strong commitment to accuracy and quality.
Able to lift and carry up to 50 pounds and stand for extended periods of time.
Responsibilites
Receive and process incoming stock, including labeling and entering stock into inventory system.
Organize and maintain stockroom, as well as shelves, racks, and bins for inventory.
Perform regular stock counts and ensure accuracy of inventory records.
Answer customer inquiries, provide information about products, and resolve any issues.
Provide assistance to customers in locating products and making selections.
Ensure availability of products by restocking shelves and bins with newly received inventory.
Ensure store is neat and organized, and that all products are properly displayed.
Stock Clerk Resume with 2 Years of Experience
A highly motivated and organized Stock Clerk with 2 years of experience in a fast- paced warehouse environment. I have a comprehensive understanding of inventory management and am dedicated to the timely and accurate tracking of all incoming, in- transit, and outgoing stock. I am a great problem solver and am able to quickly and effectively troubleshoot any issues that arise. I have superb organizational skills and am able to consistently maintain product records for efficient stock management.
Core Skills:
Inventory Management
Organizational Skills
Vigilant Error Detection and Resolution
Product Documentation
Working in a Team Environment
Time Management
Responsibilities:
Maintaining and updating inventory records
Monitoring stock levels and reporting shortages
Unloading and stocking incoming shipments
Packaging and shipping outbound orders
Performing daily cycle counts to ensure accuracy of inventory
Maintaining a safe and organized work environment
Assisting with customer service when necessary
Stock Clerk Resume with 5 Years of Experience
Dedicated and highly- motivated stock clerk with 5 years of experience managing inventory, stocking shelves and maintaining a safe and organized warehouse environment. Demonstrated experience working in a fast- paced retail environment while managing multiple priorities with efficiency and accuracy. Adept at problem- solving and recognizing potential inefficiencies in operations, with a focus on proactively addressing issues.
Core Skills:
Inventory Management
Order Fulfillment
Stock Shelving
Merchandising
Safety Protocols
Problem Solving
Attention to Detail
Time Management
Responsibilities:
Managed inventory stocking of products to ensure accurate records and efficient service.
Recorded received goods, ensuring accuracy of stock records and inventory control systems.
Stocked shelves with incoming product, ensuring proper organization and safety.
Followed established safety protocols and procedures to maintain a safe and organized work environment.
Ensured accuracy of records and order fulfillment by double checking invoices, orders and returns.
Performed regular inventory checks to identify discrepancies and address issues.
Applied merchandising techniques to ensure shelves were adequately stocked and products were correctly labeled.
Assisted customers with inquiries and provided advice on product selection.
Managed the flow of incoming and outgoing goods to ensure efficient delivery of orders.
Stock Clerk Resume with 7 Years of Experience
A highly organized and motivated individual with 7 years of experience as a Stock Clerk, specializing in material acquisition, inventory maintenance, and data entry. Possess strong interpersonal skills to foster positive relationships with vendors and customers. Proven ability to handle a variety of tasks and prioritize workloads to complete projects on time. Experienced in creating accurate paperwork, ensuring security protocols are adhered to, and providing superior customer service.
Core Skills:
Inventory management
Material acquisition
Data entry
Documentation
Organizational skills
Time management
Customer service
Responsibilities:
Gathered material for shipment and tracked incoming and outgoing shipments
Coordinated with vendors to ensure timely delivery of materials
Managed inventory of materials and updated stock levels in database
Accurately entered data into system to ensure inventory accuracy
Ensured security protocols are adhered to and all documents are completed correctly
Provided superior customer service by responding to inquiries in a timely manner
Assisted in the training of new employees on material handling processes
Maintained a safe and clean working environment by adhering to workplace safety standards
Stock Clerk Resume with 10 Years of Experience
An experienced and organized Stock Clerk with 10 years of experience in inventory management, data entry, and stocking shelves. Adept at adhering to safety protocols and ensuring accuracy of stock, ensuring efficient product movement, and organizing shelves and aisles for ease of access for customers. Possesses excellent communication skills, a positive attitude, and a great sense of responsibility.
Core Skills:
Inventory Management
Data Entry
Stocking Shelves
Safety Protocols
Accuracy of Stock
Product Movement
Organization
Communication
Positive Attitude
Responsibility
Responsibilities:
Maintain accurate records of inventories, shipments, and deliveries.
Conduct weekly inventory counts and restock shelves as needed.
Receive and unload shipments and check for any discrepancies.
Keep track of inventory levels, accurately document transactions, and update stock lists.
Ensure that shelves and aisles are organized for ease of access for customers.
Ensure that safety protocols are adhered to at all times.
Process payments, refunds, and exchanges in an efficient and timely manner.
Answer customer inquiries and provide assistance as needed.
Provide support and assistance to vendors and suppliers.
Stock Clerk Resume with 15 Years of Experience
Dedicated and experienced Stock Clerk with 15 years of experience in managing and organizing stock items. Possesses an excellent eye for detail and a commitment to customer service. Proven ability to build strong relationships with vendors and to respond quickly to any customer inquiries. Excellent problem- solving skills and the ability to use technology to streamline processes.
Core Skills
Inventory Management
Vendor Relations
Stock Ordering
Stock Sorting
Stockroom Organization
MS Office Suite
Customer Service
Problem Solving
Data Entry
Responsibilities
Managed inventory levels and tracked stock items in the stockroom.
Updated stockroom software with accurate inventory counts.
Ordered and received new stock items to restock shelves.
Sorted stock items into categories and stored them in an organized fashion.
Assisted customers in locating items in the stockroom.
Processed stockroom orders accurately and promptly.
Developed and maintained positive working relationships with vendors.
Ensured the stockroom was clean and organized at all times.
Responded to customer inquiries and complaints in a timely manner.
Generated reports on stock levels and sales trends.
Entered accurate data into the stockroom software.
In addition to this, be sure to check out our resume templates, resume formats, cover letter examples, job description, and career advice pages for more helpful tips and advice.
What should be included in a Stock Clerk resume?
When applying for a Stock Clerk position, your resume should demonstrate that you have the knowledge, skills, and abilities to perform the essential job duties of the role. To ensure you make the best impression, include the following items in your resume:
Previous Stock Clerk experience: Describe the positions you've held that are related to being a Stock Clerk. Include the name of the employer, length of employment, and the duties and responsibilities you were assigned.
Knowledge of Inventory Control Systems: Knowledge of inventory control systems is essential for a Stock Clerk. Include any experience or training you have in using inventory control systems.
Organizational Skills: List any organizational skills you have acquired through your work experience or education. Examples include data entry accuracy, attention to detail, and the ability to manage multiple tasks simultaneously.
Accurately Operate a Computer: Make sure to list any experience you have operating computers, including experience with data entry and working with spreadsheets.
Ability to Lift Heavy Objects: The ability to lift and move heavy products is a key requirement of a Stock Clerk position. Indicate any experience you have in this regard, as well as your ability to perform any other physical tasks such as climbing ladders or lifting boxes.
Customer Service Skills: Stock Clerks often have contact with customers. Include any customer service experience you have, including the ability to communicate effectively and handle customer inquiries in a professional manner.
Including these items in your resume will demonstrate to potential employers that you have the qualifications and skills necessary for the job. Make sure to highlight your qualifications that are related to the Stock Clerk role and provide concrete examples of your skills and experience.
What is a good summary for a Stock Clerk resume?
A stock clerk resume should provide a summary of the experience, skills, and qualifications that make the job seeker a great fit for the position. It should demonstrate the individual's organizational skills, ability to work with accuracy and speed, and their knowledge of the products they are stocking. Additionally, the resume should focus on the job seeker's customer service skills, such as the ability to communicate effectively and provide excellent customer service. The summary should also include the applicant's ability to follow safety protocols, as well as any experience with inventory management and data entry. By providing a comprehensive overview of the job seeker's qualifications, the summary should be an effective tool for demonstrating their readiness for the position.
What is a good objective for a Stock Clerk resume?
A stock clerk is responsible for receiving, stocking, and distributing goods and materials in a warehouse or store. When writing a resume for a stock clerk position, it is important to include a good objective statement that summarizes your skills and qualifications. Below are some examples of good objectives for a stock clerk resume.
To leverage strong organizational, communication, and problem-solving skills to efficiently receive, store, and distribute merchandise for a successful retail organization.
To become a trusted stock clerk for a well-established retail store, utilizing exceptional organizational and customer service skills.
To secure a stock clerk position with a reputable company to use my skills in inventory management, merchandising, and shipping and receiving.
Seeking to join an organization as a stock clerk to utilize my experience in inventory management, organizational skills, and customer service.
To join a dynamic team of stock clerks and utilize my expertise in managing inventory and optimizing stocking strategies.
Including a strong objective statement on your resume is a great way to quickly capture the attention of a hiring manager and demonstrate that you are the best candidate for the job. Make sure to tailor each objective statement to the specific job you are applying for, and highlight your most relevant skills and experience.
How do you list Stock Clerk skills on a resume?
When listing Stock Clerk skills on a resume, the following points should be included:
Physical Strength: Stock Clerks must be able to lift, carry and move heavy objects. They should also be able to move and arrange items in a variety of locations.
Organization Skills: Stock Clerks must be able to keep track of inventory, organize shelves, and maintain neat and orderly locations for products.
Attention to Detail: Stock Clerks must pay close attention to detail when handling products to ensure that the right items are being stocked. They must also be able to quickly identify any discrepancies in their inventory.
Computer Skills: Stock Clerks need to be proficient in software applications such as inventory tracking systems and database management.
Communication Skills: Stock Clerks must be able to communicate with customers, coworkers, and supervisors.
Time Management: Stock Clerks must be able to manage their time well in order to meet deadlines and complete tasks in a timely manner.
By including these Stock Clerk skills on a resume, you will be able to demonstrate your qualifications for the position and show that you are the best candidate for the job.
What skills should I put on my resume for Stock Clerk?
As a stock clerk, there are several essential skills that employers look for on your resume. These skills are important for being successful in the job, so it's important to highlight them on your resume.
Here are some skills to include on your resume for a stock clerk position:
Knowledge of stock inventory systems and processes: Stock clerks need to have a thorough knowledge of stock inventory systems and processes in order to accurately and efficiently manage stock levels.
Attention to detail: Stock clerks must have strong attention to detail in order to accurately track and update stock levels, as well as identify any discrepancies or issues in stock inventory.
Physical strength: Stock clerks often need to lift and move heavy items, so employers may look for candidates who have the physical strength to do so.
Computer skills: Stock clerks need to be comfortable using computers in order to input and update stock inventory information.
Organization skills: Stock clerks should possess good organizational skills in order to keep track of stock levels, as well as organize and rotate inventory.
Ability to work independently: Stock clerks often work independently, so employers need to ensure that applicants have the ability to work independently and manage their own workload.
By highlighting these skills on your resume for a stock clerk position, you can demonstrate to employers that you have the necessary skills and abilities for the job.
Key takeaways for an Stock Clerk resume
Writing a resume for a Stock Clerk position can be a daunting task. After all, you're competing with countless other applicants and the employer only has a few seconds to scan your resume and decide whether or not you're a good fit for the job. Fortunately, there are some key takeaways you can include on your Stock Clerk resume to help you stand out from the competition.
First, make sure to include your experience and qualifications. You should clearly list any past experience in a stock clerk role, such as managing inventory, stocking shelves, and taking stock of merchandise. Be sure to also list any related certifications or training you have in inventory management or customer service.
Next, emphasize any customer service or problem-solving skills you may have. Employers value Stock Clerks who are friendly and helpful to customers, so be sure to highlight any customer service experience you have. Additionally, you should show off any problem-solving skills you possess, such as troubleshooting inventory issues or offering solutions to customer complaints.
Finally, demonstrate your commitment to the job. Employers want to know that you're willing to go the extra mile to ensure the success of their business. Show off any extra responsibilities you may have taken on in past positions, such as organizing inventory or helping out in other departments.
By following these key takeaways for your Stock Clerk resume, you'll be sure to stand out from the competition and land the job you want.
Let us help you build
your Resume!
Make your resume more organized and attractive with our Resume Builder