Writing a great stock associate resume can set you apart from the competition and help you get closer to getting the job you want. If you are looking for tips on how to create a stock associate resume that stands out, this guide is for you. Here we will discuss the essential elements of a strong stock associate resume, provide examples of stock associate resumes and offer advice on how to write the most effective resume. With these resources, you will be on your way to a successful job search.
If you didn't find what you were looking for, be sure to check out our complete library of resume examples.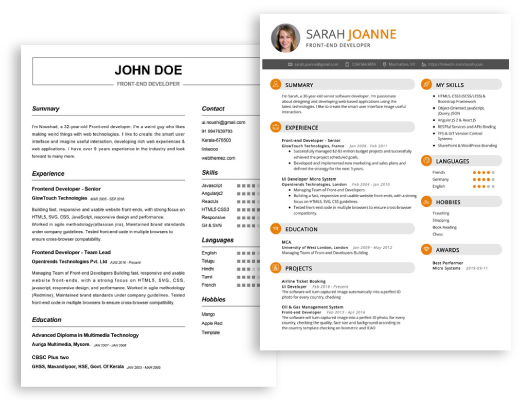 Start building your dream career today!
Create your professional resume in just 5 minutes with our easy-to-use resume builder!
Stock Associate Resume Examples
John Doe
Stock Associate
123 Main Street | Anytown, USA 99999 | Phone: (123) 456-7890 | Email: john.doe@email.com
A highly organized and detail- oriented professional with over 5 years of experience in stock associate roles. Skilled in inventory management, restocking shelves, and organizing products with an eye for detail. Committed to providing excellent customer service and satisfaction.
Core Skills
Strong organizational skills
Excellent customer service
Ability to lift heavy items
Extensive knowledge of inventory management systems
Proficient in mathematical calculations
Experienced in restocking shelves
Ability to work in a fast- paced environment
Professional Experience
Stock Associate, ABC Store, 2018- Present
Maintain a safe and clean store environment
Manage inventory levels and stock shelves
Ensure accurate recordkeeping of inventory
Assist customers with product inquiries
Ensure compliance with safety regulations and policies
Restock shelves as needed
Stock Associate, XYZ Corporation, 2015- 2018
Organize and restock shelves with products
Process and fulfill customer orders
Maintain accurate inventory records
Restock shelves at the end of each day
Provide top- notch customer service
Ensure compliance with all safety regulations and policies
Education
High School Diploma, Anytown High School, Anytown, NY, 2015
Stock Associate Resume with No Experience
Energetic and detail- oriented Stock Associate with exceptional organizational skills and the ability to handle multiple tasks in a fast- paced environment. Seeking a Stock Associate position with a reputable business that values hard work, precision, and customer service excellence.
Skills
Excellent organizational skills
Familiarity with warehouse inventory systems
Ability to lift up to 50 lbs
Strong communication and interpersonal skills
Able to work long hours
Proficient in MS Office
Able to work independently
Detail oriented
Team player
Responsibilities
Receive, unload, and organize shipments
Label, pack and store inventory items
Organize stock in the warehouse and stockroom
Inspect incoming shipments for accuracy
Check expiration dates and rotate stock
Maintain inventory records
Check stock levels and replenish when necessary
Ensure general cleanliness of the warehouse and stockroom
Monitor stock movement and report any discrepancies
Assist customers with product selection and provide information as needed
Assist with loading and unloading of delivery trucks
Move inventory items as needed
Stock Associate Resume with 2 Years of Experience
Dedicated and reliable Stock Associate with two years of experience in warehouse operations, shipping and receiving, inventory management and data entry. Detail- oriented and hardworking with strong multitasking capabilities. Possess an innate ability to work efficiently and effectively in a team environment.
Core Skills:
Inventory Management
Shipping and Receiving
Data Entry
Organizational Skills
Attention to Detail
Interpersonal Skills
Problem- solving
Time Management
Responsibilities:
Received incoming stock and ensured that it was properly organized and stored.
Located and pulled inventory from storage areas.
Maintained inventory records and generated reports.
Performed basic data entry tasks for inventory management.
Loaded and unloaded trucks and ensured that all items were handled properly.
Inspected incoming goods for quality and quantity.
Packed and labeled items for shipment.
Operated material handling equipment such as forklifts and pallet jacks.
Detected and reported discrepancies in inventory levels.
Monitored stock levels and reordered items when necessary.
Stock Associate Resume with 5 Years of Experience
A highly motivated and hardworking individual with over 5 years of stock associate experience. I have experience in receiving shipments, stocking shelves, and performing inventory audits. I am well- versed in utilizing warehouse equipment to quickly stock shelves and move items to their correct locations. I am efficient in working with the team to ensure that orders are met and customer service is of the highest quality. Most of all, I am committed to providing a safe work environment to ensure the safety of everyone on the team.
Core Skills:
Strong customer service skills
Effective problem- solving abilities
Great organizational and time- management skills
Excellent communication skills
Strong physical fitness
Ability to learn quickly
Knowledge of warehouse operations and safety regulations
Responsibilities:
Receiving shipments, restocking shelves and performing inventory audits
Unloading, verifying and stocking incoming shipments
Ensuring stock is stored in designated areas
Verifying orders to ensure accuracy
Assisting customers with requests and providing exceptional customer service
Conducting safety inspections on warehouse equipment and ensuring safety protocols are followed
Maintaining a clean and organized work area
Following customer service guidelines for resolving customer complaints
Assisting in the training of new employees
Communicating with management regarding inventory levels, quality control and order deadlines.
Stock Associate Resume with 7 Years of Experience
Highly motivated and intuitive Stock Associate with 7+ years of experience in the retail industry. Expertise in receiving, tracking, restocking, and logging inventory. Proven ability to meet tight deadlines and complete tasks accurately and efficiently. Skilled in product organization, customer service, and problem- solving. Experience in planning and managing shipments.
Core Skills:
Inventory Management
Product Organization
Shipping & Receiving
Logging & Tracking
Time Management
Customer Service
Problem- Solving
Responsibilities:
Receive shipments and ensure accuracy of items and quantities
Track and log inventory in a timely and accurate manner
Unpack, count, and restock merchandise in designated areas
Assist in the preparation of shipments, including packaging, labeling and arranging delivery or pickup
Respond to customer inquiries and ensure customer satisfaction
Maintain a clean and organized work environment
Monitor stock levels to anticipate customer needs and prevent stock shortages
Identify and report inventory discrepancies and damages to supervisor
Stock Associate Resume with 10 Years of Experience
A decade of experience in stock management and inventory control makes me an ideal candidate for the Stock Associate position. My experience in customer service, merchandising, product assembly and shipping/receiving provides a comprehensive understanding of the stock associate role. My skills include attention to detail, organization, problem solving and decision making. I am a team player, take initiative and am extremely punctual.
Core Skills:
Inventory Control
Merchandising
Product Assembly
Shipping/Receiving
Customer Service
Organizational Skills
Problem Solving
Attention to Detail
Decision Making
Time Management
Responsibilities:
Count and record merchandise to identify discrepancies
Organize and rearrange stockroom shelves and racks to ensure products are easy to locate
Stock shelves and set up product displays to maximize product visibility
Sort and assemble merchandise according to store specifications
Label items with appropriate pricing labels and tags
Reconcile sales receipts and inventory data
Track merchandise shipments and check invoices for accuracy
Maintain the store's cleanliness, organization and safety
Assist customers with inquiries and purchases
Train new employees on store policies and procedures
Develop creative strategies to boost store sales
Interact with vendors to coordinate deliveries and restocking
Stock Associate Resume with 15 Years of Experience
A highly experienced Stock Associate with 15 years of experience in the retail industry. An experienced professional in the management of stock, inventory management and warehousing. Able to use initiative and problem solving skills to support the efficient, organized and accurate day to day operations. Skilled in customer service and team leadership.
Core Skills:
Inventory Management
Stock Control
Warehousing
Customer Service
Team Leadership
Data Entry
Organizational/Time Management
Responsibilities:
Regularly checking stock levels and updating records
Organizing stock in the warehouse and in store
Assisting with customer orders and queries
Ensuring merchandise is correctly labelled and priced correctly
Ensuring stock is correctly stored, rotated and displayed
Reporting any discrepancies in inventory levels
Ensuring health and safety regulations are followed in warehouse and store areas
Managing team members and assigning tasks
Maintaining accurate records of stock and updating inventory management system
Receiving shipments and checking for accuracy
Providing customer service, including explaining products and services
Assisting in the development of strategies to improve customer service standards
Organizing weekly and monthly reports of stock levels
In addition to this, be sure to check out our resume templates, resume formats, cover letter examples, job description, and career advice pages for more helpful tips and advice.
What should be included in a Stock Associate resume?
Having a comprehensive, up-to-date resume is essential for getting a job as a stock associate. When creating a stock associate resume, there are certain qualifications employers look for. Here is what should be included in a stock associate resume:
Contact Information: Start your resume with your contact information to make it easier for employers to contact you. Include your name, address, phone number, and email address.
Professional Summary: This section should be a brief summary of your qualifications and experience. Describe yourself as a motivated, hardworking, and reliable stock associate.
Work Experience: Highlight any previous experience you have as a stock associate or in a similar role. Focus on relevant experience and accomplishments, such as customer service skills, inventory management, and organizational abilities.
Education: Include any educational qualifications related to a stock associate role. This may include a high school diploma or college degree.
Skills: In this section, list any skills you have that are relevant to the role. This may include customer service, computer skills, and knowledge of inventory systems.
Certifications: If you have any certifications related to stock associate roles, make sure to include them.
References: Finish your resume with a list of references that hiring managers can contact.
By including these components, you can create an effective stock associate resume that will help you stand out from the competition.
What is a good summary for a Stock Associate resume?
A Stock Associate resume should provide a summary of the candidate's experience working in a warehouse or retail setting. This summary should include important skills and qualifications, such as the ability to manage inventory, operate forklifts, and provide excellent customer service. The summary should also provide a brief overview of the candidate's career accomplishments, such as receiving awards or honors for their outstanding performance as a stock associate. Finally, the summary should highlight any experience the candidate has working with inventory management software and any other relevant computer programs. By including this important information, a Stock Associate resume should be able to provide employers with an accurate picture of the candidate's capabilities and experience.
What is a good objective for a Stock Associate resume?
A stock associate is responsible for stocking shelves, ensuring the correct quantities of products, and managing inventory. A good objective for a stock associate resume should highlight the experience and skills of the applicant, as well as their commitment to providing exceptional customer service and support.
Demonstrate ability to work in a fast-paced environment with a focus on accuracy and efficiency.
Manage inventory levels and restock shelves in accordance with store standards.
Maintain effective communication with customers and store staff.
Ensure compliance with safety regulations and hygiene standards.
Conduct regular stock checks to ensure accuracy of inventory.
Provide excellent customer service, resolving customer queries and complaints.
Work proactively to reduce stock loss and shrinkage.
Identify and report potential stock discrepancies to management.
How do you list Stock Associate skills on a resume?
When you're assembling your resume for a Stock Associate position, be sure to include the skills that make you a qualified candidate for the job. This can include technical, physical, and interpersonal skills, depending on the position.
Here are some skills to consider listing on your resume:
Computer literacy: Stock Associates often use computers to track inventory and sales, so be sure to include any understanding of computer programs and systems.
Knowledge of safety procedures: Stocking shelves and managing inventory can be dangerous, so employers are looking for Stock Associates who understand safety procedures.
Attention to detail: Stock Associates need to carefully manage the organization of products and shelves in the store, so being detail-oriented is beneficial.
Physical strength: Stock Associates often need to lift or move heavy boxes or products, and being physically capable is essential.
Communication: Stock Associates need to have good communication skills in order to interact with customers, managers, and other staff members.
Flexibility: Stock Associates often need to adjust to varying schedules or tasks, so employers are looking for candidates who are flexible.
When listing these skills on your resume, be sure to include specific examples that demonstrate your abilities. This will help employers understand your qualifications and make you a more attractive candidate.
What skills should I put on my resume for Stock Associate?
When applying for a Stock Associate role, it is important to showcase the applicable skills and knowledge that you possess. Your resume should accurately reflect the qualities that you bring to the job. Here are some of the key skills an employer might look for when reviewing resumes of prospective Stock Associates:
Knowledge of stocking principles and techniques: Stock Associates should have an understanding of the principles and techniques involved in stocking merchandise in a store. Experience with merchandise inventory is also beneficial.
Physical strength and dexterity: A Stock Associate must be able to lift and move heavy items, as well as be able to reach and bend to stock merchandise in hard-to-reach places.
Attention to detail: In order to maintain order and accuracy in the store, a Stock Associate must be detail-oriented and able to recognize discrepancies in stock levels and locations.
Computer literacy: Stock Associates should have a basic working knowledge of computer systems and software related to inventory maintenance.
Flexibility: Working in a retail environment often requires adapting to changing needs and situations. The ability to adapt and adjust quickly is necessary for a Stock Associate.
Communication skills: A Stock Associate must be able to communicate effectively and efficiently with customers and colleagues.
By demonstrating these and other relevant skills on your resume, you can show potential employers that you possess the ability and experience to be a successful Stock Associate.
Key takeaways for an Stock Associate resume
When you're applying for a job as a stock associate, you need to make sure your resume is up to par. Your resume should showcase your skills, experience and qualifications in a way that stands out to potential employers. Here are some key takeaways to keep in mind when crafting your stock associate resume:
Highlight your experience: Make sure to include all relevant experience in your resume, including any past roles or positions that involved working with inventory, stocking shelves, sales or customer service. If you have any special skills or qualifications related to the role, such as forklift certification, be sure to include that as well.
Focus on customer service: As a stock associate, you'll be dealing with customers on a regular basis. Be sure to emphasize any customer service skills you may have, such as excellent communication and problem-solving abilities.
Include any relevant education: If you have any educational background related to the role of stock associate, such as a degree in business or management, make sure to include it in your resume. This could give you an edge over other candidates.
Demonstrate your organizational skills: Stock associates must be able to stay organized, prioritize tasks and manage time efficiently. Make sure to include any relevant experience or skills that demonstrate your organizational abilities.
By following these tips and emphasizing your experience, qualifications and customer service skills, you can create an effective stock associate resume that will help you stand out from the competition.
Let us help you build
your Resume!
Make your resume more organized and attractive with our Resume Builder