Having a solid resume is key to gaining a job as a merchandiser. Unfortunately, many don't know how to write a resume that will attract the attention of potential employers. To help, this blog post provides a comprehensive guide on how to write a merchandiser resume and includes some examples to help get you started. By following this guide, you can create a compelling resume that will help you stand out from the competition and jumpstart your career.
If you didn't find what you were looking for, be sure to check out our complete library of resume examples.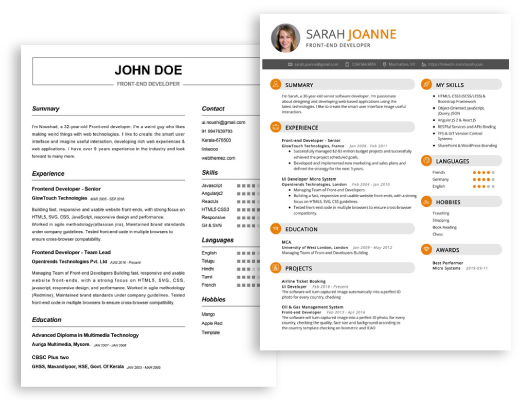 Start building your dream career today!
Create your professional resume in just 5 minutes with our easy-to-use resume builder!
Reset Merchandiser Resume Examples
John Doe
Reset Merchandiser
123 Main Street | Anytown, USA 99999 | Phone: (123) 456-7890 | Email: john.doe@email.com
Highly motivated Reset Merchandiser with 5+ years of experience in the retail industry. Proven ability to read and interpret planogram designs, build and stock store displays, and accurately set merchandise to planogram specs. Demonstrated expertise in analyzing sales trends and customer needs to develop creative strategies and boost sales. Adept at creating effective working relationships and facilitating cooperation among store personnel.
Core Skills:
Planogram Design
Merchandise Resetting
Inventory Management
Sales Analysis
Store Display Design
Merchandise Placement
Loss Prevention
Customer Service
Vendor Relations
Professional Experience:
Reset Merchandiser, ABC Retail, 2013- Present
Read and interpret planogram designs and reset merchandise to specifications.
Build and stock store displays, ensuring all product is properly merchandised and labeled.
Analyze sales trends and customer needs to develop strategies for boosting sales.
Develop and maintain effective working relationships with store personnel.
Ensure inventory is managed efficiently, accurately, and securely.
Monitor merchandise placement and ensure compliance with loss prevention standards.
Education:
Associate of Science Degree, Merchandising and Marketing, ABC College, 2011- 2013
High School Diploma, ABC High School, 2009- 2011
Reset Merchandiser Resume with No Experience
Hardworking and reliable reset merchandiser with no experience, but a willingness to learn and a dedication to quality customer service. Experienced in communication, problem- solving, and organization. Eager to join a team and make a positive impact.
Reset Merchandiser Skills
Strong communication and interpersonal skills
Ability to work independently and as part of a team
Able to follow instructions and complete tasks efficiently and accurately
Attention to detail
Flexible and adaptable
Reset Merchandiser Responsibilities
Organize and install merchandise fixtures and displays
Complete store reset plans in a timely manner
Adhere to all safety policies and procedures
Maintain clean and organized work environment
Ensure all product is properly labeled and priced
Ensure product quality and freshness standards
Reset Merchandiser Resume with 2 Years of Experience
Results- driven merchandiser with two years of experience in the retail sector. Proven track record of increasing sales and customer satisfaction through effective product merchandising and marketing techniques. Possess excellent communication and organizational skills, with the ability to track and analyze data to ensure customer satisfaction and maximize profits.
Core Skills:
Product Merchandising
Data Analysis
Marketing
Sales Strategies
Inventory Management
Store Displays
Customer Service
Vendor Relationships
Responsibilities:
Organized and maintained merchandising displays in accordance with company policies
Developed and implemented effective strategies to increase sales and revenue
Planned and organized promotions and sales events
Developed and managed relationships with vendors and suppliers
Assisted customers in selecting products and answering questions
Monitored inventory levels and ensured availability of products
Analyzed customer feedback and data to improve services and customer satisfaction
Provided training and guidance to new employees
Ensured store compliance with health and safety regulations.
Reset Merchandiser Resume with 5 Years of Experience
Highly experienced and knowledgeable Merchandiser with 5 years of experience in the fashion industry. Proven ability to develop and execute merchandising plans and strategies that drive sales, maximize profits, and increase customer satisfaction. Experienced in visual merchandising and product management including selecting merchandise, analyzing trends, setting pricing and promoting products. Well- versed in setting and achieving sales goals, developing and maintaining efficient processes, and managing retail staff.
Core Skills:
Fashion Merchandising and Product Management
Strategic Planning and Execution
Pricing Strategy
Visual Merchandising
Team Leadership and Management
Retail Operations
Customer Service
Analyzing Trends
Responsibilities:
Developed and implemented strategic merchandising plans and strategies to drive sales and maximize profits.
Monitored and analyzed sales trends, product performance, and customer feedback.
Set and adjusted pricing strategies to optimize profitability and meet customer needs.
Created visual merchandising displays to attract customers and drive purchases.
Managed and led a team of retail staff and promoted team collaboration.
Executed retail operations and maintained efficient processes.
Provided exceptional customer service and addressed customer inquiries and complaints.
Reset Merchandiser Resume with 7 Years of Experience
Highly motivated and organized Merchandiser with 7 years of experience in retail environments. Demonstrated success in customer service, inventory management, and merchandising. Adept at effectively assessing customer needs and providing solutions; experienced problem- solver and quick learner. Proven ability to build and maintain relationships with clients and vendors.
Core Skills:
Customer service
Inventory management
Loss prevention
Visual merchandising
Sales strategies
Merchandise displays
Relationship building
Product knowledge
Responsibilities:
Develop and maintain relationships with customers, vendors and other stakeholders
Create product displays and signage for stores
Develop and execute sales strategies to meet set targets
Monitor stock levels and identify inventory needs
Assist with product selection, pricing and promotions
Analyze industry trends and customer feedback to identify opportunities for improvement
Train and mentor staff on customer service and product knowledge
Implement loss prevention measures to protect store assets
Reset Merchandiser Resume with 10 Years of Experience
A highly- motivated and successful merchandiser with 10 years of experience in sales, marketing, customer service, product development and retail operations. Proven track record of success in developing and implementing sales promotions, customer service initiatives and product marketing strategies. Skilled in merchandise and inventory management, pricing strategies, budget management and customer relations. Experienced in working with buyers from all major retail stores, as well as with smaller independent stores.
Core Skills:
Product Development
Retail Operations
Sales Promotions
Customer Service
Merchandise Management
Inventory Management
Pricing Strategies
Budget Management
Buyer Negotiation
Product Marketing Strategies
Responsibilities:
Developed and implemented sales promotions and product marketing strategies to increase sales and profitability.
Managed merchandising activities and inventory levels, ensuring product availability and correct pricing.
Negotiated with buyers from major retail stores and smaller independent stores to secure contracts and increase sales.
Provided customer service and addressed customer inquiries, complaints, and inquiries.
Created detailed reports and presentations to track product performance and customer trends.
Monitored budgets to ensure best use of resources and maximize profitability.
Collaborated with vendors to ensure product quality and timely delivery of merchandise.
Reset Merchandiser Resume with 15 Years of Experience
Dedicated and experienced Merchandiser with 15 years of experience in the retail industry. Proven track record of ensuring product visibility, inventory accuracy, and successful promotion of products on shelves. Ability to communicate and collaborate with customers, vendors, and colleagues at all levels. Adept at coordinating with store managers to guarantee product availability and improve customer relations. Experienced in overseeing store sales and meeting revenue targets.
Core Skills:
Merchandising
Customer Relations
Inventory Management
Data Analysis
Sales Forecasting
Negotiation
Team Management
Product Promotion
Responsibilities:
Develop and implement effective merchandise plans to ensure product visibility, profitability, and overall customer satisfaction.
Monitor and analyze sales reports and adjust merchandise plans accordingly.
Coordinate with vendors to ensure merchandise availability, negotiated product costs, and timely delivery.
Track inventory levels, identify trends, and inform store managers of necessary adjustments.
Develop promotional plans and coordinate with store teams to ensure successful implementation.
Collaborate with store managers to ensure proper product placement, maximize product visibility, and improve customer engagement.
Monitor competitors' pricing and product placement strategies.
Communicate regularly with store teams and vendors to ensure appropriate merchandising strategies.
Monitor store sales to ensure revenue targets are met.
In addition to this, be sure to check out our resume templates, resume formats, cover letter examples, job description, and career advice pages for more helpful tips and advice.
What should be included in a Reset Merchandiser resume?
A reset merchandiser resume is an important tool for anyone looking for a job in the field. A good resume can help you stand out from the competition and make a great first impression. Here is a list of things to include in a reset merchandiser resume:
Job Experience: Include any previous experience you have had as a reset merchandiser. List details about the job such as the company name, the position, the responsibilities you had, and the dates of employment.
Education: Include any education you have completed that is related to reset merchandising. This could include courses taken, certifications obtained, or other relevant educational experiences.
Skills: List any skills that you have that are related to reset merchandising. This could include working with certain software, familiarity with certain retail products, and the ability to troubleshoot merchandising issues.
Professional References: Include three professional references that can vouch for your abilities as a reset merchandiser. These could be former coworkers or supervisors, or even other employers that you have worked with in the past.
Achievements: List any achievements or awards you have won for your work as a reset merchandiser. This could include recognition from your employer, awards from industry organizations, or any other accolades you have earned.
By including all of these things in your reset merchandiser resume, you can make sure that potential employers have all the information they need to make the best decision about hiring you. Good luck!
What is a good summary for a Reset Merchandiser resume?
A Reset Merchandiser resume should be concisely written and accurately summarize their work experience, achievements, and education. It should highlight their abilities to arrange and restock store shelves and fixtures, build displays, and remain organized and efficient throughout their shift. A Reset Merchandiser resume should also demonstrate the candidate's communication, customer service, and problem-solving skills. Additionally, a Reset Merchandiser resume should also showcase their knowledge of store designs, product placement, and merchandising techniques. Finally, a Reset Merchandiser resume should include any certifications, licenses, or additional training received in the field.
What is a good objective for a Reset Merchandiser resume?
A reset merchandiser role typically involves setting up and rearranging merchandise displays in retail stores according to a pre-determined plan. It requires excellent organizational skills, attention to detail, and the ability to interpret and follow instructions. Writing a resume for a reset merchandiser role can be challenging, and it's important to make sure that you include an objective that showcases your skills and experience. Here are some objectives to consider for a reset merchandiser resume:
Ensure that merchandise displays are aesthetically pleasing and accurately reflect the company's brand
Utilize strong organizational skills to efficiently and accurately complete reset tasks
Execute reset plans effectively and with a focus on customer satisfaction
Employ excellent communication skills to work effectively with store personnel
Enhance store layouts to maximize profits and customer experience
Utilize time management skills to ensure that tasks are completed within the allotted time frame
How do you list Reset Merchandiser skills on a resume?
When crafting a resume, it is important to highlight any relevant experience, knowledge, or skills that you have as a Reset Merchandiser, as this will make you a more attractive candidate to potential employers.
When listing your Reset Merchandiser skills on a resume, be sure to include the following:
Knowledge of merchandising techniques: As a Reset Merchandiser, you should be familiar with merchandising techniques, such as following plans and schematics, stocking and facing product, and changing product displays.
Strong organizational skills: Reset Merchandisers need to be able to quickly and accurately set up product displays, as well as manage inventory and paperwork.
Attention to detail: As a Reset Merchandiser, you need to be able to pay attention to detail and make sure that products are displayed properly.
Interpersonal skills: As a Reset Merchandiser, you will be interacting with store employees and customers, so having excellent interpersonal and communication skills is essential.
Adaptability: Reset Merchandising is a fast-paced, ever-changing environment, so it is important to be able to adapt quickly and efficiently to new situations.
Flexibility: You should be able to work flexible hours, including evenings, weekends, and holidays.
By highlighting your Reset Merchandiser skills on your resume, you will demonstrate to potential employers that you have the experience and knowledge they are looking for.
What skills should I put on my resume for Reset Merchandiser?
When applying for a Reset Merchandiser position, your resume should demonstrate that you have the skills and qualifications necessary to be successful in the role. The following skills should be included on your resume:
Visual Merchandising: As a Reset Merchandiser, you need to have a strong sense of visual aesthetics and understand how to arrange merchandise in a way that will attract customers.
Analytical Skills: You need to be able to analyze and interpret data from customer surveys, market research, and other sources to determine the best placement of merchandise in stores.
Problem-Solving: Reset Merchandising can be a complex and challenging job. You should be able to troubleshoot and devise creative solutions to any issues that may arise.
Communication: Good communication is essential in Reset Merchandising. You need to be able to effectively communicate with store personnel and other staff to ensure that the reset is done correctly.
Time Management: You need to be able to manage your time in order to complete the reset in the allotted time frame.
Attention to Detail: Reset Merchandising requires a great deal of attention to detail. You should be able to spot discrepancies quickly and make corrections as needed.
Key takeaways for an Reset Merchandiser resume
When constructing a resume as a Reset Merchandiser, it is essential to highlight your skills and experience that are directly relevant to the position. Your resume should be concise and showcase the qualifications that make you an ideal candidate. Here are a few key takeaways to keep in mind when crafting your resume:
Focus on Relevant Experience: When highlighting experience, focus on the skills and qualifications that make you a good fit for the job. Include any positions that have given you the experience necessary for reset merchandising.
Highlight Your Knowledge: Make sure to include any knowledge or skills you have related to reset merchandising. This can include areas such as inventory management, product placement, and visual merchandising.
Demonstrate Your Adaptability: Reset merchandising requires the ability to quickly adapt to changing environments, so it's important to emphasize your ability to handle multiple tasks and adjust to shifting demands.
Showcase Your Initiative: Reset merchandisers are expected to take initiative and be proactive in their work. Demonstrate how you've taken the lead on projects or initiatives in the past.
Overall, when crafting a resume as a Reset Merchandiser, make sure to emphasize the skills and qualifications that make you the ideal candidate. Focus on your relevant experience, highlight your knowledge of the field, demonstrate your adaptability and initiative, and you'll be sure to create a winning resume.
Let us help you build
your Resume!
Make your resume more organized and attractive with our Resume Builder