Writing a resume as a night stocker can be a daunting task. After all, you have to make sure your qualifications, experience and skills stand out amongst other candidates. To help you create the perfect resume, this guide will provide you with all the tips and examples you need to write a strong and comprehensive resume for a night stocker. We'll cover how to format the resume, what to include in the resume, and how to make sure you get noticed by employers. With the help of these tips, you can be sure that your resume will be the best one they've seen and get you an interview.
If you didn't find what you were looking for, be sure to check out our complete library of resume examples.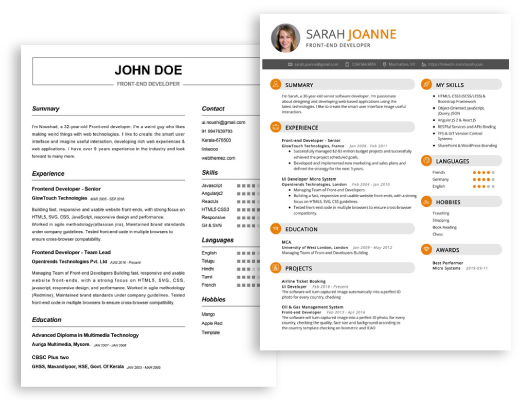 Start building your dream career today!
Create your professional resume in just 5 minutes with our easy-to-use resume builder!
Night Stocker Resume Examples
John Doe
Night Stocker
123 Main Street | Anytown, USA 99999 | Phone: (123) 456-7890 | Email: john.doe@email.com
Highly organized and motivated individual with 7+ years of experience in stocking and inventory management. Possess a strong attention to detail and have the ability to multitask and manage a variety of tasks in a fast- paced environment. Possess exceptional communication, customer service and problem- solving skills.
Core Skills:
Inventory Management
Time Management
Problem Solving
Attention to Detail
Organizational Skills
Customer Service
Data Entry
Professional Experience:
Night Stocker, ABC Grocery Store, 2020- Present
Check in merchandise and accurately record amounts received.
Manage inventory and ensure items are properly stocked.
Assess and replace items on shelves when necessary.
Ensure proper pricing and display of items.
Provide excellent customer service to customers.
Assist customers with product inquiries.
Lift and unload heavy items with appropriate safety measures.
Night Stocker, XYZ Grocery Store, 2015- 2020
Organized and stocked shelves and displays with products.
Properly labeled and displayed merchandise.
Maintained a clean and organized work environment.
Collaborated with team members on various projects.
Ensured shelves were full and properly marked with prices.
Assisted with returning and exchanging merchandise.
Education:
High School Diploma, Anytown High School, 2010- 2014
Night Stocker Resume with No Experience
Recent college graduate with a passion for customer service and working in fast- paced, challenging environments.
Seeking a Night Stocker position with a grocery store to utilize my organizational and problem- solving skills.
Skills
Excellent organizational skills
Attentive listener and communicator
Ability to multitask and stay calm under pressure
Knowledge of basic computer skills
Strong attention to detail
Ability to work independently
Responsibilities
Unload groceries delivered from warehouse and stock shelves
Maintain store displays, restocking shelves and rotating products
Organize backroom inventory and store shelves appropriately
Assist customers in locating products and answer their questions
Clean and organize shelves, racks and aisles in the store
Help to keep store clean and organized for customers
Ensure all products are well- priced and properly stocked
Assist in loading and unloading of customer orders
Night Stocker Resume with 2 Years of Experience
Diligent and efficient Night Stocker with two years of experience working in a retail environment. Proven ability to operate productively in a variety of positions, including stocking, organizing, and unloading. Possesses strong customer service skills and an excellent work ethic. Committed to maintaining product knowledge and understanding of procedures to ensure shelves are continuously filled and customer needs are met.
Core Skills:
Inventory Management
Organizational Skills
Safety Regulations
Customer Service
Attention to Detail
Problem- Solving
Lift/Carry Heavy Loads
Responsibilities:
Unloaded shipments and placed items in designated storage areas
Verified merchandise against delivery documents to ensure accuracy
Organized shelves and displays to promote product visibility
Stocked shelves and rotated product according to predetermined standards
Provided customer service by addressing customer inquiries and complaints
Inspected conditions of product for expiry dates, damaged product, and incorrect labeling
Ensured proper labeling, price tags, and coding of merchandise
Maintained cleanliness of store at all times
Followed safety regulations and guidelines when handling merchandise
Regularly checked inventory to ensure product availability
Night Stocker Resume with 5 Years of Experience
A hardworking and reliable Night Stocker with 5 years of experience in stocking shelves and merchandise, loading and unloading products, labeling shelves and organizing merchandise. Abundant knowledge of customer service, inventory control and security procedures. Possesses an excellent ability to read and follow instructions and processes with a sense of urgency and accuracy. Exhibits excellent communication and multitasking skills.
Core Skills:
Customer Service
Inventory Control
Detailed Oriented
Strong Planning and Organizational Skills
Problem- Solving
Ability to Work with Minimum Supervision
Collaborative
Merchandising
Responsibilities:
Organize merchandise in an attractive and orderly manner
Read store orders and restock shelves and backrooms in a timely manner
Check for expiration dates and shelf- life of products
Replenish stock on shelves
Ensure accuracy of inventory and pricing
Assist customers with locating merchandise
Maintain a clean and organized stockroom
Label shelves, products and other materials
Follow security procedures and maintain safety standards
Assist with cycle counting and stock takes
Comply with company policies and procedures
Perform other duties as assigned
Night Stocker Resume with 7 Years of Experience
I am a highly organized and detail oriented Night Stocker with 7 years of experience in stocking shelves, managing inventory, processing products and stocking the sales floor. I am experienced in heavy lifting, operating equipment, utilizing safety protocols and working in a fast- paced environment. I strive to ensure that all products are placed accurately, efficiently and safely. I am capable of working in a team or independently and I am committed to delivering exceptional customer service.
Core Skills:
Inventory Management
Product Stocking
Heavy Lifting
Equipment Operation
Safety Protocols
Customer Service
Time Management
Organizational Skills
Responsibilities:
Unload product shipments, inspect and confirm products meet quality standards.
Organize and stock shelves and product displays.
Complete inventory control and management procedures.
Set up displays and promotional materials.
Lift and transport products to and from display areas.
Maintain cleanliness and organization of the sales floor.
Assist customers with product selections and answer questions.
Ensure all safety protocols are followed.
Report any damages or discrepancies to management.
Night Stocker Resume with 10 Years of Experience
Highly experienced Night Stocker of 10 years, with excellent customer service and organizational skills. Proven track record of accuracy and efficiency in stocking merchandise, maintaining store displays, and in- store promotional activities. Possesses strong communication and interpersonal abilities. Professional and resourceful with a strong commitment to customer satisfaction.
Core Skills:
Strong Merchandising experience
Excellent Communication Skills
Excellent Organizational Skills
Ability to work independently
Strong Problem Solving and Analytical Skills
Ability to lift up to 50 pounds
Ability to work in a fast- paced environment
Ability to learn quickly
Ability to use a variety of tools
Responsibilities:
Stocking shelves with merchandise in an organized and efficient manner
Assisting customers with product selection and questions
Inspecting and restocking empty shelves and racks
Maintaining store displays
Assisting in promotional activities
Ensuring that store shelves are full and properly labeled
Verifying stock inventory
Assisting in unloading shipments
Adhering to company safety standards and regulations
Performing general cleaning duties
Maintaining accurate records of store inventories
Night Stocker Resume with 15 Years of Experience
Highly experienced and reliable Night Stocker with 15 years of experience stocking shelves and maintaining inventory. Possess extensive knowledge of product placement and warehousing, as well as an understanding of company policies and procedures. Recognized for being an efficient and hardworking team player capable of working in a fast- paced environment.
Core Skills:
Stocking shelves
Maintaining inventory
Product placement
Warehousing
Company policy understanding
Team player
Efficiency
Hardworking
Responsibilities:
Receive and unpack incoming products and check for quality
Store merchandise in designated locations and in accordance with company standards
Restock shelves and check for product expiration dates
Ensure that all merchandise displays are neat, tidy and fully stocked
Monitor inventory levels and report shortages to supervisor
Keep work area clean and organized at all times
Perform regular inventory checks and cycle counts
Assist in loading and unloading products and supplies
Execute store promotions, price changes and markdowns accurately
Maintain communication with managers and colleagues
Follow safety guidelines and procedures when handling materials and equipment.
In addition to this, be sure to check out our resume templates, resume formats, cover letter examples, job description, and career advice pages for more helpful tips and advice.
What should be included in a Night Stocker resume?
Maximizing your resume as a night stocker is essential to achieving your desired job. To successfully apply for this position, you should include the following details in your resume:
Professional Summary: This should include a brief overview of your experience in stocking and summarise your skills and knowledge.
Education: Make sure to include any relevant educational qualifications.
Work Experience: If you have any experience working as a night stocker, list it here, as well as any other relevant positions you have held.
Skills: Include any related skills and expertise that you have acquired through your roles.
Computer Skills: If you are proficient in using any relevant software or computer programs, list them here.
Other Skills: Mention any additional skills or abilities that you possess that could be beneficial to the position.
Availability: Include your availability for working night shifts.
References: Include the names and contact information for any relevant references.
By including this information in your resume, you will be able to demonstrate your suitability for the night stocker role.
What is a good summary for a Night Stocker resume?
A Night Stocker resume should emphasize a candidate's qualifications and experience in stocking shelves, maintaining inventory, and providing customer service. The resume should include a summary of the candidate's experience in the retail industry, as well as any special qualifications related to nighttime stocking. Other resume sections should emphasize the candidate's ability to work efficiently, their commitment to safety, and any knowledge of retail technology. The resume should also include any customer service experience and any achievements related to providing excellent customer service. Finally, the resume should be tailored to the specific job for which the candidate is applying.
What is a good objective for a Night Stocker resume?
When applying for a Night Stocker position, it is important to have a strong resume objective to stand out from the competition. An objective should be concise and focused, and should include both the goals of the position and the skills that make you a great fit for the job.
A good objective for a Night Stocker resume should include the following:
Demonstrate a commitment to providing excellent customer service
Utilize organizational, communication, and problem-solving skills
Adhere to company policies and procedures
Maintain a safe and efficient work environment
Optimize processes to increase productivity and accuracy
Work effectively as a team with little to no supervision
Exhibit a positive attitude and strong work ethic
Demonstrate the ability to lift and move heavy objects
Utilize knowledge of basic store operations
Remain organized and focused in a busy environment
These are just some of the qualities that employers are looking for in a Night Stocker. By including these bullet points in the resume objective, you can show the employer that you have the necessary skills and qualities to be successful in the position.
How do you list Night Stocker skills on a resume?
Night Stocker skills are an essential part of the job for stocking shelves, merchandising, and organizing inventory during the night shift in a retail store. When listing Night Stocker skills on a resume, it is important to include the specific abilities and experience necessary to perform this job.
When writing your resume, use the following guidelines to list your abilities and experience as a Night Stocker:
Utilize organizational skills to accurately and quickly stock shelves, merchandise, and organize inventory
Operate equipment such as pallet jacks to move and stock merchandise
Operate cash registers and maintain accurate records of sales transactions
Safely lift, carry, and place heavy boxes and products
Resolve customer complaints in a professional and timely manner
Ensure workplace safety by following all health and safety regulations
Maintain a clean and organized work area
Communicate effectively with other team members and management
These are just a few of the skills necessary to be a successful Night Stocker. When writing your resume, be sure to include any other relevant skills or experiences that demonstrate your ability to do the job.
What skills should I put on my resume for Night Stocker?
Night Stocker is a job that requires a range of skills, from physical ability to customer service. When crafting a resume for this job, it is important to focus on the skills that will help you excel in the role. Here are some skills to include on your resume as a Night Stocker:
Physical Strength and Stamina: Night Stockers often stand, lift, and move heavy objects throughout the night. Be sure to emphasize your physical strength, as well as your ability to remain active and focused throughout the shift.
Organizational Skills: As a Night Stocker, you must be able to organize and restock products in an efficient manner. Be sure to highlight any experiences you have with organizing or displaying products.
Customer Service: Night Stockers must interact with customers throughout the night, so it is important to emphasize your customer service skills.
Attention to Detail: When stocking and organizing products, it is important to pay attention to detail and ensure that items are placed in the correct area.
Time Management: Night Stockers must complete a lot of work in a limited amount of time. It is important to demonstrate your ability to manage your time effectively.
Teamwork: Night Stockers must be able to work in a team environment and collaborate with others to get the job done.
By including these skills on your resume, you will show potential employers that you have the skills necessary to excel as a Night Stocker.
Key takeaways for an Night Stocker resume
Night Stockers play an important role in logistics and warehousing operations. They ensure that products are properly stocked and organized for customers who shop in stores. A strong night stocker resume should highlight your organizational and problem-solving skills, as well as your attention to detail. Here are key takeaways for a night stocker resume:
Include a Professional Summary: To start your resume off on the right foot, include a professional summary at the top that highlights your strengths, including your ability to work in a fast-paced environment, organizational skills, and related experience.
Highlight Your Job Responsibilities: Employers want to know what you've done in the past, so make sure to include a section that highlights the job responsibilities you've had in previous positions. This will help potential employers understand the scope of your experience and abilities.
Showcase Your Skills: Showcase any special skills you possess that will help you in a night stocker role. This could include handling inventory, working with a forklift, or proficiency in a specific software program.
Don't Forget Your Education: Even though you may not have a degree related to warehousing and logistics, make sure to include any training or educational programs you've completed that are related to the position.
By including the above details in your night stocker resume, you'll be able to make a case for yourself and show employers why you're the best person for the job.
Let us help you build
your Resume!
Make your resume more organized and attractive with our Resume Builder