A career as a Visual Merchandiser is one that combines creativity with business acumen, which makes it an exciting and rewarding profession. As a Visual Merchandiser, you are responsible for creating visually appealing displays that not only draw customers in, but also help to promote and sell products. Crafting an effective visual merchandiser resume to showcase your skills, experience, and key accomplishments is essential if you want to rise to the top of the candidate pool. This guide to writing a Visual Merchandiser resume will show you how to effectively create a resume, highlight your best qualities, and show employers that you are the perfect fit for the job.
If you didn't find what you were looking for, be sure to check out our complete library of resume examples.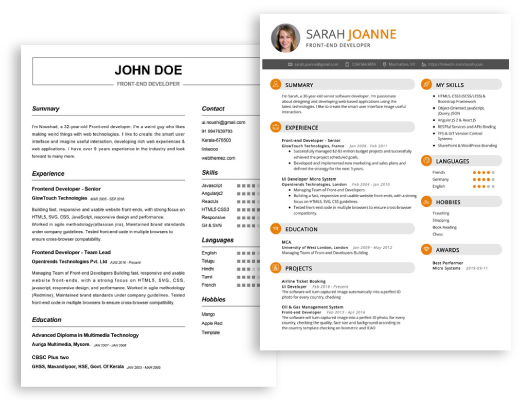 Start building your dream career today!
Create your professional resume in just 5 minutes with our easy-to-use resume builder!
Visual Merchandiser Resume Examples
John Doe
Visual Merchandiser
123 Main Street | Anytown, USA 99999 | Phone: (123) 456-7890 | Email: john.doe@email.com
Highly motivated and creative Visual Merchandiser with four years of experience in the fashion retail industry. A skilled communicator with a track record of developing and implementing visual merchandising plans that have increased sales and enhanced customer experience. Possesses a knack for identifying trends and leveraging them to create eye- catching displays that draw in customers. A team player who enjoys working with all levels of personnel, from store associates to executives.
Core Skills:
Excellent communication and interpersonal skills
Knowledge of retail merchandising and design principles
Proficiency with Adobe Creative Suite, Microsoft Office, and other graphic design applications
Strong organizational and time management abilities
Creative problem- solving and analytical abilities
Professional Experience:
Visual Merchandiser, ABC Retail Group, 2017- Present
Design and implement visual merchandising strategies to maximize sales and enhance customer experience
Create eye- catching displays that showcase the company's products in an attractive and inviting manner
Collaborate with store personnel to ensure effective implementation of visual merchandising plans
Analyze customer feedback and adjust merchandising accordingly
Maintain accurate product placement and pricing information
Track sales and report on effectiveness of visual merchandising plans
Education:
Bachelor of Science in Design, University of California, Berkeley, 2017
Visual Merchandiser Resume with No Experience
Goal- oriented individual seeking to start a career in visual merchandising. Possess excellent organizational and creative skills which are critical for successful visual merchandising. Possess a passion for fashion and design.
Skills
Excellent organizational skills
Strong creative capabilities
Understanding of basic marketing principles
Knowledge of fashion and beauty trends
Exceptional eye for detail and design
Basic computer proficiency
Responsibilities
Develop effective visual merchandising strategies to attract customers
Ensure product displays are appealing and innovative
Revise and update product displays to keep up with the changing market trends
Organize and store product displays according to store guidelines
Frequently audit store displays to ensure aesthetic standards are met
Help with the setup and breakdown of special events and promotions in store
Participate in training, workshops and conferences to stay up- to- date with the latest trends and technologies in the field.
Visual Merchandiser Resume with 2 Years of Experience
Creative and highly- motivated Visual Merchandiser with two years of experience in retail design. Possessing excellent organizational and customer service skills, as well as excellent communication and interpersonal skills. Experienced in developing and executing window and in- store displays, as well as product presentation and merchandise placement. Highly knowledgeable in creating, managing and merchandising store layouts, fixtures and displays to maximize sales.
Core Skills:
Visual Merchandising
Window and In- Store Displays
Product Presentation
Merchandise Placement
Store Layout and Design
Knowledge of Retail Trends
Excellent Organization Skills
Customer Service
Communication and Interpersonal Skills
Responsibilities:
Developed and executed aesthetically pleasing window and in- store displays
Utilized knowledge of retail trends to create effective displays
Designed, managed and merchandised store layouts, fixtures and displays
Assisted customers with product selection, pricing and availability
Worked with sales team in developing promotional materials
Ensured visual standards were met on a daily basis
Maintained inventory, restocked displays and removed outdated merchandise
Monitored visual merchandising initiatives and provided feedback
Collaborated with other departments to ensure brand consistency in displays
Visual Merchandiser Resume with 5 Years of Experience
A highly motivated Visual Merchandiser with 5 years of experience in the fashion retail industry. Expertise in product presentation, creative direction, and developing dynamic visual displays that contribute to sales and profitability. Positive attitude, excellent communication skills, and strong attention to detail.
Core Skills:
Mannequin dressing
Space management
Visual merchandising
Fashion trend knowledge
Window display design
Creative styling
Customer service
Team coordination
Responsibilities:
Developing in- store visuals, displays, window designs, and promotional materials
Coordinating visual merchandise displays with store events, promotions, and campaigns
Organizing and merchandising fixtures, props, and products in an attractive and eye- catching manner
Preparing and managing budgets for visual merchandising
Managing window displays and in- store displays to ensure products are merchandised in the most effective manner
Ensuring visual displays are in accordance with brand guidelines
Researching and staying up- to- date on current fashion trends and consumer buying habits
Train and supervise staff on visual merchandising techniques
Visual Merchandiser Resume with 7 Years of Experience
Talented and creative Visual Merchandiser with 7 years of experience in developing, executing, and maintaining visual displays and layouts to attract customers and increase sales. Possesses a keen eye for detail, excellent design, and customer flow skills. Fluent in planning and implementing displays to create a positive and productive shopping experience.
Core Skills:
Visual Merchandising
Store Layout Design
Brand Management
Budget Management
Window Display Design
Strategic Planning
Team Leadership
Customer Service
Project Management
Responsibilities:
Design and implement window, interior, and exterior displays for retail locations
Create and manage budgets for visual merchandising projects
Develop and execute floor plans and store layouts
Create and implement visual merchandising strategies to support store campaigns
Train, mentor, and manage visual merchandising staff
Collaborate with marketing and creative teams to develop creative and innovative displays
Monitor and analyze consumer behaviors to improve displays and layout
Analyze sales data to determine the effectiveness of displays and layouts
Visual Merchandiser Resume with 10 Years of Experience
Highly experienced Visual Merchandiser with 10+ years of experience in the retail sector. Skilled in merchandising products to create attractive, eye- catching displays that entice customers to purchase. Successfully created and implemented store window displays, interior displays, and mannequin displays. Possess excellent communication and interpersonal skills, essential for working with staff and customers.
Core Skills:
Visual Merchandising
Window Display Design
Store Layout Design
Creative Thinking
Color Theory
Lighting Design
Space Planning
Product Placement
Mannequin Display
Photography
Computer Graphics
Responsibilities:
Developing and creating merchandise displays to attract customers and boost sales
Orchestrating store layouts to match the company's image and identity
Designing and installing window displays to capture customer attention
Coordinating mannequin display designs to showcase products and brands
Utilizing color theory, space planning, and lighting to create attractive displays
Monitoring customer reactions and adjusting displays as necessary
Collaborating with staff to ensure displays are meeting company standards
Keeping up with current trends in visual merchandising
Performing photoshoots of displays to create catalogs and marketing materials
Visual Merchandiser Resume with 15 Years of Experience
Experienced Visual Merchandiser with 15 years of experience in retail, fashion, and interior design. Proven ability to interpret clients' needs and develop creative designs that enhance brand identity. Adept in working with a range of materials, fabrics, and fixtures to create appealing displays for customers. Skilled in budgeting, marketing, and managing inventory to maximize retail sales.
Core Skills:
Creative Design
Project Planning
Vendor Relations
Marketing & Advertising
Merchandising
Retail Sales Strategies
Visual Presentation
Fabric & Fixture Selection
Inventory Management
Budgeting & Forecasting
Responsibilities:
Develop creative designs for retail stores and window displays following the latest trends in the industry
Plan, coordinate, and execute projects in a timely manner
Collaborate with vendors, buyers, and marketing teams in order to ensure brand identity
Create and manage budgets, timelines, and resources to ensure successful store displays
Conduct research and analyze data to develop retail sales strategies
Select fabric and fixtures to create visually appealing displays
Manage inventory to maximize sales
In addition to this, be sure to check out our resume templates, resume formats, cover letter examples, job description, and career advice pages for more helpful tips and advice.
What should be included in a Visual Merchandiser resume?
Visual merchandising is an incredibly important role within the retail industry. To secure a position as a visual merchandiser, you must have a great resume. Here are some of the key items to include in a visual merchandiser resume:
Outstanding eye for design: Visual merchandisers must be able to create unique and aesthetically pleasing displays. It is essential to highlight any creative qualities or design abilities that can help you stand out.
Understanding of market trends: Visual merchandisers must also understand the most current fashion trends, colors, and styles. Showcase any knowledge of current industry trends that you have.
Knowledge of basic marketing principles: Visual merchandising is a form of marketing, so you should demonstrate any knowledge of marketing principles that you have.
Ability to work with limited resources: Visual merchandising requires creativity and resourcefulness. Showcase any experience you have working with limited resources to create stunning displays.
Flexibility and adaptability: Visual merchandisers must be able to work in a fast-paced environment and adjust to changes quickly. Showcase any experience you have in working in an ever-changing environment.
Experience with budgeting: Visual merchandising also involves budgeting. Demonstrate any experience you have working with budgets and spending.
By highlighting these key items in your resume, you will be sure to stand out from other applicants and secure a visual merchandising position!
What is a good summary for a Visual Merchandiser resume?
A Visual Merchandiser resume should showcase a candidate's ability to create attractive and engaging displays that promote products, drive sales, and increase brand recognition. A successful Visual Merchandiser must possess excellent communication and creative skills and have the ability to collaborate with designers, marketers, and other stakeholders. The ideal candidate should also demonstrate an understanding of customer preferences, pricing strategies, and product displays.
When creating a Visual Merchandiser resume, the summary should highlight the candidate's experience in merchandising, design, and customer service. It should also include any relevant skills or qualifications, such as proficiency in Adobe Creative Suite, retail analytics, and store layout. The summary should also include any awards or recognition earned in the field. Finally, a good summary should include a brief description of the candidate's passion for visual merchandising and their commitment to creating innovative, high-impact displays.
What is a good objective for a Visual Merchandiser resume?
When applying for a Visual Merchandiser position, it is important to highlight your skills, qualifications, and experience. Your resume should include an objective that clearly states what you are looking to achieve in the role and how you can contribute to the organization.
An effective objective for a Visual Merchandiser resume should demonstrate your skills in the area of visual merchandising and branding, show your ability to create an engaging shopping experience for customers, and emphasize your experience in product placement and design. Here are some sample objectives you can use as a starting point for creating your own:
To utilize my expertise in visual merchandising and branding to create an enticing shopping experience for customers.
To apply my experience in product placement, design, and display to create an attractive visual experience in a retail setting.
Seeking a Visual Merchandiser position where I can utilize my creative and strategic skills to increase customer engagement and maximize store sales.
To leverage my knowledge and experience of visual merchandising, product placement, and design to create an engaging and inviting shopping experience.
To use my experience in visual merchandising to optimize product displays and maximize sales opportunities.
How do you list Visual Merchandiser skills on a resume?
Visual Merchandising is an important part of retail and marketing, requiring a range of skills that go beyond creativity and passion. If you are looking to highlight your Visual Merchandising skills on your resume, it is important to include them in a way that will grab the attention of potential employers.
Here are some tips on how to list your Visual Merchandiser skills on a resume:
Focus on key skills: Start by highlighting the core competencies that are essential for the position. This includes things like product knowledge, visual display techniques, and visual placement techniques.
Provide examples: Use examples of successful projects you have completed in the past to show employers your Visual Merchandising experience. Include the name of the store, the results of the project, and what you did to make it a success.
Include related skills: Make sure to include other related skills such as customer service, communication, and organization. These will demonstrate your ability to work as part of a team and complete tasks efficiently.
Highlight achievements: List any awards you have received or recognition for great work in the field. This will help employers feel confident that you have the skills and experience needed to succeed in the job.
By listing your Visual Merchandising skills in a clear, concise, and organized way, potential employers will be able to see your experience and value quickly. This will help you stand out from other applicants and increase your chances of landing the job.
What skills should I put on my resume for Visual Merchandiser?
When writing a resume for a Visual Merchandiser job, it's important to highlight the skills that make you a great candidate for the role. Here are some of the key skills to include:
Artistic Ability: As a Visual Merchandiser, you will be responsible for creating and designing visually appealing displays. This requires a good eye for aesthetics and design, as well as an ability to think creatively.
Visual Presentation: You will be responsible for creating displays that attract customers, so excellent visual presentation skills are a must. You should be able to use a variety of materials to create an effective environment.
Customer Service: As a Visual Merchandiser, you will need to interact with customers and provide excellent customer service. You should have the ability to effectively communicate with customers and listen to their needs.
Organization: As a Visual Merchandiser, you will need to be able to plan, organize, and coordinate displays. You should have strong organizational skills and be able to multitask and manage multiple projects at once.
Adaptability: You should also have the ability to quickly adapt to changing customer needs and trends in retail. You should be able to think on your feet and make changes quickly.
These are some of the essential skills that should be included on a resume for a Visual Merchandiser job. Highlighting these skills will help you stand out from other candidates and will demonstrate to potential employers that you are the right fit for the role.
Key takeaways for an Visual Merchandiser resume
Creating a visually appealing resume is a key part of success for any Visual Merchandiser. As someone responsible for creating attractive displays and managing the overall look of a store, the resume should reflect a knack for creativity and an eye for detail. Here are some key takeaways for any Visual Merchandiser resume:
Highlight Your Creativity and Knowledge of Visual Trends: As a Visual Merchandiser, it is essential to showcase your creative abilities and knowledge of current visual trends. Be sure to include any experience in creating attractive displays, as well as any classes or certifications related to visual merchandising that you may have.
Describe Your Leadership Qualities: As a Visual Merchandiser, you may be in charge of managing a small team of associates. Showcase your leadership qualities by including any team-related projects you have been a part of. Talk about your ability to delegate tasks and manage personnel.
Demonstrate Your Understanding of Data Analysis: It is important to demonstrate your understanding of data analysis as a Visual Merchandiser. Talk about any experience you may have in analyzing data related to customer preferences, store sales, and more.
Showcase Your Ability to Problem-Solve: Visual merchandisers often have to think on their feet and come up with creative solutions to problems. Be sure to include any instances in which you have used your problem-solving skills to resolve an issue.
By following these key takeaways, any Visual Merchandiser can create a resume that will stand out from the competition and showcase their skills and abilities. Showing a passion for visual merchandising as well as a knowledge of current trends is key for any successful Visual Merchandiser.
Let us help you build
your Resume!
Make your resume more organized and attractive with our Resume Builder