If you want to land a job as a sustainability consultant, you need to have an impressive resume. Your resume needs to stand out from the crowd and show off your skills and experience in this increasingly competitive job market. Writing a resume for sustainability consulting positions can be tricky, but with the right tips and examples, you can create a resume that makes you stand out from the rest. In this blog post, we'll give you an in-depth look at how to write a resume for sustainability consulting positions and provide examples to help you create a winning resume.
If you didn't find what you were looking for, be sure to check out our complete library of resume examples.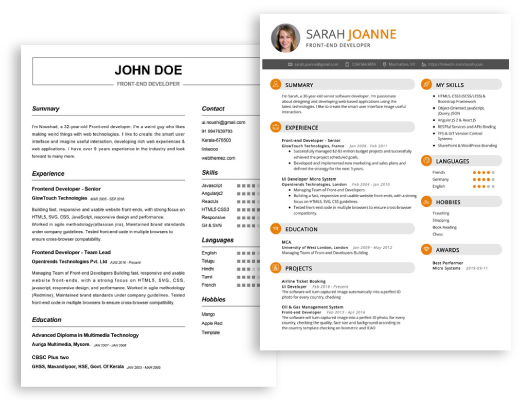 Start building your dream career today!
Create your professional resume in just 5 minutes with our easy-to-use resume builder!
Sustainability Consultant Resume Examples
John Doe
Sustainability Consultant
123 Main Street | Anytown, USA 99999 | Phone: (123) 456-7890 | Email: john.doe@email.com
A highly experienced sustainability consultant with a passion for driving innovation and building long- term relationships with clients. Skilled in sustainability reporting, corporate sustainability strategy, and stakeholder engagement. Proven success in developing and delivering successful strategies, inspiring teams, and delivering complex sustainability initiatives.
Core Skills:
Sustainability Reporting
Corporate Sustainability Strategy
Stakeholder Engagement
Project Management
Strategic Planning
Change Management
Process Improvement
Risk Management
Business Analysis
Environmental Management
Professional Experience:
ABC Consulting, Sustainability Consultant, 2018- 2020
Developed and implemented strategies for creating more sustainable operations for clients.
Guided clients in creating, managing and evaluating sustainability plans.
Conducted research to identify and assess potential risks, emerging issues and trends.
Reported on metrics, performance, and progress toward company sustainability goals.
Provided insights and recommendation to clients to improve their sustainability performance.
Built relationships with stakeholders to identify and address sustainability challenges.
Education:
Bachelor of Science in Environmental Management, ABC University, 2014- 2018
Sustainability Consultant Resume with No Experience
Recent college graduate looking to utilize my knowledge of sustainability and environmental protection to help create a better future. Adept at research and data analysis, knowledgeable in current sustainability initiatives and experienced in project management.
Skills
Environmental protection
Research and data analysis
Project management
Sustainability principles
Resource management
Sustainable development
Knowledge of sustainability initiatives
Responsibilities
Research and analyze current trends in sustainability and environmental protection
Develop strategies for resource management and sustainable development
Research and compile data for reports on sustainability initiatives
Develop projects to support sustainability initiatives
Track progress of projects and initiatives
Prepare reports on progress and initiatives
Draft and implement policies to promote sustainability and environmental protection
Sustainability Consultant Resume with 2 Years of Experience
Highly motivated and creative sustainability consultant with two years of experience in producing, analyzing, and presenting sustainability reports and green initiatives. An analytical problem solver and team- oriented professional with excellent communication and presentation skills, as well as a strong understanding of sustainability principles and values. Possesses an in- depth knowledge of sustainability metrics, frameworks, and industry trends, with the ability to use this data to drive sustainability initiatives, while ensuring they comply with set standards and regulations.
Core Skills
Metrics and Valuation
Data Analysis
Carbon Footprint Reduction
Risk Identification and Mitigation
Supply Chain Optimization
Environmental Performance
Project Management
Organizational Communication
Responsibilities
Developed and evaluated sustainability reports in accordance with industry standards and guidelines.
Conducted reviews of sustainability performance and key metrics, such as carbon footprints and energy efficiencies, to identify and mitigate risk.
Created strategies to reduce carbon footprints and optimize supply chains to increase sustainability and efficiency.
Analyzed environmental performance data to develop plans to achieve environmental targets.
Produced reports to communicate sustainability initiatives and performance to internal and external stakeholders.
Delivered presentations to senior management on sustainability initiatives and metrics.
Provided training and guidance to teams on sustainability best practices and metrics.
Monitored and reported on the progress of sustainability initiatives to ensure compliance with standards.
Sustainability Consultant Resume with 5 Years of Experience
A highly motivated and experienced Sustainability Consultant with 5 years of experience, specializing in environmental sustainability, climate change and renewable energy solutions. Proven ability to develop and implement innovative solutions for both the public and private sectors, as well as to provide thought leadership in sustainability- related initiatives. Committed to staying abreast of the latest developments in the field and engaging stakeholders in the adoption of sustainability practices.
Core Skills
Strategic Planning: Ability to develop and implement comprehensive sustainability plans aimed at long- term environmental and economic benefits.
Analytical Thinking: Proficiency in analyzing data and assessing risks to develop effective solutions.
Stakeholder Engagement: Proven track record of engaging stakeholders and motivating them to embrace sustainable practices.
Project Management: Experienced in leading and managing multi- disciplinary sustainability projects.
Communication: Strong verbal and written communication skills.
Responsibilities
Developed and implemented comprehensive sustainability plans for both public and private sector clients.
Conducted research and analysis on current and proposed sustainability initiatives.
Prepared detailed reports on sustainability initiatives, including economic and environmental benefits.
Engaged stakeholders in the adoption of sustainable practices through workshops, presentations and other outreach methods.
Led and managed multi- disciplinary projects related to sustainability initiatives.
Monitored and reported on the progress of sustainability initiatives.
Collaborated with other sustainability consultants to identify new opportunities and solutions.
Sustainability Consultant Resume with 7 Years of Experience
Results- oriented Sustainability Consultant with seven years of experience in developing and implementing sustainability strategies for private and public organizations. Highly knowledgeable in environmental regulations, standards, and policies. Skilled in creating and delivering presentations, analyzing data, and managing projects. Track record of developing creative solutions to sustainability objectives and surpassing clients' expectations.
Core Skills
Environmental Regulations
Sustainability Strategy
Data Analysis
Project Management
Presentation Development
Problem Solving
Creative Solutions
Responsibilities
Developed and implemented sustainability strategies for public and private organizations.
Ensured compliance with international and national environmental regulations, standards, and policies.
Conducted data analysis to identify areas of optimization and new initiatives.
Assisted clients with developing and executing sustainability plans.
Developed presentations to communicate results and recommendations to stakeholders.
Managed projects and ensured they remained within budget and timelines.
Researched and identified new sustainability initiatives and best practices.
Developed creative solutions to sustainability objectives and goals.
Sustainability Consultant Resume with 10 Years of Experience
Dynamic and highly experienced sustainability consultant with over 10 years of experience working within the energy, green building, and corporate sustainability sectors. A proven track record of leading high- impact sustainability projects, developing innovative strategies to improve performance, reduce costs, and generate value. Adept at identifying, analyzing, and effectively communicating the value of sustainability initiatives to stakeholders and decision- makers, while ensuring compliance with local, state, and federal regulations.
Core Skills:
Extensive knowledge of sustainability principles, global trends, and best practices
Skilled in designing and implementing sustainability strategies
Excellent leadership, communication, and project management skills
Proficient in data analysis, research, and reporting
Proficient in the use of relevant software and tools
Responsibilities:
Develop and implement sustainability objectives, goals, and strategies
Set sustainability targets, monitor progress, and report results
Identify opportunities and risks associated with sustainability projects
Lead the development and implementation of sustainability initiatives
Analyze sustainability data, develop reports, and present findings to senior management
Ensure compliance with local, state, and federal regulations
Collaborate with stakeholders to understand and meet sustainability needs
Develop and maintain relationships with vendors, consultants, and stakeholders
Sustainability Consultant Resume with 15 Years of Experience
Highly experienced sustainability consultant with 15+ years in the industry. Expert in environmental law, environmental policy, and sustainability strategies. Demonstrated success in managing consulting projects and creating solutions to address complex environmental issues. Skilled in helping organizations design and implement sustainability plans and initiatives that promote economic growth while minimizing environmental impacts.
Core Skills:
Environmental law
Environmental policy
Sustainable solutions
Strategic planning
Project management
Risk management
Environmental auditing
Research and analysis
Public speaking
Responsibilities:
Develop sustainability plans to reduce electricity, water, and waste usage
Develop and implement strategies to reduce greenhouse gas emissions
Conduct research on environmental regulations and policies
Analyze and report on the environmental impacts of organizations
Advise organizations on how to become more sustainable
Audit buildings for potential improvement opportunities
Communicate effectively with stakeholders on sustainability initiatives
Conduct workshops and seminars to educate stakeholders on sustainability best practices
Prepare reports and presentations on sustainability projects
In addition to this, be sure to check out our resume templates, resume formats, cover letter examples, job description, and career advice pages for more helpful tips and advice.
What should be included in a Sustainability Consultant resume?
Sustainability Consultants are professionals who help businesses and organizations improve their environmental and social responsibilities. To be a successful Sustainability Consultant, one must have a comprehensive resume that showcases their knowledge and experience in the field. Here are some of the key elements that should be included in a Sustainability Consultant resume:
Education: Include any certifications, degrees, or specialized courses related to sustainability, environmental science, or climate change.
Professional Experience: List all relevant roles and responsibilities in previous positions, with a focus on those related to sustainability.
Technical Knowledge: Demonstrate your understanding of sustainability and environmental topics, such as energy efficiency, green building practices, sustainable materials, renewable energy, and waste management.
Analytical Skills: Showcase your skills related to data analysis, research, and reporting.
Communication: Highlight your ability to communicate effectively with stakeholders and other professionals.
Leadership: Demonstrate your leadership abilities through project management experience and/or collaboration.
Problem Solving: Showcase your ability to find creative and innovative solutions to environmental challenges.
Collaboration: Demonstrate your ability to work effectively with a variety of stakeholders, including staff, clients, and vendors.
By highlighting your skills and qualifications related to sustainability, you can demonstrate why you would be the best choice for the role. A well-rounded resume that includes these elements will help you stand out from the competition.
What is a good summary for a Sustainability Consultant resume?
A good summary for a Sustainability Consultant resume should highlight the candidate's knowledge of sustainability principles and practices, as well as their ability to develop, implement and track sustainability initiatives. The summary should also demonstrate the candidate's leadership and communication skills, and their ability to build relationships with stakeholders and collaborate with various departments. Finally, the summary should showcase the candidate's commitment to sustainability and their ability to generate innovative solutions to complex sustainability challenges.
What is a good objective for a Sustainability Consultant resume?
A Sustainability Consultant is responsible for providing advice to organizations regarding sustainable practices and policies. Their goal is to help companies minimize their environmental impact and make the most efficient use of resources. As such, a strong objective on a Sustainability Consultant resume should emphasize the applicant's experience, skills, and knowledge of sustainable practices.
Here are some examples of objectives that can be used to effectively showcase your strengths and qualifications as a Sustainability Consultant:
To use my expertise in sustainable practices to help organizations reduce their environmental footprint and increase resource efficiency.
To leverage my understanding of sustainable development and corporate social responsibility to advise organizations on the best practices for a sustainable future.
To utilize my research and analytical skills to identify areas of improvement and innovative solutions for businesses to reduce their environmental impact.
To apply my in-depth knowledge of green research and technologies to help companies meet their sustainability goals.
To employ my experience in sustainability consulting to develop and implement effective strategies for organizations to promote sustainable practices.
Each of these objectives communicates your knowledge and experience as a Sustainability Consultant and emphasizes the value that you can bring to the organization.
By including one of these objectives on your resume, you can demonstrate to employers that you understand their sustainability goals and have the skills and qualifications to help them achieve them.
How do you list Sustainability Consultant skills on a resume?
Sustainability consultants utilize their expertise in the field to help organizations become more environmentally conscious and maximize their efficiency. When creating a resume for a sustainability consultant role, you'll want to make sure to list your relevant skills and experience in order to showcase your suitability for the job. Here are some tips for how to effectively list sustainability consultant skills on your resume:
Highlight your knowledge and expertise in sustainability principles such as energy efficiency, waste reduction, and renewable energy.
Include a section detailing any research, reporting, or data analysis experience you have related to sustainability.
Showcase any project management, budgeting, and organizational skills that are applicable to sustainability consulting.
Demonstrate your knowledge of environmental regulations and best practices related to sustainability.
Describe any experience you have in training teams or mentoring staff on sustainability initiatives.
Showcase any relevant certifications or credentials you have in sustainability topics, such as LEED certification or Greenhouse Gas accounting.
Emphasize any experience you have in developing and implementing sustainability-related policies and procedures.
Highlight your proficiency in relevant software programs and tools for measuring and analyzing sustainability initiatives.
What skills should I put on my resume for Sustainability Consultant?
When it comes to creating a resume for a sustainability consultant, a well-crafted resume will help you stand out from the competition. There are certain skills that employers look for that are specific to sustainability consulting, so it is important to make sure you include them on your resume.
To help you create a strong resume, here is a list of key skills for a sustainability consultant:
Sustainability Strategy Development: As a sustainability consultant, you will be responsible for helping organizations develop comprehensive strategies that focus on environmental and social responsibility. You should be adept at understanding organizational goals and objectives, analyzing data, and creating strategies that will lead to long-term sustainability.
Data Analysis and Reporting: A critical aspect of sustainability consulting is analyzing data and creating reports that measure the impact of your strategies. You should be able to collect and analyze data, interpret trends, and create meaningful reports that help organizations track their progress.
Project Management: To ensure that sustainability initiatives are successful, it is important to have strong project management skills. You should be able to plan, organize, and manage projects from start to finish, and be able to identify potential risks and develop solutions.
Stakeholder Engagement: As a sustainability consultant, you will need to be able to build relationships with key stakeholders within the organization. You should be adept at communicating effectively, understanding their needs, and developing plans that address those needs.
Leadership: In addition to stakeholder engagement, you must be able to lead and motivate teams to ensure that projects are successful. You should be able to develop a vision and a plan to achieve it, while being able to inspire and motivate others to make it happen.
By including these skills on your resume, you will demonstrate to employers that you have the qualifications needed to be a successful sustainability consultant.
Key takeaways for an Sustainability Consultant resume
When working as an sustainability consultant, your resume is your most important marketing tool to land the job. It is essential that you articulate your experience and accomplishments in the right way to portray the right message to potential employers. Here are some key takeaways to keep in mind when crafting your sustainability consultant resume:
Highlight your qualifications: Make sure to emphasize your qualifications in sustainability, such as specific certifications or education. This will demonstrate to potential employers your understanding of the field and your commitment to stay up to date with the latest sustainability trends.
Detail accomplishments: Showcase any successes you have had in the field. Include any projects you have completed and the results they achieved, such as cost and energy savings. This will demonstrate to potential employers that you are an effective problem solver.
Showcase the soft skills: Employers value interpersonal and communication skills, so make sure to highlight any such skills you have. This could include anything from leadership experience to customer service skills.
Demonstrate your commitment to sustainability: Show potential employers that you are passionate about sustainability, by including any volunteering experience or extra curricular activities that demonstrate your dedication to the cause.
By following these key takeaways, you can create a strong resume that will help you land your dream sustainability consultant job. Good luck!
Let us help you build
your Resume!
Make your resume more organized and attractive with our Resume Builder