Are you looking to get hired as an underwriter? In order to get the job of your dreams, you need to create a standout resume. This guide will provide important tips and examples to help you write an effective underwriter resume. It will include advice on how to format your experience and skills, highlight your strengths, and make your resume stand out from the crowd. With this guide, you can craft a winning resume and make a great impression on potential employers.
If you didn't find what you were looking for, be sure to check out our complete library of resume examples.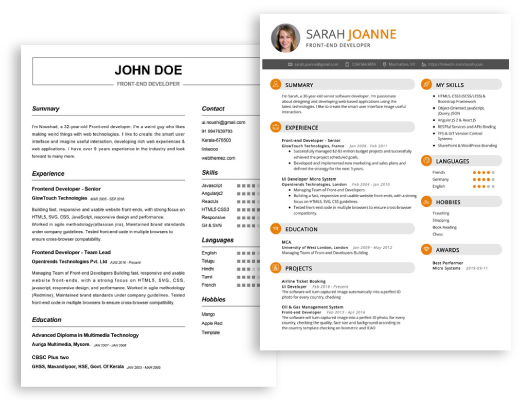 Start building your dream career today!
Create your professional resume in just 5 minutes with our easy-to-use resume builder!
Underwriter Resume Examples
John Doe
Underwriter
123 Main Street | Anytown, USA 99999 | Phone: (123) 456-7890 | Email: john.doe@email.com
Proficient Underwriter with seven years of experience in the insurance industry. Excellent customer service, communication, and analytical skills with a strong attention to detail. Adept at assessing and analyzing risk, evaluating insurance requests and claims, and making decisions to approve or deny coverage. Experienced in working with various types of insurance policies and policies from a variety of carriers.
Core Skills:
Risk Assessment
Insurance Policies
Claims Evaluation
Customer Service
Decision Making
Analytical Skills
Attention to Detail
Communication
Professional Experience:
Insurance Underwriter – ABC Financial Services, San Francisco, CA
Assessed risk associated with new and renewal insurance policies
Evaluated insurance applications and claims to determine acceptance and coverage
Ensured accuracy within policies and customer information
Provided customer service to all current and potential clients
Approved or denied coverage at the conclusion of the underwriting process
Identified and recommended cost- saving measures to reduce risk
Education:
Bachelor of Science, Business Administration – University of Oregon, Eugene, OR
Underwriter Resume with No Experience
Recent graduate looking for an entry- level underwriter position to gain experience in the field. Possess strong analytical, problem- solving, and communication skills and committed to working to the highest standards.
Skills:
Strong analytical and problem- solving skills
Excellent communication skills
Attention to detail
Computer proficiency
Ability to work independently
Time management
Organizational skills
Responsibilities:
Conducting risk assessment on loan applications
Verifying accuracy and completeness of loan application
Analyzing credit reports and related financial documents
Assessing risk and making decisions on loan applications
Communicating decisions to clients in a timely manner
Maintaining updated knowledge of financial regulations
Providing advice and guidance to loan applicants
Ensuring compliance with industry regulations and standards
Underwriter Resume with 2 Years of Experience
Dynamic professional with 2 years of experience as an Underwriter. Possess an in- depth understanding of analyzing and evaluating risks regarding loan applications. Adept in applying the organization's policy and guidelines while considering the creditworthiness of the clients. Possess excellent communication and problem- solving skills.
Core Skills:
Risk Analysis
Loan Application Analysis
Financial Analysis
Compliance with Organization's Guidelines
Strong Negotiation Skills
Creditworthiness Assessment
Excellent Communication Skills
Time Management
Problem- solving
Responsibilities:
Assessed loan applications and evaluated the credit worthiness of the clients
Analyzed financial information and determined the risk associated with loan applications
Followed the organization's policy and guidelines while making loan decisions
Negotiated with the clients and verified documents for accuracy
Maintained and updated records of client's loan applications
Conducted regular meetings with the clients to collect feedback and address their queries
Collaborated with the management to ensure compliance with the organization's guidelines
Prepared and presented reports to the management regarding loan applications and risk analysis
Monitored loan applications and ensured timely processing
Underwriter Resume with 5 Years of Experience
An experienced financial underwriter with over five years of expertise in analyzing and assessing risk management, providing credit and financial advice, and handling loan documents with a high degree of accuracy. Highly skilled in quickly and accurately recognizing credit and financial risks, as well as in evaluating and processing loan applications and other financial documents. Possesses strong interpersonal and communication skills, enabling me to effectively communicate with borrowers, lenders, colleagues, and other financial professionals.
Core Skills:
Risk Management
Credit and Financial Analysis
Loan Documentation
Interpersonal Communication
Attention to Detail
Time Management
Problem- Solving
Responsibilities:
Analyze and assess financial information, including credit and risk data, in order to make informed decisions on loan applications.
Handle loan documents with a high degree of accuracy and proficiency.
Establish and maintain effective communication with borrowers, lenders, colleagues, and other financial professionals.
Ensure that all loan documents, forms, and reports are completed and submitted in a timely manner.
Monitor loan applications and changes to ensure compliance with applicable regulations and laws.
Develop, implement, and maintain policies and procedures to ensure accurate and efficient loan processing.
Provide financial advice on potential investments and other financial opportunities.
Underwriter Resume with 7 Years of Experience
I am an experienced Underwriter with 7 years of experience in providing comprehensive underwriting services for various types of insurance policies. My expertise lies in reading, interpreting, and evaluating the risk associated with insurance policies, and making decisions that are in the best interests of the company and the customer. I am highly skilled in analyzing complex data and making sound underwriting decisions. My areas of expertise include personal and commercial lines of business, as well as all lines of property/casualty insurance. I have a proven track record of successfully reviewing and approving applications, as well as minimizing losses and losses adjustment expenses. I am committed to providing exceptional customer service and consistently strive to exceed customer expectations.
Core Skills:
Underwriting
Risk Analysis
Application Review
Insurance Policy Evaluations
Loss Analysis
Loss Adjustment
Customer Service
Data Analysis
Analysis of Complex Data
Responsibilities:
Conducting thorough analysis of applications to determine risk and eligibility for insurance policies
Performing detailed investigation of customer's backgrounds, financials, and other criteria to ensure accuracy of information
Evaluating underwriting criteria to determine best terms and conditions for each policy
Exercising sound judgement to decide whether to approve or deny applications
Assessing risk associated with each policy and making appropriate recommendations
Maintaining high standards of customer service and providing prompt response to inquiries
Developing and maintaining positive relationships with customers
Completing all necessary paperwork and documentation in a timely manner
Underwriter Resume with 10 Years of Experience
As an experienced underwriter with 10 years of experience in financial services, I am well- versed in assessing risk, analyzing financials, and approving loans and insurance policies. My expertise includes interpreting complex financial information and making appropriate decisions based on customer qualification. I am highly organized and efficient in completing tasks in a timely manner, and I am able to communicate effectively with team members and customers.
Core Skills:
Analyzing financial information
Risk assessment
Interpreting legal and regulatory documents
Loan and insurance policy approvals
Customer qualification decisions
Attention to detail
Excellent written and verbal communication
Responsibilities:
Review loan and insurance applications to verify accuracy of customer information and determine customer qualification
Analyze financial statements, loan documents, and credit reports to assess risk and make appropriate decisions
Ensure compliance with legal and regulatory standards for loan and insurance products
Communicate with customers and team members to provide updates on loan and insurance applications and answer any questions
Maintain accurate records of loans, approvals, and denials
Conduct periodic reviews of loan and insurance portfolios to ensure accuracy and integrity of data
Underwriter Resume with 15 Years of Experience
Highly experienced Underwriter with 15 years of experience in the financial industry. Adept in the evaluation of loan applications, providing feedback to the sales team, and creating customized financial solutions for clients. Proven ability to successfully manage complex projects and leverage technical skills to develop effective strategies.
Core Skills
Credit Risk Assessment
Regulatory Compliance
Financial Analysis
Contract Negotiation
Project Management
Risk Management
Team Leadership
Responsibilities
Analyze customer financial statements and credit risks to assess whether to approve or decline a loan request
Assess customer creditworthiness and advise the sales team on their eligibility for a loan
Develop financial models to evaluate the profitability of potential investments
Ensure compliance with regulatory standards and best practices
Lead a team of underwriting staff to ensure customer satisfaction
Negotiate terms and conditions of loan contracts
Provide feedback and support to sales team in order to maximize customer satisfaction
Manage projects to ensure timely completion and delivery of services
In addition to this, be sure to check out our resume templates, resume formats, cover letter examples, job description, and career advice pages for more helpful tips and advice.
What should be included in a Underwriter resume?
A career as an underwriter is an excellent choice for anyone interested in the financial industry, and having a well-crafted resume is essential for success in the field. Below are some key points to include in an underwriter resume to make sure your qualifications stand out.
Experience:
List any prior work in the insurance industry, such as a claims adjuster, analyst, or customer service representative.
Include information about any specialized training you've completed, such as courses in risk management or insurance products.
Highlight any special certifications you may have, such as a Chartered Property Casualty Underwriter (CPCU) designation.
Skills:
Include any technical skills related to underwriting, such as proficiency with risk assessment software and claims management systems.
Detail your knowledge of the insurance industry, including any familiarity with regional and national laws and regulations.
Highlight any experience you have with financial and statistical analysis.
Education:
Include any relevant higher education, such as a degree in business, finance, or economics.
List any specialized training you've completed, such as courses in risk management or insurance products.
Personal:
Provide a brief overview of your personal strengths, such as your excellent interpersonal skills, problem-solving abilities, and attention to detail.
Detail any experience you have working with diverse groups of people or in a team environment.
By including these key points in an underwriter resume, potential employers will have a clear picture of your qualifications and be able to see that you are the right person for the job.
What is a good summary for a Underwriter resume?
A good summary for an Underwriter resume should provide an overview of the candidate's key strengths, such as their knowledge of underwriting principles, experience in analyzing and evaluating risk, and the ability to make sound decisions. It should also reflect their written and verbal communication skills, knowledge of applicable laws, regulations and policies, and any other qualifications that make them a strong candidate for the position. The summary should be concise and clearly communicate the candidate's skill set and relevant experience in a way that is engaging and memorable.
What is a good objective for a Underwriter resume?
Writing a resume as an underwriter can be a daunting task. What should you focus on? What should be your objective? In this blog, we will discuss what makes a good objective for an underwriter resume.
A good objective for an underwriter resume should include a short statement that demonstrates your expertise and qualifications. Your objective should focus on your experience in the field and your ability to be an effective underwriter.
Tips for Writing an Underwriter Resume Objective
Highlight your experience as an underwriter by listing applicable qualifications and certifications.
Focus on your ability to utilize industry-standard practices and procedures.
Demonstrate your commitment to providing quality services.
Include your ability to analyze data and assess risk.
Mention your time-management and decision-making skills.
Showcase your understanding of the underwriting process.
Indicate any specialized skills that you may have.
By following these tips, you can create an effective objective statement for your underwriter resume. Your objective statement should be concise and direct, and it should provide a clear picture of why you are a great choice as an underwriter. Good luck!
How do you list Underwriter skills on a resume?
Writing a resume can be a daunting task, especially if you are unsure of what to include. When applying for an Underwriter position, you will want to make sure your resume accurately reflects the knowledge and experience you have that makes you a qualified candidate. To ensure your resume catches an employer's eye, you should list the specific skills you possess that are applicable to Underwriter positions.
Analytical Skills: Underwriters must have the ability to analyze data to make accurate decisions. This includes analyzing financial records and documentation to determine the risk of granting loans and insurance.
Interpersonal Skills: Underwriters also must be able to effectively communicate with various members of an organization such as agents, brokers, and customers.
Negotiation Skills: As an Underwriter, you must be able to negotiate terms and conditions of insurance policies and loan agreements.
Risk Assessment: A successful Underwriter should have the ability to accurately assess risk and determine the probability of an incident occurring for the purpose of setting premiums and rates.
Attention to Detail: To be successful as an Underwriter, you must be able to pay close attention to details such as policy documents, contracts, and customer information.
Time Management: An Underwriter should also be able to manage their workload efficiently and adjust their workflow based on the amount of data and paperwork they need to review.
By listing the above skills on your resume, you will be able to demonstrate to potential employers that you are qualified to work as an Underwriter. Make sure to include relevant work experience, certifications, and education to reinforce your qualifications.
What skills should I put on my resume for Underwriter?
If you are looking for a job as an Underwriter, you should be sure to include certain key skills in your resume. Underwriters must have expertise in analyzing and assessing risk, as well as strong communication and analytical skills. Here are some of the most important skills to include on your resume when applying for an Underwriter position:
Risk Assessment: As an Underwriter, you will be responsible for assessing risk when evaluating applications for insurance policies. You should be able to accurately assess the amount of risk associated with a particular policy and make appropriate decisions.
Analytical Skills: Underwriters must possess strong analytical skills in order to evaluate complex information and make decisions quickly and accurately. You should be able to identify patterns, weigh different options, and draw conclusions from data.
Communication: Underwriters must be able to effectively communicate with clients and colleagues. You should be able to explain the details of a policy or risk assessment in a clear and concise manner.
Attention to Detail: Underwriters must be able to pay close attention to detail as they review applications. You should be able to identify errors or inconsistencies that could lead to costly mistakes.
Regulatory Knowledge: An understanding of regulations and compliance is an important skill for an Underwriter. You should be able to demonstrate knowledge of relevant laws and regulations and be able to comply with them.
When crafting your resume, be sure to include these skills in order to make yourself stand out as a qualified Underwriter.
Key takeaways for an Underwriter resume
If you are an underwriter looking to sharpen up your resume, then there are some key takeaways that you should consider in order to make your resume stand out from the competition.
Highlight Your Job Titles: When creating an underwriter resume, it's important to showcase the titles you have held within the industry. This will make it easier for recruiters to recognize your experience and qualifications.
Provide an Overview of Your Responsibilities: Underwriters are responsible for assessing and analyzing risks associated with different types of financial transactions. It is important to provide a clear overview of the duties that you have been involved in, such as evaluating documents, processing applications, and monitoring policy documents.
Showcase Your Ability to Use Technology: As the underwriting industry continues to evolve, it is important to show that you are up-to-date on the latest tools and technologies. Demonstrate your ability to use software and other applications that are used in the industry.
List Your Education: When creating your underwriter resume, make sure to include your educational background. Listing your degree, certifications, and any other relevant coursework will help to reinforce your skills and qualifications.
Reference Your Accomplishments: An underwriter's accomplishments are an important part of their resume. Be sure to include any awards or recognitions you have received in your job, as well as milestones you have achieved.
By following these key takeaways, you can create a resume that will make you stand out from the rest of the competition. With a resume that highlights your experience, skills, and accomplishments, you will be more likely to land the job you're after.
Let us help you build
your Resume!
Make your resume more organized and attractive with our Resume Builder