Having a broker resume is essential for anyone who wants to work in the broker industry. However, it can be difficult to know what to include, what to leave out and how to format a broker resume. Fortunately, this guide will provide you with the tips and tricks you need to create a resume that stands out, and includes everything you need to land the perfect broker job. From highlighting relevant experience to identifying key skills, this guide will teach you how to create an impressive broker resume that will make you a strong candidate. You will also find examples of broker resumes to help get you started.
If you didn't find what you were looking for, be sure to check out our complete library of resume examples.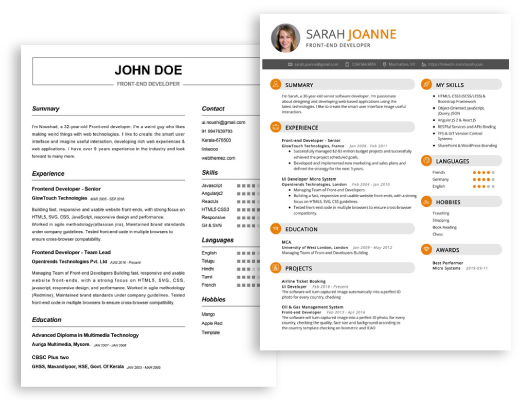 Start building your dream career today!
Create your professional resume in just 5 minutes with our easy-to-use resume builder!
Broker Resume Examples
John Doe
Broker
123 Main Street | Anytown, USA 99999 | Phone: (123) 456-7890 | Email: john.doe@email.com
A highly motivated and experienced Broker with 9+ years of experience in the financial services industry. Proven success in developing and executing strategies to achieve business objectives and creating value for stakeholders. Skilled in providing sound advice and guidance on investments, analyzing and evaluating financial data, and managing financial risks.
Core Skills:
Investment Analysis
Financial Risk Management
Performance Measurement
Client Relationship Management
Negotiation and Presentation
Regulatory Compliance
Business Development
Professional Experience:
Robertson Financial Group – Broker
Developed and managed equity, fixed income, and balanced portfolios for clients
Evaluated financial information such as income statements, balance sheets, and cash flows
Analyzed macro- economic data to identify investment trends and opportunities
Developed and maintained relationships with new and existing clients
Negotiated and closed investment and business deals
Developed and presented detailed financial presentations
Developed financial strategies to meet client objectives
Monitored and evaluated market performance
Education:
University of Michigan – Bachelor of Business Administration in Finance, 2009
Broker Resume with No Experience
Dedicated and eager recent college graduate looking to join a broker team and utilize my communication and organizational skills to help achieve success. With a strong eye for detail, strong problem solving and organizational skills I am a confident and reliable addition to any team.
Skills
Strong communication and interpersonal skills
Ability to work in a fast- paced environment
Excellent organizational and problem- solving skills
High level of accuracy and attention to detail
Ability to multitask and prioritize tasks
Proficient in Microsoft Office
Professional telephone etiquette
Responsibilities
Provide customer service and respond to inquiries
Organize and maintain databases and filing systems
Assist with the preparation of documents related to broker services
Develop and implement processes to streamline workflow
Research and resolve customer issues and complaints
Provide administrative support to brokers and other staff
Monitor industry news and trends and keep up to date on relevant regulations
Support the development and implementation of marketing and sales plans
Organize and attend client meetings
Perform data entry and update client records
Broker Resume with 2 Years of Experience
A motivated, detail- oriented Broker with 2 years of experience in the financial services sector. Proven ability to develop successful strategies for marketing, client acquisition and retention, and provide exceptional customer service. Knowledgeable in the use of financial tools and technology to analyze the markets and devise consistent investment plans. Possess a valid Broker's license and specialized training in financial products.
Core Skills:
Financial Analysis
Client Acquisition
Customer Service
Marketing Strategy
Investment Planning
Risk Management
Account Management
Communication
Responsibilities:
Provide financial advice and solutions to clients
Assist clients in making profitable and sound investments
Analyze the markets and develop strategies to generate returns
Develop and maintain relationships with new and existing clients
Provide guidance and support to clients in making investment decisions
Adhere to regulatory laws and guidelines
Ensure compliance with all company policies and procedures
Monitor and review financial reports and performance of investments
Broker Resume with 5 Years of Experience
Highly- motivated and organized Broker with 5+ years of experience in providing financial advice to clients. Skilled in analyzing financial data to identify investment opportunities, accurately calculating risks, and recommending strategies to maximize financial returns. Adept at leveraging professional relationships with vendors and stakeholders to ensure a positive customer experience. Committed to maintaining up- to- date knowledge of financial compliance regulations and industry trends.
Core Skills:
Financial Analysis
Risk Analysis & Management
Vendor Negotiation
Customer Service
Regulatory Compliance
Investment Strategies
Portfolio Management
Financial Reporting
Responsibilities:
Identified suitable investment opportunities for clients to maximize financial returns.
Analyzed financial data to accurately calculate risks and devise suitable investment strategies.
Provided advice and support to clients on a variety of matters related to their investments.
Generated timely and accurate financial reports on the performance of investments.
Ensured compliance with state and federal financial regulations.
Negotiated with vendors to secure advantageous terms.
Maintained an up- to- date knowledge of industry trends to inform decisions.
Provided a positive customer experience by answering questions and addressing customer concerns in a timely manner.
Broker Resume with 7 Years of Experience
I am an enthusiastic and dedicated broker with 7 years of experience providing exceptional customer service and support to clients. I possess strong communication, negotiation, problem- solving and organizational skills, and have extensive knowledge of the brokerage industry. I am adept in assessing the financial needs of clients and providing advice tailored to their individual needs. I have a proven track record of success in achieving financial objectives and am comfortable working with people from all walks of life.
Core Skills:
Excellent customer service skills
Strong negotiation skills
Knowledge of brokerage industry
Ability to assess financial needs of clients
Excellent problem- solving skills
Organizational skills
Strong communicator
Responsibilities:
Develop client relationships and foster trust
Identify clients' financial needs and provide tailored advice
Maintain a detailed knowledge and understanding of the financial markets
Prepare and present financial strategies
Monitor changes in market and regulations
Keep clients informed of the latest developments
Assist with the negotiation of financial contracts
Conduct financial analysis and research
Broker Resume with 10 Years of Experience
With 10 years of experience in the brokerage industry, I have developed a comprehensive set of skills that have made me an adept and successful broker. This experience has included managing a wide range of customers and portfolios, as well as developing financial strategies to maximize returns and minimize risk. My understanding of the markets, product knowledge, and customer service skills have enabled me to be a reliable and successful broker.
Core Skills:
Ability to analyze financial markets and develop trading strategies
Experience in managing portfolios
Understanding of financial products
Excellent customer service skills
Ability to build relationships with clients
Ability to utilize risk management techniques
Good problem solving skills
Responsibilities:
Monitor markets and identify investment opportunities
Develop and implement trading strategies
Manage client portfolios and provide regular updates
Research financial products and recommend the best ones for the clients
Ensure compliance with all regulatory requirements
Provide customer service and build relationships with clients
Analyze risk and develop risk management strategies
Review financial reports and identify areas for improvement
Broker Resume with 15 Years of Experience
A highly experienced broker with 15 years of success in creating comprehensive financial plans for individuals, families, and businesses. Skilled at developing and implementing strategies to increase client investments and net worth. In- depth knowledge of the financial markets and various investment vehicles, with a commitment to providing exceptional customer service.
Core Skills:
Client Relationship Management
Investment Planning
Risk Management Strategies
Tax Planning
Retirement Planning
Financial Management
Asset Allocation
Data Analysis
Compliance
Insurance Planning
Market Research
Responsibilities:
Developing comprehensive financial plans for clients
Analyzing financial data and trends to generate investment strategies
Recommending appropriate investments to maximize returns
Evaluating clients' goals and objectives to determine optimal portfolio composition
Monitoring and updating financial plans to reflect changing circumstances
Negotiating and closing deals to increase clients' net worth
Researching and analyzing market conditions to identify appropriate investments
Ensuring compliance with all applicable regulations and laws
Educating clients on financial concepts and available investments
Working with staff and clients to ensure customer satisfaction
In addition to this, be sure to check out our resume templates, resume formats, cover letter examples, job description, and career advice pages for more helpful tips and advice.
What should be included in a Broker resume?
A broker resume should include the following information:
Educational background: Include all educational degrees, certifications, and relevant coursework.
Professional Experience: List all previous positions as a broker, including any relevant experience in the financial industry.
Skills: Include any technical skills, such as knowledge of trading platforms, asset management, and market analysis.
Achievements: List any awards, recognitions, or accomplishments that demonstrate your competence in the field.
Licenses: Include any relevant licenses you possess, such as a Series 7 or Series 63.
Professional Organizations: List any professional organizations or affiliations you have.
References: Include contact information for professional references that can attest to your skills and knowledge.
What is a good summary for a Broker resume?
A broker resume summary should highlight a job seeker's experience and qualifications in the field of finance and investment. The summary should emphasize the candidate's ability to assess and analyze data, identify trends and make appropriate recommendations based on their findings. It should also include any relevant certifications or licenses, such as the Chartered Financial Analyst (CFA). Finally, the summary should also include a brief overview of the candidate's career accomplishments and successes, such as closing major investments or managing a large portfolio. A good broker resume summary should demonstrate the candidate's ability to understand the markets and make informed decisions in order to maximize the return on investments.
What is a good objective for a Broker resume?
When applying for a job as a broker, one of the most important things to consider is how to write an effective resume. A strong resume can help you stand out from the competition and increase your chances of landing the job. One of the critical elements to include in a resume for a broker is an objective statement that outlines the applicant's career goals.
What is a Good Objective for a Broker Resume?
When crafting an objective statement for a broker resume, it is important to be clear and concise. The objective statement should focus on the skills and experience that make you an ideal candidate for the position. Here are some examples of good objectives for a broker resume:
To obtain a position as a broker where I can utilize my 5+ years of experience in the finance industry to further the company's success.
Seeking a position as a broker where I can use my expertise in the stock market and customer service to build lasting relationships with clients.
To obtain a position as a broker at a well-respected financial institution where I can utilize my knowledge of financial markets and investments to provide quality advice and services to clients.
To secure a position as a broker that will allow me to leverage my experience in the finance industry to provide quality advice and services to clients.
Seeking an opportunity as a broker that will allow me to utilize my experience in customer service and financial markets to strengthen the company's success.
Including a strong and targeted objective statement can help make your resume stand out from the competition and demonstrate why you are a good fit for the position. Make sure to take the time to research the company and tailor your objective statement to the role you're applying for. By doing so, you can increase your odds of landing the job.
How do you list Broker skills on a resume?
Your resume is a critical document for showcasing your experience, skills and abilities. When applying for a job as a broker, demonstrating a track record of success in the field is essential to securing the role. To ensure that your resume stands out from the competition, it is important to highlight the key broker skills that you possess.
Professional Networking: Demonstrate your ability to develop relationships with potential clients and maintain ongoing relationships with existing ones. Describe how you are able to research market trends and stay up-to-date on industry developments.
Negotiation: List any successful negotiations you've participated in and highlight your ability to take a proactive role in creating mutually beneficial transactions.
Communication: Showcase your ability to communicate clearly and effectively with clients, industry contacts and colleagues. Detail any public speaking experiences you've had and any awards or recognition you've received for your communication skills.
Organization: Outline your ability to organize and manage complex projects with multiple stakeholders. Also describe your experience creating and adhering to detailed timelines and budgeting plans.
Business Acumen: Demonstrate your ability to analyze financial data and develop strategic plans and solutions. Describe how you are able to identify opportunities, assess risk and anticipate potential problems.
By highlighting these key broker skills on your resume, you will be able to demonstrate your potential for success in the role. With an impressive resume, you can be sure to make a great impression on potential employers.
What skills should I put on my resume for Broker?
When creating a resume for a broker position, it's important to highlight the skills and experience that make you an ideal candidate. These skills should be tailored to the job you are applying for and demonstrate the ability to succeed in the role. Here are some of the most important skills to include on your resume:
Financial Analysis: Brokers need to be skilled in financial analysis, as they will be responsible for advising clients on investment and other financial strategies. Showcase your ability to analyze and interpret financial data in order to make informed decisions.
Investment Knowledge: Demonstrate your knowledge of stock markets, bonds, mutual funds, and other investments, as well as your understanding of capital markets and market trends.
Relationship Building: As a broker, you will need to be able to establish relationships with clients and build trust. Showcase your interpersonal and communication skills, as well as your ability to form strong connections and engage with clients.
Communication: Showcase your ability to effectively communicate complex financial concepts in understandable language.
Negotiation: Demonstrate your negotiation skills, as brokers often must negotiate with clients and other financial professionals.
Time Management: Brokers need to be able to effectively manage their time and prioritize tasks. Showcase your ability to manage multiple projects while staying organized and meeting deadlines.
Compliance: Demonstrate your knowledge of financial regulations and compliance procedures.
By including these skills on your resume, you will be able to demonstrate your qualifications and make a strong impression on potential employers.
Key takeaways for an Broker resume
When it comes to preparing an effective resume for a broker, there are certain key takeaways to help you stand out from the competition. Here are our top five tips to help you craft the perfect broker resume:
Focus on Your Achievements: Your resume should highlight your accomplishments as a broker and how you have made an impact in the industry. Don't just list your responsibilities, but demonstrate how you have gone above and beyond.
Highlight Your Professional Qualifications: Make sure to include professional qualifications and certifications you may have achieved, such as the Series 7 or Series 63 licenses.
Showcase Your Knowledge: To make yourself stand out, showcase your in-depth knowledge of the industry and any specialized subjects you may be an expert in.
Organize Your Information: Make sure to arrange your information in a way that is clear and easy to read. Use bullet points, bolded headings, and other formatting techniques to make your information stand out.
Review Your Resume: Before sending your resume out, make sure to review it for accuracy and readability. Check for spelling and grammar errors, as well as any typos or formatting issues.
By following these key takeaways, you can ensure you have a professional and effective resume that will make you stand out from other brokers.
Let us help you build
your Resume!
Make your resume more organized and attractive with our Resume Builder