Having a well-crafted resume is an essential requirement for any IT Trainer job seeker. A good IT Trainer resume should highlight the applicant's knowledge in training users on various software programs and other technology tools. It should also showcase the applicant's communication and problem-solving skills. To help you write a great IT Trainer resume, this guide provides advice, tips, and resume examples. With this guidance, you can present yourself as the ideal candidate for an IT Trainer position.
If you didn't find what you were looking for, be sure to check out our complete library of resume examples.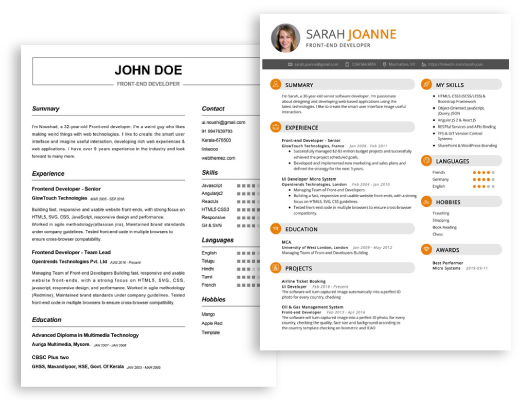 Start building your dream career today!
Create your professional resume in just 5 minutes with our easy-to-use resume builder!
IT Trainer Resume Examples
John Doe
IT Trainer
123 Main Street | Anytown, USA 99999 | Phone: (123) 456-7890 | Email: john.doe@email.com
I am an energetic and knowledgeable IT Trainer with 15+ years of experience. I thrive on taking complex concepts and conveying them in an easily understandable and tangible way. My expertise is in creating structured training plans and developing materials that enhance the learning experience. I have a diverse background in software, hardware and networks, and have used this to design and deliver effective training for clients in various industries.
Core Skills:
Designing training programs and materials
Conducting training sessions
Creating instruction manuals
Providing technical support
Troubleshooting software and hardware issues
Developing and maintaining IT networks
Installing and configuring software and hardware systems
Professional Experience:
ABC Technologies, IT Trainer (2014- Present)
Developed and delivered comprehensive training programs to groups and individuals
Designed and maintained training materials, instruction manuals and other documents
Conducted equipment setup, software and hardware installation and maintenance
Provided technical support on software and hardware systems
Resolved software and hardware issues
XYZ University, IT Trainer (2008- 2014)
Developed and delivered engaging, comprehensive training programs to students
Developed instructional materials and maintained student records
Trained students on software and hardware systems
Troubleshooted software, hardware and network issues
Instructed students on the use of different software applications
Education:
B.S. in Information Technology- ABC University, 2008
IT Trainer Resume with No Experience
A highly motivated and experienced IT trainer seeking to leverage experience in software and hardware support, troubleshooting, and training to add value to any organization.
Skills
Experience teaching IT concepts
Excellent technological and troubleshooting skills
Proficient in Microsoft Office applications
Strong communication and interpersonal skills
Ability to think critically and analytically
Responsibilities
Deliver training on hardware, software and operating system
Assist with the installation of computer hardware and software
Troubleshoot technical problems
Provide technical support and guidance to users
Maintain records of training activities and track progress of trainees
Conduct needs assessment and develop customized training programs
Develop and implement online learning modules
Collaborate with other trainers to improve training processes
IT Trainer Resume with 2 Years of Experience
Dynamic and experienced IT Trainer with 2 years of experience. I am passionate about finding creative solutions and implementing them for the benefit of the organization. My knowledge of a variety of software applications, databases and programming languages makes me an ideal candidate for an IT Trainer position. I am highly organized, detail- oriented and capable of multitasking. I have excellent problem solving and communication skills, and I am an effective team player.
Core Skills:
Proficient in MS Office Suite and other common software applications
Excellent problem solving skills
Strong knowledge of databases and programming languages
Excellent communication and organizational skills
Ability to multitask effectively
Highly organized and detail- oriented
Team player
Responsibilities:
Design, develop and deliver IT training programs as per company standards
Develop and implement appropriate e- learning tools and assessments
Conduct training sessions and workshops on various IT topics
Assist in the development of IT educational materials and activities
Provide technical advice and guidance to employees on the use of IT systems
Develop and maintain IT training manuals and course materials
Provide timely feedback to stakeholders on the progress of training programs
Monitor and evaluate the effectiveness of IT training programs
IT Trainer Resume with 5 Years of Experience
Highly organized and result- oriented IT Trainer with 5 years of experience in providing technical instruction to users of all levels. Adept at developing and delivering effective IT training programs tailored to the needs of the organization. Knowledgeable at identifying end- user needs and responding to challenges in technology implementations. Possess excellent communication, organization, and problem- solving skills.
Core Skills:
IT Training
User- level instruction
Training program development
End- user needs assessment
Problem solving
Technical implementation
Communication
Organization
Responsibilities:
Developed and implemented IT training programs tailored to the needs of the organization
Delivered user- level instruction on the use of computer programs and applications
Assessed end- user needs to ensure that training is tailored to their needs
Provided technical support to users and troubleshoot technical issues
Monitored the progress of users and provided feedback on their performance
Developed user manuals and training materials to assist users
Conducted training sessions and seminars to educate users on the use of software and hardware
Maintained records of user training sessions and methods used
IT Trainer Resume with 7 Years of Experience
I am an experienced IT Trainer with 7 years of experience in training users, managing projects and providing support to the IT Department. My key strengths include excellent communication and problem- solving skills which I have been able to develop in various roles in my career. I have a strong technical background and can utilize these skills in training users in all aspects of IT, from hardware and software to network configuration. I am also adept at developing and implementing training strategies and building effective relationships with colleagues, customers and stakeholders.
Core Skills:
IT Training
Project Management
Technical Support
Communication Skills
Problem- Solving
Interpersonal Skills
Network Configuration
Responsibilities:
Developing and delivering training sessions to users on the use of IT systems
Configuring networks and hardware equipment for users
Writing technical documentation and user manuals
Supporting users in the day- to- day use of IT systems
Troubleshooting technical issues and resolving them
Monitoring and evaluating training progress
Assisting in project management by coordinating tasks and resources
Liaising with colleagues, customers and stakeholders to ensure successful training sessions
IT Trainer Resume with 10 Years of Experience
A highly experienced IT Trainer with 10+ years of experience in training, instructing and mentoring in IT operations. Possesses a strong background in delivering technical training and support initiatives, and a proven track record of success in translating complex technical concepts into easy to understand language. Ability to think outside the box and deliver interactive and engaging learning experiences. Possesses comprehensive knowledge of IT topics, including but not limited to, hardware and software installation, network troubleshooting, and database management.
Core Skills:
Strong problem- solving skills
Excellent communication and presentation skills
Ability to explain complex technical concepts
In- depth knowledge of IT topics
Proficiency in MS Office applications
Project management skills
Excellent analytical and research skills
Ability to work both independently and in a team environment
Creative instructional design and development
Responsibilities:
Develop and implement IT training programs
Organize and deliver technical training and support initiatives
Create training course materials and curriculum
Monitor and evaluate the effectiveness of IT training
Provide support and guidance to trainees
Assist in the implementation of new IT systems
Develop and maintain productive working relationships with stakeholders
Provide feedback to stakeholders and management on progress and progress of IT training initiatives
Assist in the design and development of IT projects and initiatives
IT Trainer Resume with 15 Years of Experience
Experienced IT Trainer with a background in software engineering, customer service and training. Proficient in a variety of operating systems, applications and business processes, with a proven track record of providing effective technical support and training to users. Possess excellent communication and organizational skills, which enable successful problem resolution and customer satisfaction.
Core Skills:
Computer Troubleshooting
Software Installation
Customer Service
Team Collaboration
Technical Writing
Presentation Skills
Software Testing
Technical Support
Responsibilities:
Developed and implemented training programs for new and existing employees
Assisted customers in resolving technical issues
Provided technical support, troubleshooting and software installation assistance
Developed and maintained documentation of support procedures
Assisted with system testing, problem solving, and maintenance
Collaborated with technical teams to ensure quality customer service
Created technical training materials, user guides and manuals
Developed and maintained knowledge base to support users
Conducted one- on- one and group training sessions
Assisted in the development and implementation of new software systems
Coordinated with internal departments to provide timely and accurate technical support
Provided technical support over the phone and in person.
In addition to this, be sure to check out our resume templates, resume formats, cover letter examples, job description, and career advice pages for more helpful tips and advice.
What should be included in a IT Trainer resume?
A IT Trainer resume should highlight the technical and analytical skills that IT Trainers need to effectively teach and train their students. It should also include any relevant work experience and education related to the position.
Here are some key points to include when writing a IT Trainer resume:
Education: Include any degrees, certifications, or other qualifications related to the IT Trainer position.
Technical Skills: List any technical skills that you have developed over the years. This may include software programs, coding languages, troubleshooting, and more.
Professional Experience: List any relevant work experience as an IT Trainer, such as teaching in a classroom setting or providing online training.
Communication and Interpersonal Skills: Include any communication or interpersonal skills that you possess that may be beneficial when teaching and training students.
Leadership and Management Skills: Highlight any leadership or management skills that you may have that could be beneficial when leading a team of students.
Problem-Solving Skills: Demonstrate your problem-solving skills by providing examples of how you have solved difficult problems in the past.
By including these key points in your IT Trainer resume, you will be able to effectively demonstrate your qualifications and skills for the position.
What is a good summary for a IT Trainer resume?
A good summary for an IT Trainer resume should highlight the professional's expertise in information technology, their experience in training and teaching, and their ability to develop and implement effective IT training programs. The summary should also demonstrate the professional's understanding of industry best practices and trends, their ability to communicate complex concepts to both technical and non-technical audiences, and their willingness to go the extra mile in order to ensure a successful training program. An ideal summary should be a paragraph no more than five sentences in length and should be tailored to the specific job the applicant is applying for.
What is a good objective for a IT Trainer resume?
A IT Trainer resume should focus on the experience and qualifications that you have to offer to a potential employer. The objective of a IT Trainer resume is to demonstrate your knowledge of the industry and demonstrate that you have the capability to effectively teach others how to use and maintain IT systems.
When writing your objectives, it is important to keep in mind that the employer needs to understand your capabilities and experience. Here are a few good objectives for a IT Trainer resume:
Demonstrate understanding of IT systems and the ability to provide training for those systems
Showcase expertise in teaching IT systems and software to users
Leverage experience to provide technical assistance and troubleshooting
Utilize exceptional knowledge of IT industry best practices to develop training sessions
Display an understanding of various technologies including Windows, Office, and other software platforms.
These objectives provide the employer with a clear understanding of your qualifications and experience and demonstrate that you are a qualified IT Trainer. With a well-crafted objective, you can set yourself apart from other candidates and give yourself the best chances of getting an interview.
How do you list IT Trainer skills on a resume?
When creating a resume, it is important to focus on the skills that are most relevant to a career as an IT Trainer. IT Trainers are responsible for the instruction and implementation of new technologies and processes, so the focus should be on communication, technical ability, and instructional aptitude.
Strong communication skills: IT Trainers must be able to clearly explain complex concepts and processes to a variety of audiences, including those with limited technical abilities.
Technical knowledge: IT Trainers must have an understanding of a variety of hardware and software technologies and be able to troubleshoot technical issues that arise during training sessions.
Instructional aptitude: IT Trainers must be able to quickly identify areas of deficiency with trainees and adjust their instruction accordingly. They must be able to effectively manage and motivate trainees in the classroom.
Creative problem-solving: IT Trainers must have the ability to think outside the box and develop creative solutions to challenging problems.
Analytical thinking: IT Trainers must be able to analyze data and make decisions based on the data.
Collaboration: IT Trainers must be able to work effectively in a team environment and be able to coordinate activities across multiple departments.
What skills should I put on my resume for IT Trainer?
When applying for an IT Trainer position, you need to make sure that you include the right qualifications on your resume. Having the correct skills and experience will help you stand out from other applicants and nab the job. Here are some of the key skills and qualifications you should include on your resume for an IT Trainer position:
An in-depth understanding of the fundamentals of Information Technology (IT). You should have a working knowledge of a variety of IT systems and tools, such as databases, programming, web design, and network systems.
Excellent communication skills. As an IT Trainer, you'll need to be able to clearly explain complex concepts to a variety of people. You'll need to have excellent speaking, writing, and presentation skills to effectively convey your lessons.
The ability to create effective training materials. You'll need to be able to create lesson plans and materials that are engaging and easy to understand. This includes creating presentations, handouts, and other documents that can be used during your training sessions.
Problem-solving and troubleshooting skills. In addition to teaching, you'll need to be able to diagnose IT-related issues and come up with solutions. This requires you to be able to identify the root cause of a problem and come up with the best solution.
Patience and tolerance. As an IT Trainer, you will undoubtedly come across people with different levels of knowledge and understanding. You'll need to be able to adjust your approach and level of instruction accordingly.
By highlighting these skills and qualifications on your resume, you can demonstrate your value to potential employers and increase your chances of getting hired as an IT Trainer.
Key takeaways for an IT Trainer resume
When you are seeking a position as an IT Trainer, the key to success is having a standout resume. A resume is your chance to highlight the skills and experience that make you a valuable asset for any company. When crafting your resume for an IT Trainer position, there are a few key takeaways to keep in mind.
Showcase Your Technical Knowledge and Expertise: The first step to creating a successful resume is to showcase your technical knowledge and expertise. This means listing any certifications, degrees, or other qualifications that indicate your expertise in IT. Additionally, you should demonstrate your knowledge of the latest technologies and trends, as well as your ability to teach and train others.
Highlight Your Teaching Experience: As an IT Trainer, your ability to effectively teach and train others is essential. Be sure to include any previous teaching experience you may have on your resume. This includes any courses you have taught, any training sessions you have facilitated, or any other related experience.
Demonstrate Your Interpersonal Skills: An IT Trainer must have strong interpersonal skills. This means having the ability to communicate clearly and effectively, as well as dealing with difficult situations and people in a professional manner. Make sure to highlight any prior experience or references that illustrate your ability to work well with others.
Showcase Your Problem-Solving Skills: As an IT Trainer, you will be expected to troubleshoot and solve problems. Make sure to showcase your problem-solving skills on your resume by providing examples of how you have solved complex technical issues in the past.
By keeping these key takeaways in mind, you will be able to create a resume that effectively highlights your skills and experience as an IT Trainer. With a strong resume, you will be able to stand out from the competition and land the job of your dreams.
Let us help you build
your Resume!
Make your resume more organized and attractive with our Resume Builder