Writing an effective resume as a technology executive can be daunting. With countless success stories from other executives, it can be hard to know where to start. However, having a comprehensive and well-written resume is essential for a technology executive to land a job. This guide will cover how to craft the perfect technology executive resume, from the format to the content. In addition, it will provide several examples of technology executive resumes that have been successful in the past. With this guide, you can make sure your resume stands out and lands you the job you want.
If you didn't find what you were looking for, be sure to check out our complete library of resume examples.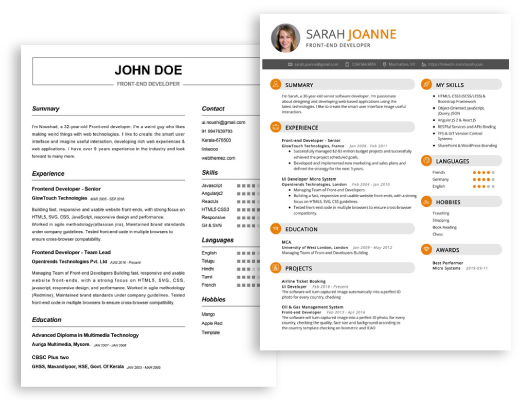 Start building your dream career today!
Create your professional resume in just 5 minutes with our easy-to-use resume builder!
Technology Executive Resume Examples
John Doe
Technology Executive
123 Main Street | Anytown, USA 99999 | Phone: (123) 456-7890 | Email: john.doe@email.com
I am an experienced technology executive with extensive experience in IT, software engineering, and project management. I possess specialized knowledge and experience in developing innovative solutions to challenging technical problems. My background includes management of large projects, oversight of teams and departments, and design and implementation of cutting- edge technologies. I have a proven track record of success in leading organizations to meet their goals, utilizing my expertise in communication, problem- solving, and time management.
Core Skills:
Leadership
Communication
Problem- solving
Time management
Software engineering
Project management
IT
Professional Experience:
Apple Inc, Technology Executive, San Francisco, CA
Oversaw the development and implementation of innovative technology solutions that increased efficiency and productivity
Organized and managed large- scale projects, from design to deployment and maintenance
Cultivated a collaborative working environment that focused on accomplishments and customer satisfaction
Developed and maintained relationships with vendors, partners, and customers to ensure successful outcomes
Analyzed data and provided reports to management on various business metrics
Google Inc, Senior Software Engineer, Mountain View, CA
Developed customized software solutions to meet the demands of customers
Utilized analytical and problem- solving skills to troubleshoot technical issues
Provided technical assistance to end users and management
Maintained and updated existing software applications and systems
Created detailed technical documentation and process diagrams
Education:
Stanford University, Masters in Computer Science, 2011
University of California, Berkeley, Bachelors in Computer Science, 2008
Technology Executive Resume with No Experience
Recent college graduate with a strong enthusiasm for, and knowledge of, technology and its applications. Enthusiastic and highly motivated individual who is eager to contribute to the success of a technology executive role with no experience. Possess strong communication and analytical problem- solving skills, and a proven ability to work under pressure.
Skills
Strong knowledge of technology and its applications
Excellent analytical and problem- solving skills
Ability to work independently and in teams
Excellent communication and interpersonal skills
Proficient in computer applications such as Microsoft Office
Ability to think outside the box and come up with creative solutions
Responsibilities
Implement and maintain technology solutions in order to meet the needs of the business
Develop and maintain relationships with vendors and partners
Manage technology budgets, resources and timelines
Monitor and analyze technology trends and recommend new solutions
Coordinate and communicate with cross- functional teams and stakeholders
Develop plans to ensure the security and reliability of IT systems
Provide technical training and guidance to staff on new technologies and systems
Technology Executive Resume with 2 Years of Experience
A motivated and results- driven Technology Executive with two years of experience in the IT field among leading organizations. A keen problem solver, possessing excellent analytical and organizational skills. Possesses an in- depth knowledge of developing and implementing software solutions. Familiar with the principles of software engineering and data analysis.
Core Skills:
Expertise in software engineering and data analysis
Proven ability to solve complex problems
Excellent communication and interpersonal skills
Ability to work independently and in team settings
Proficiency in software development languages
Ability to develop efficient and effective software solutions
Familiarity with various software development tools and platforms
Responsibilities:
Developing and implementing software solutions
Performing software engineering and data analysis tasks
Creating and maintaining software programs
Designing and optimizing software programs
Troubleshooting software problems
Testing software functions and applications
Providing support and maintenance of software applications
Writing software documentation
Technology Executive Resume with 5 Years of Experience
Highly experienced and successful Technology Executive with 5 years of experience in the industry. Possesses comprehensive knowledge and experience in the development and implementation of technology solutions, strategic planning and business operations. Proven record of successful project management and delivery. Excellent problem- solving skills and ability to drive new business initiatives.
Core Skills:
Team Leadership
Strategic Planning
Business Operations
Technology Solutions
Project Management
Business Development
Problem- Solving
Data Analysis
Budget Management
Responsibilities:
Coordinate with management to set technology objectives and determine budget
Supervise the development and implementation of technology strategies
Manage and monitor the team's performance and ensure goals and objectives are met
Develop and maintain relationships with external partners and vendors
Analyze data and generate reports on system performance and user experience
Research and evaluate new technologies and provide recommendations
Deploy, maintain and troubleshoot technology systems and applications
Provide technical advice and guidance to team members
Manage and monitor budget for technology projects
Oversee the development and implementation of security protocols
Technology Executive Resume with 7 Years of Experience
Experienced Technology Executive with 7 years of experience leading software development departments and large- scale software implementations. A proven track record of leading teams, delivering projects on time and on budget, and developing long- term customer relationships. Expert in developing strategic solutions, establishing efficient processes, and creating solutions that are cost effective and meet the customer's operational needs.
Core Skills:
Software Development
Process Improvement
Business Analysis & Strategy
Project Management
Team Leadership
Client Relationship Building
Software Implementation
Responsibilities:
Developed and implemented software solutions and IT strategies that met customer needs, improved operational efficiency and reduced costs.
Directed software development teams, established processes and standards, and maintained project timelines.
Developed long- term customer relationships by providing effective solutions and meeting customer needs.
Resolved customer issues, established customer service protocols and conducted customer training.
Oversaw software implementations and led staff in the development and testing of new software applications.
Analyzed business trends and strategic opportunities to develop and implement solutions.
Managed budgets and allocated resources to ensure projects were completed on time and within budget.
Technology Executive Resume with 10 Years of Experience
A highly accomplished Technology Executive with 10+ years of experience in developing, implementing and managing innovative solutions to support the overall goals of leading technology companies. Skilled in overseeing cutting- edge research and development initiatives and leading teams in product design, development, engineering and production processes. Proven success in transforming ideas into profitable solutions, driving operational efficiencies and delivering exceptional results.
Core Skills:
Leadership
Strategic Planning
Business Development
Risk Management
Product Design
Process Improvement
Quality Assurance
Project Management
Budgeting
Resource Allocation
Responsibilities:
Managed the research and development of new technology solutions.
Facilitated the production of complex engineering solutions and products to meet customer requirements.
Developed and implemented strategies to maximize product innovation and efficiency.
Established metrics and processes to monitor product quality and performance.
Oversaw the budgeting process and resource allocations for product development initiatives.
Deployed successful new product launches and marketing strategies.
Collaborated with clients and vendors to ensure effective communication and timely delivery of solutions.
Conducted research on emerging technology trends to drive innovation.
Identified cost- saving opportunities through process optimization and cost control.
Technology Executive Resume with 15 Years of Experience
Dynamic and results- driven technology executive with over 15 years of experience in developing IT strategies and executing projects to drive operational excellence. Experienced in managing multi- disciplinary teams in delivering large- scale complex projects on- time and within budget. Proven track record in utilizing technological solutions to build customer relationships, increase customer satisfaction and generate sales. Outstanding ability in analyzing risk and developing business models in line with organizational goals.
Core Skills:
IT Leadership
Technology Innovation
Service Delivery
Project Management
Process & System Improvement
Risk Analysis
Business Modeling
Team Management
Strategic Planning
Responsibilities:
Create, develop and manage Information Technology strategies that are aligned with the corporate objectives.
Coordinate with IT team in the implementation of IT policies and procedures
Develop and implement technology- based projects to improve operational efficiency and customer service.
Monitor and analyze technology performance and make recommendations for improvement.
Ensure compliance with laws, regulations and policies related to information security and privacy.
Manage and coordinate multiple IT teams in order to deliver projects on time and within budget.
Lead the development and implementation of new technologies to drive innovation and business growth.
Identify areas of risks and develop risk management plans to mitigate the risks.
Develop and maintain strong relationships with external vendors and partners.
Oversee the day- to- day operations of the IT department.
In addition to this, be sure to check out our resume templates, resume formats, cover letter examples, job description, and career advice pages for more helpful tips and advice.
What should be included in a Technology Executive resume?
The technology industry requires executives to have a wide range of skills. Therefore, a technology executive resume should include key skills and accomplishments that demonstrate the candidate's ability to lead an organization and make strategic decisions.
When creating a technology executive resume, here are some of the most important elements to include:
Professional Summary: Summarize your professional experience and skills in 2-3 sentences.
Work Experience: List previous professional positions and any relevant technology experience. Be sure to include any accomplishments or awards that demonstrate your leadership capabilities.
Skills: List your technical skills, as well as any soft skills such as problem-solving, communication, and negotiation.
Education: Include any higher education degrees or certifications.
Relevant Projects: List any projects you have been involved in that are relevant to the technology industry.
Leadership Experience: Include any leadership roles you have held, such as managing teams or departments.
Awards and Achievements: List any awards and achievements you have received in your professional career.
By including these elements in your technology executive resume, you can demonstrate to potential employers that you have the skills and experience necessary to be an effective technology executive.
What is a good summary for a Technology Executive resume?
A technology executive resume should be concise and detail-oriented, highlighting the candidate's experience and accomplishments in the field of technology. It should include a summary of the candidate's background, skills, and qualifications. Additionally, the resume should focus on the individual's success in leading technology projects, driving innovation, and managing teams. It should also state the candidate's educational background, certifications, and any other relevant experience. Finally, the resume should include any work-related awards and accomplishments, such as publications or speaking engagements. This summary is a great way to capture the attention of potential employers and demonstrate the individual's achievements in the technology field.
What is a good objective for a Technology Executive resume?
When creating a resume for a Technology Executive, an effective objective should provide potential employers with an idea of your goals and qualifications. An objective should focus on the skills you can bring to the company, as well as the roles and responsibilities you are seeking. A good objective for a Technology Executive resume should include the following:
Demonstrate expertise in managing enterprise-level IT projects
Show an ability to optimize IT processes to achieve maximum efficiency
Utilize strong leadership skills to motivate and mentor others
Possess knowledge of emerging trends and technologies
Utilize excellent communication skills to effectively collaborate with stakeholders
Maintain a comprehensive understanding of the IT industry.
By incorporating these elements into your objective, potential employers will be able to quickly gain an understanding of your qualifications and ambitions. This will make it easier for them to evaluate your candidacy and consider you for the role.
How do you list Technology Executive skills on a resume?
Including the right technology executive skills on your resume is key to making sure hiring managers see your value as a candidate. Technology executives specialize in overseeing the technical operations of a business or organization. This requires a combination of both hard and soft skills, as well as a strong understanding of the latest trends in technology.
When writing your resume for a technology executive role, you should focus on highlighting the skills that you have that make you a great candidate for the position.
Here are some technology executive skills to include on your resume:
Strategic Thinking: Ability to anticipate industry trends and develop plans to capitalize on them.
Problem-solving: Ability to quickly and effectively address technical issues and develop solutions.
Leadership: Ability to motivate and inspire teams while also managing resources.
Analytical Skills: Ability to evaluate data and develop insights.
Decision Making: Ability to make sound decisions quickly and efficiently.
Project Management: Ability to successfully manage complex technical projects.
Technical Knowledge: Expertise in specific technology tools and platforms.
Communication: Ability to communicate clearly and effectively to both technical and non-technical audiences.
Negotiation: Ability to negotiate contracts and other agreements.
Budgeting: Ability to create and manage technology budgets.
Vendor Management: Ability to develop and manage relationships with technology vendors.
What skills should I put on my resume for Technology Executive?
When you are applying for a job as a Technology Executive, it is important to include the right skills on your resume. Technology Executive roles require a high level of technical expertise, as well as the ability to lead and manage teams. Here are some essential skills to include on your resume:
Technical Expertise: As a Technology Executive, you should be an expert in the various technologies used within your industry. Demonstrate your technical skills in areas such as software development, coding, programming, and system architecture.
Strategic Thinking: You should have an advanced understanding of data-driven decision making and the ability to think strategically when it comes to utilizing technology to improve operations.
Leadership: A key role of a Technology Executive is to lead and manage teams. Showcase your leadership skills by demonstrating your ability to mentor, manage, and provide direction to employees.
Project Management: Technology Executives must be able to manage large-scale projects from start to finish. Include on your resume experience managing deadlines, resources, and budgets.
Communication: As a Technology Executive, you must effectively communicate with other departments and stakeholders. Showcase your communication skills and ability to collaborate with others.
Problem Solving: Technology Executives must be able to troubleshoot issues and develop solutions. Showcase your ability to recognize patterns, troubleshoot problems, and suggest improvements.
By including these essential skills on your resume, you can demonstrate to employers that you have the knowledge and experience they are looking for in a Technology Executive.
Key takeaways for an Technology Executive resume
As a technology executive, it's important to have an up-to-date and well-crafted resume. Your resume should be tailored to your current job duties and future ambitions. To make sure your resume is at the top of its game, here are some key takeaways for your technology executive resume:
Highlight your accomplishments: It's important to make sure that you highlight your successes in your resume. Don't be afraid to brag about your accomplishments, as this is what will draw potential employers to you. Include specific details about projects you've completed, awards you've won, and other successes that you've achieved.
2.Show off your technical skills: As a technology executive, you need to showcase your technical expertise. Be sure to list your technical skills and any certifications or training programs that you've completed.
Include relevant industry experience: Include details about the companies you've worked for in the past and the roles that you've held in those organizations. This will show potential employers that you have the experience and knowledge to handle their tech-related projects.
Tailor your resume to the job: Make sure you tailor your resume to the job you're applying for. Highlight the skills and experience that make you a strong candidate for the job.
Keep it organized: Organization is key when it comes to resumes. Make sure that your resume is easy to read and understand. Break up your resume into sections and make use of headings and bullet points to make it easier to scan.
By following these key takeaways, you can make sure your technology executive resume is up-to-date and well-crafted. Don't be afraid to showcase your skills and accomplishments, and tailor your resume to the job you're applying for. With an organized and well-crafted
Let us help you build
your Resume!
Make your resume more organized and attractive with our Resume Builder