Are you looking to start a successful career as a Technology Consultant? Whether you're a recent graduate or an experienced professional, your resume is a critical part of the job search process. You'll need a resume that clearly outlines your qualifications, shows off your skills, and persuasively communicates why you're the right person for the job. This guide will help you create a Technology Consultant resume that will stand out among the competition. With resume writing tips and examples to guide you, you'll be able to confidently craft an impressive Technology Consultant resume that will set you up for success.
If you didn't find what you were looking for, be sure to check out our complete library of resume examples.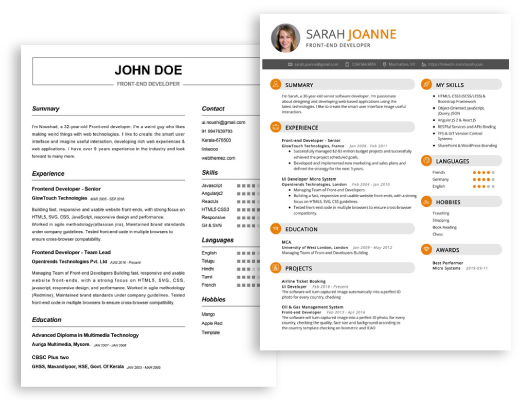 Start building your dream career today!
Create your professional resume in just 5 minutes with our easy-to-use resume builder!
Technology Consultant Resume Examples
John Doe
Technology Consultant
123 Main Street | Anytown, USA 99999 | Phone: (123) 456-7890 | Email: john.doe@email.com
I am a technology consultant with a passion for developing innovative and creative solutions to challenging technical problems. I have over 5 years of experience in the information technology and management consulting industries, with a focus on developing and implementing new technologies. My core skills include strong project management, networking, database administration, and software development experience. I am adept at finding solutions to complex problems, and I have a deep knowledge of the latest technologies and industry trends. I am also highly organized and dedicated to meeting deadlines and exceeding expectations.
Core Skills:
Expertise in network and database administration
Excellent problem solving and analytical skills
Highly organized and detail- oriented
Familiarity with various software development frameworks
Effective communicator and team player
Proficient in project management tools
Professional Experience:
Technology Consultant, ABC Consulting, 2018 – present
Assessed client needs and developed innovative solutions to meet those needs
Created and implemented project plans to ensure successful delivery of projects
Developed and maintained databases and networks
Analyzed and evaluated data to identify potential improvements
Developed and tested software and applications
Collaborated with clients to identify and implement best practices
Network Administrator, XYZ Systems, 2016 – 2018
Monitored and maintained network systems and applications
Updated and maintained security protocols for network systems
Developed and implemented network backups and disaster recovery plans
Troubleshot network issues and identified solutions
Provided technical support to end users
Education:
Bachelor of Science in Computer Science, University of Technology, 2012 – 2016
Certificate in Networking and Database Administration, ABC Institute, 2016 – 2018
Technology Consultant Resume with No Experience
Recent technology graduate eager to become a successful Technology Consultant. Possess strong analytical capabilities and a willingness to learn new technologies. Seeking to join a forward- thinking organization that can help me expand my knowledge and become an expert in the field.
Skills
Excellent written and verbal communication skills
Highly organized and detail- oriented
Strong problem- solving abilities
Proficient in the use of various computer software programs
Able to work independently or collaboratively
Responsibilities
Maintaining and troubleshooting technical issues
Analyzing customer needs and providing appropriate solutions
Assisting clients with the installation and setup of systems
Developing and implementing technology projects according to customer requirements
Providing training and support to clients on the use of new technologies
Technology Consultant Resume with 2 Years of Experience
I am a highly motivated Technology Consultant with 2 years of experience in the IT consulting industry. I have a proven ability to develop innovative technology solutions to solve complex business problems. I have strong knowledge in a variety of technology solutions such as web development, ERP implementation, IT security, cloud computing and enterprise systems integration. I have a solid foundation in customer- focused project management, developing business requirements and technical specifications, as well as managing vendor and customer relationships. I am a self- starter who thrives in a fast- paced environment and a team player who can work well with both internal and external stakeholders.
Core Skills:
Project Management
Business Analysis
Technical Documentation
Vendor Management
Customer Relations
Cloud Computing
Enterprise Systems Integration
Web Development
IT Security
Responsibilities:
Developed and implemented technology solutions to solve business problems.
Provided project management and technical support for various projects.
Created and maintained technical documents, processes and procedures.
Analyzed business requirements and prepared technical specifications.
Managed customer relationships and coordinated with vendors.
Developed and maintained web applications using various technologies.
Implemented ERP systems and performed IT security audits.
Assisted with cloud computing initiatives and enterprise systems integration.
Technology Consultant Resume with 5 Years of Experience
Innovative and experienced Technology Consultant with 5 years of experience in providing strategic guidance and cost optimization solutions to businesses in the technology industry. Adept at leveraging industry best practices to effectively identify, analyze and solve complex technical problems. Skilled communicator with the ability to explain technical issues in non- technical terms.
Core Skills:
Strategic Consulting
Networking and Security
System Configuration
Troubleshooting
Technical Problem Solving
Risk Mitigation
Project Management
Public Speaking
Documentation
Responsibilities:
Coordinating with clients to understand their technical requirements and deliver solutions that meet their specifications.
Creating detailed documentation for existing and future systems.
Developing and maintaining project plans and meeting deadlines.
Building and configuring hardware, such as servers, routers, and switches.
Troubleshooting hardware and software issues.
Monitoring system performance and creating backup and disaster recovery plans.
Analyzing data and providing solutions to complex technical problems.
Developing processes and procedures to ensure compliance with industry regulations.
Training system users and providing technical support.
Technology Consultant Resume with 7 Years of Experience
I am a highly experienced Technology Consultant with over 7 years of working in the IT field. I have extensive experience in designing, developing, and deploying application and software solutions to meet the needs of customers. My expertise lies in project management, networking, and coding, as well as systems and network design. I have a proven track record of successful projects and implementations, and have worked with various technologies including Java, HTML, CSS, JavaScript, and Linux. I am confident that I can provide the necessary skills and expertise to help your business succeed.
Core Skills:
Project Management
Network Design
Coding
System Design
Application and Software Solutions
Technology Development and Deployment
Java
HTML
CSS
JavaScript
Linux
Responsibilities:
Design and develop applications and software solutions to meet customer needs.
Manage projects from initial design to successful completion.
Develop coding standards and guidelines for teams.
Coordinate with internal and external stakeholders.
Analyze and troubleshoot system issues.
Implement security protocols and access control measures.
Prepare test plans and test cases for user- facing applications.
Monitor system performance and recommend improvements.
Maintain a repository of software code and code changes.
Provide technical guidance and support to teams.
Technology Consultant Resume with 10 Years of Experience
Tech- savvy, organized and ambitious Technology Consultant with 10+ years of experience in project management and problem- solving. Proven ability to develop innovative solutions and strategies to enhance operational efficiency within the tech industry. Highly effective at leading teams and ensuring that projects are completed on schedule and within budget. Skilled in customer service and communication as well as troubleshooting IT problems.
Core Skills:
IT Infrastructure Analysis
Project Management
Strategic Planning
System Design & Development
Troubleshooting & Maintenance
Team Leadership
Budgeting & Cost Control
Process Improvement
Vendor Management
Responsibilities:
Developed and implemented IT strategies to improve performance and reduce costs
Facilitated the installation and implementation of new systems, upgrades, and patch management
Evaluated and monitored IT systems performance to ensure they met established standards and requirements
Implemented and maintained preventive maintenance on all IT hardware and software
Assisted in planning, organizing, and implementing projects to ensure timely completion and delivery
Developed and maintained detailed project plans, progress reports and budgets
Facilitated the analysis and resolution of customer service issues
Monitored and managed the quality of customer service in the IT department
Responded to customer inquiries and provided technical advice and support
Technology Consultant Resume with 15 Years of Experience
A highly experienced technology consultant with 15 years of experience in providing comprehensive technology solutions and advice to businesses of all sizes. Possessing a comprehensive, deep knowledge of the IT industry, comprehensive understanding of the systems, software and hardware elements of technology infrastructure and a proven track record in successful management of all IT- related projects from start to finish. Core competencies include strategic planning, advanced problem solving, project management, and communication.
Core Skills:
Strategic planning
Advanced problem solving
Project management
Communication
IT Infrastructure management
Software and hardware installation
Networking and system administration
System security
Documentation and report writing
Responsibilities:
Design and implement complex IT projects, from concept to completion
Monitor and support existing IT systems to ensure smooth operation
Develop IT systems to meet specific customer requirements
Plan, design, and implement network infrastructure
Oversee software and hardware installation, configuration and maintenance
Test and troubleshoot systems to detect and resolve problems
Establish and maintain secure access to networks and systems
Research and recommend new technologies and software
Develop and maintain documentation for IT systems
Train and mentor junior IT staff on technical aspects of systems and networks
In addition to this, be sure to check out our resume templates, resume formats, cover letter examples, job description, and career advice pages for more helpful tips and advice.
What should be included in a Technology Consultant resume?
A technology consultant is a professional who provides advice and guidance to organizations and businesses on the implementation of various technologies. In order to be successful in the role, a technology consultant must have an extensive knowledge of both current and emerging technology trends. A technology consultant should have a well-crafted resume that outlines their skills, education, and experience in the field. Here is a list of what should be included in a technology consultant resume.
Education: Include any educational degrees or certifications related to technology, such as a degree in computer science or information technology.
Technical Skills: List any programming languages, platforms, databases, or other technical skills that are relevant to the position.
Experience: Highlight any experience with technology consulting that you have. This includes any roles you have held in the past or current projects you are working on.
Areas of Expertise: Showcase any particular areas of expertise that you bring to the table. This could include cloud computing, software development, or system administration.
Leadership: Demonstrate any leadership experience that you have had in the past. This could include any teams you have led, projects you have managed, or initiatives you have spearheaded.
Communication Skills: Showcase any communication skills you have such as writing or public speaking.
Professional Certifications: Include any industry certifications that you have obtained such as CompTIA or Microsoft Certified Systems Administrator.
Awards/Recognition: Highlight any awards or recognition that you have received related to technology or your professional endeavors.
By including all of these items in your technology consultant resume, you will be able to showcase your skills and experience in the field and will have a better chance of being considered for the role.
What is a good summary for a Technology Consultant resume?
A Technology Consultant resume should include a summary that highlights the individual's experience and expertise in the IT field. It should mention any certifications and training the individual has obtained, as well as any relevant software and hardware experience. The summary should also emphasize the individual's ability to develop and implement successful strategies for IT projects, as well as their problem-solving skills and knowledge of emerging trends. It should also include any relevant successes in the IT field, such as successful project launches or cost savings from innovative technology solutions. A well-crafted summary will help a Technology Consultant stand out from the competition and demonstrate their qualifications and skills.
What is a good objective for a Technology Consultant resume?
Are you a technology consultant looking for a new job? It can be tough to craft the perfect resume that highlights your skills, experience, and accomplishments in a way that appeals to potential employers. To stand out, you need to have a clear objective. Here are some tips for creating an effective technology consultant resume objective.
Focus on your experience and education. Make sure to list all relevant qualifications, certifications, and years of experience that you have in the field. Highlight any unique abilities or awards that you may have earned.
Be specific about the type of job you are seeking. It is important to indicate what kind of job you are looking for, such as IT consultant, software engineering consultant, or web development consultant.
Describe what you can bring to the position. Potential employers want to know what value you can bring to the position. This can include technical expertise, project management skills, or communication ability.
Show your ability to solve complex problems. As a technology consultant, employers want to know that you have the skills and knowledge to solve complex technical issues.
By following these tips, you can create an effective objective for your technology consultant resume. With a clear objective and relevant qualifications, you can stand out from other candidates and land the job you want.
How do you list Technology Consultant skills on a resume?
When creating a resume for a role as a Technology Consultant, it's important to include the right details to showcase your skills and experience. To ensure that your resume stands out from the competition, you should include details about your specific technology-related skills.
Below are a few examples of the types of technology-related skills you can list on your resume for a Technology Consultant role:
Developing and implementing IT strategies and procedures
Designing and testing computer systems, networks, and applications
Troubleshooting hardware and software issues
Providing technical support and training to end-users
Setting up and configuring computer networks
Managing and monitoring computer security systems
Creating reports and conducting regular system audits
Establishing and enforcing IT standards
Analyzing system requirements and developing solutions
Assessing potential risks and proposing mitigation strategies
Maintaining knowledge of current industry trends and technologies
Keeping up to date with security patches and software updates
By including these skills on your resume, you can demonstrate that you have the knowledge and abilities needed to be successful as a Technology Consultant.
What skills should I put on my resume for Technology Consultant?
A technology consultant is an individual who advises businesses and other organizations on how to best use technology to fulfill their goals. Technology consultants work on a wide range of tasks, such as researching and evaluating new technologies, developing tech-based solutions, and training employees on the latest software. To be successful in this role, you need to have a diverse set of skills and experience. Here are some of the skills you should consider including on your resume when applying for a technology consultant role:
Knowledge of Networking: Technology consultants should be familiar with the fundamentals of networking, such as routers, switches, and IP addressing.
Technical Writing: As a technology consultant, you may have to write technical documents, such as user manuals and instruction guides. Having strong writing skills is essential for success in this role.
Project Management: Technology consultants need to be able to manage complex projects, staying on schedule and on budget.
Problem-Solving: Technology consultants must be able to think logically and troubleshoot problems.
Interpersonal Skills: Technology consultants must be able to work well with others, from clients to colleagues.
Business Acumen: Technology consultants must understand the basics of business, such as finance, strategy, and marketing.
Familiarity with Popular Software: Technology consultants should be familiar with popular software suites, such as Microsoft Office and Adobe Creative Suite.
Coding and Programming: Depending on the role, technology consultants may need to know a variety of coding and programming languages, such as HTML, CSS, Java, and Python.
By including these skills on your resume, you will be able to demonstrate that you have the necessary qualifications to be successful in a technology consultant role.
Key takeaways for an Technology Consultant resume
The tech industry is extremely competitive and you need an effective resume that stands out from the crowd to land the job of your dreams. As a technology consultant, you will need to demonstrate an in-depth knowledge of the latest technology trends, a deep understanding of system design and implementation, and a commitment to providing innovative solutions to your clients. Here are some key takeaways for creating an effective technology consultant resume:
Demonstrate prior experience working in the technology field. Your resume should include all relevant experience, including any technical certifications, software proficiency, and programming languages you have mastered.
Showcase your ability to solve complex problems. Employers want to know that you can handle complex tasks and provide innovative solutions to their clients. Provide examples of how you have identified and resolved issues in the past.
Highlight your communication skills. Technology consultants must be able to communicate effectively with their clients and colleagues. Demonstrate your ability to effectively explain technical information in a clear, concise manner.
Show off your technical skills. You should include any technical skills you have acquired, such as database management, software programming, web development, hardware installation, and more.
Detail your knowledge of trends in the technology industry. Employers will want to know that you are in tune with the industry and able to stay up-to-date on the latest trends.
Showcase your certifications. Include any relevant certifications that demonstrate your proficiency and commitment to the technology industry.
Following these steps can help you create an impressive technology consultant resume that will make you stand out from the competition. Make sure to highlight your technical skills, communication abilities, and commitment to stay up-to-date on the latest industry trends to ensure you land the job you want.
Let us help you build
your Resume!
Make your resume more organized and attractive with our Resume Builder