Writing your technology analyst resume can be a daunting task. Fortunately, there are steps you can take to ensure your resume stands out from the rest. Knowing how to showcase the skills and experiences you have to offer is key to securing the job you want. This guide will provide you with an understanding of the components of an effective technology analyst resume, as well as examples and tips to help you craft the perfect resume. With the right foundation and strategies, you can create a resume that will make sure you stand out from the competition.
If you didn't find what you were looking for, be sure to check out our complete library of resume examples.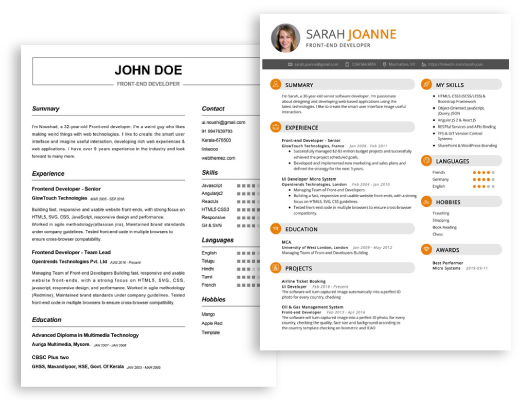 Start building your dream career today!
Create your professional resume in just 5 minutes with our easy-to-use resume builder!
Technology Analyst Resume Examples
John Doe
Technology Analyst
123 Main Street | Anytown, USA 99999 | Phone: (123) 456-7890 | Email: john.doe@email.com
Technology Analyst with 6+ years of professional experience in software design, development, and implementation for global organizations. Passionate about developing solutions to complex problems and using technology to improve business processes. Skilled in Microsoft Office Suite, programming languages, and project management. Looking to leverage experience to take on a challenging role as a Technology Analyst.
Core Skills
Software Design
Software Development
Software Implementation
Project Management
Programming languages
Microsoft Office Suite
Troubleshooting
Technical Support
Problem- solving
Professional Experience
Technology Analyst, ABC Company, June 2014 – Present
Analyze existing systems to identify areas of improvement
Design, develop, and implement software solutions to streamline processes
Provide technical support and troubleshooting as needed
Collect data and develop dashboards to track performance
Collaborate with internal stakeholders to ensure that solutions meet requirements
Develop technical specifications and reports
Software Developer, XYZ Company, March 2012 – May 2014
Developed software solutions for global clients
Created technical specifications for software solutions
Collaborated with other developers on projects
Tested and debugging software applications
Resolved customer issues in a timely manner
Education
Bachelor of Science in Computer Science, ABC University, 2011
Technology Analyst Resume with No Experience
Highly motivated and detail- oriented Technology Analyst with a passion for understanding complex systems and finding ways to streamline processes. Possesses a strong knowledge of computer systems, software applications and new upcoming technologies. A creative problem solver with excellent communication and analytical skills.
Skills
Knowledge of computer systems and software applications
Proficient in data analysis and problem solving
Ability to quickly learn new programs
Excellent written and verbal communication skills
Strong attention to detail and organizational skills
Ability to work independently and in teams
Responsibilities
Analyzing and troubleshooting technical problems related to software and hardware
Designing and implementing technical solutions
Monitoring and maintaining computer systems and software applications
Researching and testing new technologies
Documenting processes and creating user guides
Providing training and technical assistance to users
Technology Analyst Resume with 2 Years of Experience
A Technology Analyst with 2 years of experience in managing IT projects, developing and implementing innovative solutions, and driving performance improvement initiatives in the technology sector. Proven ability to deliver technology- based solutions with a focus on customer satisfaction, quality, and cost- effectiveness. Demonstrated success in working as a team to solve complex problems, embrace change, and boost productivity. A reliable and dedicated professional who is eager to contribute to successful projects in a high- pressure environment.
Core Skills:
Project Management
Technical Writing
Software Development
Problem Solving
Database Design
Networking
Bug Testing
Troubleshooting
Cloud Computing
Responsibilities:
Developed, tested, and implemented IT solutions to meet business needs.
Created and modified software code, databases, and system configurations.
Developed and maintained user documentation and technical tutorials.
Gathered requirements, analyzed systems, and delivered solutions.
Identified and resolved technical issues in a timely manner.
Maintained network security and monitored system performance.
Provided technical support and training to end users.
Developed and monitored procedures for system backups and disaster recovery.
Researched new technologies and evaluated their impact on business objectives.
Technology Analyst Resume with 5 Years of Experience
A highly accomplished Technology Analyst with 5 years of experience in systems analysis, software engineering, and business analysis. Adept at quickly grasping complex technical concepts, developing innovative solutions, and providing technical support. Skilled at providing research and analysis of business and technical requirements, translating customer needs into application and operational requirements, and proactively resolving system issues. Dedicated to understanding customer needs and delivering the highest level of customer service.
Core Skills:
Systems Analysis
Software Engineering
Business Analysis
Technical Concepts
Innovative Solutions
Research and Analysis
Customer Service
Responsibilities:
Developed software applications, systems, and databases to meet customer needs
Performed requirements gathering and analysis to determine customer requirements
Created and implemented technical solutions to address customer needs
Provided technical support for the software systems and applications
Documented technical specifications, test plans, and system design documents
Resolved system issues and identified areas for improvement
Communicated with customers to ensure their technical requirements were met
Trained customers on the use of the software systems and applications
Technology Analyst Resume with 7 Years of Experience
Highly- skilled and motivated Technology Analyst with 7 years of experience in the IT industry. Proven track record of delivering successful IT solutions and providing technical expertise to customers. Possess excellent analytical and problem- solving skills, communication skills, and the ability to work well within a team environment. Highly knowledgeable in the development and maintenance of complex IT applications and networks.
Core Skills:
Excellent knowledge in MS Windows, Mac OS, and Linux systems
Proficient with C++, Java, and Python programming languages
Experienced with SQL databases and object- oriented programming
Skilled in the development, customization, and maintenance of software applications
Knowledgeable in troubleshooting, debugging, and testing techniques
Ability to handle multiple projects and meet tight deadlines
Strong attention to detail and excellent organizational skills
Excellent customer service and communication skills
Responsibilities:
Develop, customize, and maintain software applications and networks
Troubleshoot, debug, and test applications
Collaborate with other IT professionals to ensure smooth operations
Assist in the deployment of new software and hardware
Create technical documentation and user manuals
Monitor systems and networks for potential problems
Train users in the use of software applications and networks
Manage user accounts and maintain data security
Technology Analyst Resume with 10 Years of Experience
Highly experienced Technology Analyst with 10+ years of experience in the tech industry. Highly skilled in leading large- scale projects, developing new solutions and helping teams reach their goals quickly and effectively. Proven success in identifying opportunities for improvement and leveraging existing tools to develop cost- effective solutions. Experienced in a wide range of technologies, including software and hardware, web development, and mobile applications.
Core Skills:
Project Management
Business Analysis
Requirements Gathering
Problem Solving
System Design
Data Analysis
Software Development
Technical Writing
Troubleshooting
Systems Integration
Responsibilities:
Managed large- scale technology projects from start to finish and provided support throughout the life cycle.
Analyzed data to identify areas that could benefit from new solutions and technologies.
Worked with stakeholders to develop requirements and design plans for new solutions.
Developed software and hardware applications to improve business processes.
Performed system testing to ensure quality and accuracy.
Investigated and resolved system issues quickly and efficiently.
Wrote technical documentation for software and hardware applications.
Developed training materials and conducted training sessions for users.
Collaborated with other departments to ensure seamless integration of systems.
Technology Analyst Resume with 15 Years of Experience
A seasoned Technology Analyst with 15 years of experience in a variety of settings. Successful in working with technology teams to identify and resolve issues and implement new systems. Skilled in working with multiple stakeholders to develop and execute strategies to meet business goals. Adept in developing and maintaining relationships with clients, providing technical support and training, and driving customer satisfaction. Possesses excellent problem- solving, team- building, and communication skills.
Core Skills:
Technology Analysis
Troubleshooting
Problem- Solving
Technical Support
Training
Relationship Building
Business Strategy Execution
Customer Satisfaction
Responsibilities:
Analyzed and assessed various technology systems and infrastructure in order to identify and resolve issues.
Worked with technology teams to ensure that the system was functioning correctly and troubleshoot any issues.
Developed and implemented strategies to meet business goals.
Developed and maintained relationships with clients while providing technical support and training.
Monitored customer satisfaction and developed solutions to improve customer experience.
Managed technical projects and worked with multiple stakeholders to ensure successful completion.
Collaborated with team members to identify opportunities for improvement and implement new systems.
In addition to this, be sure to check out our resume templates, resume formats, cover letter examples, job description, and career advice pages for more helpful tips and advice.
What should be included in a Technology Analyst resume?
A Technology Analyst resume should include a variety of skills and experiences that demonstrate both your knowledge and your ability to use technology to solve complex problems. Here are some key things to include on your resume:
Education: Include the name of your university, degree earned, and the year of graduation.
Relevant Skills: List all of the technical skills that are relevant to the job. Examples include programming languages, software development, database management, and network security.
Professional Experience: Outline the experience you have gained in various areas of technology. This should include any positions you have held as a technology analyst, as well as any related roles in the IT field.
Certifications: Include any relevant certifications that you possess. This could include Microsoft Certified Solutions Expert (MCSE) or Certified Information Systems Security Professional (CISSP).
Special Projects: Include any special projects you have completed that have contributed to the success of your organization. This could include developing new applications, improving existing systems, or implementing new technologies.
Leadership Skills: Detail any leadership roles you have taken on while working in technology. This could include managing teams, training new employees, or providing technical support.
Problem-Solving Skills: Describe any specific problem-solving skills that you possess. This could include troubleshooting complex issues, analyzing data to identify trends, or finding innovative solutions.
By including all of these elements on your resume, you will be able to demonstrate to employers your knowledge and experience with technology. This will make you a strong contender for any Technology Analyst role you apply for.
What is a good summary for a Technology Analyst resume?
A Technology Analyst resume should be a concise, one page summary of your professional skills and experience in the field of technology. It should highlight your knowledge of design, development, and implementation of technology solutions and systems. Your resume should showcase your ability to analyze the technical requirements of a business, create efficient solutions and systems, and maintain funding and resources to see the project succeed. It should also provide evidence of your experience with software development and programming, IT architecture, and problem-solving. Finally, your resume should demonstrate your capacity to work with stakeholders and other personnel to bring projects to successful completion.
What is a good objective for a Technology Analyst resume?
Technology Analysts are professionals who use their knowledge of technology to provide advice and assistance in the use of and development of technology products. They are often responsible for keeping up with the latest trends in technology, researching new systems and tools, and providing assistance to users on how to effectively use technology for their needs. To be a successful Technology Analyst, you need to have strong analytical skills, technical knowledge, and strong communication skills.
When writing a Technology Analyst resume, it is important to include a clear and concise objective that outlines the skills and qualities you bring to the position. Here are some examples of good objectives for a Technology Analyst resume:
Seeking a Technology Analyst position that will utilize my strong analytical skills, technical knowledge and communication skills to enhance the organization's technology capabilities.
Looking to apply my extensive technical knowledge and experience in software development, system analysis and data analysis to a Technology Analyst role.
To obtain a position as a Technology Analyst and use my technical expertise and problem-solving skills to develop innovative solutions for clients' technology needs.
To utilize my experience in system development, data analysis, and software engineering to provide technical guidance and support to users.
Seeking an opportunity to use my experience in software engineering and development to optimize the efficiency of technology systems.
By including an objective that clearly outlines your skills and experience, you will make it easier for employers to see the value you can bring to the organization. A good Technology Analyst resume objective should be tailored to the employer's needs and should make it clear that you are the right person for the job.
How do you list Technology Analyst skills on a resume?
When it comes to creating a resume for a Technology Analyst role, it's important to showcase the relevant skills and qualifications that you possess. A potential employer will be looking for specific skills, such as technical expertise and problem-solving abilities, as well as any specialisations you have. Here are some skills and qualifications that you should consider including in your resume:
Database development and design: Demonstrates an ability to design and develop databases, as well as understand how to integrate them with other technologies.
Programming languages: Proficiency in various programming languages, including but not limited to Java, C++, and Python.
Knowledge of operating systems: Understanding of Windows, Linux, and Mac operating systems, and the ability to troubleshoot issues.
Project management: Skilled in managing a project from conception to completion.
Problem-solving: An analytical thinker who can quickly identify problems, create effective solutions, and make sound decisions.
Networking: Knowledge of network architecture, protocols, and security.
Interpersonal skills: Ability to collaborate with other technology professionals, effectively lead teams, and provide technical guidance.
Technical writing: Expertise in writing technical documentation and other materials related to technology.
By including these skills and qualifications in your resume, you'll be giving potential employers a better idea of your abilities and showing them why you are the best candidate for the job. Good luck in your job search!
What skills should I put on my resume for Technology Analyst?
Technology Analysts are relied upon to have a diverse range of skills and abilities. When creating a resume for this job, it's important to highlight the technical skills you have that are relevant to the role. Here are some skills you may want to consider putting on your resume for a Technology Analyst position:
Proficiency in software development life cycles and associated processes
Experience with programming languages, such as Python, Java, C++, and SQL
Knowledge of systems analysis and design, customer requirements, and system testing
Ability to identify and troubleshoot technical problems
Excellent organizational and communication skills
Strong analytical and problem-solving skills
Ability to work independently and in a team setting
Knowledge of financial and statistical models
Understanding of database systems, networks, and other IT infrastructures
Having a well-crafted resume that highlights these skills can help you stand out from the competition and boost your chances of landing the job. Make sure to tailor your resume to the specific job you're applying for to ensure it's the best fit for the position.
Key takeaways for an Technology Analyst resume
As technology continues to evolve and become more complex, so does the job market for technology analysts. An effective technology analyst resume should highlight your technical knowledge, understanding of industry trends, and ability to communicate your insights to various stakeholders.
In this blog post, we'll go over the key takeaways for creating a successful technology analyst resume.
Highlight Your Analytical Skills: As a technology analyst, you're expected to be able to collect and analyze data to draw meaningful conclusions. Be sure to demonstrate your ability to do this by including relevant experience on your resume. Showcase the data analysis skills you've used in the past and how you applied them to a given situation.
Demonstrate Your Technical Knowledge: Technology analysts have to have a strong understanding of the industry they're working in. Showcase the technical knowledge you have on your resume by including certifications, courses, and other achievements. This will demonstrate to potential employers that you have a deep understanding of the technical aspects of the industry.
Showcase Your Communication Skills: As a technology analyst, you'll need to be able to clearly communicate your insights to other stakeholders. Showcase the communication skills you have on your resume by including experience in which you've successfully communicated complex ideas. You can also highlight your ability to present data in an easy to understand manner.
Include Relevant Experience: When it comes to technology analyst roles, employers are looking for candidates with experience in the industry. Make sure to include any relevant experience and skills you have on your resume. This will demonstrate to employers that you have the qualifications and experience necessary to be successful in a technology analyst role.
By following these tips, you'll be able to create an effective technology analyst resume that will help you stand out from the competition. Highlighting your technical knowledge, analytical skills, and communication abilities will ensure that potential employers
Let us help you build
your Resume!
Make your resume more organized and attractive with our Resume Builder