A good resume is essential for any successful job search, especially for those in the technology industry. Crafting an effective technologist resume can be a challenging task, however, as you need to stand out from the competition while also emphasizing your technical skills and experiences. To help you create a resume that stands out from the crowd and helps you land the job of your dreams, this guide provides tips and real-life examples of technologist resumes.
If you didn't find what you were looking for, be sure to check out our complete library of resume examples.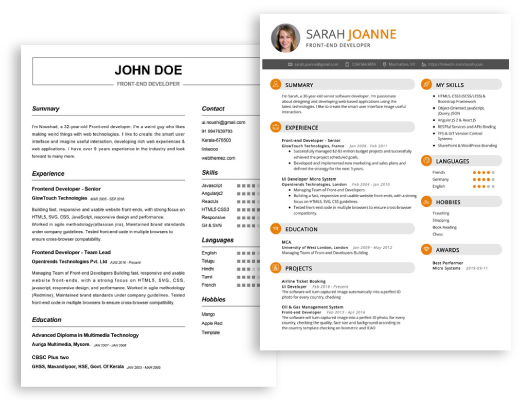 Start building your dream career today!
Create your professional resume in just 5 minutes with our easy-to-use resume builder!
Technologist Resume Examples
John Doe
Technologist
123 Main Street | Anytown, USA 99999 | Phone: (123) 456-7890 | Email: john.doe@email.com
As a highly trained and experienced Technologist, I have dedicated over 6 years to providing world- class technical assistance and support to a diverse range of clients. My core skills include troubleshooting and debugging, install and configure software and hardware, and effectively communicate technical information. I have developed a proven track record of successfully managing and deploying complex IT projects on time and within budget. With a Bachelor's degree in Information Technology and extensive experience in the field, I am confident that I can make an immediate and positive impact to any organization.
Core Skills:
Troubleshooting and debugging
Install and configure software and hardware
Effectively communicate technical information
Manage and deploy complex IT projects
Provide technical assistance
Professional Experience:
Technology Specialist, ABC Technologies, June 2018 – Present
Provide technical support to customers, troubleshoot and debug hardware and software issues
Install, configure and update software and hardware
Plan and implement IT projects for clients
Monitor the performance of IT systems and ensure their security
Technical Support Specialist, XYZ Solutions, February 2016 – May 2018
Provide technical support services to customers, solve complex technical problems
Install and configure software and hardware
Manage IT projects for clients, ensure projects are completed on time and within budget
Evaluate performance of IT systems and recommend improvements
Education:
Bachelor of Science in Information Technology, ABC University, January 2012 – December 2015
Technologist Resume with No Experience
Recent graduate with a certificate in Information Technology seeking to leverage technical knowledge and problem- solving skills as an entry- level Technologist. Strong written communication and a collaborative work ethic with a drive to learn and stay current with emerging technologies.
Skills
Ability to troubleshoot, debug and repair technical issues
Knowledge of Windows, MAC OS, and Linux operating systems
Knowledge of basic networking and computer hardware
Familiarity with programming languages such as Python, JavaScript, and C#
Excellent written and verbal communication
Skilled in working collaboratively and problem solving
Responsibilities
Install and configure new software and hardware
Monitor network performance and troubleshoot network issues
Set up and configure computers and other hardware
Provide technical support and advice to users
Maintain and update network and system security
Follow established procedures for logging and tracking incidents
Provide feedback and suggestions to improve system performance and reliability
Technologist Resume with 2 Years of Experience
Highly motivated, results- driven Technologist with 2 years of experience providing technical support and guidance to corporate and individual clients. Possessing a deep understanding of IT systems, software, and networks, I am able to identify and solve complex problems quickly and efficiently. Possessing strong organizational, communication, and problem- solving skills, I am well- versed in the latest technology trends and am able to develop effective solutions to match.
Core Skills:
Advanced knowledge of IT systems, software, and networks
Strong analytical and troubleshooting skills
Excellent verbal and written communication skills
Highly organized and detail- oriented
Efficiently works both independently and as part of a team
Proficient in using various computer programs and software
Responsibilities:
Provided technical support and guidance to corporate and individual clients
Assisted with the maintenance and repair of computer systems and networks
Assessed user needs and created appropriate IT solutions
Developed processes and procedures for optimal system performance
Installed and tested new software, hardware, and systems
Troubleshot and resolved technical issues in a timely manner
Performed regular maintenance and updates to keep systems running smoothly
Assisted in the installation of hardware and software systems
Technologist Resume with 5 Years of Experience
A highly motivated and experienced Technologist with 5 years of experience in developing, testing and maintaining products. Proven skills in planning and implementing innovative solutions to complex problems, leading teams in the development process, and providing valuable technical support. Adept in improving work process flow, productivity, and efficiency, while exceeding customer expectations.
Core Skills:
Product Development/Testing
Project Planning
Software Troubleshooting
Team Leadership
Customer Support
Problem Solving
Process Improvement
Systems Analysis
Responsibilities:
Developed and tested new products and features, ensuring the highest quality standards.
Planned and implemented innovative solutions to complex problems.
Lead teams in the development process, ensuring projects are completed on time and to specifications.
Provided technical support to customers, troubleshooting software, hardware and other computer related issues.
Analyzed current systems and processes, and identified opportunities for improvement.
Implemented changes to increase efficiency, improve workflow and reduce costs.
Trained and mentored team members to help them develop their technical and professional skills.
Technologist Resume with 7 Years of Experience
Highly motivated and experienced technologist with 7 years of working in engineering and technology fields. Skilled in troubleshooting and problem solving in both hardware and software. Proven experience in leading design, development, and testing of technical products. Obtained expertise in managing teams and projects for successful outcomes.
Core Skills
Expertise in software and hardware engineering
Proven ability to troubleshoot and resolve technical issues
Thorough knowledge of software development and testing
Exceptional project and team management skills
Excellent communication and customer service skills
Responsibilities
Developed and tested software programs and hardware components
Troubleshot technical issues and identified solutions
Led design and implementation of technical projects
Managed team of technologists to ensure successful outcomes
Provided customer service and technical support to clients
Assisted in the creation of technical documentation and manuals
Technologist Resume with 10 Years of Experience
Dedicated and passionate Technologist with 10 years of experience in developing, testing and deploying IT software solutions. Successfully delivered various enterprise- scale projects that helped streamline business operations and increase efficiency. Skilled in driving innovation and building cutting- edge solutions based on customer and market needs. A motivated team player, able to collaborate productively with cross- functional organizations and multiple stakeholders.
Core Skills:
Software development
Software testing
Software architecture
Agile development
DevOps
Cloud computing
Data analysis
Problem solving
Team leadership
Project management
Responsibilities:
Developed and tested software solutions for various enterprise- scale projects
Designed and implemented software architectures that meet customer and market needs
Worked in an agile environment to deliver projects on time and to budget
Maintained and updated existing software solutions
Collaborated with cross- functional organizations and multiple stakeholders
Provided technical guidance and training to junior staff
Researched and identified emerging technologies and trends
Monitored and evaluated the performance of software solutions
Generated reports and presentations to senior management
Technologist Resume with 15 Years of Experience
A highly experienced and motivated technologist with 15+ years of expertise in developing cutting- edge technology solutions, managing and leading teams of talented engineers, and providing expert consulting services to leading organizations. Proven track record in leading a variety of complex projects and ensuring that they are delivered on time and within budget. Skilled in quickly grasping technical details and developing innovative solutions to meet customer needs.
Core Skills
Project management
Software development
Agile methodology
Troubleshooting
Networking
Data security
Cloud computing
Customer relations
Software engineering
Leadership
Responsibilities
Led a team of software engineers through the development and implementation of complex web- based applications and systems
Managed the technical architecture of a large- scale e- commerce platform
Developed and implemented software solutions for customer requirements
Monitored and maintained data security systems and protocols
Tracked project progress, identified potential bottlenecks and took corrective action
Provided technical support and troubleshooting for customers
Created and maintained documentation for all developed systems
Reviewed customer feedback and implemented customer- driven changes and improvements
Provided training and guidance to junior software engineers and other staff members
In addition to this, be sure to check out our resume templates, resume formats, cover letter examples, job description, and career advice pages for more helpful tips and advice.
What should be included in a Technologist resume?
When constructing a technologist resume, there are certain skills and qualifications that employers will look for when searching for potential job candidates. A technologist resume should include the following information:
Professional Summary: A brief overview of your educational background and professional experience and highlights of the key qualifications that make you an ideal candidate for the role.
Education: Include the name of the institution, degree earned, and graduation date.
Work Experience: List the name of the organization, position held, and dates of employment. Provide a brief description of your job duties and any accomplishments.
Technical Skills: List the technologies and software that you are proficient in. Include any certifications or training that you have completed in these areas.
Certifications: List any certifications or licenses that are relevant to the role.
Projects: Include any relevant projects that you have completed. Describe the project, the technologies used, and the outcome of the project.
Leadership: List any leadership positions held and describe the responsibilities associated with the role.
Awards & Publications: Include any awards or publications that you have received or contributed to.
Interests & Hobbies: List any interests and hobbies related to the role or that will help you stand out from other candidates.
By including the above information on your technologist resume, you will be able to showcase your accomplishments and skills to employers and stand out from other job seekers.
What is a good summary for a Technologist resume?
A good summary for a technologist resume should focus on a candidate's experience, education, and technical skillset. It should include specific examples of successful projects and accomplishments that demonstrate their ability to use technology to solve problems and create innovative solutions. It should also highlight any certifications the candidate may have earned or any specialized technical training they have received. Additionally, the summary should include the candidate's core competencies, such as data analysis, software development, network and systems administration, cloud computing, and IT security. Ultimately, the summary should provide a comprehensive overview of the candidate's technical capabilities and a snapshot of their career.
What is a good objective for a Technologist resume?
A technologist's resume should be crafted to demonstrate an individual's technical skills and abilities. A good objective statement should emphasize the technologist's qualifications, experience, and any special skills or training they may possess.
Below are some examples of good objectives for technologist resumes:
To leverage my experience and knowledge in the field of information technology to create innovative solutions that help businesses reach their goals.
Seeking a position as a technologist to apply my extensive knowledge in coding, application development, and cloud computing.
Aiming to bring my experience in data analysis and software engineering to a dynamic tech company.
To utilize my knowledge in network security, web development, and database management to drive innovation.
Looking to join a team of technologists to further develop my technical skills and expertise in the field of IT.
To utilize my knowledge and experience in software development and computer programming to enhance organizational functions and performance.
Seeking a challenging and rewarding position as a technologist that utilizes my knowledge of artificial intelligence and machine learning.
Aiming to bring my experience with data science and software engineering to a highly innovative and successful organization.
How do you list Technologist skills on a resume?
When applying for a position as a technologist, you want to make sure that your resume catches the attention of potential employers. Listing your technical skills is one of the best ways to demonstrate your capabilities and qualifications for the role.
The following tips can help you list your technologist skills effectively on your resume:
Be specific: When listing your technical skills, it is important to be as specific and detailed as possible. Provide context and be sure to include all of your relevant experience, certifications, and qualifications. This will ensure that potential employers have an understanding of your abilities and know exactly what you can bring to the table.
Utilize keywords: If you are applying for a position in a specific area of technology, make sure to include the associated keywords in your resume. Incorporating popular keywords related to the position will make your resume stand out and be easier to find in online searches.
Include accomplishments: Along with listing your technical skills, don't forget to include any accomplishments you have achieved in your role as a technologist. This could include awards, projects, achievements, or any other relevant information that will demonstrate your success in the field.
Include soft skills: While technical skills are important, it is also crucial to include any soft skills that you have acquired in your role as a technologist. These could include problem-solving, communication, teamwork, and organizational skills.
By effectively listing your technologist skills on your resume, you can make sure your abilities and qualifications stand out to potential employers and make a great first impression.
What skills should I put on my resume for Technologist?
Writing a resume for a technologist position can be a daunting task. With so many skills to choose from and the need to stand out from the competition, it can be difficult to know which skills to put on your resume.
Fortunately, there are some key skills that employers look for when hiring technologists. Here are some of the top skills to include on your resume for technologist:
Programming: Technologists must have a strong understanding of coding languages, such as HTML, CSS, JavaScript, and Python. It's also beneficial to have proficiency in databases and frameworks such as MySQL, PHP, and Node.js.
Project Management: Technologists need to be able to effectively manage projects, from start to finish. This includes delegating tasks, setting expectations, and creating timelines.
Troubleshooting: Technologists need to be able to identify problems and quickly develop solutions. This includes performing software updates, troubleshooting network issues, and diagnosing hardware problems.
Collaboration: Being able to work as part of a team is crucial for any technologist. This includes being able to communicate effectively and efficiently with team members, as well as being able to coordinate between departments.
Business Analysis: Technologists need to have an understanding of business processes and how technology can be used to improve them. This includes analyzing customer data, providing insights, and making recommendations.
By including the right skills on your resume, you can show employers that you have what it takes to be a successful technologist. Make sure to highlight any relevant experience and demonstrate your commitment to continuous learning.
Key takeaways for an Technologist resume
A great resume can open many doors for a technologist, so it's important to make sure it's well-written, accurate and up-to-date. Here are some key takeaways for creating an effective technologist resume:
Showcase your technical skills: Make sure to highlight your technical skills and certifications, such as programming languages and cloud computing. Highlight any special projects you've completed that demonstrate your knowledge and experience.
Emphasize your experience: Include details about the positions you've held in the past and make sure to list any accomplishments that demonstrate your expertise.
Be concise: Keep your resume to one page and don't include too much information. You want to make sure the recruiter quickly understands your experience and credentials.
Include credible references: It's important to provide contact information for past supervisors who can attest to your capabilities. This will help your resume stand out from the crowd.
Highlight education: If you have completed any specialized certifications or programs, make sure to list them on your resume.
Stay current: Make sure to include any new technology you've been working with or any relevant conferences or workshops you've attended.
By taking the time to create an effective technologist resume, you can make sure recruiters know you're the right person for the job.
Let us help you build
your Resume!
Make your resume more organized and attractive with our Resume Builder