Writing an effective Technician Supervisor resume is an important step in your job search. Whether you're looking for a new position in the same field or transitioning to a new career, a well-written resume can help you stand out from the competition. In this article, we will cover the key elements of a Technician Supervisor resume, provide resume writing tips and examples, and discuss the best strategies for getting noticed. With the right approach and information, you can craft an impressive resume and land your dream job.
If you didn't find what you were looking for, be sure to check out our complete library of resume examples.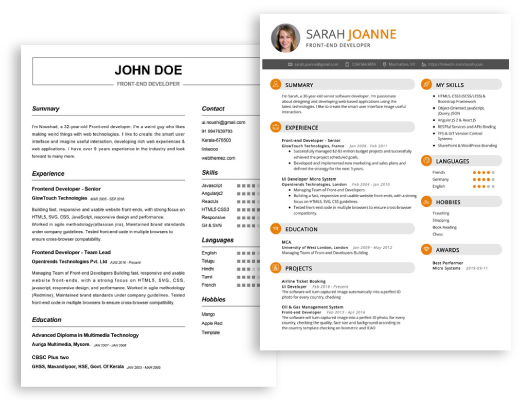 Start building your dream career today!
Create your professional resume in just 5 minutes with our easy-to-use resume builder!
Technician Supervisor Resume Examples
John Doe
Technician Supervisor
123 Main Street | Anytown, USA 99999 | Phone: (123) 456-7890 | Email: john.doe@email.com
A seasoned professional with over 8 years of experience in technical supervision, I am very passionate about developing and maintaining efficient and effective systems for daily operations. My expertise lies in driving process improvements through streamlining resources and cost- effective solutions. With strong organizational and communication skills, I am able to build and lead high- performance teams.
Core Skills:
Project Management
Technical Supervision
Process Improvement
Resource Management
Cost- Effective Solutions
Organizational Skills
Leadership
Communication
Professional Experience:
Technical Supervisor | ABC Technologies | 2018 – present
Developed and implemented efficient systems for daily operations
Streamlined resources and cost- effective solutions to improve processes
Managed, trained and coached staff and created an environment of collaboration
Monitored and reported on all production activities
Technical Supervisor | XYZ Solutions | 2016 – 2018
Developed and implemented policies, procedures and processes to ensure quality standards
Analyzed and identified areas of improvement, and recommended procedures and processes
Tracked and monitored production to ensure quality standards and time frames are met
Supervised staff, monitored performance and provided technical guidance
Education:
Bachelor's Degree in Computer Science | University of Technology | 2010 – 2014
Technician Supervisor Resume with No Experience
Recent college graduate with excellent organizational, problem solving and communication skills, looking for an entry- level Technician Supervisor position. Highly skilled in leading and motivating others, offering strong attention to detail and a willingness to learn.
Skills
Leadership
Organizational
Problem solving
Communication
Attention to detail
Computer proficiency
Responsibilities
Develop and implement operational plans
Create and maintain daily schedules
Monitor technician performance
Resolve customer service issues
Train and motivate technicians
Ensure safety regulations are adhered to
Conduct product and system tests
Maintain equipment and tools in working order
Technician Supervisor Resume with 2 Years of Experience
Talented and energetic Technician Supervisor with 2 years of experience in providing technical support and supervisors. Proven success in providing technical troubleshooting and training to internal and external customers, using excellent communication and customer service skills. Possess a strong background in problem- solving and process improvement. Enjoys learning and finding new solutions to challenges.
Core Skills:
Technical proficiency
Supervisory experience
Problem- solving
Documentation
Training and instruction
Strong communication skills
Customer service
Process improvement
Responsibilities:
Supervised and trained technicians in daily tasks and provided assistance when needed.
Maintained and improved technical processes, workflows and procedures.
Diagnosed, troubleshoot and repaired technical issues with equipment.
Prepared and maintained technical documentation, reports, and manuals.
Handled customer inquiries, complaints, and requests for technical support.
Monitored and tracked employee performance and provided feedback.
Developed and implemented technical training programs for staff.
Ensured timely and accurate completion of tasks.
Technician Supervisor Resume with 5 Years of Experience
A highly- motivated and organized individual with 5 years of experience as a Technician Supervisor, I possess a wide range of technical skills, management skills, and problem- solving abilities to ensure the success of any technical team. My experience includes monitoring and managing staff, troubleshooting hardware and software problems, and overseeing repair operations. I am committed to providing superior customer service, technical support, and a safe and productive work environment.
Core Skills:
Supervisory experience
Knowledge of hardware and software
Technical troubleshooting
Project management
Multitasking
Communication and interpersonal skills
Time and resource management
Responsibilities:
Supervise technicians and ensure quality of their work
Monitor and analyze performance data, set goals, and develop improvement plans
Train technicians on hardware and software operations
Troubleshoot hardware and software issues
Oversee repair operations and maintain accurate records
Ensure safety of technicians through proper safety protocols and procedures
Monitor customer satisfaction levels and develop strategies to improve customer service
Participate in budgeting and cost control initiatives
Technician Supervisor Resume with 7 Years of Experience
A motivated and experienced Technician Supervisor with 7 years of experience in the engineering industry. Adept at leading teams in successful completion of various engineering projects. Proficient in developing and implementing work plans, managing budgets and schedules while achieving project milestones and objectives on time and within budget. Experienced in leading, mentoring and motivating teams to ensure accurate and timely completion of tasks.
Core Skills:
Strong leadership and communication skills
Highly organized and detail- oriented
Excellent problem solving and analytical abilities
Capable of working in a fast- paced environment
Ability to multi- task and prioritize tasks
Proficient with Microsoft Office Suite
Responsibilities:
Oversee technical operations and coordinate the work of technicians and engineers
Develop and implement work plans, budgets, and schedules while ensuring project objectives are met
Perform regular updates and progress reports on current projects
Coach and train team members and provide feedback
Assess and troubleshoot problems, identify solutions, and implement corrective action
Ensure safety protocols and regulations are observed
Manage inventory and ensure adequate supplies are available for operations
Technician Supervisor Resume with 10 Years of Experience
A highly experienced Technician Supervisor with 10 years of experience in a manufacturing setting overseeing multiple technicians. Possesses comprehensive knowledge of industrial processes and equipment, an ability to manage and motivate teams, and an in- depth understanding of safety protocols. Focused on delivering solutions to maximize performance, quality, and efficiency while maintaining a pleasant and safe work environment.
Core Skills:
Supervisory and leadership skills
Project management
Knowledge of industrial processes
Safety protocols
Training and development
Team building and motivation
Quality assurance
Problem solving
Responsibilities:
Supervise team of technicians and ensure their shift- to- shift operations ran smoothly and efficiently.
Manage projects to ensure on- time completion and successful implementation of quality improvements.
Maintain and ensure compliance with safety protocols and regulations.
Assist in training and development of technicians and provide feedback to ensure proper understanding and execution of duties.
Perform quality assurance routine checks to ensure products meet the highest standards.
Resolve any problems and issues to prevent delays or disruptions.
Motivate team to achieve set goals and objectives.
Technician Supervisor Resume with 15 Years of Experience
Highly experienced Technician Supervisor with 15 years of experience in the maintenance and installation of a wide range of industrial equipment used in manufacturing and industrial processes. Experienced in troubleshooting, maintenance, and repair of electrical systems. Demonstrated ability to analyze technical problems and devise effective solutions. Able to work independently as well as with teams of technicians to ensure that production and operational objectives are met. Committed to providing quality customer service and product reliability.
Core Skills:
Supervision of maintenance technicians
Organizational and communication skills
Diagnosing and troubleshooting of electrical systems
Knowledge of safety practices and regulations
Adaptability and problem solving
Inspection of equipment
Ability to work under pressure
Installation of new equipment
Computer literacy
Responsibilities:
Supervise the performance of technicians tasked with the maintenance, installation, and repair of industrial equipment
Schedule and delegate tasks to technicians for efficient completion of projects
Ensure that safety regulations are adhered to and that technicians are properly trained
Inspect equipment and evaluate results to determine necessary repair and maintenance
Prepare and analyze reports on the performance of technicians
Direct technicians in the installation and operation of new equipment
Perform regular maintenance and repairs on electrical systems
Maintain a high level of customer service and product reliability
In addition to this, be sure to check out our resume templates, resume formats, cover letter examples, job description, and career advice pages for more helpful tips and advice.
What should be included in a Technician Supervisor resume?
A Technician Supervisor is a professional who is responsible for supervising the work of technicians and ensuring that their work is of the highest quality. When applying for a position as a Technician Supervisor, it is important to have a resume that is well-crafted and highlights all the necessary qualifications. Below are the key items that should be included in a Technician Supervisor resume.
Professional Summary: A brief overview of your professional background, experience, and qualifications that relate to the Technician Supervisor position.
Education: Any relevant degrees or certifications that demonstrate your competence in supervising technicians.
Technical Knowledge: A comprehensive list of technical skills and expertise that are necessary for the role of a Technician Supervisor.
Experience: Any past experience as a Technician Supervisor, or related positions in technical fields.
Leadership Abilities: An overview of your leadership skills, problem-solving skills, and ability to delegate responsibilities to technicians.
Communication: A description of your ability to communicate effectively with technicians, as well as any customer service or public relations experience.
Personal Attributes: Any other qualities you possess that make you a great fit for the position, such as attention to detail, multitasking abilities, organizational skills, and the ability to work in a team.
What is a good summary for a Technician Supervisor resume?
A Technician Supervisor resume should include a summary that highlights the technical knowledge, experience, and abilities needed to effectively lead a team of technicians. It should emphasize the candidate's ability to manage and coordinate daily tasks and oversee operations. The summary should also describe the candidate's work experience in installing, troubleshooting, and maintaining computer systems. The summary should also include any accomplishments the candidate has achieved in their previous roles and any specialized training or certifications they have earned.
What is a good objective for a Technician Supervisor resume?
A Technician Supervisor resume should highlight an individual's experience in providing technical direction and managing teams of technicians. An effective objective should focus on the applicant's ability to motivate their team and produce results.
Demonstrate expertise in troubleshooting and maintenance of IT systems
Proven track record in supervising and managing teams of technicians
Possess excellent communication and organizational skills
Exude enthusiasm and exemplary leadership qualities
Utilize strong problem-solving skills to identify and resolve technical issues
Provide guidance and provide technical support to employees
Develop effective strategies for improving operational efficiency
Lead the team in achieving project goals in a timely and cost-effective manner
How do you list Technician Supervisor skills on a resume?
When writing a resume for a Technician Supervisor position, it is important to include key skills that showcase your ability to effectively supervise technicians, as well as your technical know-how.
Below is a list of essential Technician Supervisor skills to include on your resume:
Leadership: The ability to motivate and lead a team of technicians (including assigning tasks, setting deadlines, and providing feedback).
Technical Knowledge: Understanding of the technical processes and procedures in the field of work.
Problem-solving: The capacity to identify and solve technical problems that arise during operation.
Communication: Excellent verbal and written communication skills.
Organization: The ability to manage multiple tasks and keep track of progress.
Decision-Making: The capacity to make well-informed decisions based on data and facts.
Safety: Understanding of safety regulations and procedures in the workplace.
Interpersonal Skills: The capacity to foster positive relationships with technicians, clients, and colleagues.
Detail-Oriented: The ability to pay attention to details and ensure accuracy in all technical processes.
What skills should I put on my resume for Technician Supervisor?
The position of Technician Supervisor comes with a lot of responsibility, so it's important to demonstrate the right skills on your resume. To stand out from the crowd, you should emphasize the skills that make you a great fit for the role. Here are some of the essential skills that you should consider including on your resume for a Technician Supervisor position:
Problem-solving: As a Technician Supervisor, you'll need to be able to identify, diagnose, and resolve technical issues. You should highlight any experience you have in solving complex problems or implementing innovative solutions.
Technical Knowledge: You should also demonstrate a thorough understanding of the technical aspects of your job. Showcase your expertise in computer systems, networking, technical support, or other relevant areas.
Leadership: The role of a Technician Supervisor also involves managing and leading teams. This means you should demonstrate strong leadership and communication skills to ensure successful team operations.
Project Management: You'll need to be able to manage multiple projects simultaneously and stay organized. Showcase your experience with project management, planning, and implementation.
Customer Service: As a Technician Supervisor, you'll be dealing with customers and providing technical support. Highlight any experience you have in customer service, as well as your ability to provide clear and precise technical advice.
By highlighting these skills on your resume, you'll have a better chance of being noticed and landing the position of Technician Supervisor.
Key takeaways for an Technician Supervisor resume
As a Technician Supervisor, you are responsible for a great deal of duties and challenges in the workplace. Crafting an effective resume to get the job you want is critical. Here are some key takeaways you should consider as you put together your resume:
Highlight your technical expertise: Be sure to highlight your technical skills, including software and hardware experience, as well as any certifications you may have.
Showcase your supervisory experience: Don't be shy about the work you've done as a supervisor. Use keywords and phrases that demonstrate your responsibility and leadership skills.
Showcase your problem-solving skills: Technical supervisors often have to solve complex problems. Showcase your ability to troubleshoot and provide innovative solutions.
Display your customer service skills: As a technical supervisor, you will have to interact with customers, as well as co-workers. Showcase your customer service skills to demonstrate your ability to handle difficult situations.
Demonstrate your organizational skills: Technical supervisors are often tasked with managing multiple projects and teams. Showcase your ability to prioritize tasks and remain organized.
By following these takeaways, you can create an effective resume that will get you noticed by employers. Make sure to include keywords and phrases to help you stand out and highlight the qualifications that make you the best fit for the job.
Let us help you build
your Resume!
Make your resume more organized and attractive with our Resume Builder