Writing a resume as a technical manager can be a daunting task. If you've ever tried to create a resume from scratch, you know how difficult it can be, especially considering that your resume has to be tailored to the specific industry you're in. With the help of this guide, however, you'll have the tools and resources you need to create a comprehensive and effective technical manager resume. In this guide, you'll learn about the necessary sections and skills that should be included in a technical manager resume, as well as some tips and examples. By the end of this guide, you'll have a well-rounded, professional, and effective resume in hand.
If you didn't find what you were looking for, be sure to check out our complete library of resume examples.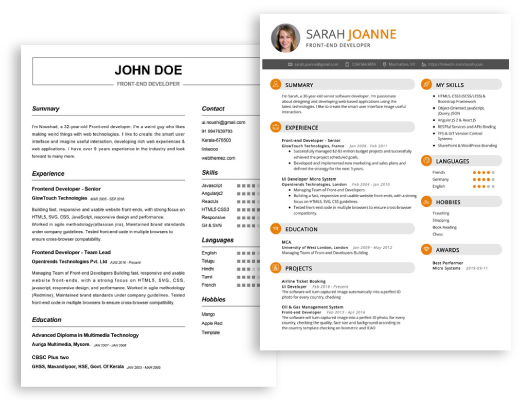 Start building your dream career today!
Create your professional resume in just 5 minutes with our easy-to-use resume builder!
Technical Manager Resume Examples
John Doe
Technical Manager
123 Main Street | Anytown, USA 99999 | Phone: (123) 456-7890 | Email: john.doe@email.com
Highly organized and independent Technical Manager with 5+ years of experience in the IT industry. Adept at troubleshooting complex technical problems, supervising a team of IT professionals, and developing effective strategies for optimizing organizational processes. Possess an in- depth understanding of project management principles and software development life cycles. Enjoys creating efficient solutions to challenging IT problems.
Core Skills:
Technical leadership
Project management
Risk assessment
Troubleshooting
Problem solving
Database management
Networking
Software development
Security protocols
Professional Experience:
Technical Manager, ABC Corporation, 2017- present
Manage a team of IT professionals tasked with maintaining and optimizing organizational systems
Develop and implement strategies for improving operational efficiency
Monitor and analyze system performance of projects
Perform risk assessments to ensure data security and integrity
Provide technical support to staff and troubleshoot any technical problems that arise
Create detailed reports and monitor progress of projects
IT Consultant, XYZ Corporation, 2015- 2017
Assessed customer needs and developed innovative solutions to meet customer requirements
Updated and maintained technical documentation
Monitored system performance and system security
Provided on- site and remote technical support to customers
Created detailed reports for management
Education:
B.S. in Computer Engineering, University of Technology, 2011- 2015
Technical Manager Resume with No Experience
Highly motivated and organized individual with no prior experience as a Technical Manager
Possess a strong knowledge base in the field of Information Technology
Able to work with minimal supervision, multitask and prioritize tasks to ensure deadlines are met
Excellent communication skills and the ability to interact with colleagues and customers in a professional manner
Skills
Problem- solving
Analytical Thinking
Excellent Written and Verbal Communication
Leadership
Teamwork
Organizational Skills
Time Management
IT Knowledge
Responsibilities
Monitoring and analyzing performance metrics
Identifying issues and creating solutions to improve processes
Developing and implementing new technologies to improve operational efficiency
Leading teams in the implementation of new technologies and processes
Creating and maintaining systems documentation
Providing support and guidance to staff on technical issues
Communicating with different stakeholders to ensure expectations are being met
Troubleshooting system and software issues
Technical Manager Resume with 2 Years of Experience
A highly motivated and experienced Technical Manager with over two years of experience managing and leading a team of IT professionals. Possessing excellent communication and problem solving skills, I am highly adept in project management and leading teams to achieve successful outcomes. My expertise in software development and hardware installation allows me to provide strategic and innovative solutions to various issues that arise. With great customer service skills, I am able to efficiently respond to customer inquiries, build strong relationships and maintain customer loyalty.
Core Skills:
Project Management
Team Leadership
Software Development
Hardware Installation
Customer Service
Troubleshooting
Problem Solving
Strategic Thinking
Responsibilities:
Leading a team of IT professionals in software development and hardware installation projects.
Directing the team in achieving successful outcomes.
Developing innovative solutions to customer inquiries and requests.
Troubleshooting and resolving customer issues.
Analyzing customer feedback and using it to improve customer service.
Building strong relationships with customers and maintaining customer loyalty.
Implementing strategic plans for the team's success.
Keeping up to date on industry trends and developments.
Technical Manager Resume with 5 Years of Experience
A highly experienced and organized Technical Manager with 5 years of experience in the tech industry. Skilled at supervising and leading technical teams, troubleshooting and resolving technical issues, and implementing effective technical strategies. Proven track record of successful project management, team building, and problem- solving. Experienced in supervising software and hardware development, network installation and maintenance, and database design and optimization.
Core Skills:
Project Management
Technical Leadership
Software and Hardware Development
Network Installation and Maintenance
Database Design and Optimization
Team Building and Collaboration
Troubleshooting and Problem Solving
Strategic Planning and Implementation
Responsibilities:
Lead and manage technical project teams, ensuring timely and successful project completion.
Identify and assess customer needs, design solutions, and implement new or improved processes and technologies.
Develop and implement technical strategies that support organizational goals and objectives.
Plan, coordinate, and supervise software and hardware development, network installation, and database design and optimization.
Assess and analyze technical and operational data to identify trends and optimize performance.
Track project progress and manage budgets, timelines, and resources.
Provide technical support and troubleshooting for hardware, software, and network issues.
Identify and implement efficient methods for data collection and analysis.
Train and mentor team members in technical concepts and processes.
Develop and implement effective team building and collaboration methods.
Technical Manager Resume with 7 Years of Experience
Highly motivated Technical Manager with seven years of experience in project management and engineering. Proven track record of successful project implementations, cost savings and process improvements. Skilled in leading teams, developing strategies and building relationships with customers and stakeholders. Possesses strong leadership and problem- solving abilities.
Core Skills:
Project Management
Engineering
Team Leadership
Strategy Development
Customer Relations
Problem Solving
Cost Reduction
Process Improvement
Responsibilities:
Initiated and managed projects from conception to completion
Managed engineering team to ensure projects were completed on time, on budget and to customer specifications
Prepared detailed project plans, tracked progress and reported to stakeholders
Developed strategies to reduce costs and improve efficiencies
Provided support and guidance to team members
Established and maintained relationships with customers and stakeholders
Identified and overcame technical challenges in project implementation
Conducted regular meetings with team to review project progress.
Technical Manager Resume with 10 Years of Experience
Highly experienced Technical Manager with 10+ years of experience overseeing the implementation and completion of technical projects. Demonstrated expertise in project management, system implementation, software development, and troubleshooting technical issues. Adept at analyzing system requirements, developing solutions, and working collaboratively with development teams and stakeholders.
Core Skills:
Project Management
Software Development
System Implementation
Troubleshooting Technical Issues
Stakeholder Management
Problem Analysis and Resolution
Technical Documentation
Budgeting and Cost Control
Resource Planning
System Design and Architecture
Responsibilities:
Developed project plans and timelines to successfully manage project progress and completion.
Ensured software development adhered to standards, guidelines, and best practices.
Monitored the progress of system implementations and troubleshooted technical issues.
Collaborated with stakeholders to understand system requirements and design systems accordingly.
Developed technical documentation for system users to ensure proper use of systems.
Managed budgets for projects and ensure cost efficiency.
Established and maintained effective relationships with internal and external stakeholders.
Evaluated and analyzed current systems, provided workable solutions, and implemented those solutions.
Performed system design and architecture tasks, including requirements gathering, analysis, and design.
Supervised team of developers and allocated resources accordingly.
Technical Manager Resume with 15 Years of Experience
An experienced Technical Manager with over 15 years of experience leading teams in the technology industry. Skilled in product development, customer experience, project management, and problem solving. An expert in understanding customer needs and implementing solutions to meet them. Excellent communicator and collaborator, able to build relationships and trust with customers and colleagues.
Core Skills:
Product Development
Project Management
Problem Solving
Customer Experience
Team Leadership
Communication
Collaboration
Responsibilities:
Manage and coordinate technical projects, ensuring they are completed on time and within budget
Oversee the development and implementation of technical solutions to meet customer needs
Develop and maintain effective customer relationships
Lead, mentor, and develop teams, ensuring everyone is performing to their potential
Identify and document technical requirements and design specifications
Troubleshoot and resolve technical issues in a timely manner
Analyze customer feedback and implement improvements
Communicate project status updates to stakeholders
Participate in testing and code reviews
In addition to this, be sure to check out our resume templates, resume formats, cover letter examples, job description, and career advice pages for more helpful tips and advice.
What should be included in a Technical Manager resume?
A Technical Manager is responsible for overseeing a company's technical operations, personnel, and processes to ensure maximum efficiency and performance. As a result, a great technical manager must have a wide range of experience and skills. Thus, when submitting a resume for a technical manager position, it is essential to make sure that it reflects that range.
The following should be included in a Technical Manager resume:
Comprehensive knowledge of the technical and business aspects of enterprise software and systems.
Proven experience with the development, implementation, and management of enterprise software, systems, and application architectures.
Ability to lead teams of engineers and other technical staff and effectively delegate tasks.
Ability to identify and resolve technical issues quickly and efficiently.
Experience with budget management, resource allocation, and risk management.
Excellent communication, interpersonal, problem-solving, and organizational skills.
Proficiency with various software development tools, programming languages, and platforms.
Detail-oriented and able to multitask while working under pressure.
Bachelor's Degree in a relevant field is preferred.
What is a good summary for a Technical Manager resume?
A good summary for a Technical Manager resume should focus on the candidate's technical knowledge, management experience, and ability to lead and develop a team. It should also highlight their communication, problem-solving, and organizational skills. It should also include any prior experience in which the candidate had direct responsibility for the technical direction of a project, team, or organization. Additionally, the summary should list the candidate's qualifications and certifications that are relevant to the position. Finally, the summary should demonstrate how their expertise in the technical field will be beneficial for the employer.
What is a good objective for a Technical Manager resume?
A technical manager oversees the development, implementation, and maintenance of technical solutions for a business. As such, having a strong, concise objective statement on your resume is key to demonstrating the ways your technical expertise can benefit the organization.
When crafting your objective for a technical manager resume, consider these key points:
Clearly describe your unique technical skills and experience
Showcase your ability to effectively lead and manage a team
Highlight your expertise in utilizing technology to solve complex problems
Demonstrate your experience in making strategic decisions
Stress your commitment to staying up-to-date on the latest technologies
By emphasizing these points, you can create an effective objective statement that will stand out to potential employers and help you get noticed. With the right objective, you can demonstrate to hiring managers how your skills and experience make you the perfect choice for the role.
How do you list Technical Manager skills on a resume?
When creating a resume for a Technical Manager role, it is important to include a skills section that showcases the necessary technical knowledge and abilities required for the job. Here are some of the key technical manager skills to list on a resume:
Ability to manage and coordinate the daily operations of the IT department
Expertise in database management, system architecture, and software development
Knowledge of IT security protocols and compliance standards
Excellent problem-solving and communication skills
Ability to lead large-scale IT projects and develop efficient strategies to meet deadlines
Ability to adapt to rapidly changing technology and train team members
Proficiency in software development tools and programming languages, such as Java, C++, etc.
Experience in budget planning and cost reduction initiatives
Knowledge of data analysis, reporting, and troubleshooting
Expertise in project management software, such as Microsoft Project or Trello
Strong organizational and time management skills
Ability to coordinate and develop IT policies, procedures, and standards.
What skills should I put on my resume for Technical Manager?
Your resume is a reflection of your work experience, qualifications, and skills as a Technical Manager. It's important to include all of the information that employers need to make an informed decision. To help you get started, here are some of the skills you should include on your resume:
Leadership: As a Technical Manager, you must be able to lead teams and prioritize tasks. Highlight any experience you have in leading teams or working with cross-functional teams.
Technical Knowledge: Technical Managers must be knowledgeable about the latest technology and industry trends. Include any software, hardware, and programming languages you are familiar with.
Problem-Solving Skills: Technical Managers must be able to identify and solve problems quickly and efficiently. Showcase any experience you have in troubleshooting technical issues.
Project Management: Technical Managers often manage multiple projects at once. Highlight any experience you have in managing projects, delegating tasks, meeting deadlines, and managing resources.
Communication Skills: As a Technical Manager, you must be able to communicate effectively with team members, clients, and other stakeholders. Highlight any experience you have in written, verbal, and non-verbal communication.
By including the right skills on your resume, you can demonstrate your qualifications and value to employers. With the right skills, you can show that you are the ideal candidate for the Technical Manager role.
Key takeaways for an Technical Manager resume
As a technical manager, you need to make sure your resume is up to date and stands out from the competition. Technical manager resumes can be a bit tricky to create, as you must make sure to include all the most important information about your qualifications and experiences. To help you create a resume that can get you the job, here are some key takeaways for a technical manager resume.
Focus on your technical skills. Technical managers are responsible for overseeing the technical operations of a company, so it's important to emphasize your technical abilities. Make sure to include a list of your technical skills, such as programming languages, coding platforms, software development, and database management.
Highlight your management experience. As a technical manager, you will be expected to manage a team of technical professionals. Make sure to include any experience you have in leading teams and managing projects. This will show employers that you have the necessary skills to be an effective technical manager.
Demonstrate your problem-solving skills. Technical managers must be able to identify problems, develop solutions, and implement them. Make sure to showcase any successes you've had in troubleshooting and problem solving.
Showcase your communication and collaboration skills. As a technical manager, you'll need to be able to communicate clearly and collaborate with other teams and departments. Make sure to include examples of your communication and collaboration skills in your resume.
Include your certifications. If you have any technical certifications, such as Microsoft Certified Solutions Expert or Cisco Certified Network Associate, make sure to include them in your resume. This will demonstrate your knowledge and proficiency in the technical field.
These are just some key takeaways for creating a technical manager resume. By following these tips, you can create a resume that will get you noticed by potential employers. Good luck!
Let us help you build
your Resume!
Make your resume more organized and attractive with our Resume Builder