Are you a tech lead looking for a new challenge? A well-crafted resume can be the difference between hearing back from recruiters and fading into the crowd. To help tech leads stand out from the competition, this guide is designed to provide an overview on how to write an effective resume, and includes some examples of tech lead resumes.
If you didn't find what you were looking for, be sure to check out our complete library of resume examples.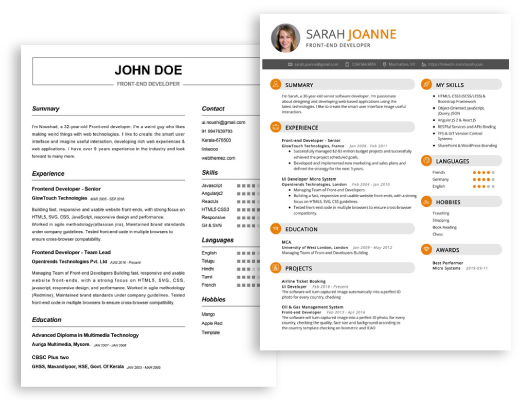 Start building your dream career today!
Create your professional resume in just 5 minutes with our easy-to-use resume builder!
Tech Lead Resume Examples
John Doe
Tech Lead
123 Main Street | Anytown, USA 99999 | Phone: (123) 456-7890 | Email: john.doe@email.com
I am an experienced technology leader with an extensive background in software design and development, project engineering, and Agile management. I have more than a decade of experience leading teams on technology projects in a wide range of industries, from healthcare and finance to hospitality and retail. I have a keen eye for detail and a passion for delivering impeccable results. My ability to motivate and inspire teams to reach their full potential makes me a valuable asset to any organization.
Core Skills:
Software Design & Development
Project Engineering
Agile Management
Team Leadership
Process Optimization
Problem- solving
Time Management
Professional Experience:
Manager, Technology Services, Acme Corporation, 2015 – Present
Directed development of software, websites, and applications
Conducted analysis of existing development processes and identified areas of improvement
Provided technical guidance to team members and ensured all projects were completed in accordance with deadlines
Created, implemented, and managed project documentation and documentation processes
Recruited and trained new team members
Software Engineer, ABC Engineering Company, 2011 – 2015
Developed software and web applications for a variety of clients
Designed and implemented efficient coding solutions according to project specifications
Collaborated with cross- functional teams to ensure successful completion of projects
Conducted quality assurance and debugging tests
Created detailed technical documentation for all projects
Education:
Bachelor of Science in Computer Science, University of California, Los Angeles, 2011
Certified Project Management Professional (PMP)
Tech Lead Resume with No Experience
Recent graduate with extensive knowledge of software engineering, computer science, and problem- solving. Seeking a Technical Lead role to leverage my programming skills and develop innovative solutions.
Skills
Proficient coding skills in C++, Java, and Python.
Strong leadership and communication skills.
Knowledge of database systems, web application development, and software engineering principles.
Ability to work independently and as part of a team.
Attentive to detail and passionate about learning new technologies.
Responsibilities
Design and develop software and web applications.
Lead and manage software development teams.
Write technical documentation and create detailed reports.
Work with stakeholders to create innovative solutions to complex problems.
Test and debug software applications.
Analyze system requirements and ensure software is working efficiently.
Maintain and monitor software systems and networks.
Ensure compliance with software development standards and processes.
Tech Lead Resume with 2 Years of Experience
A highly motivated, resourceful, and organized technology professional with 2 years of experience in software engineering and project management, seeking to leverage strong technical skills and knowledge to become a successful tech lead. Proven track record of improving software development processes and streamlining project workflow. Possessing excellent communication, interpersonal, and troubleshooting skills.
Core Skills:
Software engineering
Project management
Technical problem solving
Leadership
Agile software development
Integration and testing
Network configuration
Database design
Responsibilities:
Supervised and mentored a team of software engineers in the development of multiple software applications.
Conducted code reviews and identified areas for improvement.
Developed and implemented software development processes and procedures.
Executed projects within the given budget and timeline.
Facilitated communication between project stakeholders and project team members.
Created detailed project plans and managed resources to ensure successful completion of projects.
Configured and deployed software applications to production environment.
Developed unit and integration tests.
Troubleshot and resolved software and hardware issues.
Tech Lead Resume with 5 Years of Experience
A highly motivated and experienced Technical Lead with 5+ years of experience in software development. I possess a strong technical background in design and implementation of complex software systems and am experienced in working in a fast- paced Agile environment. I have excellent communication, leadership and problem- solving skills that I have honed through my past experiences. I am passionate about creating quality software solutions and strive to ensure the timely delivery of successful projects.
Core Skills:
Strong leadership and team management skills
Ability to develop and maintain complex software systems
Excellent communication, problem- solving and organizational skills
Proficient in software development and testing
Proficient in the use of various programming languages, including Java, C++ and Python
Responsibilities:
Leading a team of software developers and testers to deliver successful projects
Developing and maintaining complex software systems
Analyzing customer requirements and translating them into software solutions
Designing, coding and debugging software components
Performing unit and integration testing
Ensuring timely delivery of projects within budget
Collaborating with other teams and stakeholders to ensure effective communication and coordination
Providing technical support and guidance to team members and other stakeholders
Tech Lead Resume with 7 Years of Experience
Highly effective and motivated technical leader with 7 years of experience in the software engineering field. Proven track record in designing, developing, and implementing software solutions that exceeded customer expectations. Strong organizational, communication and interpersonal skills and a proven ability to deliver projects on time, on budget, and with superior service standards.
Core Skills:
Advanced Knowledge of software engineering principles and programming languages
Experience in project management and leading distributed teams
Excellent communication and problem- solving skills
Ability to handle complex software engineering projects
Proficient in object- oriented programming and software development
Proficient in database systems and software design
Strong experience with software development methodologies
Excellent customer service and customer relationship management
Responsibilities:
Provide technical guidance and direction to software engineering teams
Define and implement software engineering processes and procedures
Lead the development of complex software applications and products
Design and develop software components, applications, and systems
Perform system and integration tests to ensure the quality of new or modified software
Manage software development projects and ensure that they stay on track
Identify and troubleshoot software issues, and take corrective action
Conduct code reviews to ensure quality of code and identify areas for improvement
Provide technical support and guidance to users on software use and operation
Stay up- to- date with the latest technologies and industry trends
Tech Lead Resume with 10 Years of Experience
A highly experienced tech lead with over 10 years' experience in the software development industry. Demonstrated strong leadership and problem- solving skills to drive successful project outcomes. Expertise in developing and managing software applications and platforms, with a track record of delivering high- quality products in a timely manner. Highly organized and committed to customer satisfaction.
Core Skills:
Software development
Programming languages (C#, Java, Python)
Project management
Agile development methodology
Software testing
Data management
Database architecture
Cloud computing
Systems engineering
Responsibilities:
Developed software solutions to meet customer requirements.
Developed software architecture plans and user interface designs.
Managed team of developers and coordinated development efforts.
Identified and resolved software defects.
Evaluated new software development technologies and best practices.
Performed tests and quality assurance of software applications.
Developed and maintained system documentation.
Provided technical support to customers and troubleshot software issues.
Developed database schemas and optimized database performance.
Deployed software solutions to production environment.
Developed and implemented strategies for customer engagement.
Tech Lead Resume with 15 Years of Experience
I am an experienced technical lead with 15 years of experience in software engineering, web development, and project management. I have an in- depth understanding of software architectures, frameworks, and coding languages as well as strong problem solving and communication skills. I have successfully led teams in developing and delivering mission- critical software solutions, and am confident in my ability to work under pressure and meet deadlines.
Core Skills:
Software engineering
Web development
Project management
Architectures & frameworks
Problem solving & communication
Leadership & management
Agile & Waterfall development
Coding languages (Python, Java, JavaScript, etc.)
Responsibilities:
Lead software teams to develop and deliver mission- critical software solutions
Develop and maintain software architectures, frameworks, and coding languages
Identify and solve software problems in a timely and effective manner
Ensure software solutions meet customer requirements and deadlines
Train and mentor junior software engineers
Collaborate with other software professionals to design, develop, and improve software solutions
Maintain an up- to- date knowledge of the latest software development trends
Communicate with stakeholders to understand business requirements and deliverables
In addition to this, be sure to check out our resume templates, resume formats, cover letter examples, job description, and career advice pages for more helpful tips and advice.
What should be included in a Tech Lead resume?
As a tech lead, you need to make sure that your resume stands out from other tech professionals when applying for a job. To do this, it's important to highlight your skills and experiences relevant to the position. Here are some of the key elements that should be included in a Tech Lead resume:
Professional Summary: Provide a short summary of your experience and technical skills that are most relevant to the position.
Technical Skills: List the technical skills that you have and highlight technologies you are most experienced with, such as programming languages, database platforms, or software frameworks.
Leadership Experience: Showcase your leadership experience and explain how it has helped you develop both your technical and managerial skills.
Project Experience: Describe any projects you've had a lead role in, including the tasks and responsibilities you handled, the technologies used, and the results achieved.
Communication Skills: Showcase any presentations, reports, or other documents you've produced in a professional capacity.
Certifications: List any certifications you have that demonstrate your technical expertise.
Education: Include your education background, such as any technical degrees, certifications, and/or coursework that you have.
By including all of these elements in your Tech Lead resume, you will be sure to showcase your technical and leadership skills, as well as your experience in the tech industry.
What is a good summary for a Tech Lead resume?
A good summary for a Tech Lead resume should highlight the individual's experience in developing and managing technology solutions, leading projects and teams, and troubleshooting complex technical issues. The summary should also emphasize the individual's technical abilities and knowledge, such as programming languages and frameworks, systems engineering, DevOps practices, etc. Additionally, the summary should include the individual's ability to stay abreast of emerging technology trends and best practices in order to ensure the organization keeps up with the ever-changing technological landscape. Finally, the summary should address the individual's ability to provide guidance and mentorship to junior members of the development team.
What is a good objective for a Tech Lead resume?
A tech lead resume should include an objective that reflects the candidate's expertise and leadership skills. Here are some good objectives for a tech lead resume:
To leverage my extensive experience in software engineering, project management, and leadership skills to successfully manage and deliver high-quality projects that exceed team and client expectations.
To utilize my expertise in software development and project management to lead and motivate a team to achieve organizational objectives.
To lead software engineering teams to successful completion of challenges and projects within budget and on-time.
To use my strong analytical and problem-solving abilities to drive the development of creative solutions for complex challenges.
To bring my experience in software engineering, project management, and team leadership to help build a culture of innovation and collaboration.
How do you list Tech Lead skills on a resume?
When creating a resume for a tech-lead position, it is important to list the necessary skills and qualifications that are required for the position. This will help to demonstrate to the potential employer why you are the best person for the job. Here is a list of the essential skills and qualifications that should be included when listing tech-lead skills on a resume:
Proven experience leading technical initiatives and projects
Strong knowledge of software development processes and methodologies
Strong understanding of programming languages and databases
Excellent communication and interpersonal skills
Proficient in problem-solving and troubleshooting
Proficient in project management and leadership
Ability to work independently and in a team environment
Ability to manage multiple projects simultaneously
Ability to delegate tasks and mentor team members
Excellent organizational and multitasking skills
Strong analysis and problem-solving skills
Experience with Agile and DevOps methodologies
Experience with quality assurance processes and techniques
Proficient in version control systems
Ability to work with version control systems (Git/SVN)
Experience developing and maintaining technical documentation
Knowledge of best practices for software development
Familiarity with web technologies and frameworks (HTML, JQuery, etc.)
Strong attention to detail and organization skills
Ability to identify and recommend areas for improvement in software development
Ability to work in a fast-paced environment and manage competing priorities
What skills should I put on my resume for Tech Lead?
Are you looking to create a resume for a Tech Lead position? A Tech Lead is a highly-skilled professional who is responsible for managing the technical aspects of large-scale projects. To be competitive for this role, your resume should include a strong set of technical skills. Here are some of the skills you should include:
Robust understanding of software engineering concepts: Tech Leads must have a deep knowledge of software engineering principles and concepts. This includes coding best practices, architectural design, and software development methodologies.
Extensive experience with software development: Tech Leads should have experience in all stages of software development, from design to implementation. This requires comprehensive knowledge of programming languages, frameworks, platforms, and development tools.
Understanding of project management principles: Tech Leads are responsible for managing large-scale projects. This requires knowledge of project planning, budget management, resource allocation, and quality control.
Strong people skills: Tech Leads need to be able to effectively communicate and collaborate with team members and stakeholders. This requires strong interpersonal skills, analytical and problem-solving capabilities, and conflict management skills.
Ability to lead and motivate teams: As a Tech Lead, you will be responsible for leading and motivating a team of software engineers. This requires strong leadership skills, as well as the ability to create an effective team environment.
These are just some of the skills you should consider adding to your resume when applying for a Tech Lead position. Make sure to highlight any relevant experience and achievements to help you stand out from the competition.
Key takeaways for an Tech Lead resume
A tech lead resume is a great way to show potential employers that you possess the technical knowledge and experience necessary to fill a tech lead position. To maximize your chances of getting the job, it's important to focus on the key takeaways that you have to offer.
Demonstrate your technical skills and experience. This should be the first and most important takeaway from your resume. Show that you have the necessary technical skills, such as programming languages, databases, web development, etc. Include a list of technical achievements that you've accomplished, such as creating a new application or solving a complex problem.
Highlight your leadership abilities. As a tech lead, you will be expected to manage and lead a team of developers. Show that you have the necessary leadership and organizational skills to take on this role. Include your experience in motivating teams, delegating tasks, and keeping projects on track.
Emphasize your problem-solving skills. As a tech lead, you'll be responsible for resolving any technical issues that arise. Show potential employers that you have the ability to think critically and come up with creative solutions to complex problems.
Demonstrate your communication skills. Tech leads must be able to effectively communicate with both technical and non-technical team members. Focus on how you are able to explain complex concepts in a way that non-technical people can understand, as well as how you can effectively collaborate with other team members.
By emphasizing these key takeaways in your tech lead resume, you can make sure that potential employers know that you are the right person for the job.
Let us help you build
your Resume!
Make your resume more organized and attractive with our Resume Builder