Having a great resume is essential to landing the Systems Manager role you are interested in, as it is an employer's first introduction to your qualifications and experience. Writing an effective resume for the Systems Manager position requires an understanding of the knowledge, skills, and abilities that employers look for in potential employees. To help you write a resume that will get you noticed, this guide will provide you with tips and examples on how to craft the perfect Systems Manager resume.
If you didn't find what you were looking for, be sure to check out our complete library of resume examples.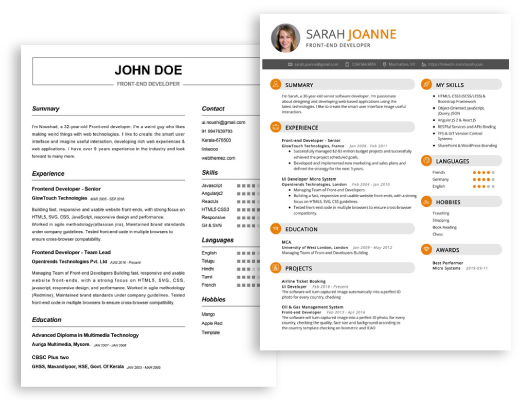 Start building your dream career today!
Create your professional resume in just 5 minutes with our easy-to-use resume builder!
Systems Manager Resume Examples
John Doe
Systems Manager
123 Main Street | Anytown, USA 99999 | Phone: (123) 456-7890 | Email: john.doe@email.com
A highly experienced Systems Manager with 10 years of expertise in software development, database management, system engineering, computer support, and customer service. Possesses a high degree of technical aptitude, excellent problem solving skills, and a strong commitment to delivering high quality customer service. Experienced in leading teams of engineers in developing, testing, and deploying complex software solutions. Possesses an in- depth knowledge of software and database architecture, network engineering, and data security.
Core Skills:
Software Development
Database Management
System Engineering
Network Engineering
Customer Service
Data Security
Troubleshooting
Project Management
Team Leadership
Professional Experience:
Systems Manager, ABC Company, 2020- Present
Developed and deployed complex software solutions for multiple clients.
Led team of engineers in designing, testing, and deploying software.
Managed database architecture and network engineering.
Implemented data security procedures and policies.
Resolved customer complaints and issues in a timely manner.
Monitored project progress and identified potential areas of improvement.
Systems Engineer, XYZ Company, 2017- 2020
Designed, tested, and implemented software solutions for clients.
Ensured successful deployment of software by troubleshooting any issues.
Created detailed documentation for software and databases.
Performed regular maintenance of software and hardware.
Provided technical assistance for customers and colleagues.
Education:
Bachelor of Science in Computer Science, University of Washington, 2012- 2017
Systems Manager Resume with No Experience
Recent graduate with a Bachelor's degree in Computer Science and newly acquired Systems Manager knowledge. I have a keen interest in IT systems management, and I am eager to use my learning and skills in a professional setting.
Skills:
Familiarity with Windows and Linux operating systems
IT project management
Computer networking
Troubleshooting techniques
Knowledge of software installation and maintenance
Excellent communication skills
Responsibilities:
Monitor and maintain computer systems and networks.
Install, configure and support computer hardware, operating systems and applications.
Ensure security and privacy of data.
Monitor system performance and troubleshoot issues.
Perform system backups and recovery operations.
Administer user accounts, permissions and access rights.
Provide technical support to users.
Assist in network design and implementation.
Systems Manager Resume with 2 Years of Experience
Systems Manager with 2+ years of experience in managing IT systems and providing technical support to teams. Proven ability to identify and solve problems, ensuring system stability and uptime. Skilled in setting up and configuring servers, managing system security, and providing guidance and training to team members. Understanding of software development processes and cloud- based technologies.
Core Skills
IT Systems Management
Windows Server Administration
System Security
Team Leadership
Software Development
Cloud- based Technologies
Troubleshooting
Problem- solving
Technical Support
Responsibilities
Managed IT systems including servers, firewalls, routers and enterprise applications.
Installed, configured, and maintained servers hosting websites, databases, and applications.
Implemented security measures to protect systems from unauthorized access.
Developed strategies and procedures for system maintenance, backup and disaster recovery.
Assisted in the development, installation and configuration of software applications.
Monitored system performance and responded to issues as needed.
Assisted in training and supervising junior staff.
Provided technical support to team members.
Resolved hardware and software problems.
Ensured system uptime and stability.
Systems Manager Resume with 5 Years of Experience
A Systems Manager with 5 years of experience successfully leading projects and managing IT department operations. Skilled in system administration, network management, and implementation of software solutions. Proven track record of creating efficient systems with a focus on cost- saving solutions and improving customer experience.
Core Skills:
System Administration
Network Management
Software Implementation
Project Management
Cost- Saving Solutions
Customer Experience Improvement
Troubleshooting
Technical Support
Documentation
Responsibilities:
Ensured smooth day- to- day operations of IT networks and systems
Developed and implemented software solutions to improve system efficiency
Managed and coordinated multiple IT projects, ensuring deadlines were met and budget parameters were adhered to
Troubleshot and resolved network issues quickly and efficiently
Provided technical support to staff and users relating to network and system issues
Assisted in the updating of documentation relating to IT systems and networks
Developed cost- saving solutions and identified areas of improvement
Implemented new technologies and software solutions to improve customer experience
Ensured compliance with regulatory and legal standards and requirements
Systems Manager Resume with 7 Years of Experience
A highly experienced Systems Manager with seven years of experience in overseeing the operations and maintenance of large- scale computer systems. Proven success in planning and implementing system design changes and upgrades to ensure optimal performance and reliability. Possessing a strong technical background and excellent communication skills, with the ability to manage multiple projects and prioritize tasks while delivering exceptional results.
Core Skills:
System Design and Architecture
System Installation and Maintenance
Network Security and Troubleshooting
Capacity Planning and Performance Tuning
Vendor Management and Contract Negotiation
Change Management and Integration
Documentation and Reporting
Responsibilities:
Developed and implemented system- wide strategies for system upgrades, maintenance, and security
Ensured system hardware and software were properly installed, configured, and optimized for maximum performance
Administered system backups and disaster recovery plans to ensure data integrity and availability
Coordinated system architecture planning and development to ensure projects were completed on- time and on- budget
Monitored and maintained system performance levels to ensure maximum reliability and uptime
Negotiated contracts and managed vendor relationships for the acquisition of software, hardware, and services
Supervised systems administration team and provided technical guidance to ensure tasks were completed in compliance with standards and regulations
Developed system documentation and user manuals to ensure optimal user experience
Systems Manager Resume with 10 Years of Experience
Experienced Systems Manager with 10+ years in the IT industry, specializing in systems management, systems analysis, technical support, and customer service. Possess a proven track record in the successful planning and execution of projects, efficient problem- solving, and excellent organizational and technical skills. Experienced in the installation, maintenance, and troubleshooting of multiple systems and networks and in providing support for users. Able to communicate effectively with managers and clients to identify and resolve technical issues.
Core Skills:
Systems Management
Systems Analysis
Technical Support
Customer Service
Project Planning
Problem- Solving
Organizational Skills
Installation/Maintenance/Troubleshooting
Communication
Responsibilities:
Managed and maintained multiple systems and networks to ensure optimal performance.
Provided technical support to users, troubleshooting and resolving issues.
Planned and executed projects to meet customer requirements.
Conducted system and network analysis to identify areas for improvement.
Performed installation, upgrades, and maintenance of networks and systems.
Collaborated with other teams to ensure the smooth running of systems and networks.
Researched, evaluated, and recommended software and hardware solutions.
Provided customer service and support to ensure customer satisfaction.
Developed and implemented policies, procedures, and best practices.
Systems Manager Resume with 15 Years of Experience
Highly motivated and experienced Systems Manager with 15 years of experience in IT operations and system administration. Adept at managing complex IT systems and managing the team of system administrators. Possesses the ability to develop, implement, and maintain the system- wide policies and procedures for effective operations. Expert in ensuring the security of confidential information and data, mitigating risks, and eliminating system vulnerabilities.
Core Skills:
System Administration
IT operations
Data analysis
System security
Network architecture
Risk management
Troubleshooting
Documentation
Customer service
Responsibilities:
Developed, implemented, and maintained the policy and procedures for effective system operations.
Managed system administration, IT operations and network architecture.
Assigned tasks to system administrators and monitored their performance.
Provided technical support in troubleshooting system problems and issues.
Ensured the security of confidential data and information by implementing security measures and risk mitigation.
Generated technical documentation and user guides for the system.
Responded to customer queries and requests in a timely manner.
Monitored system performance and conducted regular system tests.
In addition to this, be sure to check out our resume templates, resume formats, cover letter examples, job description, and career advice pages for more helpful tips and advice.
What should be included in a Systems Manager resume?
Are you looking to apply for a Systems Manager position? Having an effective resume is key when searching for a job. A Systems Manager resume should include your professional experience and qualifications, skills, and education to give potential employers a complete picture of your qualifications. Below are some key elements that should be included in a Systems Manager resume.
Professional Experience and Qualifications: Your professional experience and qualifications should be highlighted in the top half of your resume. Include your job title, the company you worked for, the duration of employment, and your primary duties and accomplishments.
Skills: Make sure to list your technical and management skills in the "Skills" section of your resume. Highlight any skills that are relevant to the Systems Manager position, such as networking, systems administration, and project management.
Education: Include your educational background, such as the name of the school attended, the degree earned, and any relevant courses taken.
Accomplishments: Include any awards or significant accomplishments that you achieved while employed in a Systems Manager position.
Certifications: List any professional certifications that you have earned that relate to Systems Manager positions.
References: In addition to the above information, you should also include a list of references with contact information.
By including all of the above elements in your resume, you will be able to make a great first impression and stand out from the competition. You will be sure to have a resume that will catch the attention of potential employers and demonstrate your qualifications for a Systems Manager position.
What is a good summary for a Systems Manager resume?
A Systems Manager resume should provide a comprehensive overview of the candidate's expertise, educational background, and professional experience. This summary should include the candidate's key qualifications and accomplishments in managing IT systems, as well as any certifications or other relevant qualifications. Additionally, the summary should emphasize the candidate's technical knowledge and the breadth of the projects they have managed. The Systems Manager should also demonstrate a clear understanding of the organization's objectives and how their role is critical for helping the organization achieve them. Finally, the summary should include any successes that the candidate has achieved in the IT management field, such as providing cost-effective solutions or introducing new systems.
What is a good objective for a Systems Manager resume?
A Systems Manager has the responsibility of monitoring and maintaining a company's computer systems. They must keep systems running smoothly, troubleshoot technical issues, and ensure system security. A Systems Manager resume should demonstrate excellent technical and management skills, as well as comprehensive knowledge of hardware and software systems.
A good objective for a Systems Manager resume should highlight the candidate's expertise in the field and their experience with different hardware and software systems. It should also demonstrate the candidate's ability to effectively manage and maintain a company's IT systems.
Here are some examples of good objectives for a Systems Manager resume:
Experienced Systems Manager with 10+ years of experience in system administration, network and hardware management, network security, and software maintenance.
To leverage extensive knowledge in data security and network administration to provide efficient and effective IT systems management and maintenance.
Seeking to bring extensive experience in system troubleshooting and optimization to a Systems Manager position.
Achieving success in designing, installing, and maintaining reliable IT systems for a company.
To use proven IT management and problem-solving skills to support a company's IT requirements.
Driven to ensure system security and optimize performance while managing and maintaining complex network systems.
How do you list Systems Manager skills on a resume?
When applying for a job, a resume is an essential tool to showcase your qualifications. A resume should provide a potential employer with a clear understanding of your experience, qualifications, and skills. In IT, Systems Manager skills are a key requirement for many positions, and should be listed on your resume.
Knowledge of server hardware and software: You should mention any experience you have working with hardware and software associated with server industry standards.
Knowledge of security protocols and industry best practices: Potential employers want to know that you are familiar with the best practices for deploying and managing networks.
Ability to deploy and maintain networks: Be sure to include any experience you have with the setup, configuration, and maintenance of networks.
Ability to troubleshoot and diagnose network issues: Listing your troubleshooting and problem-solving skills lets employers know that you're ready to tackle any issue that arises.
Understanding of automation, scripting, and orchestration: Employers want to know that you're familiar with the latest tools and technologies for automating systems.
By listing your Systems Manager skills on your resume, you'll be able to demonstrate your qualifications and get one step closer to the job you're applying for.
What skills should I put on my resume for Systems Manager?
A Systems Manager plays a crucial role in the success of a company, so it's important to have the right skills listed on your resume. When putting together your resume, here are some skills that you should include to demonstrate your qualifications:
Technical Expertise: A Systems Manager should have a strong background in software engineering, computer networking, and database management. Highlight your technical expertise and list any certifications you have achieved.
Project Management: Systems Managers are responsible for managing projects related to the system architecture, so be sure to include your project management skills. Showcase your ability to plan, prioritize, and execute complex projects.
Problem-Solving: Systems Managers must be problem-solvers who can identify and quickly address issues. Showcase any problem-solving abilities you have, such as troubleshooting and debugging software.
Communication: Systems Managers should have excellent written and verbal communication skills. Showcase your ability to communicate complex technical information to both technical and non-technical audiences.
Leadership: Systems Managers should be able to lead and manage teams. Include any leadership roles you have held, such as managing a team of software engineers or training new employees.
By including the right skills on your resume, you can demonstrate that you have what it takes to be a successful Systems Manager. Make sure to showcase your qualifications and highlight your expertise in the areas that are most applicable to the role.
Key takeaways for an Systems Manager resume
As the job title suggests, a Systems Manager is responsible for overseeing and managing computer systems. They have to make sure that the systems are running smoothly, troubleshoot any technical problems, and ensure that all data is secure. As such, it's important for Systems Managers to have a well-crafted resume that clearly outlines their qualifications and experience. Here are some key takeaways to keep in mind when creating your Systems Manager resume.
First, highlight your technical expertise. While it's important to showcase your soft skills, such as communication and problem-solving, it's even more important to demonstrate your technical expertise. Make sure to list any relevant certifications or technical skills you possess, as well as any experience you have with various hardware and software.
Second, showcase your experience with system management. Any experience you have with managing and troubleshooting systems should be highlighted. Be sure to mention any specific systems you've worked on, as well as any successes you've had in improving performance or resolving issues.
Third, emphasize your leadership qualities. Systems Managers are often expected to lead and motivate teams, so be sure to showcase any leadership or team-building experience you may have. This could include any team or project management experience you have, as well as any success you've had in cultivating positive working relationships with colleagues.
Finally, showcase your problem-solving skills. Systems Managers are expected to be able to troubleshoot technical problems quickly and efficiently. Make sure to demonstrate any technical troubleshooting experience you have, as well as any successes you've had in resolving technical issues.
By following these key takeaways, you'll be able to create a strong resume that showcases your qualifications as a Systems Manager. Be sure to highlight your technical expertise, system management experience, leadership abilities, and problem-solving skills, and you'll be sure to
Let us help you build
your Resume!
Make your resume more organized and attractive with our Resume Builder