Finding the right words for a System Integrator resume can be a tricky process, but it doesn't have to be. With the right guidance and resources, writing your own Systems Integrator resume can be a breeze. This guide will provide you with tips and examples on how to write your own System Integrator resume, which will help you to land the job you want. From outlining your technical skills and responsibilities to highlighting your achievements, this guide will help you craft a resume that is sure to make a great impression.
If you didn't find what you were looking for, be sure to check out our complete library of resume examples.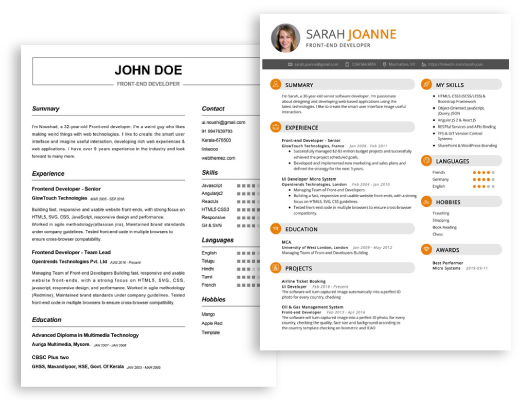 Start building your dream career today!
Create your professional resume in just 5 minutes with our easy-to-use resume builder!
Systems Integrator Resume Examples
John Doe
Systems Integrator
123 Main Street | Anytown, USA 99999 | Phone: (123) 456-7890 | Email: john.doe@email.com
A highly experienced systems integrator with a strong technical background consolidated by over 10 years of experience in the field. Expertise extends across project management, customer service, systems engineering, software development, databases, and networks. Proven ability to work collaboratively in teams and independently on projects.
Core Skills:
Excellent customer service
Project management
Software development
Systems engineering
Databases
Networks
Business analysis
Troubleshooting
Proficient with Microsoft and Linux platforms
Professional Experience:
Systems Integrator, ABC Corporation, 2011 – Present
Develop and implement temporary and permanent solutions to business systems integration needs
Manage technical aspects of projects and troubleshoot any technical issues
Analyze customer business requirements and design efficient systems architecture
Consult with clients to deliver custom- tailored solutions
Write, test and maintain software to support the integration of various systems
Develop and document database and system requirements and user training materials
Systems Engineer, XYZ Corporation, 2005 – 2010
Developed, implemented, and maintained software applications
Created detailed designs, diagrams, and documentation of software applications
Developed software test plans and performed software tests
Supported software application and system integration projects
Provided customer service and technical support
Education:
Bachelor of Science in Computer Science, University of ABC, 2001 – 2005
Associate of Applied Science in Computer Programming, XYZ College, 1999 – 2001
Systems Integrator Resume with No Experience
Recent college graduate with a strong interest in the System Integrator role. Possess excellent communication, problem- solving, and analytical skills, as well as an understanding of various network components and systems. Highly motivated to learn and gain experience in the field.
Skills
Knowledgeable in network components and systems
Excellent problem- solving and analytical skills
Strong written and verbal communication
Ability to work independently and with a team
Proficient in Microsoft Office
Responsibilities
Understand customer requirements and create effective solutions
Develop and design system architecture and deploy systems
Implement and test system integration of systems, components, and equipment
Monitor system performance and troubleshoot problems
Regularly update system documentation and analytics
Ensure all systems operate efficiently and meet customer expectations
Assist in the maintenance and support of existing systems and applications
Systems Integrator Resume with 2 Years of Experience
A highly experienced and passionate Systems Integrator with two years of experience in troubleshooting, installing, configuring, and maintaining system software and hardware. Possesses strong problem- solving and analytical skills, with the ability to quickly identify and resolve complex technical issues. Dedicated to continuously increasing knowledge and staying up to date on the latest industry developments and trends.
Core Skills:
Advanced knowledge of system configuration, installation, and troubleshooting
Excellent problem identification and resolution skills
Strong understanding of Linux, Windows, and other operating systems
Proficient in network and software configuration
Experienced in using various software tools and utilities
Ability to work independently and perform multiple tasks simultaneously
Responsibilities:
Installed, configured, and tested system software and hardware to ensure proper operation
Monitored system performance and identified potential issues
Performed troubleshooting and maintenance on system software and hardware
Developed and implemented system integration plans
Conducted regular system audits to identify and address technical issues
Provided technical support to end- users
Identified and tested new system software and hardware products
Systems Integrator Resume with 5 Years of Experience
Highly experienced Systems Integrator with 5+ years of experience in the industry. Possess a deep understanding of system integration, development and maintenance of complex IT systems. Expert in assessing system requirements to ensure efficient integration of solutions, troubleshooting and diagnosing technical problems and providing support to clients. Possess strong, problem- solving and customer service skills and an aptitude for computer networks and hardware.
Core Skills:
System Integration and Troubleshooting
Technical Support and Maintenance
Client Relations and Problem- Solving
Software and Hardware Installation
Network Configuration
System Documentation and Reporting
Responsibilities:
Delivered system integration solutions according to client requirements
Developed and implemented system integration plans and strategies
Installed and configured software and hardware components
Configured and maintained networks and databases
Monitored system performance and identified performance issues
Diagnosed and resolved technical issues
Developed and maintained system documentation and reports
Developed and maintained client relationships and provided technical support
Trained clients on system usage and troubleshooting
Ensured system security and reliability at all times.
Systems Integrator Resume with 7 Years of Experience
I am a Systems Integrator with 7 years of experience in creating, implementing, and maintaining complex IT solutions. My expertise lies in developing IT projects and solutions for businesses, diagnosing complex problems, and developing effective solutions. I have an in- depth understanding of IT processes and techniques as well as experience in installing, configuring, and troubleshooting IT applications and systems. My technical knowledge and expertise allow me to deliver outstanding results and solutions to customers.
Core Skills:
Process Improvement
Systems Analysis
Network Management
Software Troubleshooting
Project Management
End- User Training
IT Security
Responsibilities:
Developed and implemented solutions to complex network and system problems.
Analyzed current systems and recommended changes to increase efficiency.
Installed, configured, and maintained computer systems and software.
Trained end users in the use of applications, hardware, and network systems.
Monitored system performance, identified and resolved issues, and tested solutions.
Implemented security protocols and monitored system security.
Assisted in troubleshooting and resolving software and hardware issues.
Developed and maintained documentation for IT systems and procedures.
Collaborated with other IT professionals to ensure successful completion of projects.
Systems Integrator Resume with 10 Years of Experience
I am a highly experienced Systems Integrator with 10 years of experience in designing, developing, and integrating software- based solutions for a wide range of clients. My expertise lies in troubleshooting and resolving technical problems quickly and efficiently. I am adept at understanding the business objectives of clients and developing practical solutions to meet their needs. My skills include software development, system integration, network engineering, and database administration. I am able to work independently as well as collaboratively to achieve successful results.
Core Skills:
Software Development
System Integration
Network Engineering
Database Administration
Communication and Interpersonal Skills
Problem- Solving and Troubleshooting
Project Management
Customer Service
Responsibilities:
Developed software- based solutions to meet the unique needs of clients
Coordinated with clients, vendors, and internal teams to ensure successful system integration
Assisted in the implementation of system upgrades and migrations
Created detailed technical documentation and training materials
Resolved technical issues quickly and efficiently
Managed projects from conception through completion
Provided customer service and technical support to clients
Collaborated with cross- functional teams to identify and address potential system issues
Performed troubleshooting and root cause analysis of complex problems.
Systems Integrator Resume with 15 Years of Experience
A highly experienced Systems Integrator with 15 years of expertise in a wide range of IT systems. Possess a solid technical background with a range of certifications and qualifications, as well as exceptional problem- solving, communication and organizational skills. Proven success in developing, deploying and maintaining comprehensive software systems, and in collaborating with other professionals to ensure the successful integration of systems.
Core Skills:
Systems Integration
Software Development
Systems Analysis
Technical Support
Network Troubleshooting
Database Management
Project Management
Technical Documentation
Responsibilities:
Developed and implemented software systems for large- scale projects
Evaluated and identified system integration needs and performed critical analyses
Provided technical support for system- wide software applications, hardware and networks
Resolved issues related to system integrations and troubleshooting
Developed and maintained technical documentation for system integration
Coordinated with stakeholders to ensure successful system integration
Implemented and tested software systems to ensure compatibility with existing systems
Planned and executed system integration projects and maintained detailed reports
Identified and documented system requirements and performed regression testing
Provided guidance to stakeholders on best practices for using systems and software applications
In addition to this, be sure to check out our resume templates, resume formats, cover letter examples, job description, and career advice pages for more helpful tips and advice.
What should be included in a Systems Integrator resume?
Having a well-crafted resume is an important part of the job search process. If you are looking to become a Systems Integrator, then it is essential to create a resume that stands out from the competition. Here are some key items to consider including in your Systems Integrator resume:
Technical Skills: Make sure to list any relevant technical skills you have related to systems integration. This includes languages, frameworks, and tools that you are familiar with.
Experience: Include any relevant experience you have in systems integration, such as projects you have worked on or companies you have worked for in the past.
Education: List the educational institution you attended and any certifications received in systems integration. This will demonstrate your knowledge of the field to potential employers.
Communication Skills: As a systems integrator, strong communication skills are essential in order to be successful. Make sure to highlight any communication skills you possess.
Soft Skills: List any soft skills that may be beneficial to a systems integrator role, such as problem solving, critical thinking, and detail-oriented.
Personal Projects: Include any personal projects related to systems integration that you have worked on. This will show your passion and dedication to the field.
By including the items above in your Systems Integrator resume, you can give yourself a better chance of landing the job. Good luck with your job search!
What is a good summary for a Systems Integrator resume?
A systems integrator is responsible for the planning, designing, and implementation of complex information systems. A good summary for a systems integrator resume should highlight the applicant's experience in integrating different systems, problem-solving skills, and technical knowledge. It should also demonstrate the applicant's ability to work in a team and provide customer service. Additionally, it should list the applicant's knowledge of IT processes, such as configuration, installation, and maintenance. A good summary should also emphasize the applicant's ability to analyze requirements and develop solutions that meet business objectives. Lastly, it should also include any certifications or qualifications that the applicant holds.
What is a good objective for a Systems Integrator resume?
A systems integrator is an IT professional who specializes in connecting different computer systems and software applications. They must have a broad range of technical skills and be able to troubleshoot complex problems. The objective section of a systems integrator resume should be clear, concise and showcase their technical skills, knowledge and experience.
Here is an example of a good objective for a systems integrator resume:
To obtain an IT role as a Systems Integrator where I can utilize my 5+ years of experience in designing, installing, and troubleshooting complex IT systems and software applications.
To leverage my strong knowledge of computer networks, Windows, Unix/Linux and a broad range of hardware and software to provide optimal solutions for clients.
To apply my problem solving, troubleshooting and technical abilities to ensure the seamless integration of hardware, software and networks.
To collaborate with team members to create reliable and cost effective systems integrations.
To leverage my exceptional communication and leadership skills to effectively manage projects and provide exceptional customer service.
How do you list Systems Integrator skills on a resume?
When applying for a position as a systems integrator, it's important to showcase the necessary skills and abilities that are required for the job. A well-crafted resume can help you stand out from the competition and demonstrate your qualifications for the role. To help you highlight your systems integrator skills on your resume, here are some tips to follow:
Include a dedicated "Skills" section at the top of your resume. This will be the first thing employers will notice and should contain a list of your most relevant skills for the job.
List specific skills such as experience with different operating systems, programming languages, and configuration management tools. These are all important skills for systems integrators and can be great evidence of your ability to succeed in the job.
Showcase your experience with integration and troubleshooting. Being able to effectively integrate disparate systems and troubleshoot any issues that come up is a key component of a systems integrator role.
Demonstrate your ability to work on complex projects. Systems integrators often work on large-scale projects that require the coordination of multiple systems. Being able to demonstrate your previous experience working on complex projects can be a great way to stand out from the competition.
Highlight your communication skills. As a systems integrator, you'll often need to communicate with other departments and stakeholders. Being able to showcase your ability to communicate effectively with others can be a great way to make yourself a more attractive candidate.
By following these tips, you can easily highlight your systems integrator skills on your resume and stand out from the competition.
What skills should I put on my resume for Systems Integrator?
When writing a resume for a Systems Integrator role, it is important to showcase the skills that demonstrate your ability to create and manage integrated systems. Here is a list of the top skills to consider including on your resume:
Analysis & Troubleshooting: Demonstrate your ability to identify and analyze system problems, develop and implement solutions, and identify potential areas of improvement.
Technical & Development: Showcase your understanding of system architecture and design, as well as your capabilities in coding, scripting, and database management.
Research & Development: Highlight your ability to research and develop innovative solutions to complex problems.
Project & Process Management: Demonstrate your competency in project management, process development, and implementation.
Vendor & Client Management: Showcase your success in managing vendors, clients, and contracts.
Communication & Documentation: Prove your ability to effectively communicate with various stakeholders and document technical information.
Strategic Planning: Showcase your ability to develop and implement strategies for deploying and managing integrated systems.
By including these skills on your resume, you will create a strong and compelling case for why you are the ideal candidate for the Systems Integrator role.
Key takeaways for an Systems Integrator resume
When it comes to writing a resume for a Systems Integrator position, there are a few key takeaways to keep in mind. Here are some tips for crafting a successful resume for a Systems Integrator position:
Highlight Relevant Experience: One of the most important aspects of a Systems Integrator resume is to highlight experience that is relevant to the position. Emphasize any prior experience with system integration, particularly detailing how it was used to improve functionality, reduce costs, or maximize efficiency.
Explain Technical Skills: Aside from outlining project experience, it's also important to explain your technical skillset. Describe how you are experienced in a variety of programming languages, as well as your understanding of network protocols and hardware architecture.
Demonstrate Problem Solving: It's important to demonstrate your ability to solve problems quickly and effectively. Showcase any previous successes or examples of how you were able to troubleshoot and resolve issues quickly and efficiently.
Showcase Communication Skills: As a Systems Integrator, you will be expected to communicate with both technical and non-technical team members. Demonstrate your communication skills by highlighting any prior roles which required you to explain complex technical topics to non-technical stakeholders.
Include Certifications and Training: Many employers require that Systems Integrators have certain certifications and training. Include any certifications or training programs you have taken in your resume, making sure to include the training provider and any certifications you have earned.
By following these tips, you can ensure your resume stands out in the crowded job market for Systems Integrators. Make sure to highlight your relevant experience, technical skills, problem solving abilities, communication skills and certifications or training programs to give yourself the best chance of landing your dream job.
Let us help you build
your Resume!
Make your resume more organized and attractive with our Resume Builder