Having the right resume is one of the most important steps to getting hired as a Solaris Administrator. A well-crafted resume can help you stand out to employers and can ensure your skills and experience are properly showcased. Writing a resume for this position can be tricky, as the job requires a great deal of technical expertise and understanding of Solaris systems. To help you out, this guide provides a comprehensive overview of the essential elements you should include in your resume, as well as tips and examples that can help make your resume stand out. With these tips in hand, you'll be well-prepared to craft a resume that will demonstrate your expertise in Solaris systems and help you land the job of your dreams.
If you didn't find what you were looking for, be sure to check out our complete library of resume examples.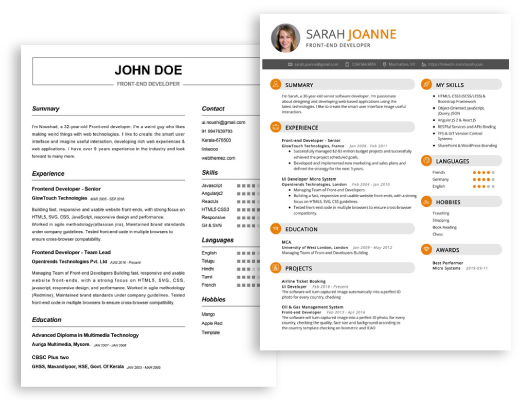 Start building your dream career today!
Create your professional resume in just 5 minutes with our easy-to-use resume builder!
Solaris Administrator Resume Examples
John Doe
Solaris Administrator
123 Main Street | Anytown, USA 99999 | Phone: (123) 456-7890 | Email: john.doe@email.com
I am a Solaris Administrator with 5+ years of experience in designing, implementing, and maintaining Solaris- based systems. I have a solid understanding of the system architecture and have expertise in the installation, configuration, and maintenance of operating systems, hardware, and patch management. I am an enthusiastic team player, who is committed to delivering outstanding results and maintaining the highest standards of excellence. My core skills include problem- solving, attention- to- detail, and exceptional customer service.
Core Skills:
Operating Systems: Solaris, Red Hat Linux, Windows
Technologies: C- shell, Korn shell, RPM, YUM
Networking: DHCP, DNS, TCP/IP
Software: VMware, Chef, Docker, Puppet
Scripting: Bash, Shell, PowerShell, Python
Others: Virtualization, Cloud Computing, Troubleshooting
Professional Experience:
Configured, installed, and maintained Solaris 10 and 11 systems for the development, test, and production environment.
Installed and configured hardware components, such as servers, disks, and other peripherals.
Ensured the security of the systems by configuring firewalls, IPS/IDS, and access control lists.
Implemented patch management policies and procedures to ensure system security and reliability.
Monitored system performance and identified potential problems and provided solutions.
Worked with the developers to develop and integrate applications into the Solaris environment.
Education:
Bachelor of Science in Computer Science, XYZ University, 2019
Solaris Administrator Resume with No Experience
Recent college graduate with knowledge in Solaris and Linux systems seeking to leverage my technical skills to become a successful Solaris Administrator. Possess strong analytical and problem- solving abilities and a willingness to learn.
Skills:
Solaris and Linux system administration
Network configuration
Virtualization technologies
Active Directory
System Security
Server management
Scripting/Programming
Knowledge of cloud computing
Excellent customer service skills
Responsibilities:
Installing, configuring and maintaining Solaris servers
Troubleshooting Solaris server issues
Monitoring and optimizing performance and availability of Solaris servers
Creating and managing user accounts, permissions, and privileges
Performing security updates and patching
Developing and implementing system policies and procedures
Creating and maintaining scripts and programs to automate server tasks
Providing technical support and advice to users
Solaris Administrator Resume with 2 Years of Experience
Highly organized and dependable Solaris Administrator with over two years of experience in enterprise- level system administration in Solaris environment. Proven experience in installing and configuring applications, system setup and maintenance, troubleshooting, training users, and resolving technical problems. Possess a detailed knowledge of UNIX operation and capable of diagnosing and resolving complex system issues. Adept at interfacing with clients, vendors, and teams.
Core Skills:
Solaris System Administration
Application Installation and Configuration
Server Setup and Maintenance
Troubleshooting and Problem Solving
Network Administration
UNIX Operation
System Security
Technical Support
Documentation
Client Interfacing
Responsibilities:
Installed, configured, and maintained Solaris operating systems and applications.
Handled server setup, sequence of operations, and system tuning.
Performed system administration activities such as user account maintenance, system security, and system backup.
Administered network, verified network connectivity and resolved network- related problems.
Monitored server performance and utilization, and took necessary steps to maximize efficiency.
Evaluated server hardware, software, and operating system requirements, and provided recommendations.
Handled system administration tasks, including backups, filesystem integrity checks, and file management.
Installed and configured networking systems and security policies, and monitored system security.
Assisted users with technical problems and trained them on proper usage of applications.
Created and updated technical documentation, user manuals, and system diagrams.
Responded to client requests for technical support via phone, email, and in- person.
Solaris Administrator Resume with 5 Years of Experience
Highly experienced Solaris Administrator with 5 years of expertise in managing, configuring and maintaining Solaris systems. Proven track record of deploying and troubleshooting Solaris applications and providing technical support to users. Possess strong organizational, communication, and problem- solving skills with a dedication to meeting customer requirements.
Core Skills:
Solaris 10/11 administration
Systems installation and configuration
Scripting/automation
Application/server monitoring
Application installation and troubleshooting
Hardware/Storage management
Networking/Firewalls
Virtualization/Cloud technologies
Unix/Linux support
Change management/Documentation
Responsibilities:
Installed, configured, and maintained Solaris 10/11 systems.
Developed and implemented scripts to automate system tasks.
Monitored applications and servers, identified and resolved performance issues.
Installed, configured, and troubleshot applications in Solaris environment.
Administered and maintained hardware and storage solutions.
Configured and monitored networking devices, firewalls, and security measures.
Implemented virtualization and cloud solutions for Solaris systems.
Provided Unix/Linux support for Solaris related queries.
Assisted with change management activities and kept technical documents up to date.
Solaris Administrator Resume with 7 Years of Experience
A highly experienced and motivated Solaris Administrator with 7 years of industry experience in building, maintaining, and optimizing Solaris- based server systems. Possesses excellent technical skills in managing system performance, troubleshooting, installation, and configuration. Possesses exceptional ability to learn new technologies quickly and implement them effectively. Experienced in developing and maintaining system documentation, and handling IT related issues in a cost- effective manner.
Core Skills:
Solaris Administration
Server Configuration
System Performance Monitoring
Installation & Troubleshooting
Documentation & Reporting
System Security & Maintenance
Automation & Scripting
Responsibilities:
Installed and configured Solaris operating systems, applications and server hardware components.
Monitored server performance and identified and resolved system bottlenecks and reported errors.
Configured and optimized system settings for optimal performance.
Developed and maintained system reports and documentation.
Assisted in server patch management, compliance standards, and system security.
Built and maintained shell scripts, automation scripts and other tools for system administration.
Troubleshot and resolved hardware, software, and network issues.
Analyzed system log files and configured system logs for audit, security, and troubleshooting.
Collaborated with other departments to ensure that system requirements are met.
Solaris Administrator Resume with 10 Years of Experience
A skilled and experienced Solaris Administrator with 10+ years of experience in the IT industry. Proven track record of success managing, maintaining and troubleshooting Solaris servers and providing server management services. Possessing deep knowledge of hardware, software and networking operations as well as fundamentals of system administration. Expertise in designing and optimizing Solaris network systems while ensuring exceptional performance.
Core Skills:
Solaris System Administration
Network Management
Operating System Installation
Hardware Troubleshooting
Server Maintenance
Solaris Scripting
System Backup and Restore
System Security
Monitoring Services
Automating System Processes
Server Performance Optimization
Responsibilities:
Installed, configured, managed and maintained multiple Solaris servers.
Implemented security policies and performed security hardening of systems.
Managed and administrated user access through Solaris directory server.
Monitored services, performance of the Solaris systems and identified and resolved any issues.
Developed scripts to automate system processes and reduce overall system maintenance time.
Developed and implemented strategies to backup and restore data.
Collaborated with other IT professionals to maximize system performance.
Installed and configured software and hardware applications on Solaris systems.
Updated system patches, patches and firmware to ensure system security and stability.
Solaris Administrator Resume with 15 Years of Experience
A highly experienced Solaris Administrator with 15 years of experience in providing server administration, systems engineering and technical support. Proven ability to design, analyze and implement efficient Solaris system solutions in order to meet the increasing IT infrastructure needs of organizations. Excellent record of accomplishment of efficiently managing Solaris service delivery and ensuring optimal performance, availability and scalability of system resources. A reliable problem solver with strong customer service orientation, communication and team working skills.
Core Skills:
Solaris Systems Administration
Systems Engineering
System Design and Analysis
Service Delivery Management
Performance Monitoring and Tuning
Troubleshooting and Problem- solving
User Support and Training
IT Security and Compliance
Scripting and Automation
Responsibilities:
Installed and configured Solaris operating systems and maintained system performance.
Monitored system performance and tuned systems for optimal performance.
Installed, configured and maintained network services, security systems and storage systems.
Developed solutions for system and resource utilization, memory optimization and system scalability.
Implemented security measures in order to protect company's Solaris systems from malicious attacks.
Prepared system documentation, user manuals and technical reports.
Developed scripts to automate system administration tasks.
Trained users on the use of Solaris system solutions.
Troubleshot and resolved Solaris system related problems.
In addition to this, be sure to check out our resume templates, resume formats, cover letter examples, job description, and career advice pages for more helpful tips and advice.
What should be included in a Solaris Administrator resume?
Solaris is an enterprise-level operating system that is used by many large organizations. A Solaris administrator is responsible for managing and maintaining the Solaris environment, so having a strong resume is essential for success in the field. Here are some key elements that should be included in a Solaris administrator resume:
Experience: Include your experience working with Solaris, including any certifications or training you may have had. Make sure to list any Solaris-specific experience you have, such as managing user accounts, configuring networks, or installing security patches.
Technical Skills: In addition to your experience with Solaris, list any other technical skills you have that are relevant to the job. This could include knowledge on networking, server administration, scripting languages, or other IT-related skills.
Interpersonal Skills: Working in IT requires strong interpersonal skills as well as technical ones. Make sure to mention any experience you have working with teams or managing end-users.
Problem Solving and Analytical Skills: Solaris administrators often need to troubleshoot and analyze system issues. Make sure to highlight any problem-solving or analytical skills you have developed.
Professional Certifications: Professional certifications are a great way to demonstrate your knowledge and expertise with Solaris. List any certifications you have obtained, such as Solaris Certified Professional (SCP) or Solaris Certified Administrator (SCA).
By including these elements in your resume, you can ensure that you have the best chance of success when applying for Solaris administrator jobs.
What is a good summary for a Solaris Administrator resume?
A good summary for a Solaris Administrator resume should include any professional experience relevant to the position. This includes any certifications earned, technical experience with the Solaris operating system, and familiarity with Solaris related technologies. It should also include any specialized skills or software knowledge. Additionally, the summary should highlight any challenges that the candidate has successfully overcome in their career and any special projects they have completed or led. This is an important opportunity for the candidate to showcase their experience, skills, and accomplishments that are most relevant to the position.
What is a good objective for a Solaris Administrator resume?
A Solaris Administrator is a specialized IT professional who has mastered the installation, configuration and maintenance of Solaris systems. Writing a resume for this position requires an effective objective statement that clearly communicates your skills and talents. Here are some tips to help you develop an effective objective statement:
Consider the specific requirements of the position and make sure you emphasize the relevant skills and experiences you have.
Focus on your core strengths and highlight the qualifications that would make you a successful Solaris Administrator.
Emphasize your ability to work in a fast-paced environment and manage systems with a large volume of simultaneous users.
Demonstrate your ability to quickly diagnose and troubleshoot complex problems.
Highlight your experience working with Solaris clusters and developing strategies for reducing downtime.
Showcase your communication skills and your ability to work with customers, vendors and other technical staff.
By crafting an effective objective statement, you can demonstrate to employers that you possess the skills and qualifications to be a successful Solaris Administrator.
How do you list Solaris Administrator skills on a resume?
When writing a resume for a Solaris Administrator role, it's important to highlight the skills you possess that make you a great candidate for the job. Here are some key skills to consider listing on your resume:
Server systems administration: Demonstrate your experience managing, configuring, and troubleshooting Solaris servers.
Security management: Show your ability to install, configure, and maintain security systems for Solaris servers.
Networking: Detail your experience with hardware and software networking systems, as well as knowledge of TCP/IP protocols.
Scripting: Showcase your knowledge of scripting and automation tools, such as UNIX shell scripting and Perl.
Database administration: Demonstrate your ability to design, create, and manage Oracle databases.
Data backup and recovery: Highlight your experience with operational backup and recovery systems, as well as disaster recovery planning and testing.
Problem-solving: Showcase your ability to analyze complex issues and develop solutions to ensure high availability of Solaris systems.
By listing the right skills on your resume, you'll be able to show potential employers that you have the right knowledge and experience to succeed in a Solaris Administrator role.
What skills should I put on my resume for Solaris Administrator?
When creating a resume for a Solaris Administrator position, it is important to include skills and experiences that show your background in systems administration and Solaris in particular. While the exact types of skills that you'll need may vary depending on the job, there are several core skillsets that are essential for anyone applying for a Solaris Administrator job.
Thorough knowledge of Solaris operating systems, including installation, configuration, monitoring and troubleshooting.
Ability to configure, deploy, manage and maintain Solaris servers, including hardware, software, network and other services.
Expertise in scripting languages such as Bash, Perl, Python, and Ruby for automation.
Skilled in the use of system monitoring and performance management tools.
Knowledge of security protocols, standards, and best practices.
Experience with storage and virtualization technologies.
Familiarity with DNS, DHCP, FTP, and other network protocols.
Ability to work collaboratively with other administrators and stakeholders.
Excellent problem-solving and troubleshooting abilities.
Strong communication and interpersonal skills.
Key takeaways for an Solaris Administrator resume
As a Solaris administrator, having a comprehensive and up-to-date resume is essential to standing out in the job market. Your resume should highlight your technical skills, abilities and accomplishments in the Solaris environment. Here are some key takeaways to consider when crafting a Solaris administrator resume:
Demonstrate your knowledge and experience of the Solaris operating system. Include any certifications or courses you have completed related to Solaris.
Detail your experience with Solaris administration, configuration, and maintenance. Showcase any troubleshooting or problem-solving skills.
Highlight any scripting or automation experience you have with tools such as csh, ksh, and other scripting languages.
Showcase any experience you have with SANs, storage, and security.
Demonstrate any additional systems administration experience you have with other operating systems, such as Linux or Windows.
Describe any projects you have led or participated in related to Solaris.
Include any experience you have with system monitoring or performance tuning.
Mention any experience you have with cloud computing or virtualization technologies.
Demonstrate any experience you have with enterprise class hardware.
These are some of the key takeaways to consider when crafting a Solaris administrator resume. Being able to demonstrate your technical expertise and experience with Solaris and related technologies can help you stand out in the job market.
Let us help you build
your Resume!
Make your resume more organized and attractive with our Resume Builder